| Workable Solutions | Step-by-step Troubleshooting |
| --- | --- |
| What Is PhotoRec | PhotoRec is software designed to recover long-lost files, such as videos and pictures, from a hard drive...Full steps |
| What Is Photorec Used For | PhotoRec allows users to retrieve multimedia, files, and archives from storage mediums...Full steps |
| PhotoRec Software Free Download | Download and install the latest version of PhotoRec to recover the lost data...Full steps |
| Use the Photorec to Recover Data | Follow the instructions and steps below to know how to use PhotoRec to retrieve the lost data...Full steps |
| TestDisk VS PhotoRec | Make a detailed comparison between TestDisk and PhotoRec concerning their main features...Full steps |
| Top 5 PhotoRec Alternatives | 5 Best PhotoRec alternatives and their features, pros, and cons. Pick one according to your preference...Full steps |
What Is PhotoRec
Have you remembered those photos that you captured with your friends? They indeed hold significant value! Hence, losing those precious memories can be annoying as everyone wants to retain them forever.
Here comes PhotoRec, a data retrieval software designed to recoup long-lost files, such as videos and pictures, from your hard drive. Also, it's a free and open-source data recovery program based on an easy and powerful textual interface, which helps you walk through lost data recovery.
This tool comes stacked with TestDisk, which lets you retrieve non-bootable disks and lost partitions. However, as far as the compatibility with the different OS is concerned, PhotoRec scores huge points. This tool works on various OS, making it accessible to anyone who owns a PC for the most part.
These are the detailed list of OS that you can operate on PhotoRec:
macOS
Windows 10/8.1/8/7/Vista/XP, Windows Server 2016/2012/2008/2003
FreeBSD, NetBSD, OpenBSD
DOS/Windows 9x
Linux
Sun Solaris
Pros and Cons of PhotoRec
Pros:
Works with a wide variety of storage devices.
Retrieves various files, such as office documents, ZIP files, graphics, and HTML files.
Entirely free to use.
Cons:
Poor customer support
Obsolete graphical interface with an elementary command-line aesthetic.   
However, in today's article on PhotoRec review and TestDisk and PhotoRec review, we will provide the nitty-gritty information about these data recovery tools and their best alternatives. Let's get started!   
What Is PhotoRec Used For
PhotoRec is a credible file recovery tool, allowing users to retrieve different multimedia, files, and archives from various storage mediums, including USB drives, memory cards, and hard disk drives. However, the top features of PhotoRec are the following:
Price:
PhotoRec is free to use. Unlike different recovery platforms available in the market that forces you to buy their Pro versions, PhotoRec is known to be an open-source data recovery tool.
Compatibility:
PhotoRec is compatible with every OS and not limited to Windows alone. However, it's compatible with multi-perform, such as Mac OS, Windows, and Linux.
Supported File Systems:
This software has a stunning list of supported file systems, such as exFAT, FAT, NTFS, ext2/ext3/ext4, and HFS+.
Performance:
As far as PhotoRec's performance is considered, it provides two major retrieval methods, such as the Expert mode and Paranoid.
PhotoRec Software Free Download
PhotoRec doesn't possess the strong graphical interface that you got in other data recovery tools. But it uses texts as its basic means of discussing with the user. Although it might sound intimidating initially, it's hassle-free to install and once it's done, PhotoRec can be used as your data recovery tool. However, this is how you can download the latest version of PhotoRec:
Download PhotoRec Version 7.1 for PC:
Free & rapid downloader
Experimented virus-free
Always available
Click here to download PhotoRec for your Windows or Mac 
How to Use the PhotoRec to Recover Data
Are you wondering how to use PhotoRec once you have installed it? Don't worry, as we have got your back! Follow the instructions below to know how to use PhotoRec to retrieve data:
Step 1. Download, install the software, and launch it on your Windows/Mac PC. After that, run the program as an administrator.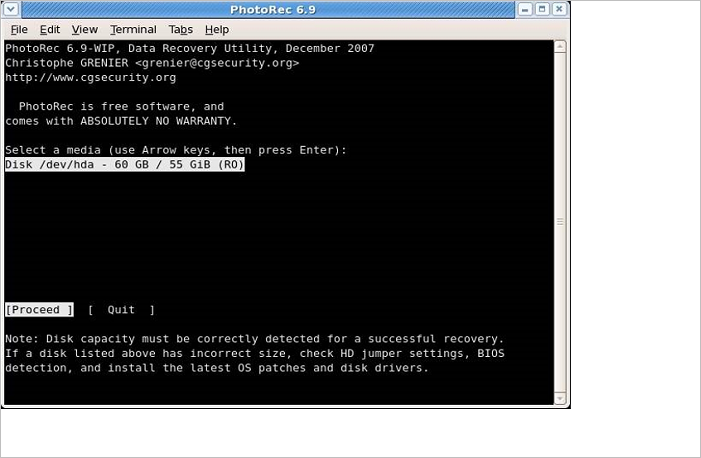 Step 2. In this 2nd step, use the up/down arrow keys to select the disk to work closely, and after that, hit the enter button.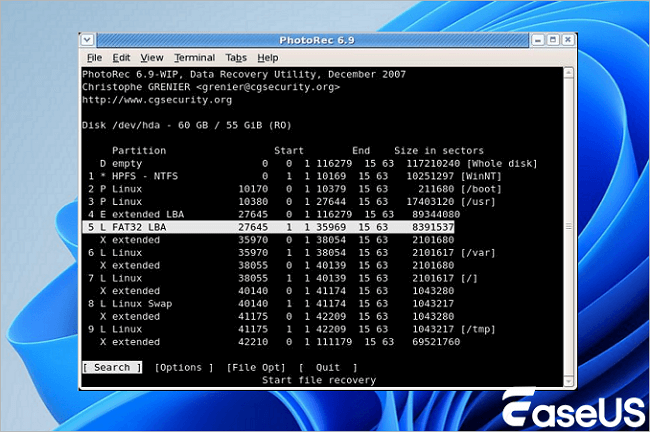 Step 3. There will be 4 different options to select from, such as, "File Opt", "Search", "Options", and "quit". Now, choose search to proceed with data retrieval.
Step 4. In this 4th stage, you have to choose a partition of your PC's hard drive that you desire to scan deleted files. Now, you need to provide the file system's information. After that, select "Other" unless the file system is ext2, ext3, or ext4.  
Step 5. As you have chosen the required partition, you possess two options to select from, such as, "Free" and "Whole". You need to opt for the free option in case you want to recoup your deleted files. Otherwise, you can select the whole option if the file system has deteriorated.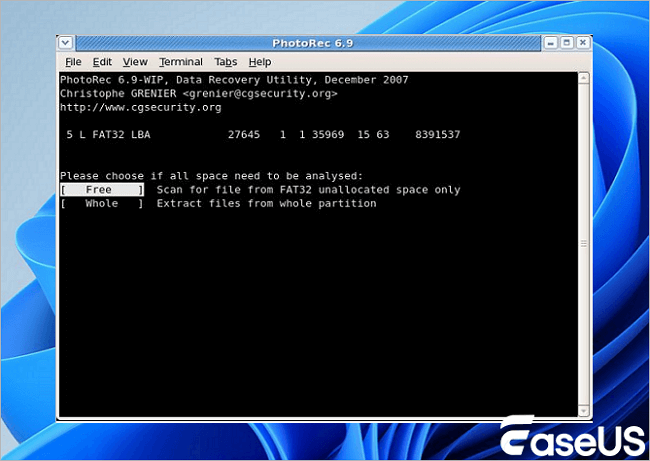 Step 6. At this step, opt for the folder/directory where your files were situated before deletion. Utilize the up/down arrow keys to navigate to your preferred folder.
Step 7. As you've chosen the folder, the retrieval process will start. You need to wait for a while to complete the process.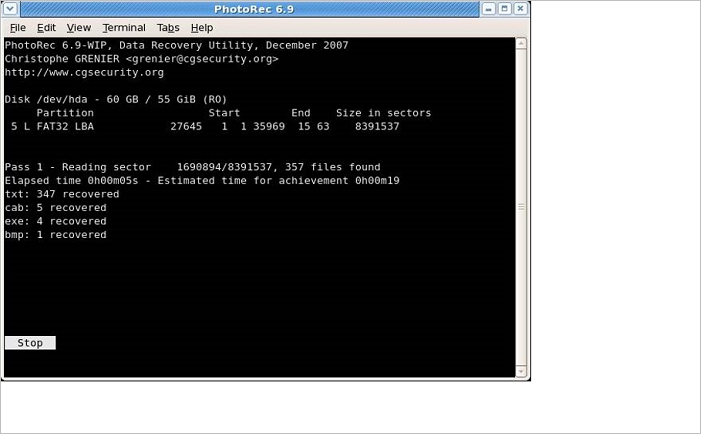 TestDisk VS PhotoRec, Which Is Better
As you're searching for a free file retrieval tool, the first thing you will ever come across is TestDisk and PhotoRec. The open-source file recovery platform has grown in popularity since 2008 due to its ease of use and flexibility, despite PhotoRec and TestDisk counting on a command-line interface instead of a mouse-driven user interface.
Hence, both PhotoRec and TestDisk provide the best cloud backup services. However, let's make a detailed comparison between TestDisk and PhotoRec.
Key recover features:
With PhotoRec and TestDisk, recovery is divided into two major categories: file systems, partitions, and photos.
Various file retrieval issues involve bypassing partitions. But PhotoRec can help you find various file formats, such as ordinary image files (PNG, JPG, etc.), OpenOffice file formats, TXT files, Microsoft Office files, and PDFs. More than 440 file types have been recorded in PhotoRec, implying that if the data remains unchanged, it can be recouped with PhotoRec.
On the other hand, TestDisk lets you find various lost file systems, such as NTFS, ext1, ext2, FAT3, exFAT, JFS, HFS, etc. Hence, TestDisk can undelete files on those specific file systems. 
Multi-language support:
There is no file recovery software available without some issues. In case you encounter any file recovery issue with PhotoRec or TestDisk, you can head out to their support forums. A user can get all types of multi-language support with these tools in German, French, and English.
Although there are a few downsides - such as the possibility of an issue and solution being considered in the French subforum, it proves helpful to you in the German or English subforums.
On the other hand, a leading con of TestDisk is its Microsoft Defender SmartScreen emphasizes the software as undetected. This is pretty unfortunate for a data retrieval tool that has been in the tech market for many years.
Top 5 PhotoRec Alternatives
Are you looking for the best PhotoRec alternatives? We can recommend these 5 tools, which you can pick according to your preference. However, the features and pros & cons are the comparing elements of these below-mentioned tools. 
1. TestDisk
Name of the data recovery tool: TestDisk
Features: Quick data recovery of the files, such as exFAT, ext2, ext3, HFS, FAT32, etc; Numerous OS support, such as Linux, macOS, and Windows; Multi-Language Support.
Pros: It's an open-source freeware; Multiple partition schemes and file system are retrievable with TestDisk; Multiple OS supports.
Cons: It has a poor user interface.
Final Verdict: If you want to retrieve various files from the storage devices, such as SSD, HDD, flash drive, and SD card, it's recommended to use TestDisk. It's a free and safe tool to use, and you will obtain a complete analysis of your storage through it. 
2. Recuva
Name of the data recovery tool: Recuva
Features: Retrieve your word documents with extreme ease; Recoup your essential emails easily; Well-supported version, providing multiple language usage.
Pros: Recuva is great for deep and normal scanning, which lets you scan through the hard disc and motherboard; Retrieving your files via NTFS, ex-FAT, and FAT drives have made it hassle-free to work with this tool.
Cons: If Windows overwrites the MFT space of the existing eliminated files, there's no way you can retrieve that file. 
Final Verdict: Recuva can retrieve your long-lost or eliminated files from the hard drive. Being a free tool, Recuva is worth trying in case you don't have access to another data retrieve method. Compared to other tools available in the market, this tool lacks efficiency.    
3. Easeus Data Recovery Wizard
Name of the data recovery tool: Easeus Data Recovery Wizard
Features: Flexible scanning modes; Retrieve suddenly deleted files; Crash recovery of the OS; Virus attack retrieval5. Recoup a lost partition.
Pros: Retrieves endless data; Offers the best-in-class quality of recovered files; Absolute preview quality and interface; Super-fast data scanning ability.
Cons: Expensive tool; No option is there to choose a particular folder to scan.
Final Verdict: Even though this software is pretty expensive, you can still purchase this data recovery tool due to its seamless feature performance. If you're looking for the best-in-class data recovery software, EaseUS is highly recommended. You can purchase only bootable media when your system can't boot. 
4. Disk Drill
Name of the data recovery tool: Disk Drill
Features: Proprietary ADVANCED technology; Data retrieval for a wide array of file types and storage devices; Scanning partitions, corrupted files, and raw disk data restore and backup.
Pros: Automatic scans; Quick and deep scan algorithms; Seamless compatibility with multiple file systems, for example, NTFS, FAT32, and ext2/ext3/ext4.
Cons: This tool doesn't work on smartphones; Constrained customer support facility.
Final Verdict: Disk Drill is indeed a top-notch tool for your professional and personal data recovery. But you need to use it if you want a good solution for data protection, experience data loss often, and work significantly with storage devices, which experience wear and tear.
5. R-Studio
Name of the data recovery tool: R-Studio
Features: Complete support for Linux mdadm Volumes, Linux LVM/LVM2, Apple CoreStorage/File Vault/Fusion Drive Volumes, and Apple Software RAIDs; The interface style is standard "Windows Explorer"; Smart indentation; Operate R code directly from the source editor.
Pros: Competitive pricing for what you obtain; Various advantageous features, including, disk managing, RAID retrieval, and SMART monitoring.
Cons: A bit complicated pricing structure for Windows.
Final Verdict: R-Studio is your complete recovery solution. It gives you full control over the data retrieval process and provides them with the tools important to perform advanced retrieval in complicated situations. To conclude, R-Studio has everything you need to retrieve your data. Initially, it could be cumbersome to navigate and use. Once you get familiarized with this app, scanning, and data retrieving will be much easier.
Conclusion
In this PhotoRec review, it has been found that PhotoRec lets you retrieve images and vital documents for free from your PC. Also, it is reliable and easy to use. However, are you desirous of recovering photos on your PC and don't mind using an amazing text-based UI? Hence, using PhotoRec is recommended.
PhotoRec FAQs
Hopefully, you get a detailed understanding of the PhotoRec data recovery tool and its leading alternatives. But to get a profound understanding of its usage, it's recommended to read the following FAQs:
1. Is PhotoRec safe?
A: PhotoRec is 100% safe. All you need to do is download it from the developer's website to ensure that you get the app and nothing else.
2. Is PhotoRec for Mac safe?
A: PhotoRec for Mac is safe to use as the files that the program retrieves are written into the directory that the PhotoRec program runs from. Hence, it helps ensure that you will never overwrite any external drive, flash drive, memory stick, and USB.
3. Is PhotoRec better than Recuva?
A: While wrapping everything up, it's proved that PhotoRec is a much better data recovery tool than Recuva. It's because looking at the number of deleted files, which are retrieved, PhotoRec can recover the same number of files various times.

Brithny is a technology enthusiast, aiming to make readers' tech life easy and enjoyable. She loves exploring new technologies and writing technical how-to tips. On her spare time, she loves sharing things about her favorite singer - Taylor Swift on her Facebook or Twitter.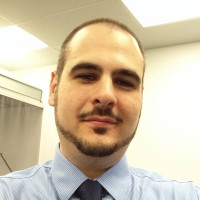 Approved by Evan Galasso 
Evan Galasso is a digital forensics and data recovery engineer with over 10 years of experience in the field. He presents opinions on the current state of storage media, reverse engineering of storage systems and firmware, and electro-mechanical systems of SSDs and HDDs.