There is no doubt that data is essential, and making sure that we don't lose it is even more critical. The amount of time and effort that goes into creating the records is irreplaceable, but if we lose files, how do we get them back?
EaseUS Data Recovery Wizard has emerged as one of the most popular solutions for all those who have lost their data files somehow. The guide will help you know about the different aspects of EaseUS Data Recovery in detail and will share information about its pricing.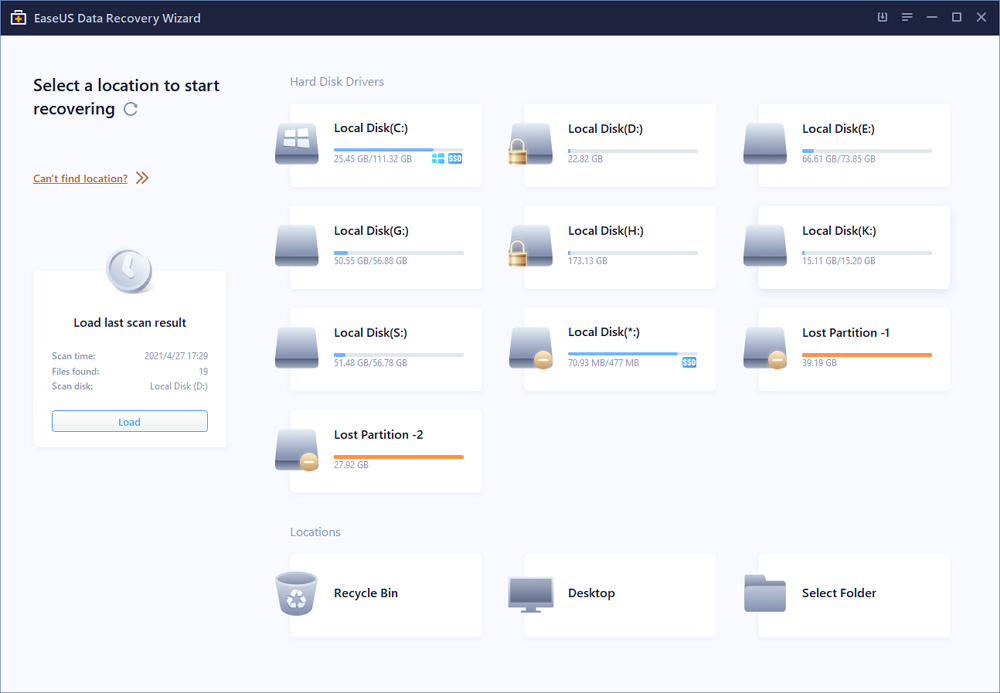 What Is EaseUS Data Recovery Wizard
EaseUS Data Recovery Wizard is an all-in-one data recovery software that helps users get back the accidentally deleted files. It is a powerful data recovery tool that is being used by millions of customers globally due to the involvement of a vast range of features. Whether it is about pictures, files, documents, or videos, it can recover all content without any issues. The software ensures users have the file, raw and formatted recovery, and works well on both internal and external storage devices. 
The introduction of EaseUS Data Recovery software has made NAS data recovery super easy. One can now conveniently recover all types of content of your NAS effortlessly. It is the best care that you can provide for your lost data. The tool features flexible scanning modes that help you recover the data efficiently. The best thing here is that one can easily access free remote assistance.
EaseUS Data Recovery Wizard
Recover lost or deleted files, documents, photos, audio, music, and emails effectively
Recover files from formatted hard drive, emptied recycle bin, memory card, flash drive, digital camera, and camcorders
Support data recovery for sudden deletion, formatting, hard drive corruption, virus attack, and system crash under different situations
Main Features of EaseUS Data Recovery Wizard
Deleting any data from the storage device means deleting references from the directory structure. Interestingly, the deleted data is not immediately deleted from the physical disk. It remains there in the form of a series of disconnected fragments. If not overwritten anywhere, one can easily restore it anytime with the right software. 
EaseUS Data Recovery Wizard is a fantastic data recovery software that offers paid and free services to users at their convenience. The main features that EaseUS Recovery Software serves are:
Quick and convenient
EaseUS Data Recovery Wizard is designed to be relatively quick and convenient to use. The software ensures complete data recovery in just three clicks. It is the perfect way to recover the deleted files conveniently and that too without requiring any technical knowledge for that.
Flexible scanning mode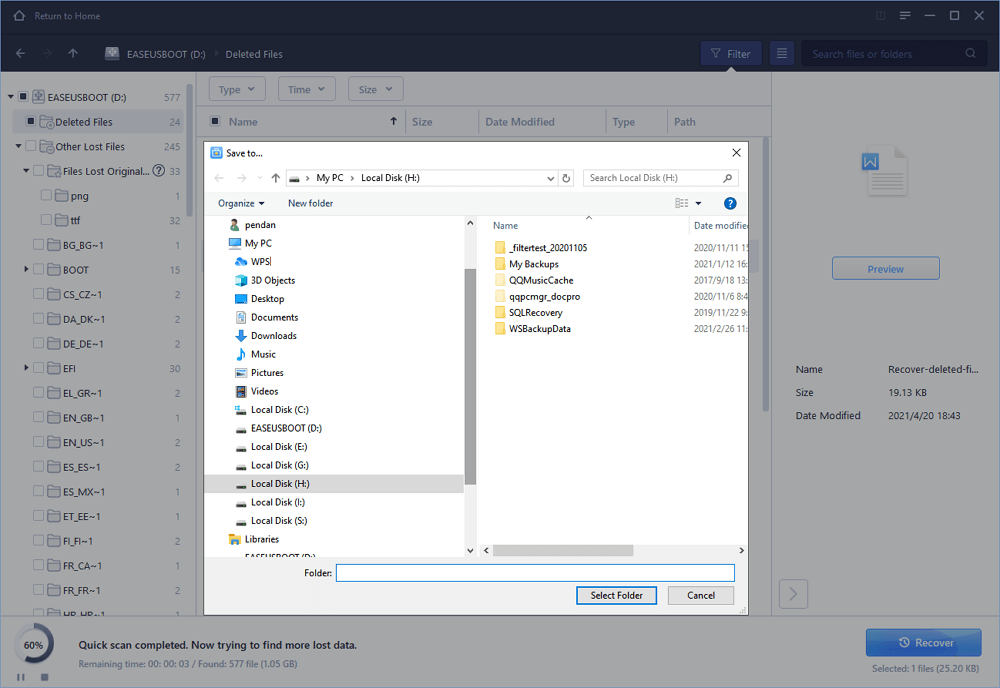 The data recovery tool features different scanning modes to ensure quick scanning effortlessly. The tool effortlessly searches for deleted files and folders using the basic algorithm and provides immediate results. The presence of deep scanning mode here scans the storage devices thoroughly by sector and ensures absolute recovery results.
Quick preview
EaseUS Data Recovery tool helps in acquiring a quick preview of the data being stored there effortlessly. One can quickly get a preview of all the available recovery files once going for the final option. It is the best way to avoid unnecessary recovery anytime.
Complete Data Recovery
EaseUS Data Recovery Wizard serves complete data recovery for the different file formats, documents, graphics, audio, emails, video files, and much more. It is the perfect way to get your accidentally deleted files anytime. The tool ensures recovery for the formatted files and helps you retrieve data from the empty recycle bin. Adding more to it, EaseUS Data Recovery Wizard also provides crash recovery, RAW partition, lost partition, virus attack, and much more.
Hard disk damage
EaseUS Data Recovery Wizard is the perfect way to get access over a hard disk drive in case it has got corrupted. It is the best tool that ensures the fastest data retrieval effortlessly. The tool performs well even when you're having limited space of about 2 GB also. If you somehow have lost any of your data and are willing to get it back at this moment, the EaseUS Data Recovery tool is an option you need to try on.
Pros and Cons of EaseUS Data Recovery Software
Whether it is about physical or some technical application, going through its advantages and disadvantages in detail is the leading priority one needs to follow for effective purchasing. It is the best way to explore the product as a whole. Knowing about a tool's pros and cons helps you explore its boundaries and capabilities and makes it easier for you to customize and use things accordingly.
Pros:
Features top-class interface 
Ensured high-end preview quality
Recovers unlimited data
Ensures fast scanning of the preferable data
It keeps the quality of the recovered files a bit higher
Best and reliable data recovery apps
Works effortlessly on different operating systems
Cons:
Bit expensive than its competitors
It doesn't include any section for selecting a specific folder for scanning
EaseUS Data Recovery Wizard Versions & Prices
Anyone can use the EaseUS Data Recovery wizard. The tool comes in two different versions, i.e., a free version and a professional version, to offer great ease of access and a higher level of convenience and affordability to the users. The free version of the EaseUS Data Recovery tool features the basic features, whereas the premium version brings up some advanced features that make things much more convenient for the users. Make sure to review your preferences, requirements, and budget before making the final selection.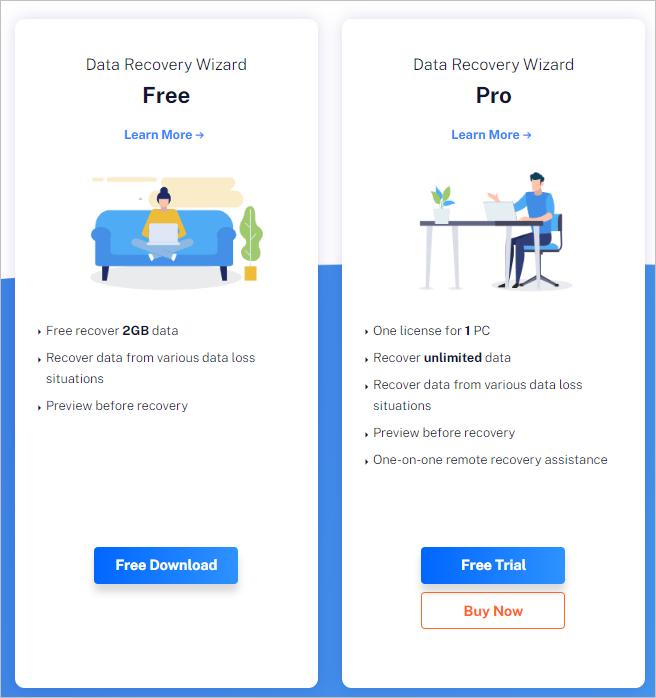 EaseUS's free data recovery software is a perfect choice under the budget. It provides quick and complete file recovery from different operating systems such as Windows desktops, laptops, and other Windows-compatible devices. The tool has been helpful in hundred real-life data loss scenarios such as deletion, formatting, RAW, and much more efficiently.
EaseUS Pro Data Recovery Wizard
EaseUS Pro Data Recovery is one of the most trusted data recovery tool options used in more than 160 countries globally. The pro version of the EaseUS Data Recovery option ensures users recover completely over lost files, documents, formatted files, partition loss, OS crashes, virus attacks, pictures, and videos efficiently.
EaseUS Data Recovery Wizard: Free VS Pro 
EaseUS Data Recovery Wizard has both the free version and the professional version. Here we will make a comparison between these two versions. You can download the full version that fits you best.
Capacity
Capacity is one of the most critical factors to look forward to while considering the data recovery options. The free version of EaseUS Data Recovery can quickly recover about 2GB of data, whereas the premium version can recover unlimited data efficiently here. Both versions of this tool offer an absolute preview section that you can easily access before enabling the recovery process.
Operations
Free EaseUS Data Recovery software comes up with basic functionalities such as recovering data from deleted, hidden, lost or RAW partitions. In contrast, the EaseUS Data Recovery Pro provides complete recovery from deleted, hidden, lost or RAW partitions. Along with it, the professionals involved in the pro version also offer free and high-quality remote consultation and assistance for all of the necessary cases.
Users can easily avail of the pro version of the tool just by spending $69.95 through different modes.
How Does EaseUS Data Recovery Wizard Work
EaseUS Data Recovery Wizard is simple and easy to use. The tool provides an easy preview of all of the recoverable files. Users here can easily filter the related files of data using the file type or location. Once you filter, preview, and select the essential files, you can enable the data recovery process conveniently. You can conveniently follow up on the detailed steps below for recovering, deleting, losing, formatting, or corrupting files.
The software is the best one could install on their device to meet their lost data while keeping its quality at the higher end. Absolute convenience, high-end performance, and much more make this tool one of the most favorable choices ever. The only thing you have to care about here is that the lost data is not being overwritten. If it is, it reduces the chances of data recovery efficiently. You can follow the steps below to recover your lost data with EaseUS Data Recovery Wizard.
Step 1. Launch EaseUS file recovery software on your Windows computer. Choose the exact location where you lost the files and click the "Scan" button.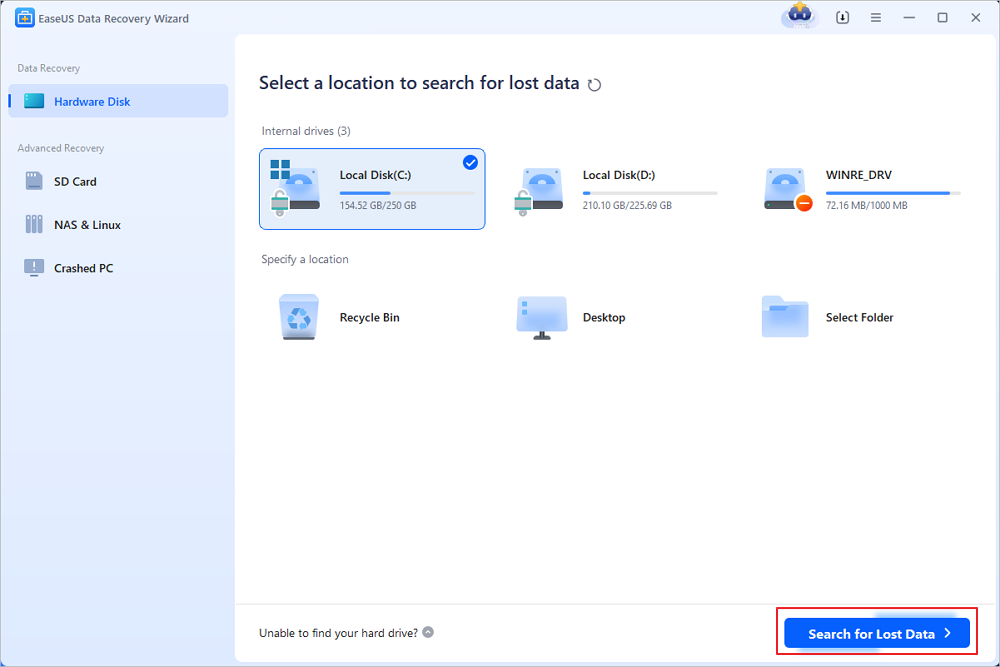 Step 2. The software will immediately start scanning the drive, and the deleted files will be displayed soon. If you find the files you need during the scan, you can stop the scan. In order to find the target file quickly, you can use the file format filter.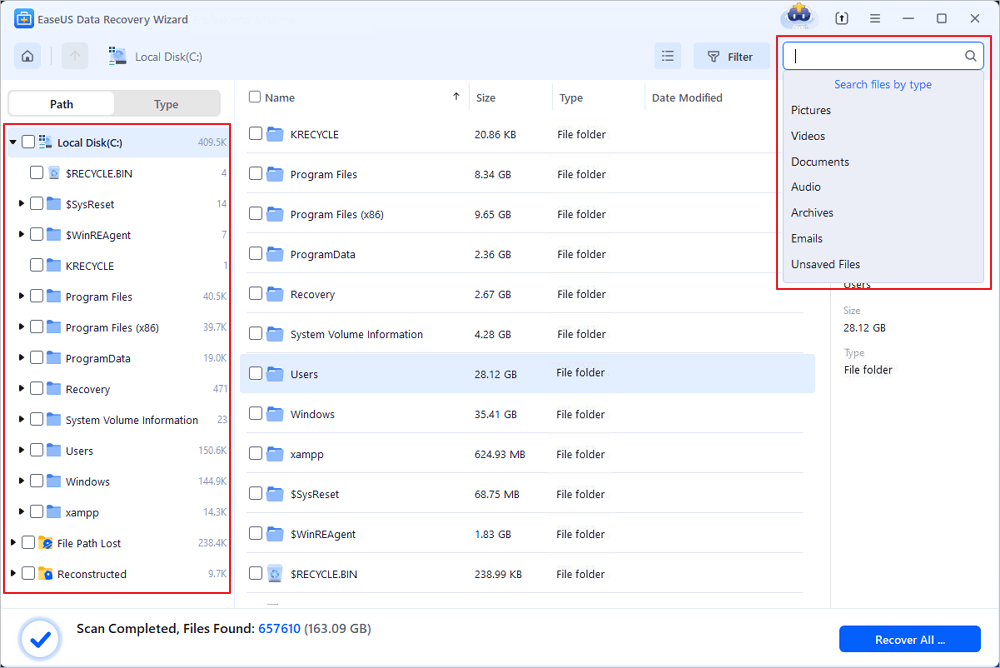 Step 3. Select files, such as Word, Excel, PDF, photos, videos, or emails and click the "Recover" button. You can browse for a different location to keep the recovered files.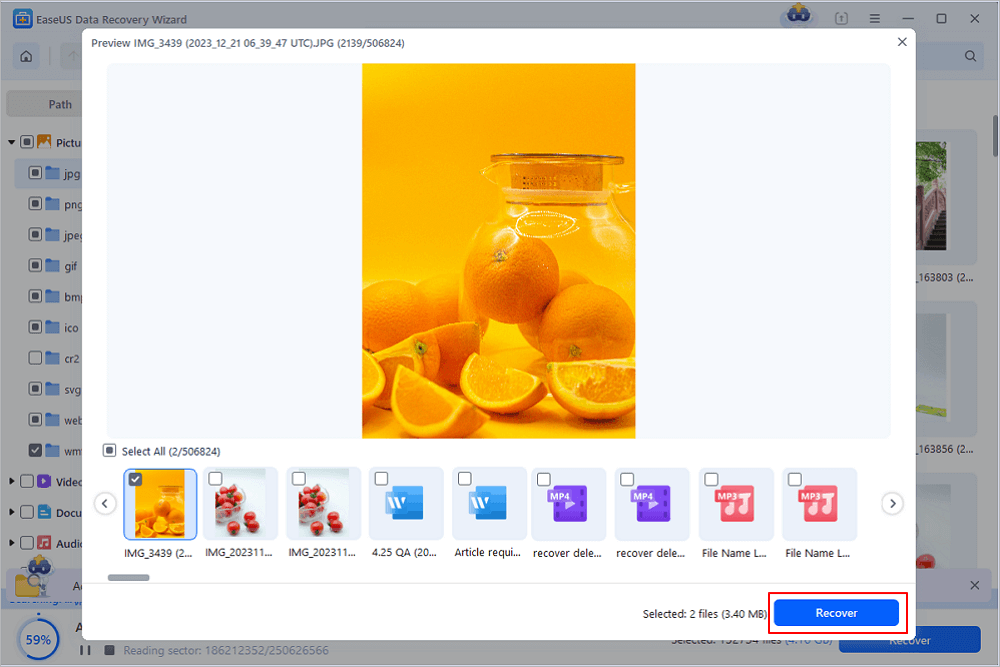 Is EaseUS Data Recovery Software Safe
EaseUS Data Recovery Wizard is safe to use. The tool ensures a smooth and convenient data recovery process that anyone can easily access anytime. The best thing about this wonderful tool is that it doesn't overwrite the existing data, which keeps you safe from secondary data loss. The tool features different filters to ensure the safety of the users at any moment. It is a complete tool that doesn't disclose the user's privacy, which adds to its overall reliability.
Conclusion
| | |
| --- | --- |
| Ease of Use | Noice and Pro users |
| Supported Systems | Windows 10/8.1/8/7/Vista/XP, Windows Server 2019, 2016, 2012, 2008, and 2003 |
| Prices | Free and Pro for $69.95 |
| Customer Service | Email, Live Chat, Manual, One to One |
| Supported File Formats | PEGs, TIFFs, PNGs, CRWs, NEFs, ORFs, DNGs, MP3s, WAVs, MPGs, WMVs, etc. |
| RAW Support | Yes |
EaseUS Data Recovery is a perfect way to enjoy unlimited data recovery without spending too much on charges. It is the best partner that can keep your data safe absolutely. The guide includes full-on information about EaseUS Data Recovery in detail. Right from its features, pros and cons, and pricing, we have included each section here to clarify things.

Cedric Grantham is one of the senior editors of EaseUS who lives and works in Chengdu, China. He mainly writes articles about data recovery tutorials on PC and Mac and how-to tips for partition management. He always keeps an eye on new releases and loves various electronic products.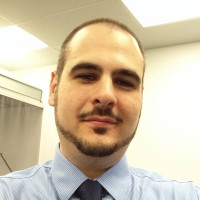 Approved by Evan Galasso 
Evan Galasso is a digital forensics and data recovery engineer with over 10 years of experience in the field. He presents opinions on the current state of storage media, reverse engineering of storage systems and firmware, and electro-mechanical systems of SSDs and HDDs.