
Table of Contents

About the Author

Reviews and Awards
Hard Drive Showing Unknown, Not Initialized
"Disk (0, 1, 2...), unknown, not initialized and unallocated" is one of the common hard disk errors that make us upset. When a hard drive becomes uninitialized, you can no longer access data there. Then, how to initialize disk without losing data becomes a problem. You may see a disk showing "Unknown, Not Initialized" in two situations:
The disk is brand new. You need to initialize the disk in order to partition it. Afterward, you need to format the partition in order to make it ready for data storage.
The disk has been used for a period of time and suddenly becomes "Not Initialized".

If you have a new disk that shows up as "Not Initialized", you can initialize the hard drive without worrying about data loss. However, a disk that has been used for a period of time may also become "Not Initialized". In such a case, most users have files or folders stored in the disk and are eager to know whether initializing a disk erase the data on it.
What Does Initialize Disk Mean
When adding a brand new disk to your PC, it will not show up in File Explorer immediately. You need to manually initialize the newly-added hard drive before working with it. Initializing a disk erases everything on it and prepares it for use by Windows, after which you can format it and then store files on it.
Used disks with a bunch of data sometimes also need to be initialized. This is due to a number of system errors. In this case, the question arises, what about the existing data? On this page, you will find all you need.
Does Initializing a Disk Erase Data
The first sector of an MBR or GPT disk is MBR (Master Boot Record). When MBR on your disk is corrupted, you will see your disk showing up as "Unknown, Not Initialized". Thus, initializing a disk means to rebuild MBR on the disk, which will NOT ERASE DATA on your disk.
However, only initializing the disk won't make the disk usable again. You need to further partition and format the drive, which will surely ERASE your disk data. That's why you may be told by others that initializing a disk will erase data on it.
How to Initialize Disk Without Losing Data
Based on the information given above, the correct procedures to handle a disk that is not initialized without losing data are:
Initialized the disk
Recover data from the hard drive
Partition and then format the disk to make it ready for data storage
Procedure 1. Initialize the Disk
Step 1. Right-click "This PC" and choose "Manage" > "Disk Management".
Step 2. Right-click the disk showing "Not Initialized" and choose "Initialize Disk"
Step 3. In the "Initialize Disk" windows, you need to choose a partition style for the disk, MBR or GPT. Then click "OK" to continue.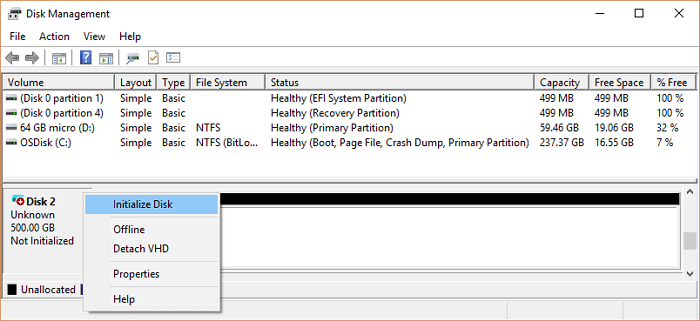 Procedure 2. Recover Data from the Disk
After initializing the disk, you may notice the status of the hard drive is not "Not Initialized" anymore but the layout shows as "Unallocated", which means the disk is still inaccessible. Before creating a new volume on the drive, you need to recover data from the disk.
Here we recommend using EaseUS Data Recovery Wizard. It can not only perform common deleted file recovery, formatted data recovery, and RAW drive recovery but also recover data from inaccessible disks, like in this case.
Download EaseUS Data Recovery first and read on to get more details.
To recover data from your disk after initializing:
Step 1. Select and scan the lost partition
Launch EaseUS Data Recovery Wizard, select "Lost Partition" and click "Scan" to search for all the lost data. If there are many lost partitions, you can identify them through its partition size.
Note: Since the Windows system doesn't support the Linux file system, the Ext2 or Ext3 partition will be recognized as lost partition with no drive letter in the software. If you want to recover data from Ext2/Ext3 partition, you can follow these steps.
Step 2. Filter the scanned results
Because there will be a lot of scanned files, you can choose a file category for quick filtering, such as Pictures, Videos, Documents, Audio, and Others. Or if you remember the file name, you can just look it up in the search box in the upper right corner.
Step 3. Preview and recover data from the lost partition
Before recovery, you can preview the file to make sure it is the data you need. Choose all the files you need and click "Recover" to restore them. 
You can also try to rescue lost, deleted and corrupted data with EaseUS Data Recovery Wizard, which has helped millions of users with successful data recovery from unrecognized hard disk, unallocated hard drive partition, RAW hard drive, formatted hard drive, virus-infected hard drive and more. When your hard drive data lost after fixing the drive that becomes unknown, not initialized, or unallocated, you can always try it to bring lost data back with simple steps.
EaseUS Data Recovery Services
Click here to contact our experts for a free evaluation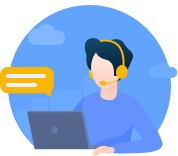 Consult with EaseUS Data Recovery Experts for one-on-one manual recovery service. We could offer the following services after FREE diagnosis:
Repair corrupted RAID structure, unbootable Windows OS and corrupted virtual disk file (.vmdk, .vhd, .vhdx, etc.)
Recover/repair lost partition and re-partitioned drive
Unformat hard drive and repair raw drive (BitLocker encrypted drive)
Fix disks that become GPT protected partitions
Procedure 3. Partition and Format the Disk
Now you can create new volumes on your disk without worrying about losing all your files.
Step 1. Right-click "This PC" and choose "Manage" > "Disk Management".
Step 2. Right-click the unallocated space and choose "New Simple Volume..."
Step 3. In New Simple Volume Wizard, click "Next" to continue.
Step 4. Follow the wizard to specify the volume size, assign a drive letter to the volume, and then format the partition.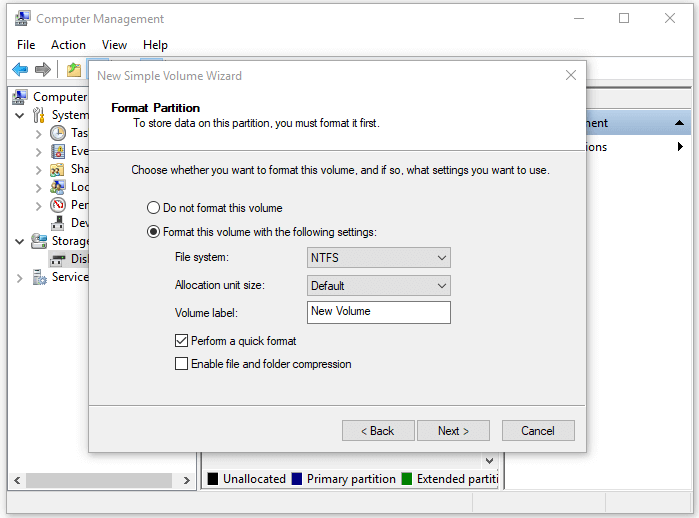 The Bottom Line
Will initializing disk erase data on it? The answer is both "Yes" and "No". Solely initializing a disk won't erase its data. But in order to use the disk, you need to further partition and format the disk, which will cause data loss. Thus, if you don't want to lose files existing on your hard drive, using EaseUS Data Recovery Wizard software is necessary.

Cedric Grantham is one of the senior editors of EaseUS who lives and works in Chengdu, China. He mainly writes articles about data recovery tutorials on PC and Mac and how-to tips for partition management. He always keeps an eye on new releases and loves various electronic products.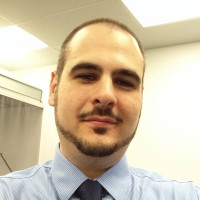 Approved by Evan Galasso 
Evan Galasso is a digital forensics and data recovery engineer with over 10 years of experience in the field. He presents opinions on the current state of storage media, reverse engineering of storage systems and firmware, and electro-mechanical systems of SSDs and HDDs.
EaseUS Data Recovery Wizard is a powerful system recovery software, designed to enable you to recover files you've deleted accidentally, potentially lost to malware or an entire hard drive partition.

 Read More

EaseUS Data Recovery Wizard is the best we have seen. It's far from perfect, partly because today's advanced disk technology makes data-recovery more difficult than it was with the simpler technology of the past.

 Read More

EaseUS Data Recovery Wizard Pro has a reputation as one of the best data recovery software programs on the market. It comes with a selection of advanced features, including partition recovery, formatted drive restoration, and corrupted file repair.

 Read More