Summary
"Does initializing a disk erase data" or "Does initializing a disk format it" is of most concern when users need to initialize a disk on their computer. To give you a better understanding, we will show you what does "initialize disk" mean and will initializing a disk erase data. To make your disk usable without losing data, you will need reliable data recovery software - EaseUS Data Recovery Wizard.
"What does initialization affect a hard disk? While using the Windows disk management utility, I received the instruction showing as you must initialize a disk before logical disk manager can access it. The disk is NTFS with no operating system on it. However, I have saved lots of files on it. I'd like to know if it is safe to go ahead and initialize the disk. Does initializing a disk format it? I am not expecting any data loss on it."
Will Initializing a Disk Erase Data
You may have the same confusion like the user above when you need to initialize a disk. Generally, you need to initialize a disk if it is brand new and you need to make it ready for data storage, or your hard drive suddenly becomes "Unknown, Not Initialized". If your disk is new and unformatted, you can initialize it directly without worrying about data loss. However, if the disk has files existing on it, you should think twice before to make the operations.
Then what Does "Initialize Disk" Mean?
Actually, initializing a disk is a process of building or rebuilding MBR. MBR, Master Boot Record, is the first sector of any disk or diskette. It stores information on how the logical partitions, containing file systems, are organized on that storage medium. Thus, since initializing a disk only affects the front sector of the hard drive, it won't erase data on the hard drive.
However, solely initializing the disk won't make it usable. If you want to perform write and read operations on the disk, you need to further create partitions on it, and then format the partitions after the disk is initialized. As you know, formatting a disk will erase data on it and many users take it as a process of initializing the disk. That's why many say "Initializing a disk erases everything on it."
Thus, will initializing a disk format it? The answer is both "Yes" and "No". Narrowly speaking, initialization only affects the front sector and won't erase the files on your hard drive. But broadly speaking, initializing a disk will format it in order to make it usable, which do erase data on the disk.
How to Initializing a Disk Without Losing Data
Since initializing a disk is always accompanied by formatting disk, you need data recovery software to complete these operations without losing data. To make sure you can recover all your files from the disk smoothly, we recommend you to initialize a disk following the procedures below:
Initialize the disk
Recover data from the disk
Partition and format the disk
Procedure 1. Initialize the Disk
You can either use Windows Disk Management or free partition manager to initialize a disk. Here we will show you how to perform the initialization in Disk Management.
Step 1. Click the "Start" button and input computer management.
Step 2. To make sure you have the permission, right-click "Computer Management" and click "Run as administrator".
Step 3. Choose "Disk Management" under "Storage".
Step 4. If your disk shows "Offline", right-click it and choose "Online" first.
Step 5. Then right-click the disk you need to initialize and choose "Initialize Disk".
Step 6. In the "Initialize Disk" box, check the disk selected and the partition style (GPT or MBR) you want, then click "OK" to start initializing the disk.
 Tip

Via the partition style, Windows could know how to access the files on the hard drive. When you initialize a disk, Windows will choose a proper one as the default selection. Thus, you don't need to worry about which one to choose. Besides, you can convert the disk between MBR and GPT after the initialization without losing your files if you need to.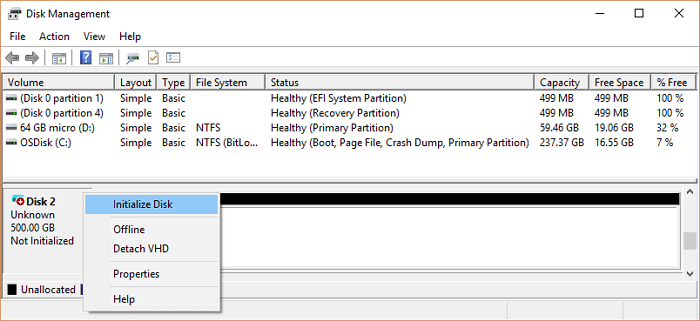 Procedure 2. Recover Data from the Disk
Although the disk is initialized, it is still inaccessible. Therefore, to recover your files, you need the help of reliable hard drive recovery software - EaseUS Data Recovery Wizard. EaseUS data recovery software also supports formatted data recovery. However, it's safer to rescue the files before the formatting.
To recover data from the initialized disk:
Step 1. Run EaseUS Data Recovery Wizard, choose your HDD partition (according to its drive letter or partition label) where you lost data and click "Scan".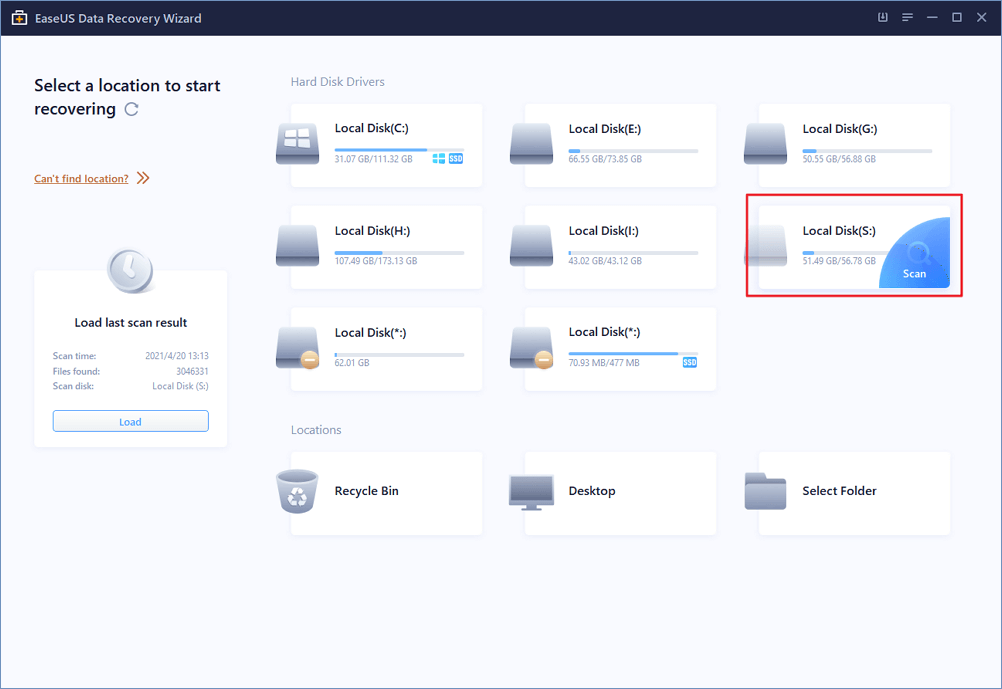 Step 2. When the scanning finishes, find lost HDD files in "Deleted Files" or "Lost Files" and double-click to preview them.
You can also use Filter or Search for quick access to your lost files via file types or file names.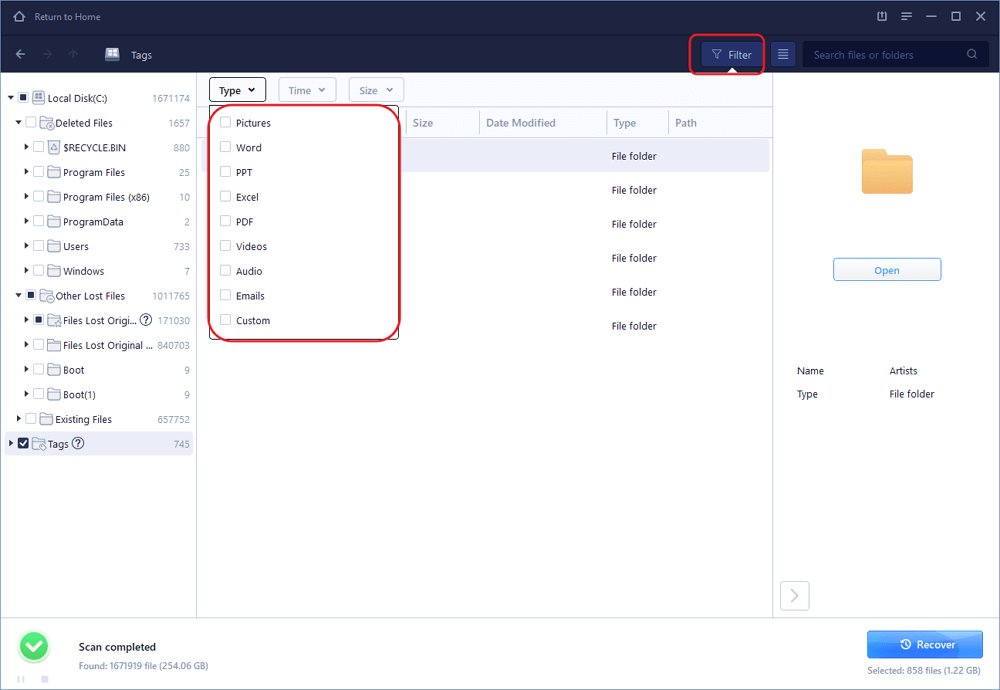 Step 3. Select all the desired items, files and click "Recover" to save the found HDD partition data to another safe location.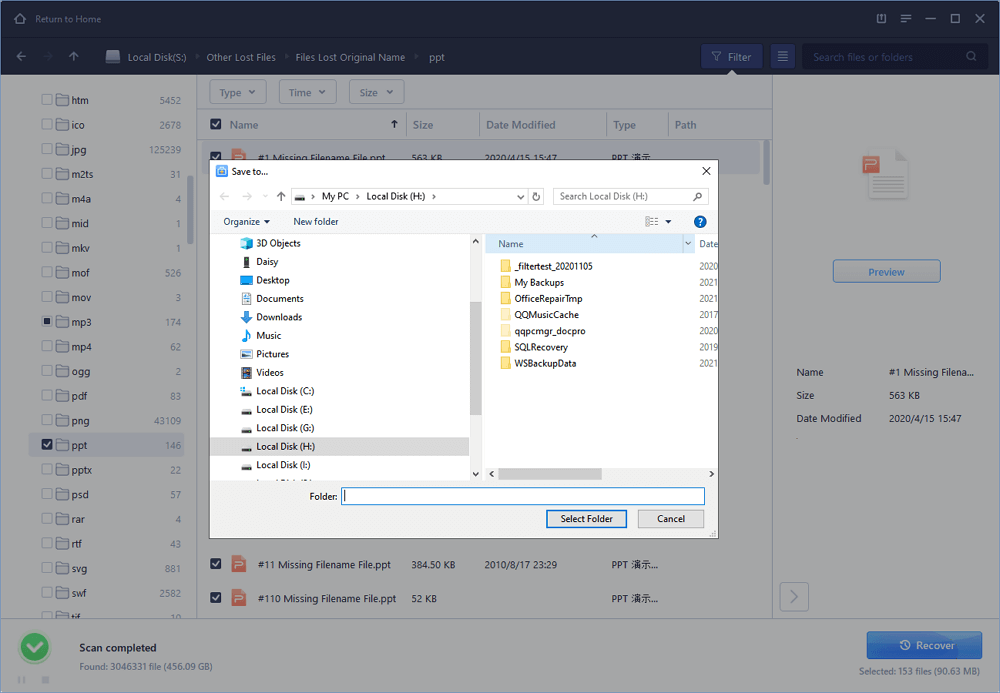 Procedure 3. Partition and Format the Disk
After saving your files to somewhere else, now you can partition and format your disk without any worry about data loss.
Step 1. Right-click the unallocated space on your disk and choose "New Simple Volume..."
Step 2. In New Simple Volume Wizard, click "Next" to continue.
Step 3. Follow the wizard to specify the volume size, assign a drive letter to the volume, and then format the partition.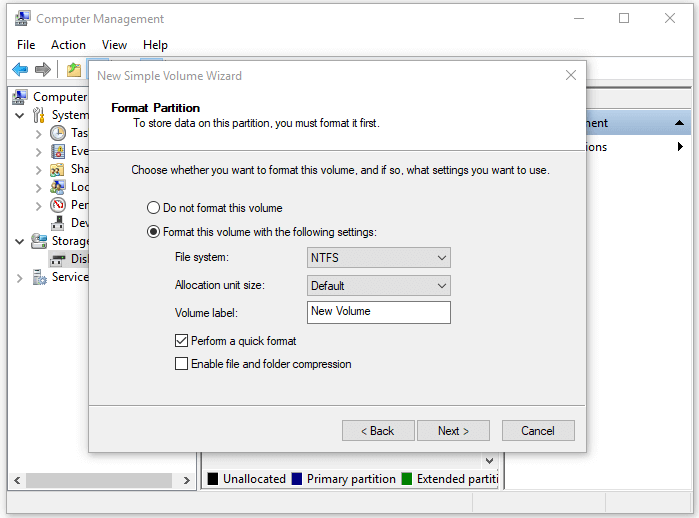 The Bottom Line
Typically, both initializing and formatting would erase data on a hard drive. However, Windows will only ask you to initialize a disk that is brand new and hasn't been used yet. The format is totally different, and it is needed more frequently. For a new hard drive, to put it in daily use on a computer, the process should be Initialize > Partition > Format.
Now you know the relationship between initializing a disk and formatting a disk and know well about whether initializing a disk erase data. To minimize the chance of data loss, knowing when to perform data recovery is crucial. In most of the data loss cases, you are recommended to perform data recovery as soon as possible. But in the case where you need to initialize a disk, it's better to recover files after the initialization and before the formatting.
100% of people found this article helpful.
Frequently Asked Questions
1. Why choose EaseUS Data Recovery Wizard?

"EaseUS Data Recovery Wizard is the best we've seen. It's far from perfect, partly because today's advanced disk technology makes data-recovery more difficult than it was with the simpler technology of the past, but it's fast and efficient..." —PCMag

"The first thing you'll notice about EaseUS Data Recovery Wizard Pro is that its interface is very clear and uncluttered, with only a small collection of self-explanatory controls. You won't find lots of extra options hidden in a system of hidden menus, either; what you see really is what you get." —techradar

"Recover lost files, even after deleting a partition or formatting your drive." —Macworld
2. Why cannot I recover 2GB data for free?

It is recommended to check the version installed is Free or Trial because they are different versions.

Trial has data preview function but cannot save any files, while the Free version enables to recover 2 GB files. The default free space is 500 MB and you may share the product on social media to get another 1.5 GB.
3. Why cannot the recovered files be opened?

A file is saved as 2 parts on the storage device: directory info (which is comprised by file name, time stamp and size info, etc.) and data content.

If the files with original file names and folder structures cannot be opened, one possible reason is the corrupted directory info. There is still a chance to recover the data content with the RAW Recovery method in our software.
4. Why isn't it suggested to recover the files back to the original drive?

The storage structure of the lost files would be altered or damaged by any changes on the drive. If you save the recovered files back to the same drive, the original data structures and data content would be corrupted or overwritten, which causes permanent data loss. So you should prepare another disk to save the files.
5. How can I check whether my data is recoverable or not before purchase?

The Free version helps you save 2GB files to better verify the recovery quality of our product before purchase.
6. How long does it take to scan the drive?

It strongly depends on the capacity of your hard drive and the performance of your computer. As reference,most drive recoveries can be completed in around 10 to 12 hours for a 1-TB healthy hard drive in general conditions.
About Data Recovery Wizard
It's super easy to recover 250+ types of files after deletion, disk formatting and virus infection. Click the links and compare the difference of each version.