
About the Author
Hot Topics in 2022
Can't Extend C Drive in Windows 11? Here Is Why and How-to Fix
| Workable Solutions | Step-by-step Troubleshooting |
| --- | --- |
| #1. Shrink or Delete a Neighbor Volume to Extend C Drive | Since we don't have anyone on our hard drive, we'll be taking some from the Neighbor partition. We can delete or shrink...Full steps |
| #2. Extend C Drive with Non-adjacent Unallocated Space  | Step 1: Free up unallocated space for C drive; Step 2: Increase C drive space; Step 3: Keep all changes to extend...Full steps |
| #3. Allocate Space from Other Drive to C Drive  | Step 1. Right-click on the D: partition with enough free space and select "Allocate Space"; Step 2. Select the target...Full steps |
| #4. Extend C with Space in a Second Disk  | Step 1. Right-click partition C, select Advanced and click Extend with 2nd Disk…; Step 2. After the software analyzes...Full steps |
Looking to extend your C Drive storage? Follow along and find out how. 
Finding yourself low on C Drive space is nothing uncommon. After an extended period of the same Windows installation, you might find your main partition bloated with many things. This could mean programs, games, hidden files, etc.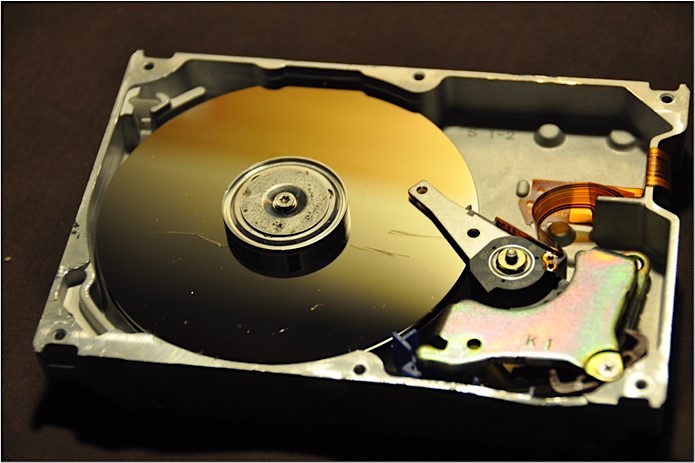 That's when many people start facing problems, such as slowed down performance, constant low-storage errors, etc. So, they turn to extend their main partition but can't extend c drive Windows 11. So, are you someone who's facing the same issue?
Then let's find out how you can extend your C partition without losing any data, time, or the performance of your computer.
Why Can't I Extend C Drive in Windows 11? 
If you're facing problems extending your C drive in disk management, then there could be a few reasons behind that. The most common reason behind this could be having no additional or unallocated space left in your physical drive. So, how do you go about checking that? Here's how:
Step 1. Click on Start Menu.
Step 2. Type Disk Management and press Enter.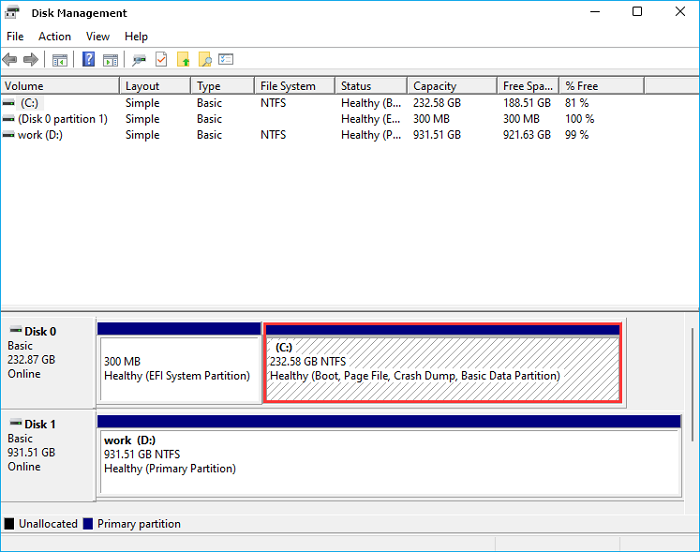 Step 3. Find the physical drive with your primary partition; in this case, it's Disk 0.
Step 4. Navigate and find the disk type, state, and storage. There's no unallocated space left in this OS drive. 
We have no space to work within this case, as we can see here. Therefore, we cannot extend this C partition using the normal methods. If we tried, we'd get the error of having no storage left to extend the partition. So, let's keep digging to find the solution.
You can learn how to check total hard disk space in windows 10 in this article. 
Can't Extend C Drive Windows 11 - Is There a Workaround? Yes 
Now that we've found out a few causes behind the inability to extend C Drive, try to find a workaround. But is there even a way to work around it? Yes, there is. We can head back to disk management using the same method.
Once we do, we can do a few things such as:
The only problem with method 2, method 3, and method 4 is that you'll need a third-party tool. This isn't exactly a problem since you can easily do it with the help of EaseUS Partition Master.
Why is that? Because the first step is the only one you can execute with the help of Disk Management, as mentioned before. For all the other steps, you're going to need EaseUS Partition Master. So, let's see how you can do that.
#1. Shrink or Delete a Neighbor Volume to Extend C Drive
To make space on a physical drive, it must feature unallocated space. Since we don't have anyone on our hard drive, we'll be taking some from the Neighbor partition.
We can delete or shrink or delete this Neighbor partition to extend our C Drive.
Once the space is unallocated, we'll use that to add to our C Drive.
#2. Extend C Drive with Non-adjacent Unallocated Space 
The first step required here is downloading EaseUS Partition Master. Remember, there's no way to add non-adjacent unallocated space to your system partition without the help of a third-party tool. So, once you download & install the tool, you will have to use it.
Step 1: Free up unallocated space for C drive.
If there is no unallocated space on the system disk, go to Partition Manager and right-click on a partition next to the C: drive and select "Resize/Move".
Drag left panel of the partition to shrink and leave unallocated space behind the system C: drive and click "OK".
Step 2: Increase C drive space.
1. Right-click on C: drive and select "Resize/Move".
2. Drag the system partition end into unallocated space so to add space to C: drive and click "OK".
Step 3: Keep all changes to extend C: drive.
Click the "Execute Task" and click "Apply" to keep all changes so to extend the system C: drive.
As seen here, the tool puts all of our physical drives at our disposal, and from them, we can pick the ones we wish to use as our non-adjacent unallocated space to extend the C Drive.
#3. Allocate Space from Other Drive to C Drive 
One of the common problems behind not extending a C drive partition is the lack of available space. If all of the space is taken on your primary drive, then you can take storage from another physical drive. However, you'll need EaseUS Partition master for its Allocate Space feature for this step.
Step 1. Right-click on the D: partition with enough free space and select "Allocate Space".
Step 2. Select the target partition - C: drive and drag the partition panel rightward to add the free space from D: drive to C: drive. Then click "OK" to confirm.
Step 3. Click the "Execute Task" button and click "Apply" to start the process of moving free space from D: drive to C: drive.
You can allocate however many gigabytes that you wish to from one partition to another—in this case, from G to C. Therefore. You will need EaseUS Partition Master for this convenient extension of your C Drive.
#4. Extend C with Space in a Second Disk 
Extending it could be impossible if your computer only has one physical drive/partition unless you have another physical drive that you could use. You might be wondering, is it even possible to extend a primary partition on one Disk from a second disk?
Yes, it is. You'll need EaseUS Partition Master with its option to extend C with the 2nd Disk.
Step 1. Launch EaseUS Partition Master and go to Partition Manager. Right-click the system C drive, select "Advanced", and click "Extend with 2nd Disk".
Step 2. After the software analyzes the status of the disk and lists the extended results, click "Customize Plan" to continue.
Step 3. Select the listed data to migrate, or click the location to select more, and then click Next to continue.
Step 4. Select which partition to column the expanded C partition after, for example, G, and click"Proceed".   
This feature is only available in EaseUS Partition Master. So, once again, you'll need to download and install it.
Conclusion: You Need The Right Tool & Methods 
The "Can't Extend C Drive In Windows 11" error is fixable; ensure you have the correct methods. That's why you can either use the Disk Management tool within the windows. Or, you can install EaseUS Partition Master. It is also the best data wipe software.
We'll recommend the latter because it covers up all the ends and ensures a smooth partition extension for a beginner. 
About the Author

Roxanne is one of the main contributors to EaseUS and has created multiple posts on digital devices like PCs, Mobile phones, tablets, Mac, etc. She loves to share ideas with people of the same interest.
Product Reviews
I love that the changes you make with EaseUS Partition Master Free aren't immediately applied to the disks. It makes it way easier to play out what will happen after you've made all the changes. I also think the overall look and feel of EaseUS Partition Master Free makes whatever you're doing with your computer's partitions easy.

 Read More

Partition Master Free can Resize, Move, Merge, Migrate, and Copy disks or partitions; convert to local, change label, defragment, check and explore partition; and much more. A premium upgrade adds free tech support and the ability to resize dynamic volumes.

 Read More

It won't hot image your drives or align them, but since it's coupled with a partition manager, it allows you do perform many tasks at once, instead of just cloning drives. You can move partitions around, resize them, defragment, and more, along with the other tools you'd expect from a cloning tool.

 Read More