ScanDisk Windows 10: How to Scan and Repair Drive Windows 10/8/7
Updated by
Jean
on Jun 28, 2021
Quick Navigation: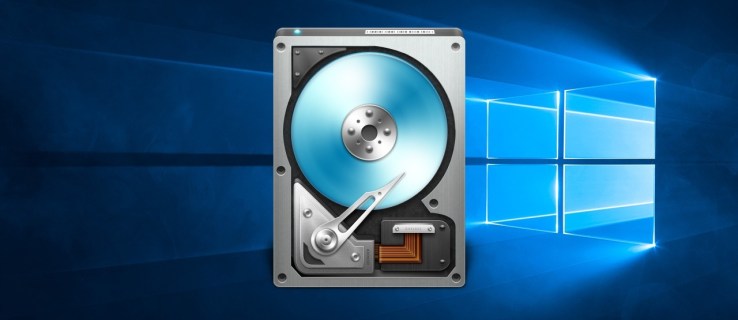 What is ScanDisk? Can you run the ScanDisk command to scan and repair drive issues in Windows 10? If you want to apply ScanDisk on newer Windows versions after MS-DOS (like Windows NT, Windows 9x, and Windows 3.x), you should turn to its successor CHKDSK, which you can find in [1] Windows Properties, [2] Command Prompt, and [3] EaseUS Partition Master - a third-party partition manager for earlier and newer Windows operating system.
Follow the quick navigation to check disk in:
What's ScanDisk?
Also known as Scan Disk, ScanDisk is a DOS-based Windows utility for automatically detecting and correcting hard drive issues and file system errors. It was first introduced in MS-DOS 6.2, so ScanDisk has had a long history now. Despite that ScanDisk can improve the performance of your hard drive and help maintain the Windows file system, it is too old to retain in the later Windows operating systems, which has been fully replaced by the upgraded utility called CHKDSK (pronounced Check Disk).
That is to say, according to different Windows operating systems, you got different ways to evoke the tool to perform its duty.
ScanDisk is available and executable in:
Windows 95 and 98
Windows 3.x and MS-DOS
*Windows NT is another senior operating system but it's not shipped with ScanDisk. Most often you can use various third-party utilities to check disk integrity for Windows NT.
In later Windows OS - Windows XP, Vista, 7, 8, 8.1, 10, ScanDisk is replaced by CHKDSK.
Learn more about ScanDisk:
1. ScanDisk checks exclusively the FAT-formatted hard disks, like FAT12, FAT16, and FAT32.
2. ScanDisk can recognize compressed volumes and long filenames.
3. ScanDisk can automatically repair cross-linked files and lost clusters.
4. You must boot the computer to Safe Mode to run ScanDisk.
5. Windows 95 OSR2 and Windows 98 run ScanDisk automatically if the computer is shut down improperly.
What's CHKDSK?
Being the successor of ScanDisk in newer Windows operating systems after Windows XP, CHKDSK is developed to monitor your disk drive's health. It starts scanning the file system on the disk drive and analyzing the integrity of the files, file system, and file metadata on the drive. It repairs issues if there were found any.
Using CHKDSK to check, scan and repair hard drive errors is becoming much easier due to the intuitive user interface in the program. There are two ways for Windows users to access the CHKDSK utility, including Windows Properties and Windows Command Prompt. 
How to Run ScanDisk in Windows 10/8/7
As aforementioned, in newer Windows platforms, what you use to scan and check hard drive issues and file system errors is not ScanDisk anymore but its alternative - CHKDSK.
Method 1. Run CHKDSK in Windows Properties
Step 1. Open Windows File Explorer (Windows + E keys) > right-click on the drive you want to check and repair > select Properties.
Step 2. In the Properties window, switch to the Tools tab. Under the Error checking section, click Check.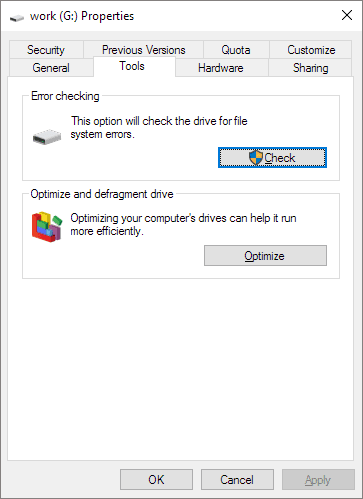 Step 3. In the Error Checking window, click Scan drive. 
The scanning process usually takes 10 minutes to a few hours depending on the size of the selected drive. Windows will try to repair the drive errors automatically while the next time you restart the computer.

Guide: How to Check Total Hard Disk Size
At times, you need to find out the disk space in total (including used space & free space) on your computer HDD or SSD. The common way for us to access a hard drive to check information is via...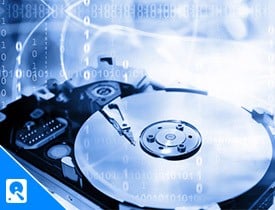 Method 2. Run CHKDSK in Windows Command Prompt
Step 1. Press Windows + X keys to open the task menu > select Command Prompt (Admin). Click Yes if the User Account Control prompt appears.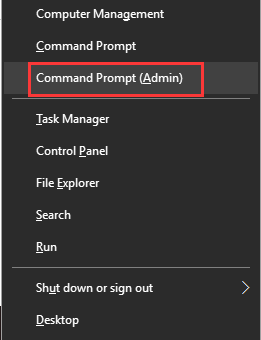 Step 2. In the command window, type the command line chkdsk c: /f /r /x and press Enter.
c: is the drive letter you selected to scan
/f instructs CHKDSK to fix any errors that were discovered during the scan
/r tells CHKDSK to locate and fix bad sectors on the drive
/x asks CHKDSK to dismount the drive before the process begins
How to Check Disk Errors in EaseUS Partition Master
No matter it's the outdated Windows OS or the morden computers running Windows 10, the default Windows program to scan and check hard drive errors is usually time-consuming and the result is rarely satisfied. As you can see, the command line method is somewhat higher-leveled, and any mistake of the parameters is prone to cause new issues on the drive. Hence, have you thought about another perfect alternative for the cliche ScanDisk or the plain CHKDSK?
You should. If you ask for a simpler, quicker but more effective way to replace the CHKDSK, use EaseUS Partition Master. It's a third-party partition magic tool that manages hard drives and partitions in every to improve performance and prolong lifespan. For EaseUS partition manager software, it's all too easy to handle the job of scanning and repairing hard disk errors.
Step 1. Open EaseUS Partition Master on your computer. Then, locate the disk, right-click the partition you want to check, and choose "Advaned" > "Check File System".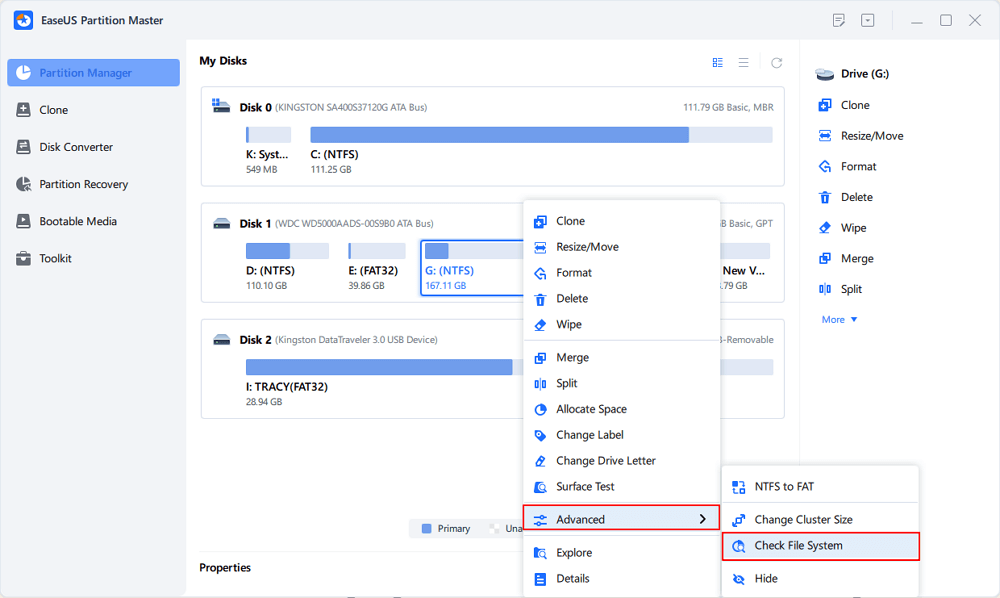 Step 2. In the Check File System window, keep the "Try to fix errors if found" option selected and click "Start".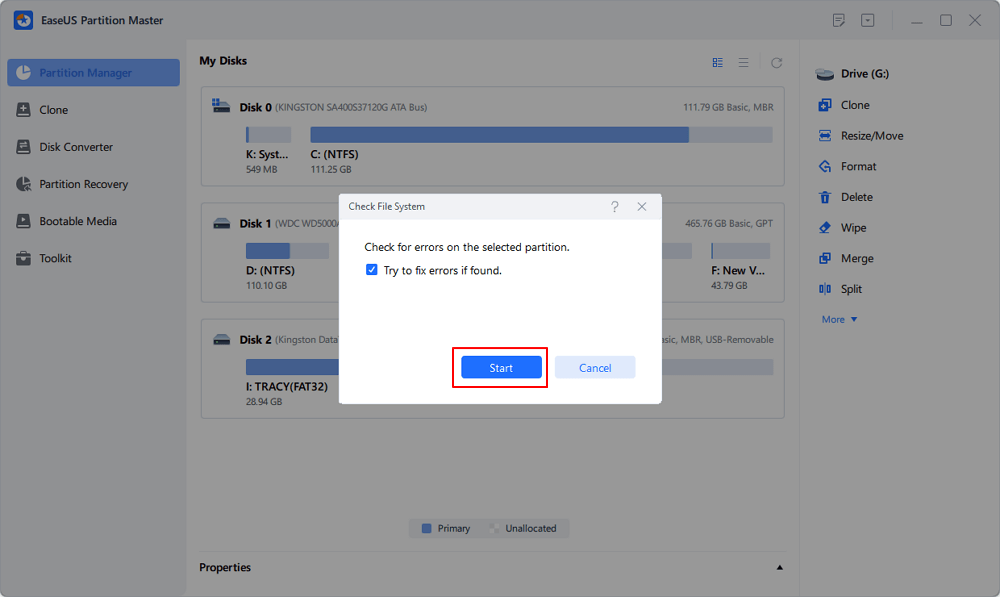 Step 3. The software will begin checking your partition file system on your disk. When it complets, click "Finish".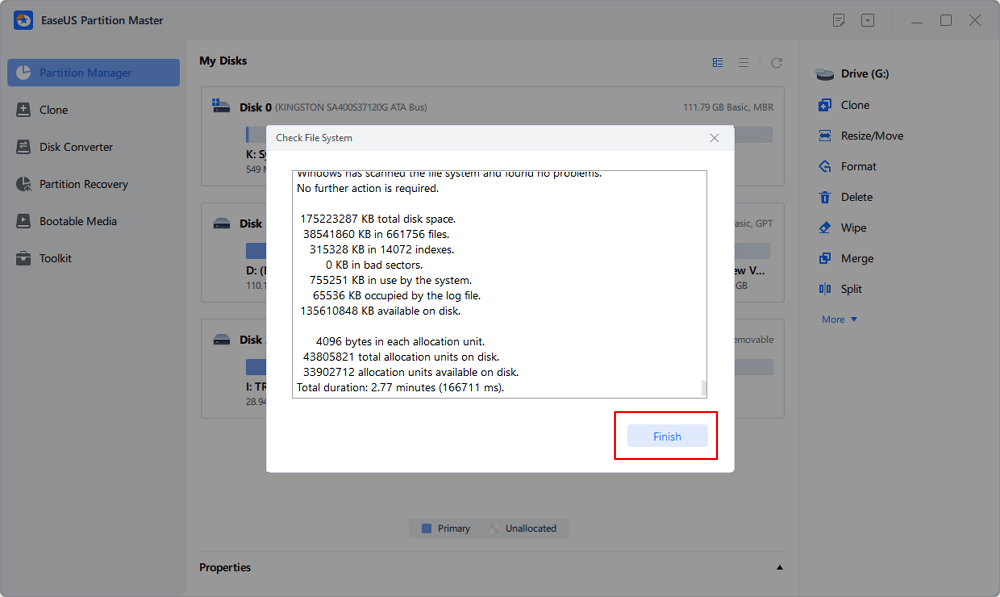 Author Jean has been writing tech articles since she was graduated from university. She has been part of the EaseUS team for over 5 years. Her special focuses are data recovery, disk partitioning, data space optimization, data backup and Mac OS. By the way, she's an aviation fan!
I love that the changes you make with EaseUS Partition Master Free aren't immediately applied to the disks. It makes it way easier to play out what will happen after you've made all the changes. I also think the overall look and feel of EaseUS Partition Master Free makes whatever you're doing with your computer's partitions easy.

 Read More

Partition Master Free can Resize, Move, Merge, Migrate, and Copy disks or partitions; convert to local, change label, defragment, check and explore partition; and much more. A premium upgrade adds free tech support and the ability to resize dynamic volumes.

 Read More

It won't hot image your drives or align them, but since it's coupled with a partition manager, it allows you do perform many tasks at once, instead of just cloning drives. You can move partitions around, resize them, defragment, and more, along with the other tools you'd expect from a cloning tool.

 Read More
About EaseUS Partition Master
All-round disk & partition management software for personal and commercial use. Let it manage your storage drive: resize, format, delete, clone, convert, etc.
Video Tutorial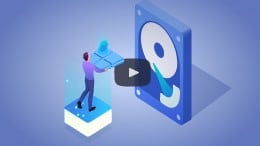 How to Partititon a Hard Drive on Windows 10/8/7
Was This Page Helpful
How Can We Help You
Find answers to common questions below.