ATA/SATA Hard Drive Not Detected in BIOS, Help!
"Hi there, have you ever met this problem that the hard drive suddenly cannot be detected in PC? I'm now having this problem that my computer cannot detect the second hard drive in my PC. My friend helps me to check the hard drive in BIOS, but no information on the hard drive is showing up. This is so strange. Is it damaged? What can I do? I still need the drive. And do you have any methods to fix this problem? Please help me if you do know any solutions, thanks."
Are you having a similar problem with your hard drive? Don't worry if your ATA or SATA hard drive cannot be recognized by BIOS or PC anymore. Just follow quick fixes and effective solutions here to fix and repair ATA/SATA not detected/recognized in BIOS error and make it show up in PC and work again now.
Quick Fix 1. Connect ATA/SATA Hard Drive with Another Cable Port
Sometimes, when the hard drive data cable gets loose, the drive may not be recognized or detected by PC. Therefore, you can try below two ways to make computer detect and read your ATA or SATA hard drive right away:
1. Reconnect the hard drive with the data cable port or connect ATA/SATA hard drive to another new data cable in PC;
2. Connect the hard drive with another desktop/laptop as a second HDD;
After this, if the computer can read and detect your ATA or SATA hard drive, then the problem has been solved. If not, don't worry. Try other solutions below to solve your problem now.
Quick Fix 2. Turn on and Enable ATA or SATA Hard Drive in BIOS
If your hard drive is a new disk and connected as a second drive in PC, it won't be recognized by PC till you enable it in BIOS:
Shut down PC and unplug data cable from hard drive properly;
Reconnect the hard drive with data cable;
Restart PC and press F2 to enter BIOS;
Enter Setup and check system documentation to see whether the not detected hard drive is turned Off in System Setup or not;
If it's Off, turn it ON in System Setup.
Reboot PC to check out and find your hard drive now.
Don't worry if your problem is still unsolved. Continue to follow below 3 methods to get your problem solved now.
Method 1. Update Hard Drive Drivers to Make ATA/SATA Hard Drive Detectable
If hard drive device drivers are outdated, the computer won't be able to run a hard drive nor read data on it. You can try below three offered options to get update hard drive drivers now:
1. Contact hard drive manufacturer for help and update hard drive drivers;
2. Download and update hard drive driver from manufacturer's website;
3. Manually update hard drive device drivers in Windows system;
4. Automatically update device drivers via EaseUS DriverHandy:
This is a professional driver manager and it can help update your drivers and can automatically scan your outdated drivers, which will avoid a lot of errors caused by outdated drivers. Now, download it and update the hard drive device drivers.
Step 1. Open EaseUS DriverHandy and click "Scan."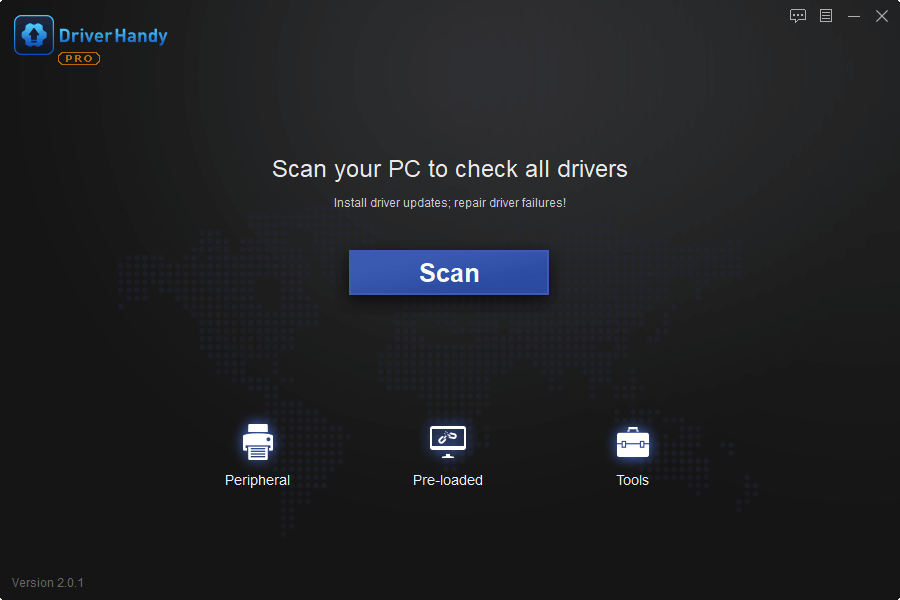 Step 2. Locate the drivers and click "Update."
Method 2. Initialize ATA/SATA Hard Drive to Make It Detectable
When hard drive especially new hard drive doesn't get initialized, it is unusable for users to install programs or save data. If you don't know how to initialize hard drive, never mind, professional partition manager software - EaseUS Partition Master will help you do the job for free. 
You can directly free download this software and follow the tutorial article: how to initialize a hard drive/SSD in Windows 10/8/7 and then make your hard drive detectable in BIOS and PC.
Method 3. Check Drive Spinning up or Not
1. Turn off the PC and open the computer case to remove data cable from the hard drive;
2. Reconnect the drive with data cable and restart PC;
3. Check out whether the drive is spinning or not;
4. If not, try to disconnect and reconnect the power cord on the computer and hard drive, repeat till the hard drive spin up;
5. It still doesn't work, try to repeat these steps with another new PC;
6. Or try to connect the drive in a SATA-USB enclosure or similar device;
7. Or you can even get a warranty replacement order from hard drive manufacturer to see if it works or not.
Extra Tip: Format ATA/SATA Hard Drive to Make It Usable for Storing Data
If you still cannot use ATA or SATA hard drive for saving data, you can format the hard drive in your PC to make it usable for saving data now:
1. Enter Disk Management tool by right-clicking "This PC/My Computer" and select "Manage";
2. Click Disk Management in Device Manager, right-click on ATA or SATA hard drive partitions and select "Format volume" or "Delete volume" to reset hard drive to save data again.

Updated by Sherly
Sherly joined EaseUS in 2022 and she has always loved writing articles and enjoys the fun they bring. She receives professional training here, focusing on product performance and other relative knowledge.
Written by Tracy King 
Tracy joined in EaseUS in 2013 and has been working with EaseUS content team for over 7 years. Being enthusiastic in computing and technology, she writes tech how-to articles and share technical solutions about Windows & Mac data recovery, file/system backup and recovery, partition management and iOS/Android data recovery.