CHDKSK command not working in Windows, how to fix?
"I was trying to run cmd with CHKDSK order to check and fix errors in my system C drive. But it seems that the disk checking command gets my computer stuck.
I was unable to complete the process. So I'm wondering to know whether I can fix this issue? Or does there exist any alternative method to check and fix disk errors in Windows 10,8 or 7?"
"Hey there, have you ever tried CHKDSK disk checking command in your PC? I tried to run the command and check & fix disk errors in my external hard drive which is not working properly. But it didn't work. I type cmd in the search bar and type: chkdsk J: /f, I thought it would check and repair errors in my external hard drive automatically.
It didn't work out as what I've expected! It hanged in checking screen and then it stopped progressing. Then I closed the disk checking window, nothing changed. Do you have any effective suggestion for me to check and fix my external hard drive errors?"
Are you having a similar problem on your computer, hard drive partition or storage devices that the CHKDSK checking process hangs with nothing repaired? Are you unable to run a startup disk check by scheduled CHKDSK command in PC? Relax! All your problems will be solved right here now.
Two methods to repair and Fix CHKDSK - Disk Check command not working error
Powerful & effective methods are available here to help you fix CHKDSK not working issue in Windows 10/8/7 with ease now:
Method 1. Fix CHKDSK not working error with CHKDSK alternative software
When CHKDSK fails to work on your PC hard drive, partitions or storage devices, you can apply a CHKDSK alternative software for help. Here you may try a highly recommended free CHKDSK alternative software - EaseUS Partition Master Free to free check and fix internal errors in Windows system, hard drive partitions and external storage devices.
You may free download it and follow steps below to run a CHKDSK checking process on your storage devices or partition hard drive with this software now:
1. Launch EaseUS Partition Master and right-click the partition, hard drive or external storage device that you want to check by clicking "Check partition".
2. Choose the way that you want to use to check partition: Check Partition Properties, Call Windows Chkdsk to fix errors, Surface Test.
Click OK.
3. Let EaseUS Partition Master automatically check hard disk partition errors and repair errors for you. Click OK to finish the process.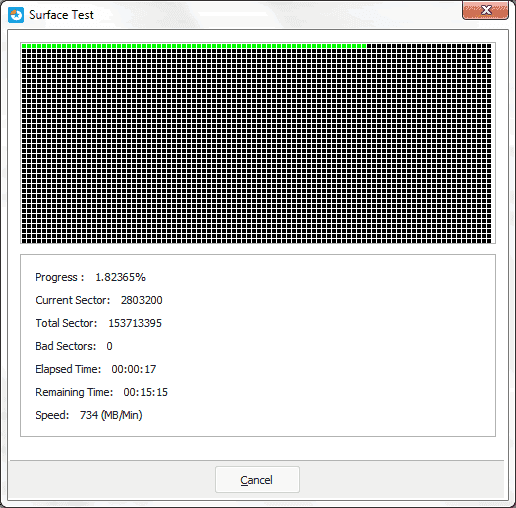 Method 2. Run System Restore to fix CHKDSK command not working issue
When you failed to run CHKDSK with cmd command in PC, you may try a system restore to restore the system to a previous state/point to get this issue fixed. Follow below tutorial guide to get your problem fixed now:
For Windows 10/8 users:
Open Control Panel > Tab System and Security > Click System;
Tab System protection > Click System Restore in System Properties window;
Click Next when System Restore window shows up > Select restore point you want to use to fix CHKDSK not working error;
Confirm the restore point on Confirm your restore point window and tab Finish;
Click Yes to start the System Restore now.
Note: Once the System Restore process starts, it cannot be interrupted. And if you have important personal files stored in system drive, please backup them in advance.
For Windows 7 users:
Go to Start > All Programs > Accessories > System Tools;
Click on System Restore > Click Next;
Choose the restore point that you want to use to fix CHKDSK not working error > Click Next;
Click Finish on the Confirm your restore point windows to begin System Restore > Click Yes to start restoring system to previous state.
After finishing the system restore process, restart your computer to keep all changes. Then you can run CHKDSK command to check and fix system errors or internal errors in hard drive, partition or storage devices in your PC now.