
About the Author
Hot Topics in 2022
RAID 0 vs RAID 1, Comparison and How-to Setup Guide [2023 New]
Updated by
Sherly
on Dec 06, 2022
Applies to: All Windows Server from 2003 to 2022.
This page covers everything you need to know about RAID 0 and RAID 1. Here, we included some details about both types of disks, and if you need to learn how to set up and manage RAID 0 or RAID disks, continue reading and you'll know how to manage RAID disks on your Servers.
RAID 0 vs RAID 1, Overview
So what is RAID 0, and what is RAID 1? Before we know the explanation, let's first check out what RAID is.
RAID, also known as Redundant Array of Independent Disks, is a group of disks combined by a storage technology. These disks work as one drive in computers to extend storage capacity in Windows Serer computers.
RAID 0, is also called striped disks, configures and joints multiple disks together, and it enables the system to read and write data simultaneously across disks at a fast speed. Stripping is a storage technology that divides and saves data into striped units onto the connected disks. 

RAID 1, is known as mirroring disks, is a technology that mirrors two or multiple disks as duplicates. RAID 1 disks enable the computer to read and write content to both mirrored drives simultaneously. And it also provides a better redundancy to make sure the system can read data as fast as possible from both disks. Note that the write operations will be slower than reading as the system has to write data to two disks.

RAID 0 vs RAID 1, What Is the Difference
What's the difference between RAID 0 and RAID 1? According to the definition of RAID 0 and RAID 1, it's clear that the disk connection technology is different. Aside from this, anything else? Check the comparison table and grab the unique features of each type of disk:
| Comparison | RAID 0 | RAID 1 |
| --- | --- | --- |
| Disk Feature | Disk Stripping | Disk Mirroring |
| Disk Requests | 2 or more disks | 2 or more disks |
| Storage Capacity Usage | 100% used | 50% used |
| Fault Tolerance | No | Yes |
| Data Recovery | No | Yes |
You may also wonder to know the wring and reading speed of RAID 0 and RAID 1, right? If yes, continue reading and get to learn more details.
RAID 0 vs RAID 1, Which Is Faster
According to the configuration and working mode of RAID 0 and RAID 1, it's clear that the reading and writing speeds between the two types of disks are different. 
# Reading Speed:
RAID 0 separately saves data into several disks, and this undoubtedly will improve the reading speed and make it faster than RAID 1. It is because RAID 1 writes data into two disks, and when it comes to reading content, the system will need to compare and read data on two disks, making it much slower than RAID 0.
# Writing Speed: 
When it comes to writing content to RAID 0 and RAID 1 disks, the writing speed on RAID 0 is also much faster than RAID 1. However, due to the redundancy and fault-tolerant features, on RAID 1 disks, the system will have to write data twice onto two disks. 
Assumption: Suppose that you created RAID 0 and RAID 1 with the same brand of disks, and each disk contains the same storage capacity. In this case, the reading speed of RAID 0 surpasses RAID 1. And the writing speed in RAID 0 is twice faster than RAID 1. 
When to Use RAID 0 and RAID 1
Some of you may wonder, "When should I use RAID 1" and "When to use RAID 0", right? Most experienced Windows Server users know the differences and know very well about when to create RAID 0 and when to create RAID 1
Due to the different features, RAID 0 performs well in reading and writing data to disks. In the meantime, RAID 1 provides users with a high level of data security. And here is a list, and you can check the different usages of RAID 0 and RAID 1:
Comparison
RAID 0
RAID 1
Pros

Low cost
High writing & reading speed
High efficiency

Low cost
High-reliability stability

Cons

Low reliability in data protection

 

When to Use

Extend storage capacity, like a database.
Improve site or computer performance in reading and writing speed.

 

 

Back up essential database or business documents.
File managing or financial data protection.
Government data protection.
According to the comparison table, it's clear that RAID 0 and RAID 1 are designed for different purposes. So here is EaseUS Editors' suggestion: 
If you need a fast speed to access content on the computer or your database, RAID 0 shall stand out.
To ensure the security of your business content or millions of document files, RAID 1 is the best option.
How to Setup RAID 0 or RAID in Windows Server
Here we'll show you the complete guide of setting up RAID 0 or RAID 1 disks in both soft and hard ways. However, before you start, let's learn the difference of creating RAID disks in software and hardware ways
So how to set up a RAID 0 or RAID 1 disk with multiple disks? Follow the full guide below, and you'll make it.
#1. Prepare Hard Disks
Here is a list of tips that you need to be aware of while preparing hard drives for RAID:
Using the same brand of disks if possible.
Select disks with the same storage capacity, for example, using two or more disks with 1TB space.
Install and connect the disks to Server computers correctly.
Mechanical hard drives are still more widely preferred while creating RAID disks.
#2. Confirm How Would You Like to Setup RAID 0 or RAID 1
There are two normal ways to configure RAID 0 or RAID 1 environment across disks: the hard way and the soft way. Here are the differences:
Software RAID: Doesn't require BIOS setup operation in BIOS. Using relaible software can simply create RAID disks. Easy to follow.
Hardware RAID: Using the RAID controller card for the Server, set up the RAID disk type in BIOS. The process is a bit complex. 
Normally, the hard way is more used as most Server computers provide RAID controller cards for generating a RAID environment. Now, let's see how to set up your RAID 0 or RAID 1 disk with the detailed steps below.
#3. Setup RAID 0 or RAID 1 in Windows Server (2022/2019/2016)
Create Hardware RAID 0/1:
Step 1. Shut down the Server computer, open the computer case, take out the motherboard and locate the RAID controller.
Step 2. Prepare the SATA cables.
Step 3. Insert or connect hard drives to the RAID controller in Server.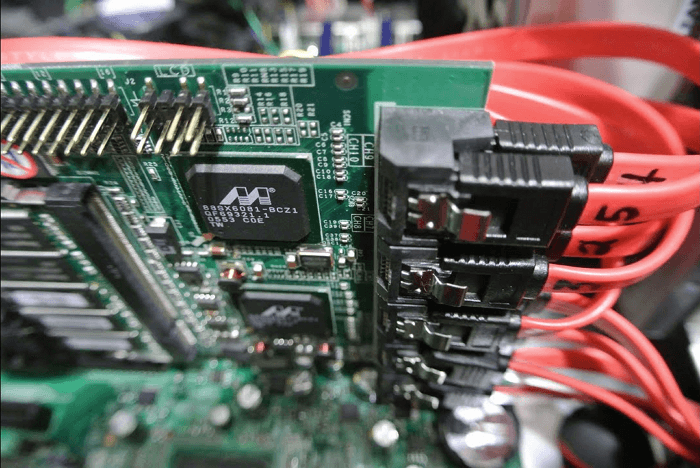 Step 4. Put back the computer case, and restart the Server computer, press F2 to enter BIOS settings.
Step 5. Enable RAID in BIOS based on the motherboard model:
Go to Configuration > SATA Drives > Set chipset SATA Mode to RAID.
Go to Advanced > Drive Configuration > Set Configure SATA to RAID.
Go to Advanced > Drive Configuration > Set Drive Mode to Enhanced > Set the RAID option Enabled.
You can set RAID 0 or RAID 1 as the disk mode based on your needs.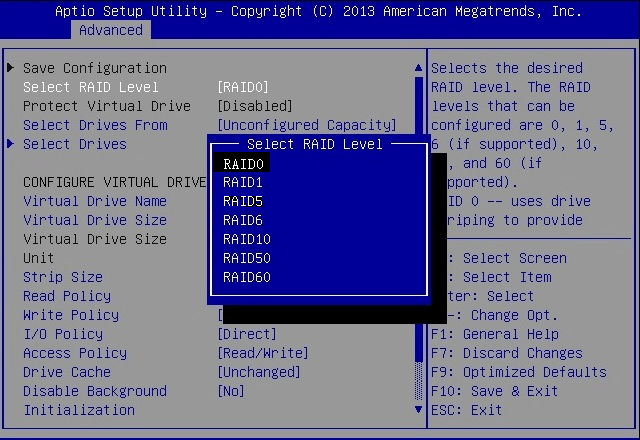 Step 6. Press F10 to save the changes and exit. 
After this, you need to wait for the process to complete. Then, you'll get RAID 0 or RAID 1 disk mode created on your computer successfully.
Create Software RAID 0/1:
For some small business users, you may want to use the software to create RAID 0 or RAID 1 as it's more efficient and cost-effective. To do so, you'll need to turn to reliable disk management software for help. In this case, we'd like to recommend you try EaseUS Partition Master for help.
It's efficient and reliable in configuring this software's stripped RAID 0 or mirrored RAID 1. 
EaseUS Partition Master Enterprise
Your trustworthy Windows Server disk manager.
 Extend System drive, combine/split partitions.
 Clone disk, migrate OS to HDD/SSD.
 Convert MBR to GPT, GPT to MBR, no data loss.
 1-click adjust disk layout, create volumes at one time.
First, Install Disks
Connect or install all disks into your Server computer via SATA cables.
Next, Combine All Disks as Dynamic
Your steps here are to combine all disk spaces by converting the disk from basic to dynamic. This is what EaseUS Partition Master created for.
Step 1. Install and open EaseUS Partition Master and go to Disk Converter.
Step 2. Select the disk disk conversion mode that suits your need:
Convert Basic to Dynamic: change a Basic disk to Dynamic.
Convert Dynamic to Basic: change a Dynamic disk to Basic.
Step 3. Select the target disk - Basic or Dynamic, confirm you've select the correct disk and click "Convert" to start.
0:00 - 0:18 Convert Basic to Dynamic Disk; 0:19- 0:36 Convert Dynamic to Basic Disk.
Last, Create RAID 0 or RAID 1
Now, you can create Stripping volume for RAID 0, or Mirrored volume for RAID 1. Here is how to do so with EaseUS Partition Master:
Step 1. Launch EaseUS Partition Master. On the main window, right-click on the unallocated space on your hard drive or external storage device and select "Create".
Step 2. Adjust the partition size, file system (Choose the file system based on your need), label, etc. for the new partition and click "OK" to continue.
Step 3. Click on the "Execute 1 Task(s)" button and create a new partition by clicking "Apply".
Watch the following video tutorial and learn how to create a partition in NTFS, FAT, or EXT file system.
After following the full guide, you are now ready to use RAID 0 or RAID 1 on your computer.
Bonus Tip: Manage and Make Use RAID 0 and RAID 1 Disks
Aside from the above guide in creating RAID 0 or RAID 1, here we also connected some tips for you to manage and make full use of RAID disks:
Back up essential data or content to an external storage device or cloud drive using RAID 0.
Don't break RAID disk mode in case of losing all of your data. 
Use the clone tool if you need to upgrade RAID 0 or RAID 1 disk to even bigger drives. See: Clone RAID.
When you lost RAID 0 data, turn to reliable data recovery software for help. See: Recover RAID 0 data. 
To create partitions on RAID drives, you have EaseUS Partition Master to turn to.
Conclusion
We compared RAID 0 and RAID 1 on this page and presented the differences between the two types of disks. Either two disk modes could be generated on your own with the complete guide on this page. 
For an easier way, you can turn to EaseUS Partition Master and follow the software RAID guide to create RAID 0 or RAID 1 on your computer immediately.
About the Author

Updated by Sherly
Sherly joined EaseUS in 2022 and she has always loved writing articles and enjoys the fun they bring. She receives professional training here, focusing on product performance and other relative knowledge.
Written by Tracy King 
Tracy joined in EaseUS in 2013 and has been working with EaseUS content team for over 7 years. Being enthusiastic in computing and technology, she writes tech how-to articles and share technical solutions about Windows & Mac data recovery, file/system backup and recovery, partition management and iOS/Android data recovery.
Product Reviews
I love that the changes you make with EaseUS Partition Master Free aren't immediately applied to the disks. It makes it way easier to play out what will happen after you've made all the changes. I also think the overall look and feel of EaseUS Partition Master Free makes whatever you're doing with your computer's partitions easy.

 Read More

Partition Master Free can Resize, Move, Merge, Migrate, and Copy disks or partitions; convert to local, change label, defragment, check and explore partition; and much more. A premium upgrade adds free tech support and the ability to resize dynamic volumes.

 Read More

It won't hot image your drives or align them, but since it's coupled with a partition manager, it allows you do perform many tasks at once, instead of just cloning drives. You can move partitions around, resize them, defragment, and more, along with the other tools you'd expect from a cloning tool.

 Read More