PAGE CONTENT:
Part 1. BOOTMGR is Missing

Part 2. Quick Fixes

Part 3. Advanced Solutions
Some users may have the experience of getting a black screen, showing error message "BOOTMGR is Missing. Press Ctrl+Alt+Del to restart" while trying to boot their PCs. Just like this:

Maybe you have been caught by the same issue. We know it is frustrating, but take it easy! Here we've collected all the possible solutions, either quick fixes from average users or workarounds offered by professionals to help you get rid of this problem in Windows 10/8/7 and boot your PC properly!
Part 1. More Details about 'BOOTMGR is Missing'
Before addressing how to fix 'BOOTMGR is Missing' error, we will talk describe this issue in more detail. If you are urgent to fix the error, skip to Part 2 to get a solution.
What Is BOOTMGR
The BOOTMGR (Windows Boot Manager) is a small piece of software which runs automatically when you start your PC and loads your operating system from the hard drive. When it is missing or corrupted, Windows is unable to boot and shows you 'BOOTMGR is Missing' error.
What Are the Causes of BOOTMGR is Missing Issue
The BOOTMGR files are corrupted and misconfigured.
The PC is set to boot from a non-bootable device.
Errors, corruptions or bad sectors appear on the hard drive.
Other reasons like outdated BIOS, loose or damaged hard disk interface cables, hard drive and operating system upgrade issues.
Part 2. Quick Fixes to Solve 'BOOTMGR is Missing' Problem
Fix 1. Restart Your Desktop or Laptop
It's not a deceptive trick; sometimes, a rebooting can help you repair BOOTMGR. And if it doesn't work, try the next way.
Fix 2. Reset All Internal Data and Power Cables
Re-set and reconnect all SATA cable and power cables between the PC and hard drives.
Fix 3. Remove All Removable Media
To rule out the possibility that 'BOOTMGR is Missing' error appears because your PC is trying to boot from a device which is non-bootable, make sure you have removed all the removable media such as a USB flash drive, a floppy disk, or other unbootable disks.
Fix 4. Change Boot Order in BIOS
The missing BOOTMGR issue still happens? Just go to the main interface of BIOS. (You can do it by pressing a specific key while booting Windows if you are not sure what is the right key for your model, search it online.)
Then, under the "Boot" tab, check if the hard drive is set as the first boot device in BIOS. If not, correct it. Finally, restart the PC.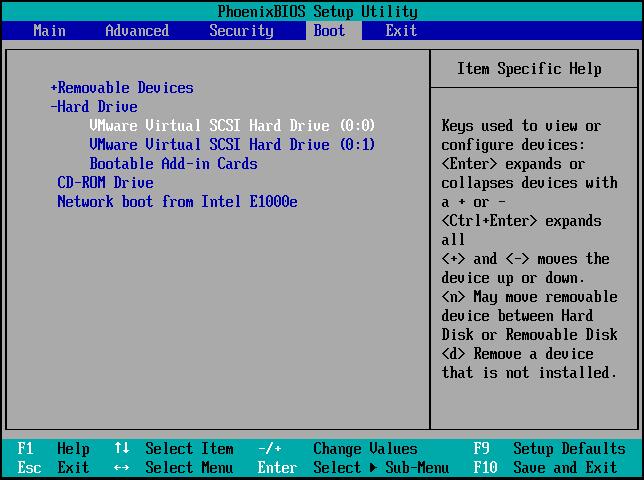 Part 3. Advanced Solutions to Address 'BOOTMGR is Missing' Issue
Method 1. Copy or Recreate BCD File
1. Insert Windows installationdisk to your PC and restart it from the disk, click "Repair your computer".

2. Click Troubleshoot > Advanced options > Command Prompt and type: disk part, hit Enter.
3. Run Diskpart to set partition ID and assign a drive letter
Type below command and hit Enter each time:
diskpart
list disk
sel disk 0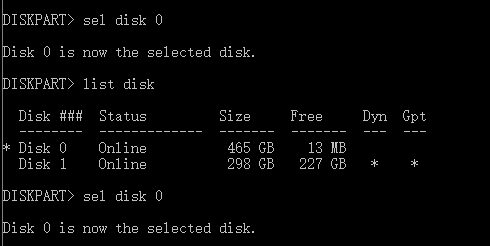 When the message "Disk 0 is now the selected disk" shows up, type: list vol and hit Enter.
Diskpart will now show the full list of volumes on your PC, find system volume from the list: let's say the system partition is on Volume 2.
4. Set partition ID, type below command and hit Enter each time:
sel vol 2
set id=c12a7328-f81f-11d2-ba4b-00a0c93ec93b
Or SET ID=ebd0a0a2-b9e5-4433-87c0-68b6b72699c7

5. Assign drive letter by typing below command and click Enter:
assign letter=G: (Note: G shall be a unique drive letter which cannot be already used.)
6. Type: bcdboot C:\Windows /s G: and hit Enter.
Or you can try below command and hit Enter each time:
ren BCD BCD.old
bcdboot C:\Windows /l en-us /s G: /f ALL (Note: c:\ is the drive where Windows 10/8.1/8 is installed on.)

7. Type: exit and restart your computer.
It should be able to boot up and run properly again.
Method 2. Repair Corrupted Master Boot Record
If the MBR corrupted, the computer wouldn't boot up, and you'll need to rebuild the MBR on your PC with the help of EaseUS free partition software.
Step 1: Create a WinPE bootable disk.
1. Download and launch EaseUS Partition Master on a new PC which runs the same system as yours.
2. Click "WinPE Creator" on the toolbar. And select to create the bootable disk on a USB drive. If your computer has a CD/DVD drive, you can also create the bootable disk to CD/DVD.
3. Click "Proceed" to finish the process.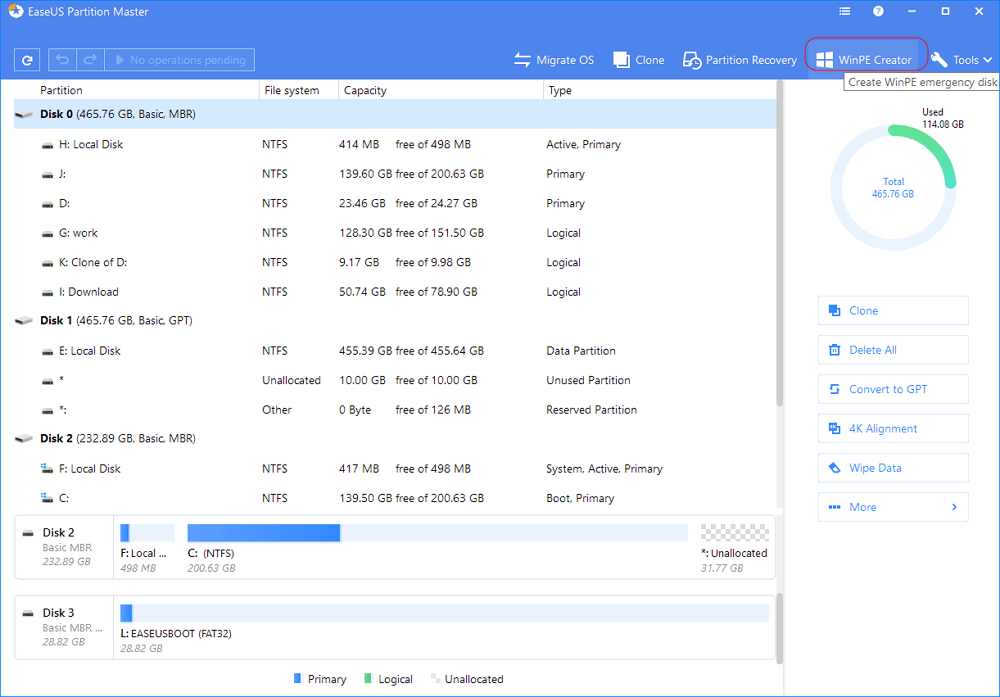 Step 2: Rebuild MBR.
1. Connect the bootable USB or CD/DVD to your PC.
2. Press "Del" when you are restarting the computer. Boot your computer from "Removable Devices" or "CD-ROM Drive". And then EaseUS Partition Master will run automatically.
3. Right-click the disk whose MBR is damaged. Choose "Rebuild MBR" to continue.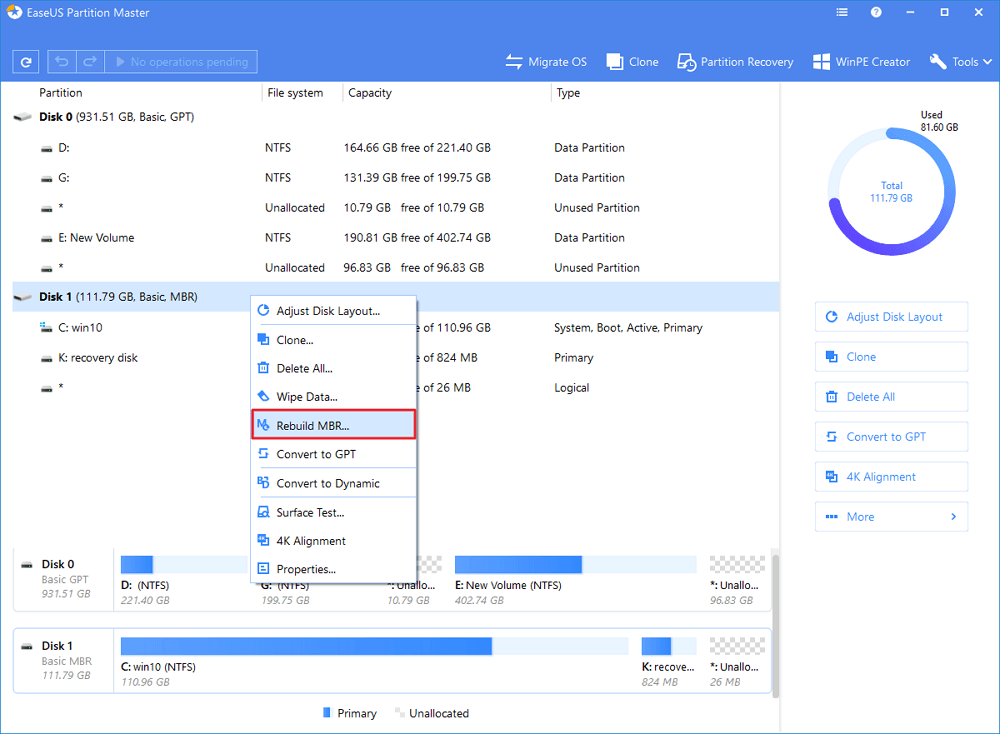 4. Select the type of MBR with the current operating system. Then, click "OK".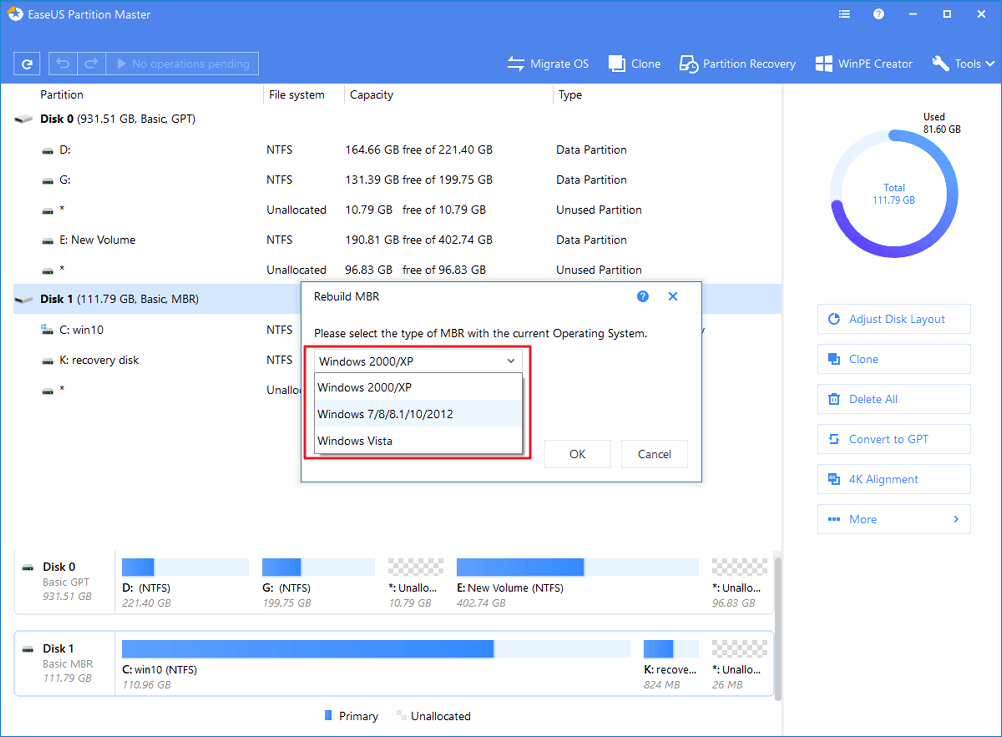 5. Click the "Execute 1 Operation" button at the top-left corner and click "Apply" to build the MBR. After that, your computer can boot normally again.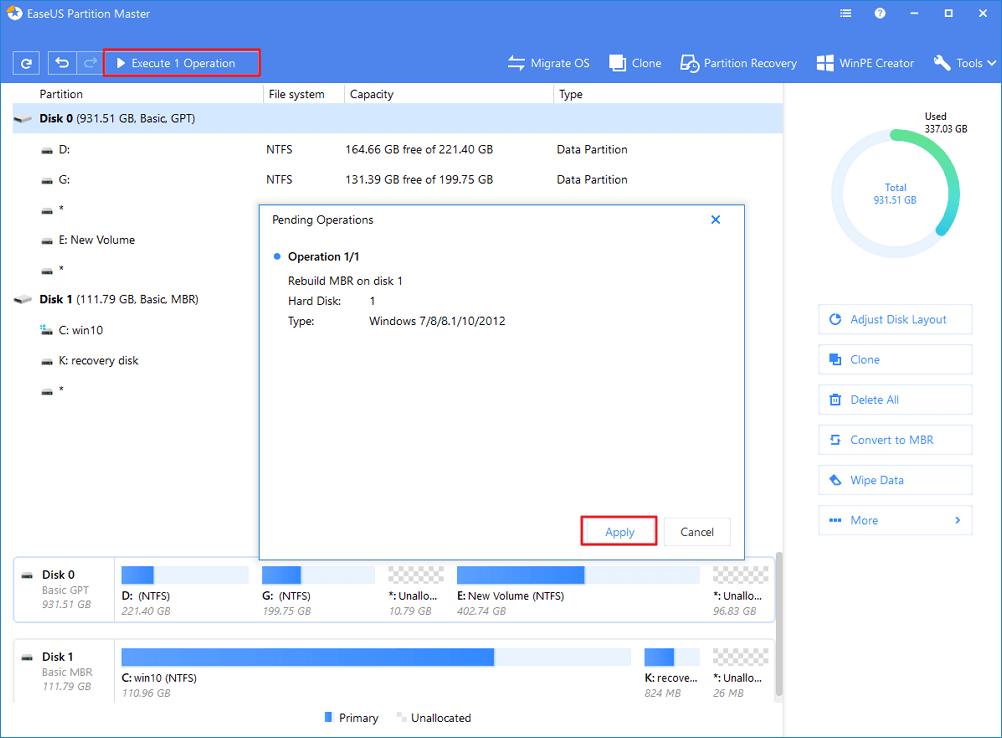 It doesn't work? Try to scan and test hard disk for errors.
Method 3. Run Startup Repair from the Windows Recovery Environment (WinRE)
Insert the Windows installation disc, and then start the computer.
Press a key when the message Press any key to boot from CD or DVD appears.
Select a language, a time and currency, a keyboard or input method, and then select Next.
Select Repair your computer.
In the System Recovery Options dialog box, select the drive of your Windows installation (usually c drive), and then choose Next.
At the System Recovery Options dialog box, select Repair your computer.
Select the operating system that you want to repair, and then select Next.
In the System Recovery Options dialog box, select Startup Repair.
Method 4. Perform a System Restore if You Have a Backup Image
Go to step 6 in the above tutorial, select System Restore.
Follow the System Restore Wizard instructions and select the appropriate restore point.
Select Finish to restore the system.
These are all the possible methods that might help you fix 'BOOTMGR is Missing' error caused by various reasons. We hope that at least one of them is helpful. Otherwise, I am afraid you may need to consider to do a clean Windows Installation or replace the PC hard drive.