How to Fix BOOTMGR Is Missing Windows 10/8/7
Updated by
Daisy
on Apr 21, 2021
| Workable Solutions | Step-by-step Troubleshooting |
| --- | --- |
| Fix 1.  Restart Your Computer | The Bootmgr error could be a fluke. Rebooting a computer can fix software conflicts that cause Bootmgr...Full steps |
| Fix 2. Reset All Internal Data and Power Cables | Bootmgr error could be caused by unplugged, loose, or malfunctioning power or controller cables...Full steps |
| Fix 3. Remove Non-Bootable Media | Bootmgr error will appear if your computer is trying to boot from a non-bootable media inserted...Full steps |
| Fix 4. Change the Boot Order in BIOS | If you have more than one drive, go to BIOS and make sure the bootable device is listed first...Full steps |
| Fix 5. Rebuild BCD in WinRE | You can use the bootrec.exe tool in the Windows Recovery Environment (Windows RE) to repair the error...Full steps |
| Fix 6. Fix Corrupted MBR with Bootable USB | The Bootmgr is missing hight happen due to a damaged Master Boot Record. So, you can repair MBR...Full steps |
| More 4 Useful Methods |  Run Startup Repair, perform a system restore if you have a backup image and clean installation Windows...Full steps |
Windows 10 BOOTMGR Is Missing Error Overview
Some users may have the experience of getting a black screen, showing the error message "BOOTMGR is Missing. Press Ctrl+Alt+Del to restart" while trying to boot their Windows 10 or Windows 7 PCs lust like the screenshot displays:

You may also see BOOTMGR is missing with the following different error messages:
"BOOTMGR is missing Press any key to restart."
"BOOTMGR image is corrupt. The system cannot boot."
"Couldn't find BOOTMGR"
What Is BOOTMGR 
BOOTMGR (Windows Boot Manager) is a read-only hidden file that is located in the root directory of a partition marked Active, which is usually a system-reserved partition without a drive letter. BOOTMGR loads volume boot code automatically and starts your operating system from the hard drive.
When BOOTMGR is missing or corrupted, Windows can't boot and shows you the 'BOOTMGR is Missing' error. 
What Are the Causes of BOOTMGR is Missing Windows 10/7
When you start your computer, the PST (stands for Power On Self Test) processes begin to run by BIOS before booting your Windows copy. The BOOTMGR is missing error occurs after the Power On Self Test (POST) is complete, and Windows starts to load.
The BOOTMGR error can be caused by many things, including:
The BOOTMGR files are corrupted and misconfigured.
Windows boot sector is damaged or missing.
The PC is set to boot from a non-bootable device. 
Errors, corruptions, or bad sectors appear on the hard drive.
Other reasons like outdated BIOS, loose or damaged hard disk interface cables, hard drive, and operating system upgrade issues.
This guide will talk about how to fix Bootmgr is missing error on Windows 10 or Windows 7. Let's get started.
How to Fix BOOTMGR Is Missing Windows 7/8/10 
We've provided below 10 fixes that you can use to fix Windows 10, or Windows 7 BOOTMGR is missing problem. Go through in order, step by step, and check which one will work for you.  
Fix 1. Restart Your Desktop or Laptop
It's not a deceptive trick; sometimes, a rebooting can help you repair BOOTMGR. And if it doesn't work, try the next way.
Fix 2. Reset All Internal Data and Power Cables
BOOTMGR missing error may be due to unplugged, loose, faulty power, or controller cables. Re-set and reconnect all SATA cables and power cables between the PC and hard drives. 
Fix 3. Remove Non-Bootable Media
To rule out the possibility that the 'BOOTMGR is Missing' error appears because your PC is trying to boot from a non-bootable device, make sure you have removed all the removable media such as a USB flash drive, a floppy disk, or other unbootable disks.
Fix 4. Change the Boot Order in BIOS
Does the Windows 10 BOOTMGR missing issue still happen? Check the boot sequence in BIOS and make sure the correct hard drive or other bootable device is listed first to boot your computer.
Step 1. Restart your Windows 10 or Windows 7 computer. When the computer starts to boot up, press DEL or F2 key to enter BIOS Setup.
Step 2. Then, under the "Boot" tab, check if the hard drive is set as the BIOS's first boot device. If not, correct it. Finally, restart the PC.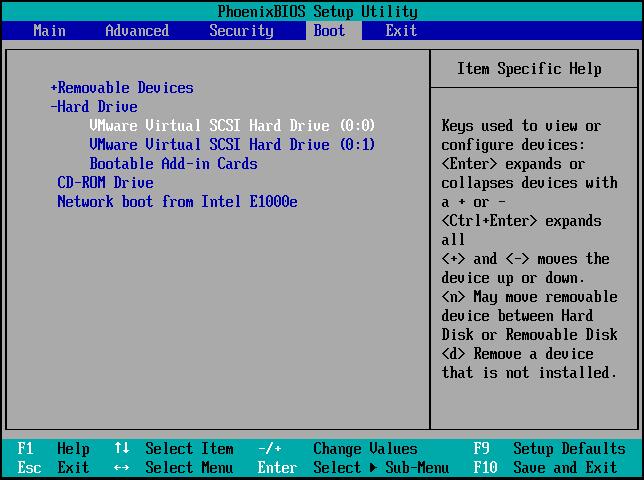 Fix 5. Recreate BCD from Windows Recovery Environment (WinRE)
A corrupted or incorrectly configured BCD could cause BOOTMGR is missing error. bootrec.exe is a tool built in the Windows Recovery Environment (Windows RE) that you can use to troubleshoot and repair boot configuration data and master boot records. To rebuild BCD from Windows Recovery Environment (WinRE), follow these steps: 
Step 1. Insert Windows installation disk to your PC and restart it from the disk, click "Repair your computer". 

Step 2. Click "Troubleshoot" > "Advanced options" > "Command Prompt" and type: C: and hit Enter.
Step 3. In Command prompt, type the following commands in order and hit Enter:
bootrec /fixmbr
bootrec /fixboot
bootrec /rebuildbcd
Chkdsk /f
Step 4. After completing each command successfully, type exit and restart your computer. It should be able to boot up and run properly again. 
Fix 6. Repair Corrupted Master Boot Record with Bootable USB
If the MBR is corrupted, the computer wouldn't boot up and shows BOOTMGR is missing error message, and you'll need to rebuild the MBR on your PC with the help of EaseUS Windows partition manager. You can repair the corrupted MBR with a bootable UBS and fix BOOTMGR is missing on Windows 10/8/7 without installation disc.
Resize/move, merge, clone partition, and check file system error.
Clone disk, convert to MBR/GPT, convert to dynamic/basic, and even wipe data.
Migrate OS to SSD to speed up Windows without reinstalling.
Step 1. Create a WinPE bootable disk
Launch EaseUS Partition Master, click "WinPE Creator" on the toolbar. Select to create the bootable disk on a USB drive. If your computer has a CD/DVD drive, you can also create the bootable disk to CD/DVD.
Click "Proceed" to finish the process.
Step 2. Boot EaseUS Partition Master Bootable USB
Connect the bootable USB or CD/DVD to your PC. 
Press F2 or Del when you restart the computer to enter the BIOS screen. Set and boot your computer from "Removable Devices" or "CD-ROM Drive". And then EaseUS Partition Master will run automatically.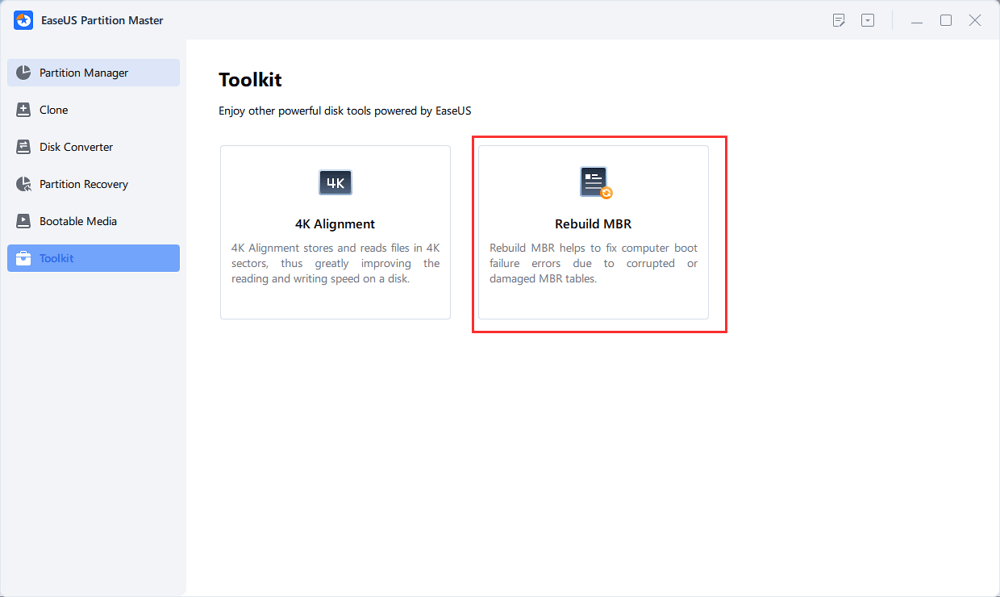 Step 3. Rebuild MBR
Right-click the disk whose MBR is damaged. Choose "Rebuild MBR" to continue.
Select the type of MBR with the current operating system. Then, click "OK".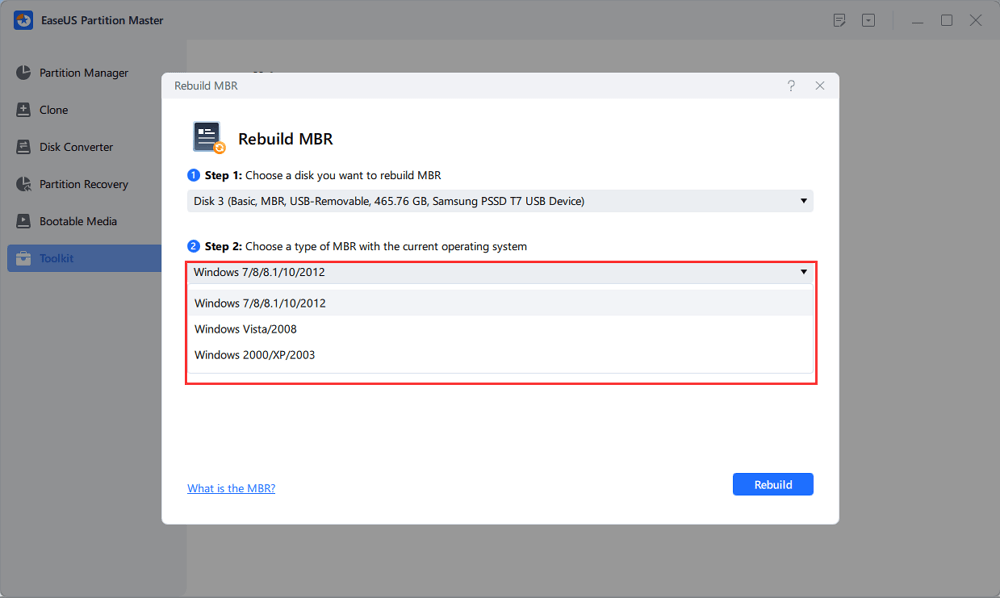 Click the "Execute Operation" button at the top-left corner and click "Apply" to build the MBR. After that, your computer can boot normally again.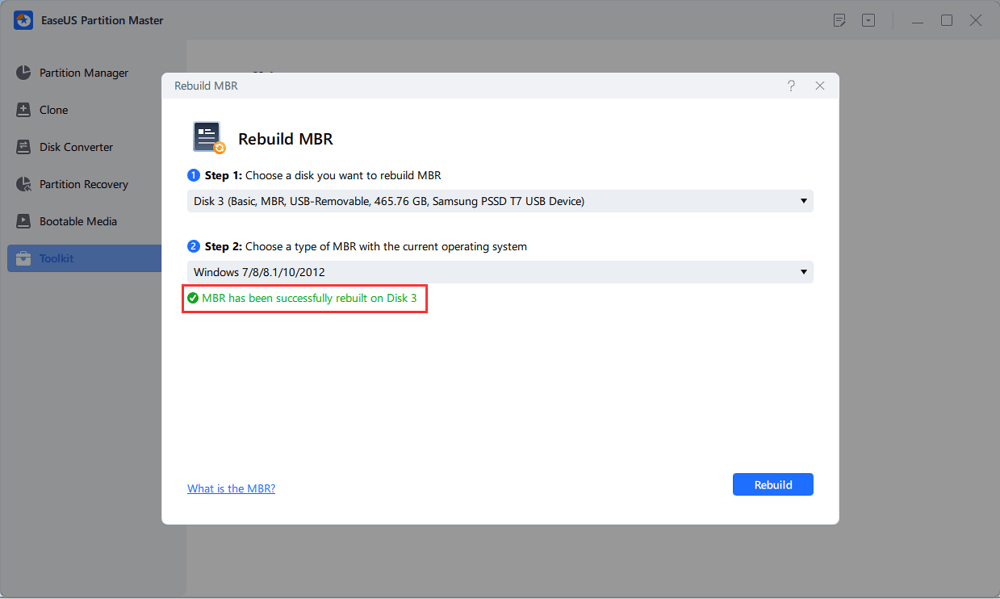 Fix 7. Run Startup Repair from Windows Recovery Environment (WinRE)
Run Startup Repair on Windows 7 to fix BOOTMGR is missing:
Step 1. Insert the Windows installation disc, and then start the computer. If there is no installation CD, how to fix BOOTMGR is missing in Windows 7 without CD? You can create a bootable USB from ISO and then boot the PC from the USB drive to enter the Windows Recovery Environment. 
Step 2. Select "Startup Repair" under the System Recovery Options window to continue.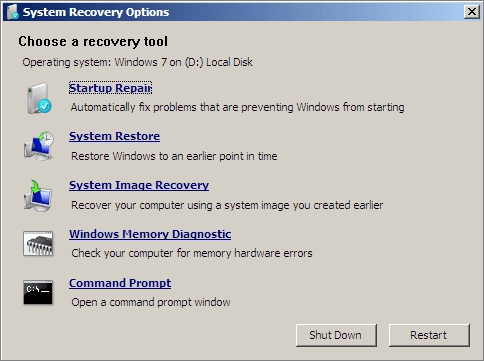 Run Startup Repair on Windows 10 and Windows 10
Step 1. Insert the Windows 10 bootable installation disc, and then start the computer.
Step 2. Press a key when the message Press any key to boot from CD or DVD appears.
Step 3. Select a language, a time and currency, a keyboard or input method, and then click "Next". Select "Repair your computer".
Step 4. Click "Troubleshoot" on the Choose an option screen. Then, on the Troubleshoot screen, click the "Advanced" option.
Step 5. On the Advanced options screen, click "Automatic Repair or Startup Repair".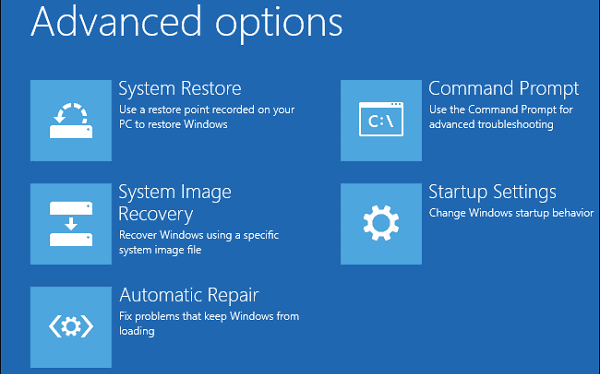 Restart your computer and check whether you have successfully fix BOOTMGR is missing in Windows 10. If not, continue.
Fix 8. Perform a System Restore if You Have a Backup Image
If System Restore is enabled on your computer, you can try to run System Restore from Windows Recovery Environment (WinRE) to fix Windows 7 or Windows 10 BOOTMGR is missing problem. 
Step 1. Repeat the steps above to find the Startup Repair options by using the Windows installation disc. This time, select "System Restore".
Step 2. Follow the System Restore Wizard instructions and select the appropriate restore point.
Step 3. Select Finish to restore the system.
These are all the possible methods that might help you fix BOOTMGR is missing error caused by various reasons. We hope that these solutions are helpful. Otherwise, I am afraid you may need to consider to do a clean Windows Installation or replace the PC hard drive. 
Fix 9. Perform a Clean Installation of Windows 
Performing a clean installation of Windows will completely remove Windows from your PC and install it again from scratch. This way can certainly resolve the BOOTMGR is missing issue on Windows operating system.
A clean installation will erase all of your data, so you must back up your important files in advance, or you will lose them all. If you can't access your data to back them up, use professional data recovery software  - EaseUS Data Recovery Wizard to recover data from a computer that won't boot.
Step 1. Create a bootable disk
Prepare an empty USB. If you have important data on it, copy the data to another device. When you create a bootable disk, the data on the USB will be erased. EaseUS Data Recovery Wizard WinPE Edition will help you create a bootable disk.
Connect the USB drive to PC, launch EaseUS Data Recovery Wizard WinPE Edition. Select the USB drive and click "Create" to create a bootable disk.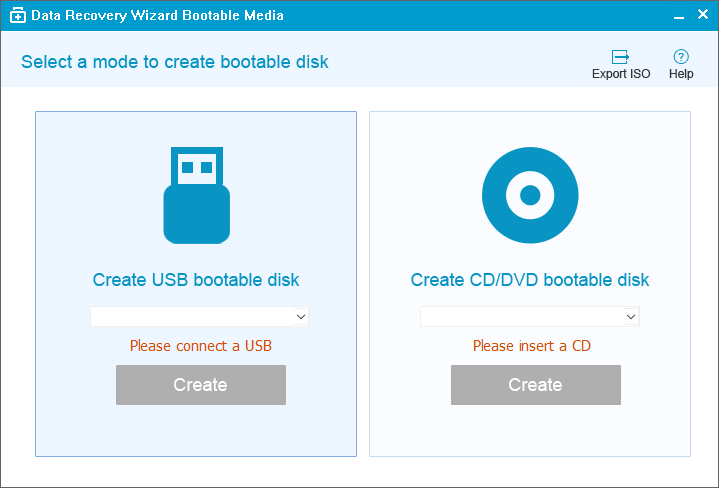 Step 2. Boot from the bootable USB
Connect the bootable disk to PC that won't boot and change your computer boot sequence in BIOS. For most users, it works well when they restart their computer and press F2 at the same time to enter BIOS. Set to boot the PC from "Removable Devices" (bootable USB disk) or "CD-ROM Drive" (bootable CD/DVD) beyond Hard Drive. Press "F10" to save and exit.
Step 3. Recover files/data from a PC/laptop hard drive that won't boot
When you boot from the USB, you can run EaseUS Data Recovery Wizard from the WinPE bootable disk. Select the drive you want to scan to find all your lost files. 
Click "Scan" to start the scanning process.
Recover data from the computer or laptop. After the scan completed, you can preview all recoverable files, select the targeted files, and click the "Recover" button to restore your files. You'd better save all of the recovered data to another place to avoid data overwriting.
Fix 10. Replace the Hard Drive
If the clean installation fails neither, you're most likely facing a hardware issue with your hard drive. Then, recover your data from the corrupted hard drive and replace the hard drive. Then, you will not encounter the BOOTMGR missing error in Windows.
Daisy is the Senior editor of the writing team for EaseUS. She has been working in EaseUS for over ten years, starting from a technical writer to a team leader of the content group. As a professional author for over 10 years, she writes a lot to help people overcome their tech troubles.

Roxanne is one of the main contributors to EaseUS and has created multiple posts on digital devices like PCs, Mobile phones, tablets, Mac, etc. She loves to share ideas with people of the same interest.
I love that the changes you make with EaseUS Partition Master Free aren't immediately applied to the disks. It makes it way easier to play out what will happen after you've made all the changes. I also think the overall look and feel of EaseUS Partition Master Free makes whatever you're doing with your computer's partitions easy.

 Read More

Partition Master Free can Resize, Move, Merge, Migrate, and Copy disks or partitions; convert to local, change label, defragment, check and explore partition; and much more. A premium upgrade adds free tech support and the ability to resize dynamic volumes.

 Read More

It won't hot image your drives or align them, but since it's coupled with a partition manager, it allows you do perform many tasks at once, instead of just cloning drives. You can move partitions around, resize them, defragment, and more, along with the other tools you'd expect from a cloning tool.

 Read More
About EaseUS Partition Master
All-round disk & partition management software for personal and commercial use. Let it manage your storage drive: resize, format, delete, clone, convert, etc.
Video Tutorial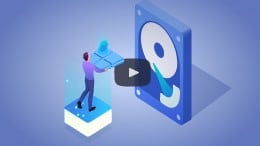 How to Partititon a Hard Drive on Windows 10/8/7
Was This Page Helpful
How Can We Help You
Find answers to common questions below.