
About the Author
Hot Topics in 2022
Free Download HDD Regenerator Crack + Serial Key (Safe Alternative)
Free Download HDD Regenerator Serial Key to Check and Repair Bad Sectors (Quick Access)
HDD Regenerator is a tool that lets you scan your system and both locate and reconstruct bad sectors on your hard drive. You can now download HDD Regenerator crack for free to check and repair bad sectors:
1. Download EaseUS Partition Master - free HDD Regenerator alternative and install it. Right-click the disk that you want to check and then click the "Surface Test" option.
2. The operation will be immediately performed. Bad sectors will be marked as red.
In this post, you are going to learn about the following things:
Overview of HDD Regenerator Crack, Serial Key, Keygen
When disk errors like bad sectors or file system corruption occur on your hard drive, it will do bad fluence on your hard disk speed and data transfer speed and sometimes even cause sudden hard disk damaging or failure. HDD Regenerator is just a hard disk repair software designed to fix this issue. It can fix the damaged hard drive and recover inaccessible data by checking and repairing disk errors like bad or corrupted file systems.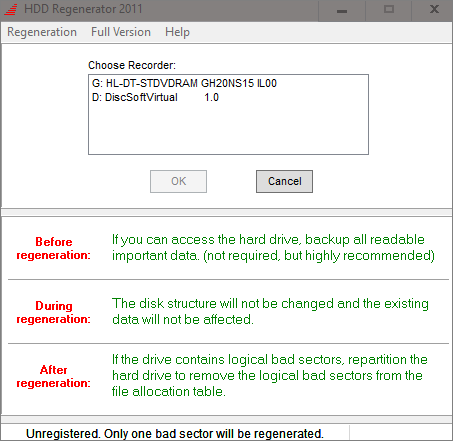 You can learn about the advantages and shortcomings of the table below:
Name
Pros
Cons
HDD Regenerator

Works on several different types of hard drives
Does not affect existing information on your hard drive
Repairs damaged low-level disk that formatting cannot.
However, following the copyrighted hard disk bad sector repair software, HDD Regenerator full version crack with the license key, serial number, keygen, torrent, or patch offers by unknown websites or geeks are coming online. You can find a long list of such cracked programs if you search "HDD Regenerator crack serial key", "HDD Regenerator crack keygen", "HDD Regenerator crack serial number" or any words similar like that. 
HDD Regenerator Crack Serial Key Vs. Free Bad Sector Repair Alternative Software 
But can you download and try HDD Regenerator full version crack with license key or serial number to repair bad sectors? We tend to choose a free and safe alternative that works well to check and fix disk errors or bad sectors. Here we will explain our reasons and offers you the best alternative. Here are the reasons:
Say No to HDD Regenerator Crack with Serial Key
1. Your data and hard drive might be infected with a virus or malware and get damaged.
2. You might get useful license code and fail to repair bad sectors.
3. You might suffer frequent software crashes and get bad user experience.
4. You will never get tech supports even you have some problems
Say Yes to Free Copyrighted Bad Sector Repair Software
1. You can effectively fix disk errors & bad sectors without losing data.
2. You can get 24*7 online tech support. 
3. You can enjoy some other additional functions. 
As you can see, HDD Regenerator crack with serial key contains many potential disadvantages and risks, while free copyrighted bad sector repair alternative guarantees all your rights. Many users try it with a serial key because they focus on finding a free hard disk bad sector repair tool but completely ignore all the risks of using the cracked software. But now, after viewing the comparison, we believe you can make the right decision.
Download The Best HDD Regenerator Crack Alternative with Serial Keygen
Here the HDD Regenerator alternative is EaseUS free partition software, the best hard disk bad sector repair software that millions of users recommend. With its flexible and advanced "Surface Test" feature, it can help you check your hard disk drive and USB flash drive, pen drive, or SD memory card in case of disk errors, file system corruption, bad sectors, etc. The process is quite easy, no formatting or data loss issue will happen.
1 - How to Check Hard Drive Bad Sectors
Step 1. Open EaseUS Partition Master. Right-click the disk that you want to check, and then click "Surface Test".
Step 2. The operation will be immediately performed and all bad sectors will be marked as red.
2 - How to Repair Bad Sectors and Other Disk Errors
The "Surface Test" option only detects the number of bad sectors. If there are lots of bad sectors, you'd better replace the HDD with a good one. If there are a few bad sectors, you can repair bad sectors with these steps below.
Download EaseUS CleanGenius and install it on your computer. Let's start checking and refixing file system error on your device now.
Step 1. Click "File Showing" to enter the next step.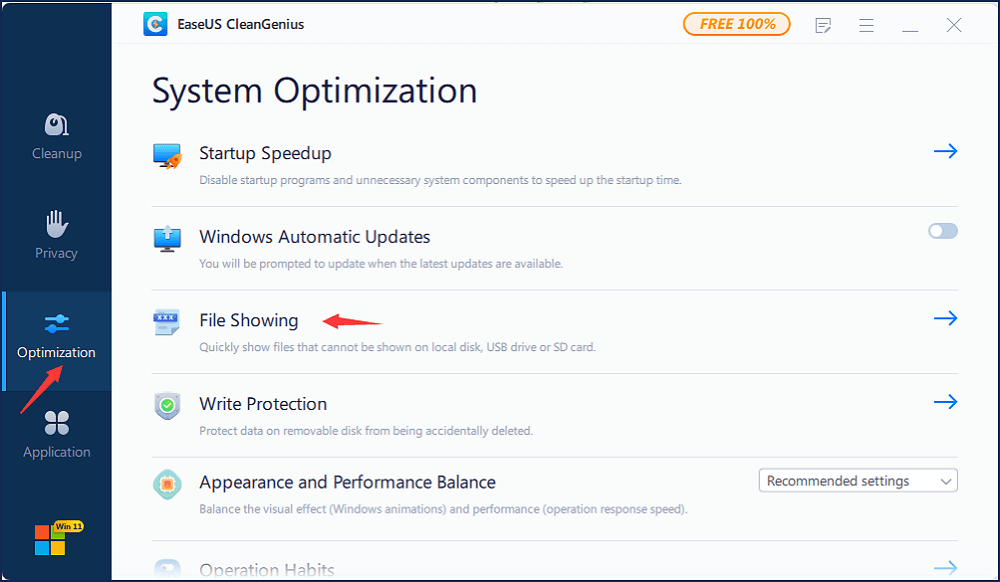 Step 2. Choose the target device and tick the box of "Check and fix file system error". Click "Execute" to start fixing the problematic device.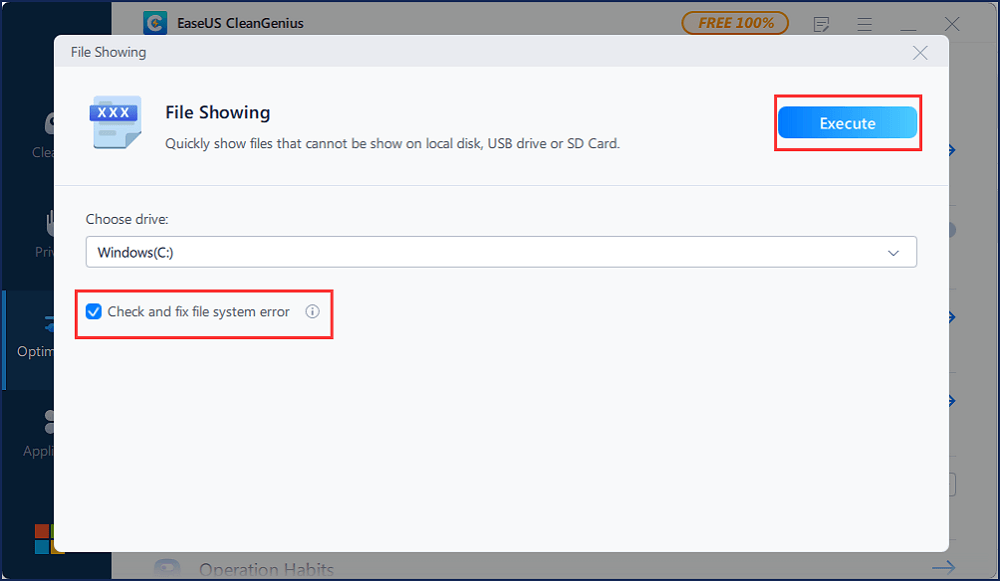 Step 3. When the fixing process completes, click "here" to open and use your device.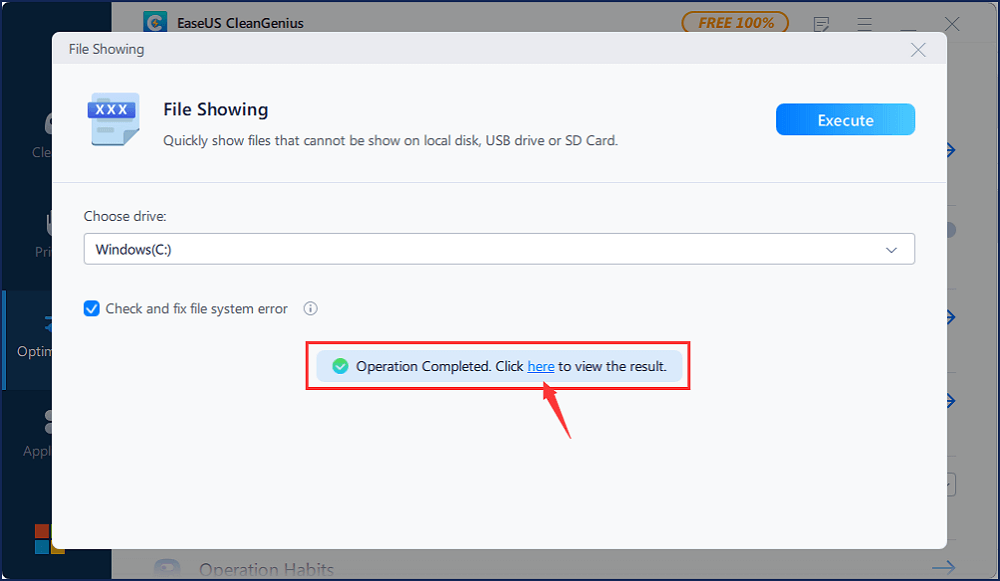 Conclusion
HDD Regenerator is useful because it supports many different types of hard drives. The developers claim that it can repair approximately 60% of hard drives. But some people think it's not a significant percentage. Then,  people turn to HDD Regenerator crack and alternative. EaseUS HDD Regenerator alternative can check not only bad sectors but also manage hard disks by shrinking, extending, formatting, and deleting partitions. You can get more information in this video below.
HDD Regenerator Full Version + Crack FAQs
If you want to learn more about HDD Regenerator, you can read these questions and answers.
What are the delays in HDD Regenerator?
If a hard drive has permanent delays, it means the hard drive is failing, and data loss may happen.
Can a bad hard drive slow down your computer?
Of course, Yes. A hard disk that is old or failing can slow your PC down. If you want to speed up your hard drive, follow these solutions:
1. Check and remove the virus
2. Switch the SATA cable
3. Disable startup programs
4. Check disk usage...
Does the HDD regenerator actually work?
HDD Regenerator is a program that is needed by all data recovery professionals. It's not really meant to recover files, but it is excellent for repairing bad sectors on hard drives. Once this is accomplished, then running a data recovery program on your drive should produce most, if not all of your lost data. If you want to recover lost files, you can use EaseUS data recovery software.
About the Author

Updated by Cici
Cici has accepted the systematic training on computers at EaseUS. Now she has a detailed understanding of common computer issues, as well as computer backups and disk formatting management solutions.

Roxanne is one of the main contributors to EaseUS and has created multiple posts on digital devices like PCs, Mobile phones, tablets, Mac, etc. She loves to share ideas with people of the same interest.
Product Reviews
I love that the changes you make with EaseUS Partition Master Free aren't immediately applied to the disks. It makes it way easier to play out what will happen after you've made all the changes. I also think the overall look and feel of EaseUS Partition Master Free makes whatever you're doing with your computer's partitions easy.

 Read More

Partition Master Free can Resize, Move, Merge, Migrate, and Copy disks or partitions; convert to local, change label, defragment, check and explore partition; and much more. A premium upgrade adds free tech support and the ability to resize dynamic volumes.

 Read More

It won't hot image your drives or align them, but since it's coupled with a partition manager, it allows you do perform many tasks at once, instead of just cloning drives. You can move partitions around, resize them, defragment, and more, along with the other tools you'd expect from a cloning tool.

 Read More