This is a user's request for formatting and partitioning a DVR WD external hard drive for PC.
"I used my WD Passport HD to back up my DVR recordings on my Dish receiver before it got replaced. Now I feel like using this drive to back up my laptop, but the laptop doesn't recognize it even I tried different connection ways. How can I get the Passport HDD to be used on a PC from a DVR? I'm fine losing whatever DVR recordings are saved."
Why Are Most of the Time the DVR Hard Drive Not Recognized by a Computer
Likewise, when you surprisingly find that a healthy DVR hard drive would not spin up or power after putting into a normal Windows 10/8.1/8/8 computer, it's a common phenomenon. As long as the hard drive still works fine in the original DVR box, there is nothing to be worried about. After knowing what the exact DVR hard drive file system is, you can easily get over this problem and successfully use it on a computer.
In general, depending on whose DVR it is, e.g., Dish or DirecTV, the hard drive could be preformatted to XFS file system which is Linux file system based.
If there is a Linux PC/laptop available, try to attach the DVR hard drive to it and see if Linux can recognize it. However, nowadays people are using Windows operating system in common and using this drive for a PC, you can only format the DVR hard drive to NTFS or FAT file system which Windows can detect, read and write.
How to format a DVR hard drive on Windows OS? That's not a big problem if you get to know this third-party partition magic software called EaseUS Partition Master.
Two Steps to Format a DVR Hard Drive for PC
Things You Need to Prepare:
1. Prepare a USB flash drive (4GB is enough) and safely connect it to your computer
2. Several screws and pliers to take out the hard drive from the DVR box. Connect the drive to your computer.
3. Download and install EaseUS Partition Master on your Windows computer
Part 1. Create a Bootable EaseUS Partition Master USB Drive
Step 1: Prepare a disc or drive
To create a bootable disk of EaseUS Partition Master, you should prepare a storage media, like a USB drive, flash drive or a CD/DVD disc. Correctly connect the drive to your computer.
Launch EaseUS Partition Master, go to the "WinPE Creator" feature on the top. Click on it.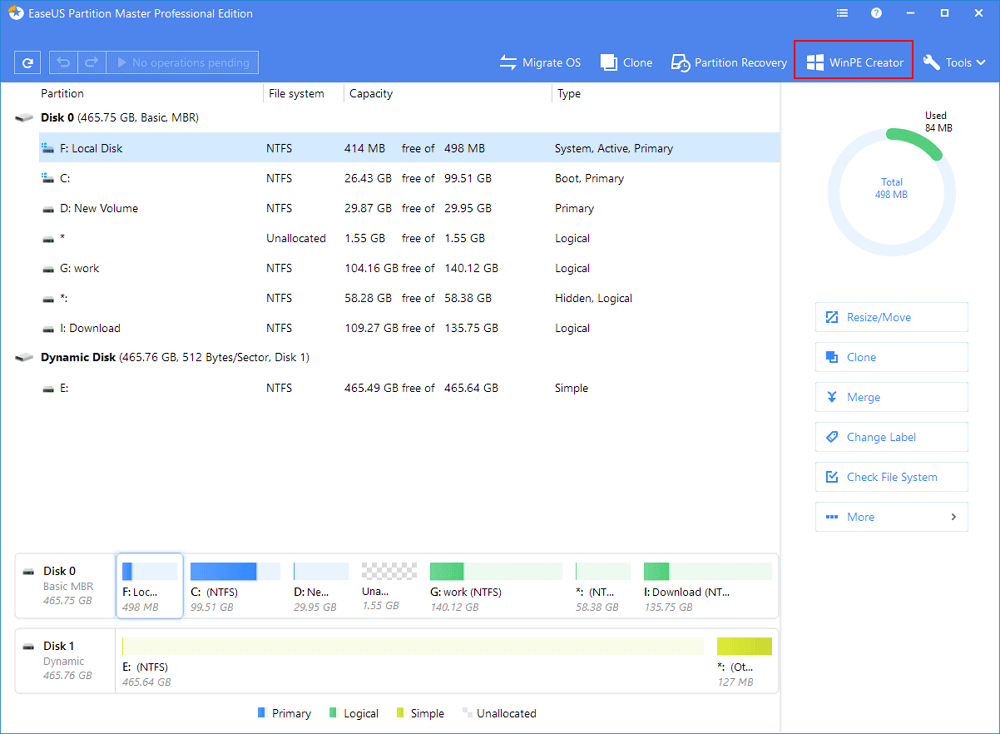 Step 2: Create EaseUS Partition Master bootable drive
You have created an EaseUS Partition Master WinPE bootable disk now. You can manage your hard disks and partitions through the bootable drive whenever the computer fails to boot normally.
If you have RAID drives, load the RAID driver first by clicking Add Driver from the menu bar, which can help you add the driver of your device under WinPE environment, as some specific device cannot be recognized under WinPE environment without drivers installed, such as RAID or some specific hard disk.
Part 2. Format the DVR Hard Drive from the Bootable USB Drive
 Tip

Your DVR hard drive might be detected as unallocated. If it's what you see on EaseUS Partition Master disk map, simply create a partition on the unallocated space for the purpose of formatting it and using it for PC.
Step 1: Launch EaseUS Partition Master, right-click the partition on your external hard drive/USB/SD card which you want to format and choose the "Format" option.
Step 2: Assign a new partition label, file system (NTFS/FAT32/EXT2/EXT3), and cluster size to the selected partition, then click "OK".
Step 3: In the Warning window, click "OK" to continue.
Step 4: Click the "Execute Operation" button in the top-left corner to review the changes, then click "Apply" to start formatting your external hard drive/USB/SD card.