"My 4GB USB drive is showing 0 bytes used space and 0 bytes free space. When I tried to format it, it showed me with an error. Please help me."
"Yesterday, I plugged my 8GB Pen drive into my computer, but the computer popped up with a notice, telling me to format the drive. When I clicked on the "format the pen drive", it says 'WINDOWS WAS UNABLE TO COMPLETE FORMAT' and it shows with 0 bytes."
These problems are no longer new problems but are still making it difficult for ordinary USB drive, SD card, memory card or pen drive users to fix the 0 bytes problems and restore important data back. If you are facing such problems, here, we'll find relevant pen drive data recovery solutions for you to get all lost data back and fix SD card/USB drive/pen drive 0 bytes problems with ease.
Step 1. Restore data from 0 bytes SD card/USB drive/pen drive etc.
To avoid unexpected data loss troubles in the 0 bytes storage devices such as SD cards/USB drives/pen drives, etc, it's highly recommended that you find the hidden files or restore data before you fix the 0 bytes problem. Follow the offered tips below to restore data from 0 bytes storage devices now:
Method 1. Connect 0 bytes storage devices to another computer to check data
You can try to connect your SD card, USB drive or pen drive to another PC to see whether the new computer can read the files or data on your storage devices. If no files are there or it still shows 0 bytes, you may need to try other methods to get to your data.
Method 2. Run cmd to force hidden files in 0 byte SD card/USB or pen drive show up
Click Start and select Run, type cmd and hit Enter.
Type: attrib -h -r -s /s /d g:\*.* and hit Enter.
Replace "g" with the drive letter of your device.
After this, you can then check your SD card, USB drive or pen drive, etc.
Method 3. Restore data from 0 bytes SD card or pen drive with data recovery software
This method is pretty easy and all you need is a professional data recovery software. You can download EaseUS Data Recovery Wizard with some simple clicks to restore all your data from the 0 bytes of SD/USB/pen drive. The program can also help you recover data from a dead hard drive or perform USB recovery, hard disk recovery, or external hard drive recovery easily and effectively.
Connect a USB flash drive to your computer and launch the EaseUS Data Recovery Wizard.
Choose the location of the 0 byte SD card, USB or pen drive is and scan the device.
Do remember to use Deep Scan mode after the first scanning round.
Preview and recover found data from 0 byte SD card/USB drive.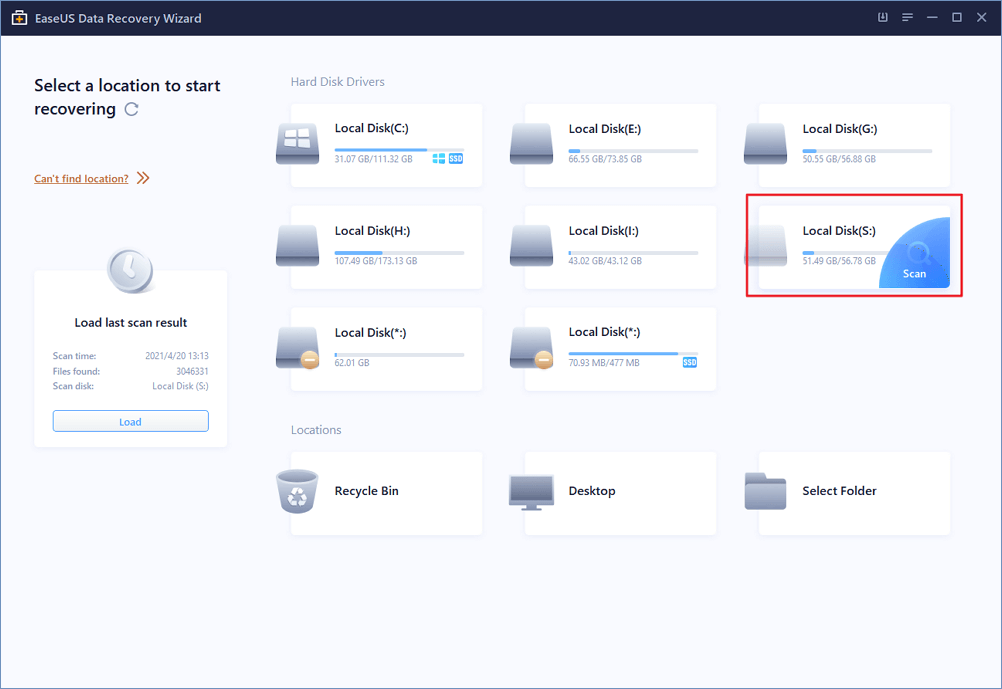 Step 2. Restore and fix SD/USB/pen drive showing 0 bytes error
After getting data back, you can then directly fix the SD card, USB drive or pen drive showing the 0 bytes error. It should have been fixed if you followed the tip of running the cmd command to find files in Step 1. Here, we have other options for you to solve the 0 bytes problem in a RAW SD card, USB drive, pen drive or other storage devices.
Preview and recover found data from 0 byte SD card/USB drive.
Press Windows + X > Select Disk Management.
If the disk is showing unallocated, right-click on it and choose to restore your pen drive.
Or you can right-click the unallocated to create a new drive on your storage device.
If it is not unallocated but you cannot access it, right-click on it and select Format.