Summary
The unreadable USB flash drive or pen drive is usually with a corruption issue. When a flash drive becomes unreadable, you need to determine first whether it results from a logical corruption or physical corruption. This page has answers to how to fix unreadable USB drive and how to recover data from an unreadable flash drive. The data recovery program you're going to use is EaseUS Data Recovery Wizard.
USB flash drive corruption would result in inaccessibility and unreadability issues. When your USB flash drive becomes unreadable, first of all, you need to determine whether it's a physical issue or a logical issue.
How to retrieve vital files present on the removable storage, regarding it's not open at all? Third-party data recovery software is applicable when there is only a logical corruption on the flash drive. Physical issues are much more complex, and data recovery software rarely works on this condition. You need to ask for a manual data recovery service for help.
How to Identify the USB Corruption Problem
You can try to determine how serious your storage device has been corrupted by observing symptoms and using disk check tools to run for errors.
Symptoms suggest for a logical corruption
Usually, it's about Master Boot Record (MBR) or Partition Boot Record (PBR) or directory structure corruption that comes with error messages. In this case:
Symptoms suggest for a physical corruption
While some common physical corruption issues are from broken stems and connectors, dead drives, broken circuit or NAND gate, etc. In this case:
The flash drive's light starts blinking, makes noise or unpleasant whirling sounds...
How to Recover Files from Logically Corrupted USB Flash Drive
Before you start to repair the corrupted, unreadable or unresponsive USB flash drive, it's highly recommended that you back up all your present data on the USB drive first. However, most people did not create a regular backup until it's not accessible at the moment.
Since you're not allowed to open an unreadable flash drive, the only way to fetch data is to find some professional USB file recovery software to help. EaseUS file recovery software supports data recovery in most commonplace scenarios, for example, the storage drive has been corrupted, become RAW, formatted, or even the whole disk partition has been removed. Download it for free, install and run it like a breeze, follow the guide below to retrieve files from a removable drive when Windows cannot read it.
Step 1. Plug the USB flash drive into your computer.
Please do not use your USB flash drive once you lose or delete files on it. The sooner you take actions to restore lost data, the bigger chance you'll have to restore all of them.
Step 2. Run EaseUS data recovery software and scan flash drive.
Launch EaseUS Data Recovery Wizard and choose your flash drive under External Devices.
Click Scan to start finding your flash drive files.
Step 3. Check and preview found flash drive data.
You can double click to preview found files.
Delete Files: List your deleted files there.
Drive: It loads all the found data there.
Lost Partition Files: Check first if it's for formatted recovery.
Extra Files: Finds files that lost names or paths.
Filter: A quick way to your wanted files.
Search: e.g. File name/file extension.
Step 4. Restore flash drive data.
After checking and finding lost flash drive files, select them and click Recover to restore.
Please save the found files into a safe location on your PC rather than to your flash drive.
How to Fix Unreadable USB Flash Drive [3 Methods]
After obtaining data out of your corrupted USB drive, you can now repair it with a few methods below. Note that the given methods are for self-check and self-repair, if no errors were found at all, you need to fix a broken USB stick on the other page.
Method 1. Repair Logical Errors
Windows has an in-built repair tool, and it's able to scan common error issues on a disk drive and hopefully repair the found errors.
Step 1. Connect the flash drive to your computer system. Open My Computer/This PC.
Step 2. Right-click the Removable Disk that represents your flash drive, and then choose Properties.
Step 3. Under the Tools tab, click Check. It will then start the scan process.
Step 4. When finished, if any error was found, you can proceed with the wizard to fix it.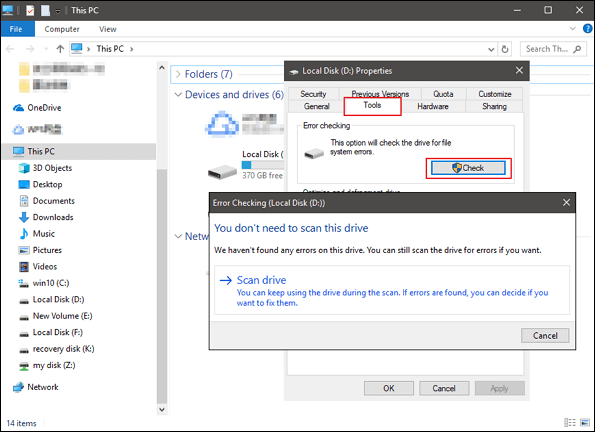 Step 5. Safely eject the flash drive. Re-connect it again. See if it's now readable.
Method 2. Format The Corrupted USB Device in Disk Management
Another way to make a corrupted or unreadable USB drive work again is to format it:
Step 1. Press Windows + R keys to bring up the Run box. Type: diskmgmt.msc and hit Enter.
Step 2. In Disk Management, locate the unreadable flash drive, check its disk information. If it's shown as Raw file system, right-click on it and choose Format...
Step 3. Choose a file system like NTFS, FAT32 or exFAT and the Perform a quick format checkbox.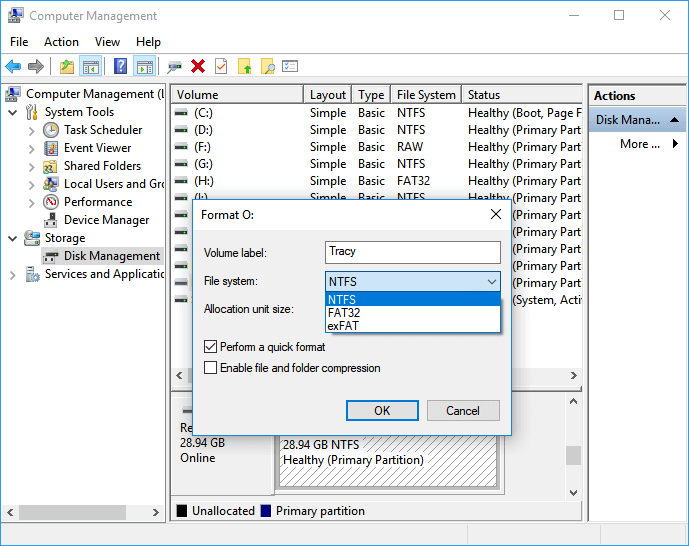 Method 3. Delete and Create a New Partition on the Corrupted USB Device
No luck with the former methods? Take it easy, proceed with the third method, the Disk Management tool will help you delete and create a new partition on the corrupted USB drive, and finally restore it to a normal state.
Step 1. In Disk Management (open it as method 2 instructed), locate the corrupted USB drive and right-click on it, select Delete Volume...
Step 2. Confirm to delete the volume on the USB drive by following onscreen guide.
Step 3. After the USB drive has become the unallocated space, right-click the unallocated space and select New Simple Volume...
Step 4. Then Rename the drive, set the file system to NTFS or FAT32 on the USB drive and follow onscreen guidelines to create a new partition on the USB drive. After this, you will be able to use the USB drive normally again.
100% of people found this article helful.
Frequently Asked Qusetions
1. Why cannot I recover 2GB data for free?

It is recommended to check the version installed is Free or Trial because they are different versions.

Trial has data preview function but cannot save any files, while the Free version enables to recover 2 GB files. The default free space is 500 MB and you may share the product on social media to get another 1.5 GB.
2. Why cannot the recovered files be opened?

A file is saved as 2 parts on the storage device: directory info (which is comprised by file name, time stamp and size info, etc.) and data content.

If the files with original file names and folder structures cannot be opened, one possible reason is the corrupted directory info. There is still a chance to recover the data content with the RAW Recovery method in our software.
3. Why isn't it suggested to recover the files back to the original drive?

The storage structure of the lost files would be altered or damaged by any changes on the drive. If you save the recovered files back to the same drive, the original data structures and data content would be corrupted or overwritten, which causes permanent data loss. So you should prepare another disk to save the files.
4. How can I check whether my data is recoverable or not before purchase?

The Free version helps you save 2GB files to better verify the recovery quality of our product before purchase.
5. How long does it take to scan the drive?

It strongly depends on the capacity of your hard drive and the performance of your computer. As reference,most drive recoveries can be completed in around 10 to 12 hours for a 1-TB healthy hard drive in general conditions.
About Data Recovery Wizard
It's super easy to recover 250+ types of files after deletion, disk formatting and virus infection. Click the links and compare the difference of each version.