When the EFI boot partition in your computer get deleted by mistake and the PC cannot boot anymore, do you know how to restore accidentally deleted EFI partitions including the boot partition from your PC? Here in this article, you'll find two effective methods to restore or repair deleted EFI boot partition in Windows 10/8/7. Just follow and find solutions to recover the deleted EFI partition now.
Method 1. Restore deleted EFI partition with partition manager software
If you prefer a simple method to restore deleted or lost EFI partition in Windows PC, EaseUS Partition Master supports you to restore lost EFI partitions with ease in Windows 10/8/7. You may directly download this software and follow below-offered tips to restore EFI boot partition:
# 1. Boot computer from bootable disk when EFI boot partition is lost/deleted
Step 1: Prepare a disc or drive
To create a bootable disk of EaseUS Partition Master, you should prepare a storage media, like a USB drive, flash drive or a CD/DVD disc. Correctly connect the drive to your computer.
Launch EaseUS Partition Master, go to the "WinPE Creator" feature on the top. Click on it.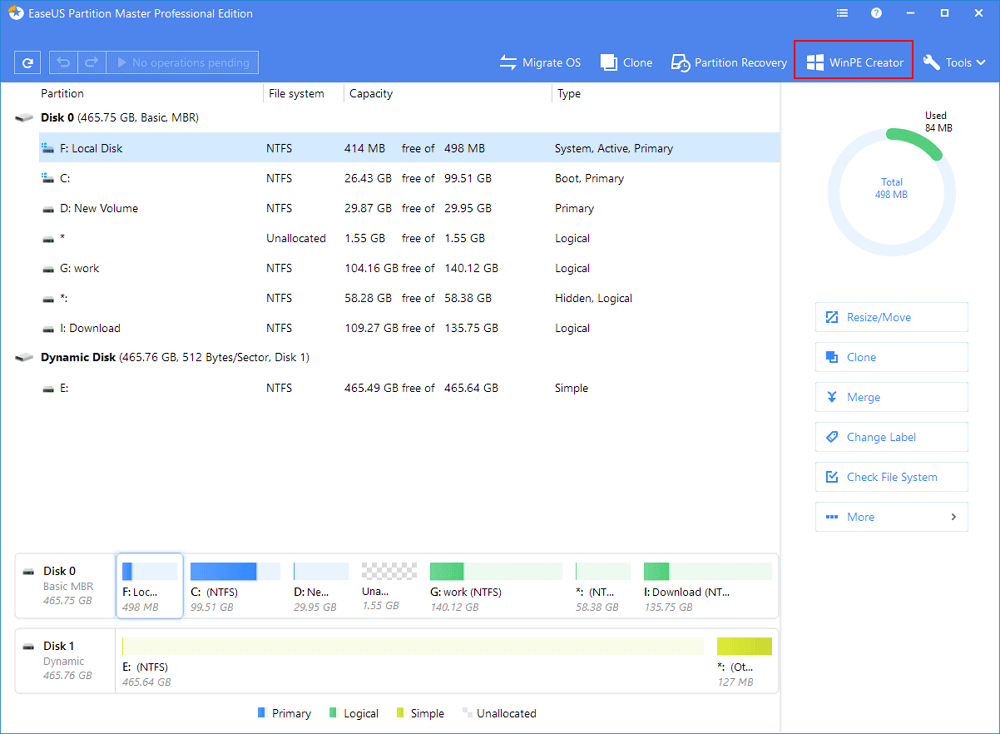 Step 2: Create EaseUS Partition Master bootable drive
You have created an EaseUS Partition Master WinPE bootable disk now. You can manage your hard disks and partitions through the bootable drive whenever the computer fails to boot normally.
If you have RAID drives, load the RAID driver first by clicking Add Driver from the menu bar, which can help you add the driver of your device under WinPE environment, as some specific device cannot be recognized under WinPE environment without drivers installed, such as RAID or some specific hard disk.
Follow the on-screen guidance and you'll get your computer to boot up then.
# 2. Restore lost EFI boot partition
After you can boot computer into a normal state, it's time to restore lost EFI boot partition now.
Step 1: Launch EaseUS Partition Master on PC
Step 2: Select a hard disk to search for the lost partition(s)
Step 3: Wait for the scanning process to complete.
Step 4: Select and recover lost partitions
After all the process, now your boot EFI partition is restored. You can check or redownload boot files into the EFI partition, set the computer to boot from your restored EFI partition again in BIOS. Reboot your PC and then you can continue using your computer again.
Method 2. Create lost/deleted EFI partition by using CMD
Boot PC with Windows 10/8/7 installation media > press SHFIT + F10 on the first screen to bring up Command Prompt.
Type the following commands and click Enter each time:
diskpart
list disk
select disk # Note: Select the disk where you deleted the EFI System partition.
list partition
create partition efi
format quick fs=fat32
list partition
list volume Note: Note the volume letter where the Windows OS is installed.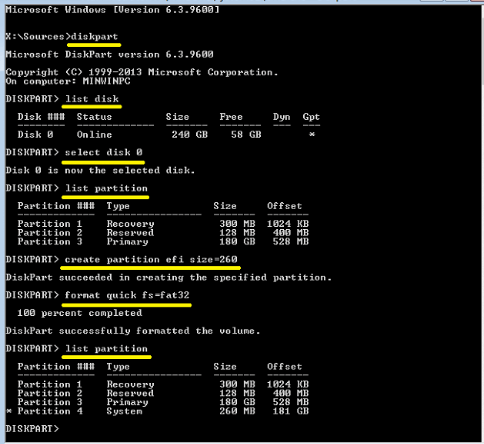 exit
bcdboot X:\windows Note: Replace "X" with the volume letter of the Windows OS partition.

BCDBoot copies the boot files from the Windows partition to the EFI System partition and creates the BCD store in the same partition.
Now you can remove the Windows installation media and restart the computer.