Do I need EFI System Partition? Can I Delete the EFI Partition?
If you have ever used Partition Manager software, some users may have noticed extra partitions apart from what they see on their PC. It is listed as the first partition and is next to Primary Partition. Many users think that this is an unnecessary partition and is occupying space. So if you are wondering what this partition is used for, and if you can delete it for some extra space, read this post.
Quick Navigation:
What is EFI System Partition?
Does Windows 10 need an EFI partition?
Can I Delete the EFI Partition?
What is EFI System Partition?
EFI or Extensible Firmware Interface System partition is a hidden storage space on Windows PC that is usually spotted on the computer of which the BIOS is UEFI. When the PC is booted, the UEFI loads the file stored in the EFI partition to start the Operating System and any other utilities required.
The partition is created when installing Windows on the UEFI system. It contains the following folders—Boot and System Volume Information. The latter contains the bootmgr and Bootsect.back file. It also includes System Utilities, Device Drivers, Boot Loaders, and Data Files.
These files contain the exact information to load Windows using the Boot Manager code and Boot manager database.
Apart from this, OEMs also use EFI System Partition for other crucial components like drivers, utilities, etc. When performing a fresh install or resetting the PC, it uses a script available there to refresh the PC.
Does Windows 10 need an EFI partition?
Yes, it does. There are multiple reasons why it should not be disturbed. Not only the EFI partition is required to boot into the OS, but it also contains several other tools that are required when your PC is in trouble.
If somehow you manage to set the boot path properly, you will lose access to the tools such as the ability to boot into Safe mode, Automatic Recovery, and the ability to boot into advanced startup options. On top of this, if you are using encryption, Bitlocker also needs this.
So you can clearly see that there are more advantages of keeping that partition than removing it.
Can I Delete the EFI Partition?
Yes, you can use various methods. However, If you delete it, you will lose the functionality and find yourself with an unbootable machine. EFI is similar to MBR but can support more partitions and more types of partitions. So if you delete the EFI partition, the bootloader will not be able to find from where to boot the OS. On top of this, most of the EFI partition storage is around 100 MB to 500 MB, so it should not matter. This is the reason when you use the Disk Manager of Windows, then the option to delete it will be grayed out.
However, it is still possible to delete the EFI, and in certain scenarios, such as flashing a new BIOS or removing the hard drive from a Mac, the partition will still be required. You can delete them using the EaseUS Partition Master, so the PC doesn't become unusable.
Step 1. To delete a system involved partition like the EFI system partition, you'll be asked to operate in a WinPE environment. So first of all, use the feature of "WinPE Creator" in EaseUS Partition Master to create a bootable USB drive to start. Click to get the full guide on how to create and access EaseUS WinPE bootable disk.
Step 2. Open EaseuS Partition Master WinPE edition. Right-click on the EFI system partition and choose "Delete".
Step 3. Click "OK" to confirm the message "Are you sure you want to delete the selected partition?".
Step 4. Click "Execute 1 Operation" on the left top menu and then "Apply" in the new window to completely remove the EFI system partition.
The tool will help you make sure the boot records are in place or recover them in case of an issue.
Conclusion
Now that you know everything about the EFI partition or System Reserved Partition, the pros and cons are clear. It may so happen that you have multiple OS installed on your computer, and the EFI is taking too much space. In that case, you can use EaseUS Partition Master software to delete the EFI partition. However, make sure you always have a proper backup in place so in case something goes wrong, you can recover the booth path to Windows.

Roxanne is one of the main contributors to EaseUS and has created multiple posts on digital devices like PCs, Mobile phones, tablets, Mac, etc. She loves to share ideas with people of the same interest.
Written by Tracy King 
Tracy joined in EaseUS in 2013 and has been working with EaseUS content team for over 7 years. Being enthusiastic in computing and technology, she writes tech how-to articles and share technical solutions about Windows & Mac data recovery, file/system backup and recovery, partition management and iOS/Android data recovery.
I love that the changes you make with EaseUS Partition Master Free aren't immediately applied to the disks. It makes it way easier to play out what will happen after you've made all the changes. I also think the overall look and feel of EaseUS Partition Master Free makes whatever you're doing with your computer's partitions easy.

 Read More

Partition Master Free can Resize, Move, Merge, Migrate, and Copy disks or partitions; convert to local, change label, defragment, check and explore partition; and much more. A premium upgrade adds free tech support and the ability to resize dynamic volumes.

 Read More

It won't hot image your drives or align them, but since it's coupled with a partition manager, it allows you do perform many tasks at once, instead of just cloning drives. You can move partitions around, resize them, defragment, and more, along with the other tools you'd expect from a cloning tool.

 Read More
About EaseUS Partition Master
All-round disk & partition management software for personal and commercial use. Let it manage your storage drive: resize, format, delete, clone, convert, etc.
Video Tutorial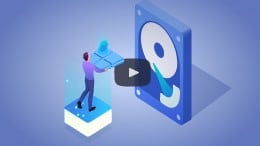 How to Partititon a Hard Drive on Windows 10/8/7
Was This Page Helpful
How Can We Help You
Find answers to common questions below.