What's the best Toshiba format tool?
"Hi, I have a 32GB Toshiba USB flash drive and need to format it to NTFS in Windows 10. I tried many times using Windows 10 disk management program, but to no avail, Windows 10 says I can't format USB drive in NTFS format. I don't know where did I go wrong. Maybe a third-party Toshiba format tool would solve the problem. Will you recommend me a piece of super easy-to-use format utility that allows me to format Toshiba USB drive in Windows 10 without a hitch?"
The best Toshiba format utility, besides its operation simplicity, shall fully support all Toshiba products, and the wide series of product types as well. Roughly speaking, it would be well capable of doing the format or reformat on the major Toshiba branded products like in the following.
1. Laptops: Toshiba Satellite, Toshiba Chromebook, Toshiba Radius. etc.
2. USB drives: Toshiba USB 2.0, Toshiba USB 3.0, capacity range from 2GB to 128GB.
3. Memory cards: Toshiba memory sd/SDHC/sdxc card, capacity range from 2GB to 128 GB.
4. Internal/external hard drives: Desktop hard hard drives and portable hard drives in capacities up to 6TB.
Viewing from the lists, we arrive a conclusion and recommend EaseUS free partition manager as the best Toshiba format/reformat tool. It's user-friendly, with full support for all Toshiba storage device. Also, it's 100% Windows 10 compatible. Toshiba users are now able to format SD card in Windows 10, format hard drive in Windows 10, format USB drive to NTFS/FAT 32 in Windows 10 and more, with Windows 10 becomes the mainstream Windows OS since this year.
How to use EaseUS Partition Master to do Toshiba format?
EaseUS Partition Master is a third-party disk and partition management program that runs on Windows computers. After successfully downloading it, you can prepare your Toshiba drive to do the format now.
Useful tip:
formatting Toshiba would erase all data on it, so make sure that you've backed up the important contents before doing the format job.
Steps to format Toshiba drive with EaseUS partition management software
Step 1. Correctly connect your Toshiba external storage drive with a computer. After it is recognized by Windows, run EaseUS Partition Master.
Step 2. Right-click the Toshiba external storage and choose "Format partition".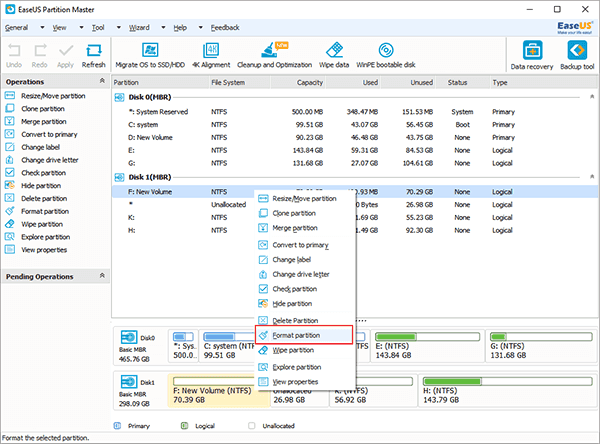 Step 3. Type the label you want in the Partition Label box.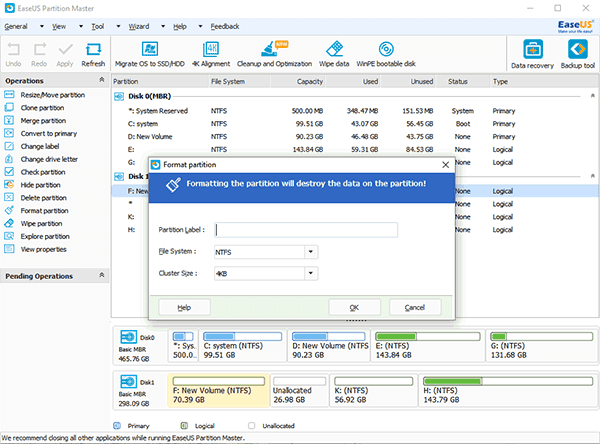 Step 4. Select the file system type to be created from the "File System" drop-down list. (FAT/FAT32, NTFS, EXT2/EXT3). If the partition is larger than 4GB, you can only choose FAT32, NTFS or EXT2/EXT3; if the partition is smaller than 4GB, we can choose FAT, FAT32, NTFS or EXT2/EXT3.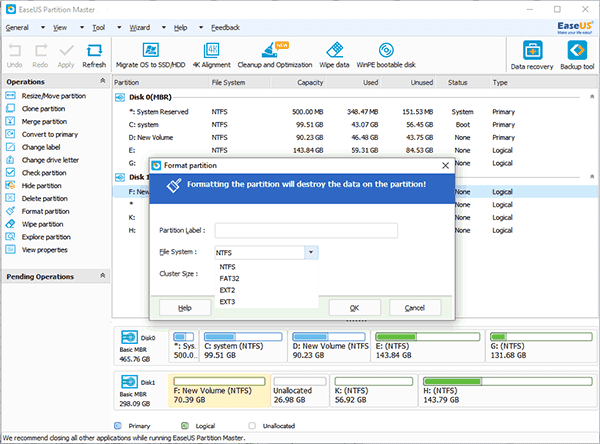 Step 5. Choose the Cluster Size (512 bytes, 1, 2, 4...64KB) from the drop-down list.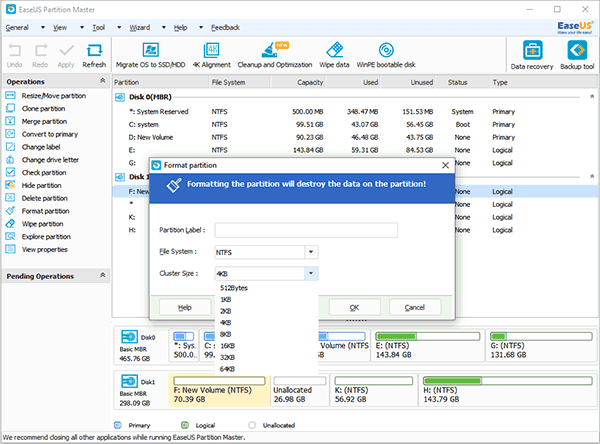 Note:Smaller cluster size makes less wasting of disk space. The smaller cluster size is, the bigger file allocation table (FAT) will be. The bigger the FAT is, the slower the operation system works with the disk.
Step 6. Click "OK" to apply the format operation.
Step 7. Click "Apply" to apply all pending operations.