
About the Author
Hot Topics in 2022
How Do I Format External Hard Drive on Windows? Your Complete Guide Is Here
There are plenty of ways to format an external drive. So, which one is the best?
External devices are a remarkable little addition to any computer. These portable storage devices allow users to store their data and save a lot of space in internal storage, such as SATA or NVME drives. That's why their usage has increased drastically in recent times.
But, while their portability is a great thing, they are still a bit of a troublesome thing to format. In other words, not many people are able to use their external devices because they aren't easy to format. So, let's find out why that is and how you can fix it.
External hard drives come in many shapes and forms today. Some users simply use an enclosure that allows them to use an internal storage device like a hard disk drive, SATA drive, or NVME drive as an external option.
Others employ portable drives, which are designed to be powered by USB and used in computers to provide an additional storage option. These external devices act as a reliable option and extension for storage.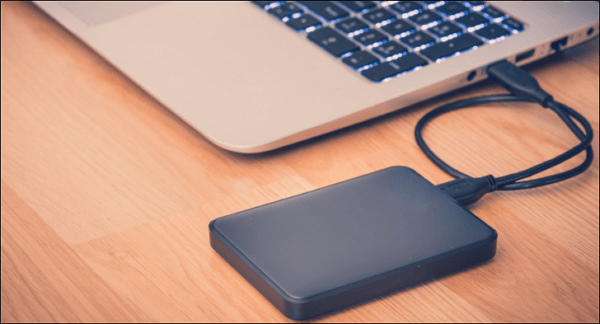 However, portable drives aren't always necessarily primary storage. Hence, people look for ways to format them. So, there are various benefits of doing just that, such as:
Quickly wipe out data on an external storage
Change the file system to accommodate more storage
Create a suitable format for data transfer, gaming, or quick file storing   
That's why many people use these external storages, as they're quick to wipe and reuse again for more data. So, let's keep digging and find out how to do that comprehensively.
How to Format External Hard Drive on Windows [4 Free Formatting Methods]
Formatting an external drive on any Windows computer requires you to use one of the many options. In order to understand that, we have to explore each option and see which one is the best. For instance, the four main options any Windows user today has included:
So, which one of these options is a more commendable one for Windows users? Let's explore a few key features of each one:
| Format Option | Convenience | Easiness | Reliability | Success Rate |
| --- | --- | --- | --- | --- |
| EaseUS Partition Master | 10 | 10 | 10 | 10 |
| File Explorer | 10 | 10 | 7 | 7 |
| Disk Management | 8 | 8 | 10 | 10 |
| CMD | 6 | 6 | 10 | 10 |
As you can see, all the tools have pros and cons. For instance, CMD is perhaps the most reliable in-built option to format a drive. But, it's neither convenient nor easy to use—particularly for a new or uninitiated user.
So, let's compare the pros and cons of each tool:
Tool/Option
Pros
Cons
EaseUS Partition Master

Easy to use
Convenient
Allows easy formatting
Reliable and convenient
Bonus features like converting MBR to GPT
Supports a vast variety of file systems

File Explorer

Built within Windows-Easy to Use

Not always reliable-Formats fail a lot of time

Disk Management

Very reliable-Not difficult to use-Built within your Windows

CMD

Most reliable in-built option-Fixes errors and bad sectors-Ensures thorough formatting

Difficult to use-Not very convenient
Whereas other options put you in vulnerable positions or don't format your hard drive as effectively. Therefore, it's important to understand that a third-party tool like EaseUS Partition Master offers everything, including convenience and ease of usage. The only thing you need to do is download and install it.
#1. Format External Hard Drive with EaseUS Partition Master
The first and the most reliable option to format your external hard drive is EaseUS Partition Master Free. We've already explored why it's better than the other in-built options in your Windows. That's why this tool is the first method we're going to use.
But, to add further emphasis on this tool's importance, let's explore a few options that it offers, such as:
These are some of the main reasons that make this remarkable tool a must-have for any external drive owner. So, here's how you can use it:
Right-click the external drive or USB you intend to format and choose "Format".
Set the Partition label, File system (NTFS/FAT32/EXT2/EXT3/EXT4/exFAT), and Cluster size, then click "OK".
Click "Yes" to continue.
Click the "Execute 1 Task(s)" button and click "Apply" to format the hard drive partition.
#2. Format External Hard Drive with Windows File Explorer
The second method is using File Explorer to format your device. It's important to understand that File Explorer is the quickest and most convenient option. So, using it is very easy for all types of users. Here's why:
Press Windows + E on your keyboard
Pick the External Storage and right-click on it, then click on Format
Pick a file system
Check quick format
 Click on Start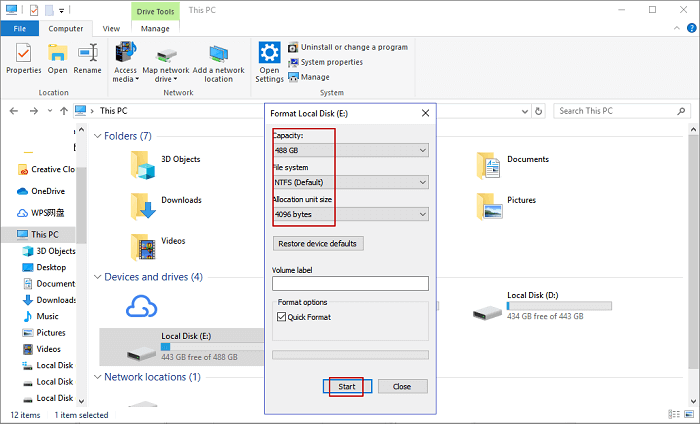 Confirm when prompted and wait for the format to finish
Done
This will format your external storage comprehensively. Remember, it's important that you check the Quick Format option. Otherwise, it'll excecute a full format which takes longer than you'd like it to.
 Extended Reading:

What is full format? And, what's the difference between Quick format and Full format? Follow this guide and learn the differences: Quick Format VS Full Format. 
#3. Format External HDDs/SSDs with Disk Management
The next method is to format your external device with Disk Management. In this option, we'll be using the Disk Management feature within our Windows. So, in order to use that, here's what you will do:
Press Windows + X and click on Disk Management
Locate the external device, right-click on it, and select the format
Click on Yes when a warning prompts you to access formatting options
Select the file system
Check "Perform a quick format".
Press OK and wait for it to finish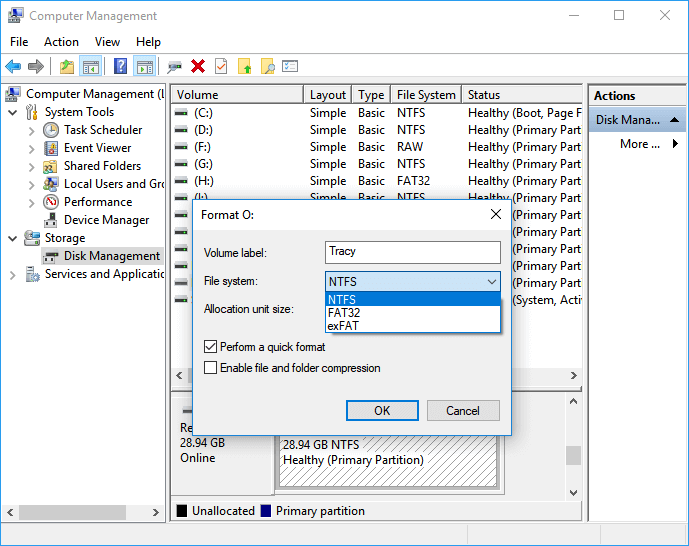 #4. How to Format External Hard Drive Using CMD - Diskpart Command Line
The final method and the most reliable option within Windows are to format through CMD. In this section, you will be using CMDs to prompt the Diskpart command line to format the external device. Here's how to do that:
Open Command Prompt as Administrator
 Type Diskpart hit Enter
Type list disk hit Enter
The disk we wish to format is DISK 2
Type select disk 2 and hit Enter(replace 2 with your disk's number)
Type list volume and hit Enter
Type select volume 10 and hit Enter (replace 10 with the external drive volume number)
Type format fs=NTFS quick (EaseUS will be the partition label)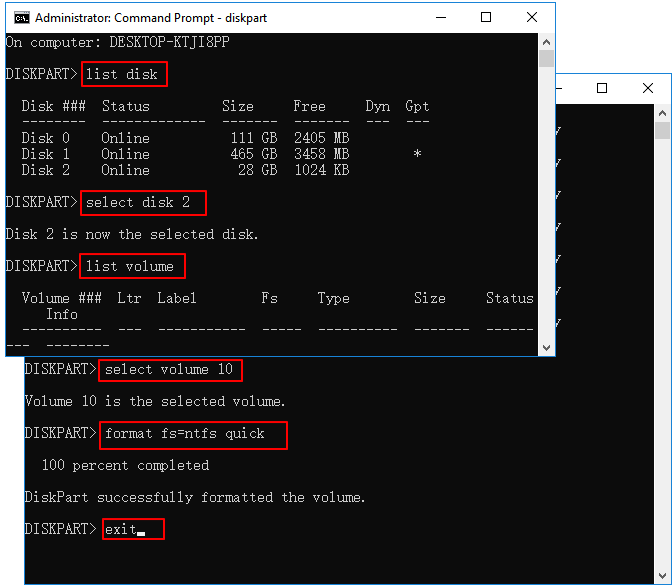 Type exit and hit Enter. Done.
This will format your external hard drive and also assign it with a drive letter. Therefore, ensure you follow these steps properly and select the right DISK you wish to format.
Conclusion
These are some of the most reliable ways of formatting an external hard drive on your computer. It's important to understand that each method has its pros and cons. While the CMD method is the most reliable one, it's not easy.
That's why it's better to use a third-party professional tool like EaseUS Partition Master. It's not only easy, but also the most convenient, safest, and most reliable option out of the four mentioned in this article.
FAQs about Formatting External Hard Drive
If you have any further questions, then you can find your answers here.
1. Can I format the external hard drive to FAT32?
Yes, you can. But it's important to understand that Windows won't allow you to format an external device upward of 32GB in the FAT32 format. While the FAT32 format can handle 2TB of storage, you'll need tools like EaseUS Partition Master to format anything above 32GB in the FAT32 file system.
2. Should I format my external hard drive to NTFS or exFAT?
It depends on your choice. If you're going to use the device on Windows PCs only, then format the device into NTFS format. However, if you're going to employ this external storage on both Windows and Mac PCs, then you should select exFAT.
3. How do I format an external hard drive for Xbox One?
Whether you connect it to your PC or a Mac device, make sure you format the external device into exFAT file format to be able to use it on your Xbox one.
About the Author
Updated by Tracy King 
Tracy joined in EaseUS in 2013 and has been working with EaseUS content team for over 7 years. Being enthusiastic in computing and technology, she writes tech how-to articles and share technical solutions about Windows & Mac data recovery, file/system backup and recovery, partition management and iOS/Android data recovery.
Product Reviews
I love that the changes you make with EaseUS Partition Master Free aren't immediately applied to the disks. It makes it way easier to play out what will happen after you've made all the changes. I also think the overall look and feel of EaseUS Partition Master Free makes whatever you're doing with your computer's partitions easy.

 Read More

Partition Master Free can Resize, Move, Merge, Migrate, and Copy disks or partitions; convert to local, change label, defragment, check and explore partition; and much more. A premium upgrade adds free tech support and the ability to resize dynamic volumes.

 Read More

It won't hot image your drives or align them, but since it's coupled with a partition manager, it allows you do perform many tasks at once, instead of just cloning drives. You can move partitions around, resize them, defragment, and more, along with the other tools you'd expect from a cloning tool.

 Read More