3 Best Windows 11 Disk Format Tool/Utility Free Download
Let's talk about formatting today. What does it mean to format your hard drive? Formatting means erasing all the data on the drive and setting a file system to prepare an available space for the operating system. Formatting your hard disk has many advantages.
When you format the hard drive on your computer, its performance enhances. Formatting your hard disk optimizes the performance of your computer by deleting harmful programs, freeing up disk space, and cleaning system files.
Formatting is done by a formatting tool or Windows disk formatter. With time, our computer tends to slow down. You may experience virus problems. You may need more space on your computer or you want to install the new version of Windows.
All these above-mentioned reasons require formatting your hard drive. You'll need a formatting tool in Windows 11 for your hard drives and we have compiled the 3 best formatting tools for you. 
3 Best Formatting Tools for Windows 11
Before we jump on to the best formatting tools, we have some tips for you. You should always back up your data but it is essential to back up data before you format your hard drive. As all your data will be deleted during formatting, create a complete backup first.
You do not want to lose your valuable data. After you back up, your data, check if the backup went successful. Make sure that you have the backup of all the data you need. You need a drive formatter Windows 11 to format your hard drive.
Once you are done backing up, you can move on to formatting your hard drive. We have brought three tried and tested formatting software windows 11 for you. 
Here are three ways to format your hard drives, external storage devices, etc., successfully.
Disk Management is a built-in Windows tool so you do not need to worry about downloading it. It has some cons but overall it is a good tool. It allows you to format storage spaces that are facing issues like corruption, not being accessible, and not formatted errors. It is available on all Windows operating systems. 
#2. CMD ( Windows Command Prompt)
Windows command prompt is the most common tool for troubleshooting and formatting the hard drive. It is an efficient tool to solve hard drive and computer issues. You can thoroughly check your computer by applying command lines for any problem or error. 
The EaseUS Partition Master is a third-party windows disk format utility. It is a powerful drive formatter windows to format your hard drive. It is an all-rounder tool that will help you perform a wide range of functions. 
Method 1. How to Format Hard Drive with Windows Disk Format Utility - Disk Management
Let's see how you can format a hard drive with Disk Management. Below are the steps you need to follow to format your hard drive using Disk Management:
Step 1: The first step is to go to "This PC" and select "Manage". 
Step 2: There you will see the "Disk Management" option. You have to click on it. 
Step 3: You can also right-click on the menu button and go to the "Disk Management" option from there. 

Step 4: Now, right-click on the hard drive partition you want to format and select "Format".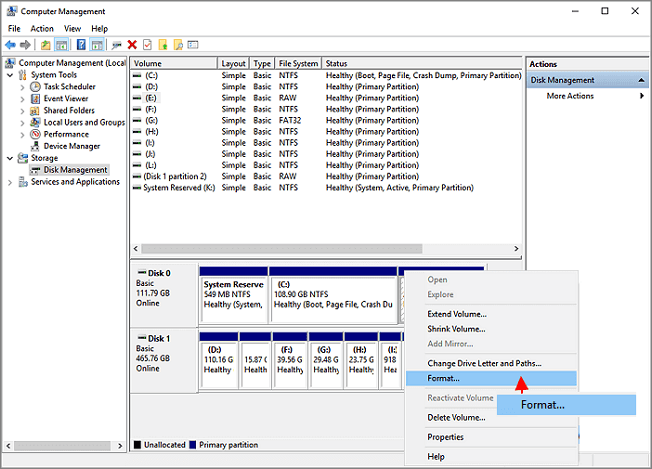 Step 5: Set the volume label, file system, and press "OK" to start formatting the drive.
Pros:
It is a free built-in tool.
All windows operating systems contain this feature.
You can format a raw drive with it.
Cons
You can not format a Linux drive using disk management.
Method 2. Format Hard Drive Using CMD (Command Prompt) in Windows 11
If you want to format a hard drive using this format tool windows 11, follow the steps below.
Step 1: First, you need to click on the start menu and select "Search".
Step 2: Type "command prompt" in the search box and right-click on it. 
Step 3: After right-clicking on the "command prompt", you need to click on "Run as administrator".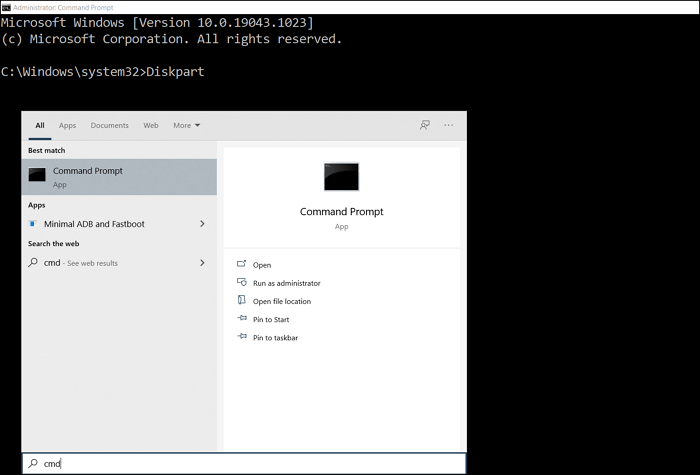 Step 4: You need to type "diskpart" in the command prompt and press enter.
Step 5: Press Enter each time when you type below command lines in DiskPart to quick format hard drive:
list disk
select disk 2 (Replace 2 with your disk number)
list volume
select volume 10 (Replace 10 with the volume number of the partition that you want to format)
format fs=ntfs quick (If you need to format a hard drive partition to FAT32 or other file systems, replace it with fat32, exfat, etc.)
Step 6: Finally, when diskpart tells you that the volume has been formatted successfully, type exit and press Enter to close the program.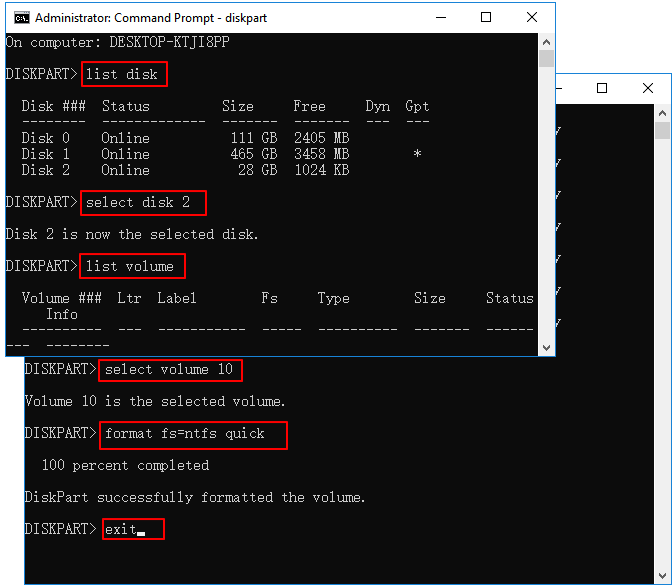 Pros
It is free.
It is very efficient.
Cons
It is difficult to operate.
One wrong step can become a big problem. 
Method 3. How to Format Hard Drive with Formatting Software - EaseUS Partition Master
The EaseUS partition tool makes formatting the hard drive the easiest job on the planet. It is an efficient tool that needs no introduction. You just need to download it and it will do all the work for you. The reason it is our favorite formatting software windows 11 is because it is not limited to formatting. It has various other amazing features. Go to the easeus.com website and download the "partition manager" tool. 
Step 1. Right-click the hard drive partition and choose the "Format" option.
Step 2. In the new window, set the Partition label, File system, and Cluster size for the partition, then click "OK".
Step 3. You can see a warning window, click "OK" to continue.
Step 4. Click the "Execute Operation" button in the top-left corner, then click "Apply" to start formatting the hard drive partition.
Pros
It is free to download.
It offers a variety of features including resize, move, create, merge, delete, wipe, or recover lost partitions.
You can convert Convert FAT32 to NTFS without losing data.
Format 64/128/256GB USB hard drive to the FAT32 file system
It has the ability to format a drive that is not recognized by the windows or has some other issue
It supports all windows operating systems and servers
Cons
You will have to pay for the advanced features. 
Conclusion
The guide has come to an end. We have given you three excellent format tools windows 11. They all can help you format your hard drive quickly. If you want our final verdict, the best formatting software windows 11 is hands down the EaseUS partition tool. It is a powerful disk format utility that we all need. It solves so many other problems along with formatting the hard drive. The features have us stunned. We have used it and we vouch for its efficiency. 
Updated by Tracy King 
Tracy joined in EaseUS in 2013 and has been working with EaseUS content team for over 7 years. Being enthusiastic in computing and technology, she writes tech how-to articles and share technical solutions about Windows & Mac data recovery, file/system backup and recovery, partition management and iOS/Android data recovery.
I love that the changes you make with EaseUS Partition Master Free aren't immediately applied to the disks. It makes it way easier to play out what will happen after you've made all the changes. I also think the overall look and feel of EaseUS Partition Master Free makes whatever you're doing with your computer's partitions easy.

 Read More

Partition Master Free can Resize, Move, Merge, Migrate, and Copy disks or partitions; convert to local, change label, defragment, check and explore partition; and much more. A premium upgrade adds free tech support and the ability to resize dynamic volumes.

 Read More

It won't hot image your drives or align them, but since it's coupled with a partition manager, it allows you do perform many tasks at once, instead of just cloning drives. You can move partitions around, resize them, defragment, and more, along with the other tools you'd expect from a cloning tool.

 Read More
About EaseUS Partition Master
All-round disk & partition management software for personal and commercial use. Let it manage your storage drive: resize, format, delete, clone, convert, etc.
Video Tutorial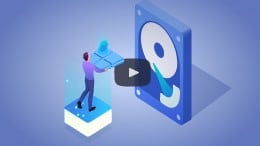 How to Partititon a Hard Drive on Windows 10/8/7
Was This Page Helpful
How Can We Help You
Find answers to common questions below.