PAGE CONTENT:
Solution 1. Use RAID Array Partition Software to Extend/Expand RAID 5 Array
Solution 2. Use a Highpoint Controller
Solution 3. Add Extra Drive to Extend RAID 5
What Are RAID 0, RAID 1, RAID 5 and Raid 6
What RAID is the best? What is the difference between RAID 5 and RAID 6? You can get your answers here. RAID, Redundant Array of Inexpensive Disks or Redundant Array of Independent Disks, is a data storage virtualization technology that provides a way to save the same data in different places on multiple physical hard disks.
RAID 0 splits data evenly across two or more disks, without parity information, redundancy, or fault tolerance. It is normally used to increase performance.

RAID 1 refers to an exact copy (or mirror) of a set of data on two or more disks. It writes two copies of the data simultaneously on two separate drives. It is commonly used for small database systems, enterprise servers, and home PCs where fairly inexpensive fault tolerance is required. (See also: How to recover data from RAID 1.)

RAID 5 is a redundant array of independent disks configuration that uses disk striping with parity. It has more usable storage than RAID 1 and RAID 0 configurations and provides performance equivalent to RAID 0. RAID 5 groups have a minimum of three hard disk drives (HDDs) and no maximum. It is considered one of the most secure RAID configurations. RAID 5 uses parity instead of mirroring for data redundancy. When data is written to a RAID 5 drive, the system calculates parity and writes that parity into the drive. While mirroring maintains multiple copies of data in each volume to use in case of failure, RAID 5 can rebuild a failed drive using the parity data, which is not kept on a fixed single drive.

RAID 6 extends RAID 5 by adding another parity block. Thus, it uses block-level striping with two parity blocks distributed across all member disks. RAID 6 groups have a minimum of four hard disk drives. When large and reliable storage is needed, then RAID 6 is one of the best choices. It protects data if two disks failure happens.
Generally, RAID uses multiple disks working together to increase overall system performance for computer users, especially server users. That's the reason why you use RAID. However, some users are asking for ways to expand RAID 5.
Why Need to Expand/Extend RAID 5
Case 1: "I have a Highpoint Rocket RAID 454 for Windows XP SP2 and 2000 SP4 (+Rollup). One array is RAID-5 with three disks, and I would like to add another disk to this array. I know I can add a new disk if the array is broken but how would I 'expand' an existing (working) array without data loss?"
Case 2: "I have ML 350 G5 Server with 3 Hard disks currently configure RAID 5. My Question is here:Can I add New Hard Disk without destroying my current data and OS if so? What is the utility I am going to use?"
Case 3: "I've got a Compaq ML370G2 with three drives in a RAID5 array connected to a 5i controller. How do I go about adding a 4th drive to the array? Is there an application like in NetWare (cpqonlin.nlm) to do this?"
Have you ever come across the above cases that the RAID is out of space? Generally, the purpose of expanding the RAID 5 partition is to maximize the performance of server computers by having more disk space on RAID 5.
How to Expand/Extend RAID 5 (3 Ways)
When it comes to extending the RAID 5 volume, most users will first try to use Windows built-in Disk Management utility as it can deal with all kinds of management easily. However, RAID 5 volume can only be created in the dynamic disk and Disk Management cannot extend dynamic volume. That is to say, Disk Management cannot help you. But you can get help from the following solutions.
Solution 1. Use RAID Array Partition Software to Extend/Expand RAID 5 Array
What you need is professional RAID 5 volume manager - EaseUS Partition Master Server. This software delivers the best disk management on Windows PCs/servers. It supports to manage dynamic volume and repair RAID-5 volumes easily and quickly. Follow the steps to expand RAID 5 with EaseUS Partition Master Server.
Step 1. Create unallocated space.
To extend a volume, make sure that there is unallocated space aside. Skip this step if there had any, otherwise, shrink the other neighboring volume which has enough free space. On the other volume, right-click your mouse and choose "Resize/Move".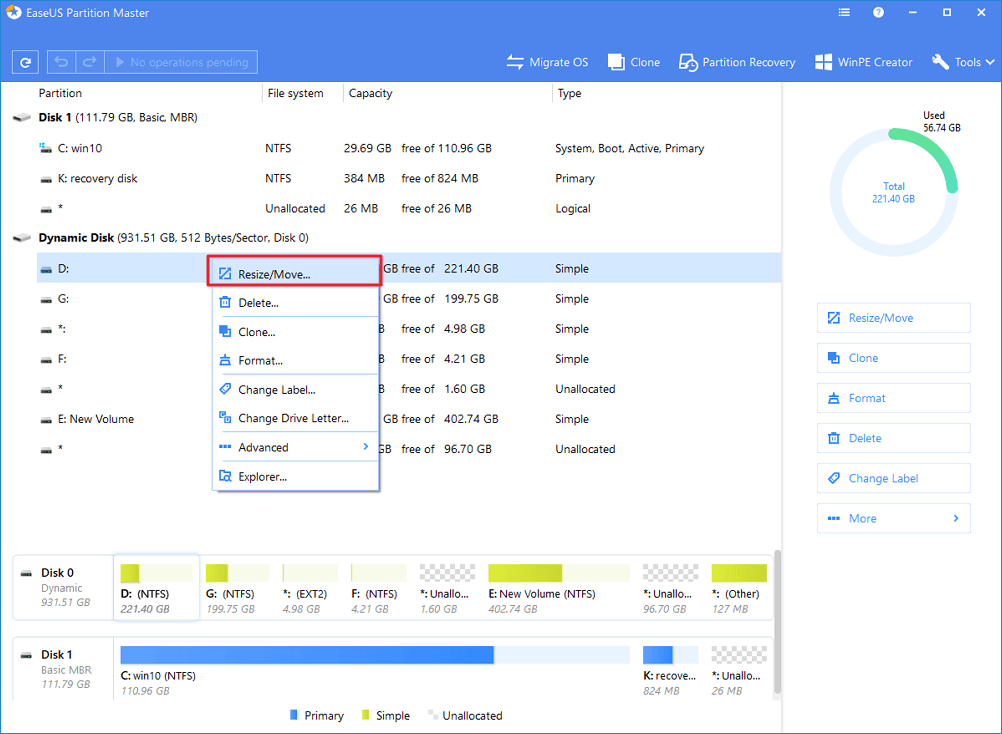 Put your mouse on the volume, and drag one of its ends into unallocated space. Click "OK".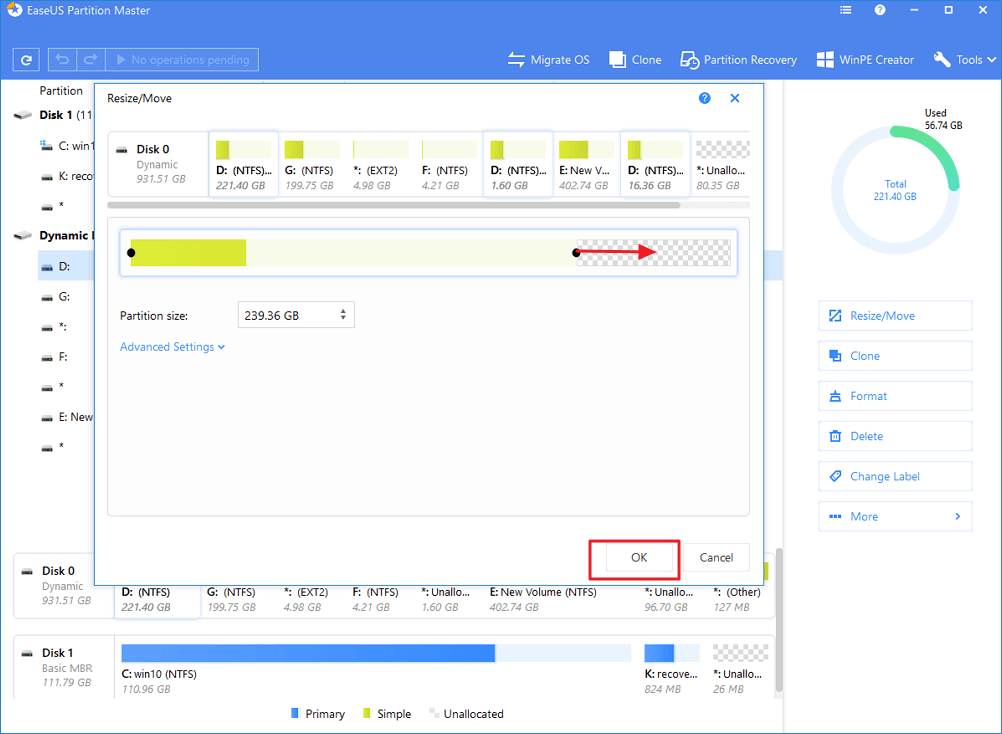 The selected volume has been decreased and spared some unallocated space. To save the changes, click "Execute Operation" and then "Apply".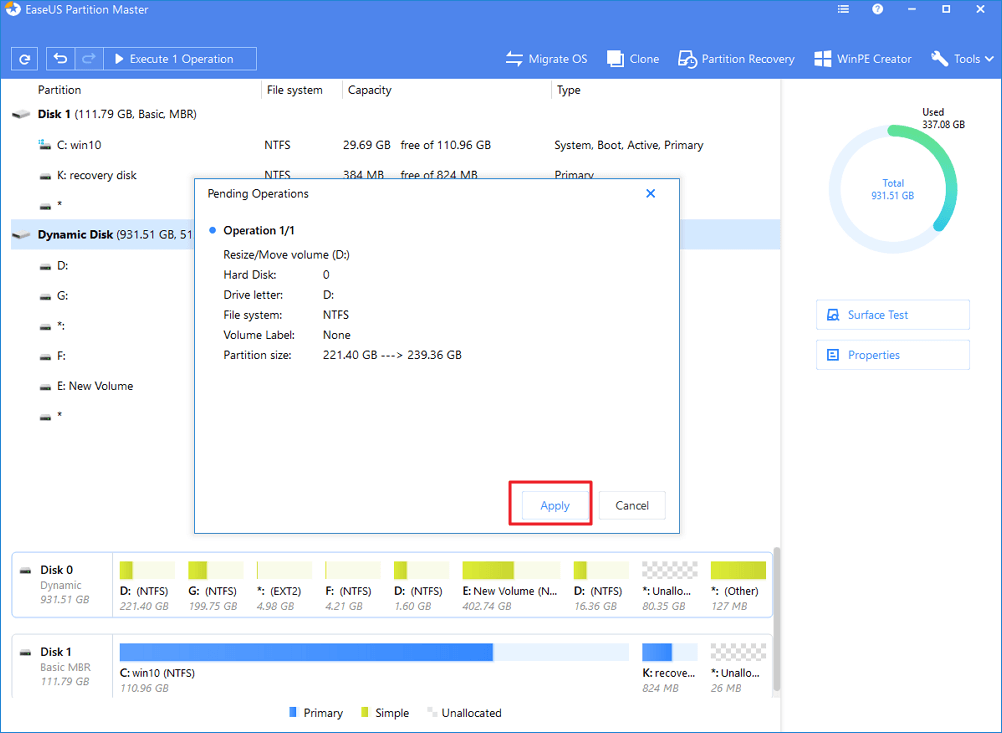 Step 2. Extend the volume.
Now you should go back to the target volume you wish to extend. Right-click on it and choose "Resize/Move". Next, do the same as the way of dragging the mouse towards the unallocated space, to merge the unallocated space into the volume. Click "OK". Finally, click "Execute Operation" and then "Apply".
Solution 2. Use a Highpoint Controller
Unless the highpoint controller which provides a RAID expansion feature, there isn't any direct methods for you to expand RAID 5 array. If the RAID controller support to expand RAID 5, you need to insert a new hard disk into the existing hardware RAID and organize this RAID using the RAID controller. Some unallocated space will appear on this RAID. Then you can expand the RAID partition with the unallocated space. If you have difficulty in using the Controller, you can jump to Solution 1.
Solution 3. Add Extra Drive to Extend RAID 5
If RAID 5 is running out of disk space, you can add a new disk to extend the RAID 5. The most important thing is to back up data on RAID 5. Also, professional RAID backup software can help you back up data if you find it difficult to back up data manually.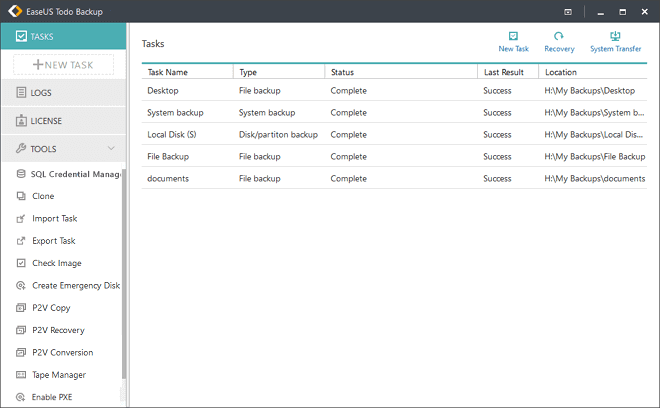 Then, follow the steps below to add extra RAID 5 drive:
Step 1. Delete the three-drive array and re-create it as a four-drive array.
Step 2. Connect the new disk to the computer and recombine the RAID 5 array by using the RAID controller with all the disks you want to utilize.
Step 3. Restore the data to the new larger RAID 5 array.
If you add a disk that's larger than the other disks, it will be resized to match the capacity of the others. For example, if you have three 80 GB disks and add a 160 GB disk, you will only be able to use 80 GB of the 160 in your new configuration. The rest space of the drive will be unusable.
100% of people found this article helpful.
Frequently Asked Questions
Why Choose EaseUS Partition Master?

"I've used Partition Master Professional many times to create, delete, format, move, rename, and resize partitions." —PCWorld

"Partitioning tools have come a very long since the days of complicated command line utilities and EASEUS Partition Master is one of the most advanced programs available." —TECH ADVISOR

"I love that the changes you make with EaseUS Partition Master Free aren't immediately applied to the disks. It makes it way easier to play out what will happen after you've made all the changes." —Lifewire
Will the "Migrate OS" feature transfer the Windows system files only or the whole C drive?

To ensure that the migrated system will boot normally, the Migrate OS feature will transfer all the files in the system and the boot partitions. Generally, the boot partition is the C drive so the transfer will include all the files in C.
Does EaseUS Partition Master license apply to multiple computers?

The license of Partition Master Professional and Server editions can be used on 1 computer only, while that for for the Technician and Unlimited editions can be used on multiple machines.
What is the difference between EaseUS Partition Master Trial version and the Free version?

Free is for home users only, with most basic functions available such as partition resize and clone. While trial can help you understand how this product works and test what a full license can do on a business or server OS machine.
Will it cause any data loss after resizing the partition in EaseUS Partition Master?

Generally, it will not cause any data loss or boot issue by resizing a partition. However, in order to protect your data, we suggest that you backup the partition before resizing, in case of any unexpected situations such as power outages, computer hardware failures, etc. You can use EaseUS Todo Backup to backup the partition and its trial version is fully functioned for 30 days.
What should I prepare before resizing the partition?

On the partition that is going to be operated, there might be some files being occupied by other programs. To ensure a successful operation, we suggest that you close all the unnecessary software before resizing that partition. Otherwise, EaseUS Partition Master will detect the partition being locked by the other software and require a reboot to resize the partition under boot mode.
About EaseUS Partition Master
All-round disk & partition management software for personal and commercial use. Let it manage your storage drive: resize, format, delete, clone, convert, etc.