How do you use a USB external hard drive on your PlayStation 3 or PS3? To play video games, or play back specific movies, photos and music files on your PS3, we always need a USB storage device that works seamlessly with the console. Generally, all USB storage devices known as flash drives and USB drives should work with PS3 except the file system of which is not FAT32 as it demands. Since PS3 USB format should be the old "FAT32" while most of the modern new USB drives come with widely used "NTFS", users need firstly learn USB format for PS3.
How to format PS3 to FAT32 file system?
After we learned that PS3 USB format should be "FAT32", the next part comes the most important. Most average users will feel painful to format PS3 USB drive to the required file system since they can find no way to get started. Now they don't need to worry any more, EaseUS free partition manager can help with all the formatting job as well as partition USB drive for PS3.
To format PS3 USB to "FAT32", first you need take out the USB drive and connect it to a computer, of which the operating system can be Windows 10/8.1/8/7/XP/Vista. Next, download EaseUS Partition Master Free and install it on your Windows computer.
Steps for PS3 usb format FAT32
1. Launch EaseUS Partition Master Free. Choose the PS3 USB drive and right click it, then select "Format partition".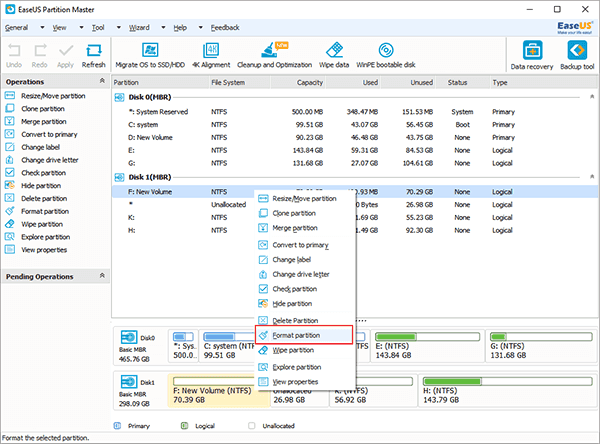 2. A mini window pops out, on which you can edit the partition label and choose a file system. Here you should choose the second "FAT32".