
About the Author
Hot Topics in 2022
2022 Magic Wester Digital (WD) Partition Manager Software Free Download
Are you looking for a reliable WD partition tool that can help you flexibly manage partitions on your HDD, SSD, or external hard drives? Stay here and follow this tutorial to fully manage your Western Digital hard drive partition with ease now.
Western Digital, a renowned storage device producer, provides data storage solutions to help customers to capture and preserve their valuable data on multiple types of storage devices, including HDD, SSD, USB flash drive, SD card, memory card, etc. 
To make use of the WD hard drive partitions, you may need to manage and partition hard drives on Western Digital hard drives. Here in the below, we'll show you how to get a reliable WD partition manager software and partition your WD HDD/SSD in only a few clicks.
Western Digital (WD) Partition Manager Software Free Download
Here is a list of cases that you'll need to turn to a reliable partition tool for help:
Resize partitions - extending or shrinking
Create partitions (logical or primary)
Merge two partitions into one
Migrate OS from the old drive
Format partitions to fit operating system (e.g. format WD hard drive for Mac)
Copy partitions to another drive for backup
Wipe WD disk
More...
WD Partition Manager Software Is Available Here to Free Download
So how do you manage to partition your Western Digital hard drive in Windows 10/8/7? Reliable third-party partition manager software can help. 
EaseUS Partition Master is an all-in-one disk management tool for WD hard drives, external hard drives, and other portable storage devices. 
Manage and Partition WD Hard Drive with EaseUS Partition Master
So how do I partition a WD external hard drive? EaseUS Partition Master is a lightweight Windows application that all levels of Windows users can apply flexibly partition and manage hard disk in Windows 10/8/7, Vista, and XP.
Follow the tutorial guides below to manage your Western Digital hard drives, SSDs, or external storage media with ease now:
Tutorial 1: Partition Hard Drive
Step-by-Step Guide to Partition WD Hard Drive:
Step 1. Launch EaseUS Partition Master to check for free space at the Partition Manager section.
If your hard drive has unallocated space, jump to Step 3 to create partition.
If the hard drive has no unallocated space, continue with Step 2.
Step 2. Shrink a disk partition to create unallocated space.
Right-click on the target drive partition with a lot free space and select "Resize/Move".
Drag either end of the partition rightwards or leftwards to shrink the partition size so as to get ample unallocated space. You can visually know how much space you've decreased in the "Partition size" area. Click "OK".
Click "Execute xx Task" and then "Apply" to save all the changes.
Go back to Partition Manager, there should be unallocated space appearing on the same disk and you can continue with Step 3 tocreate new partition on your.
Step 3. Create a new partition with unallocated space on the target hard drive.
 Right-click on the unallocated space and choose "Create".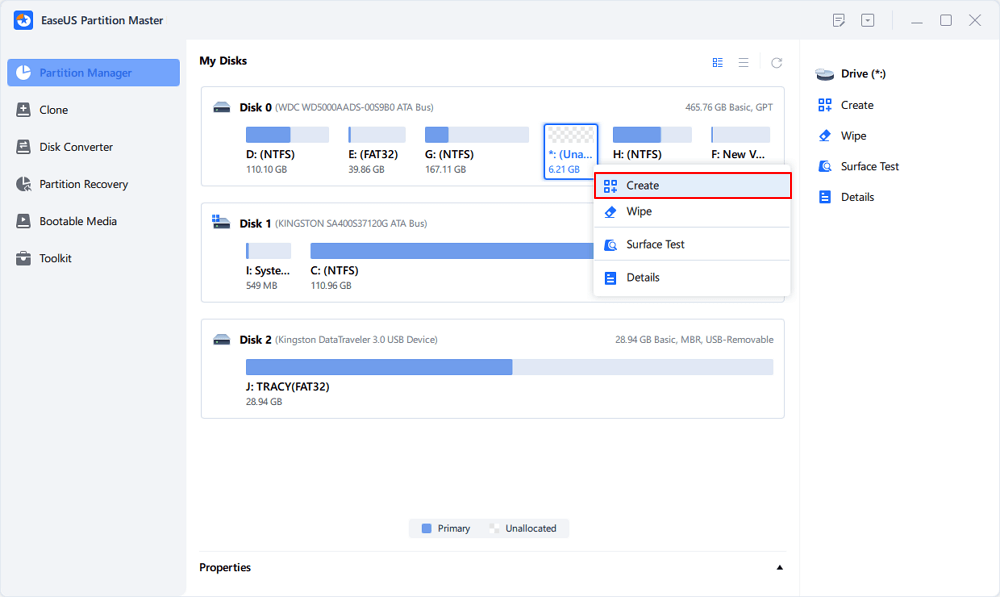 Customize the partiton size, partition drive letter, partition label, file system (NTFS, FAT32, EXT2/3/4, exFAT) and more in the Advanced Settings. Click "OK".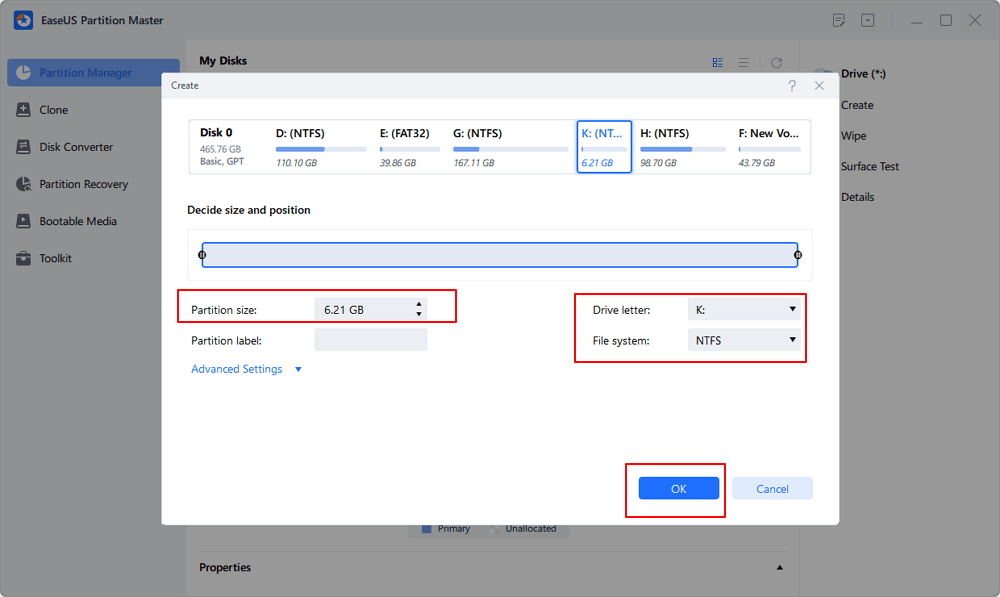 Finally, click "Execute * Task" and "Apply" to complete creating partition with the unallocated space on your disk. Repeat the steps to partition a hard drive and get many more partitions.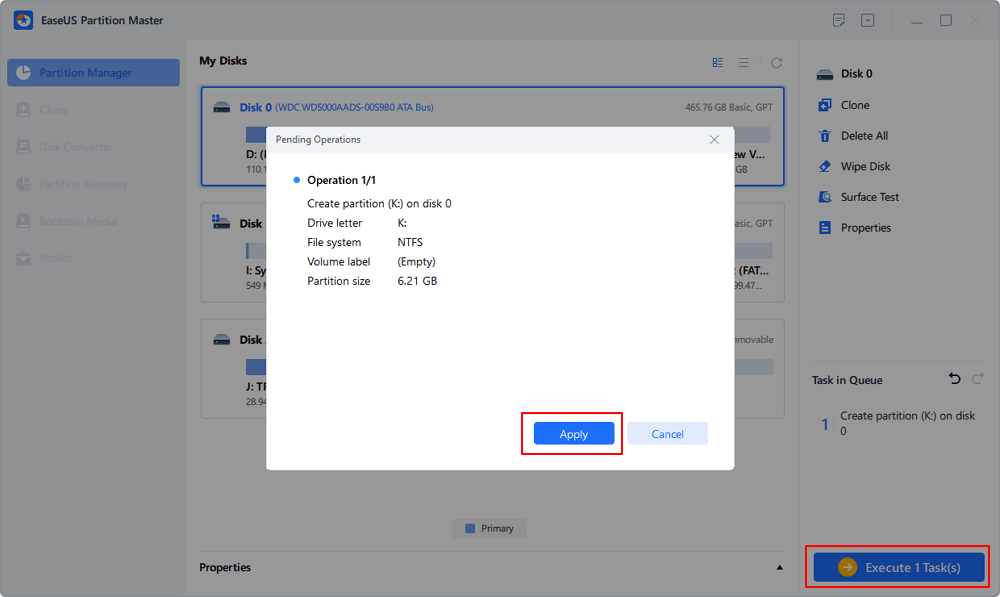 Tutorial 2: Format Western Digital Hard Drive
EaseUS Partition Master can also work as a WD quick formatter that anyone can apply to format WD partitions to NTFS, FAT32, EXT2, or EXT3.
You can even use it to
format WD external hard drive for Mac
on Windows PC. If you want to do so, please set the file system as FAT32 for better compatibility on Mac.
Note that formatting will remove all existing data on the WD disk. Therefore, remember to back up your data first. Then take steps as shown below to start formatting the WD hard drive:
Step 1. Launch EaseUS Partition Master, right-click the partition on your external hard drive/USB/SD card which you want to format and choose the "Format" option.
Step 2. Assign a new partition label, file system (NTFS/FAT32/EXT2/EXT3/EXT4/exFAT), and cluster size to the selected partition, then click "OK".
Step 3. In the Warning window, click "Yes" to continue.
Step 4. Click the "Execute 1 Task(s)" button in the top-left corner to review the changes, then click "Apply" to start formatting your external hard drive/USB/SD card.
You May Also Interest In:
Besides the above two features, you can also use EaseUS Partition Master to execute some advanced operations on your WD internal or external hard drive, such as:
Take Action to Make Use of WD Hard Drive
Some of you may think of using the Windows built-in Disk Management which indeed meets the basic needs of [artitioning a hard drive. It allows WD users to extend, shrink, delete and format volumes only, and even sometimes it's unavailable in those functions.
However, if your WD hard drive needs more management beyond the capability of Windows Disk Management, don't hesitate to download EaseUS Partition Master - the magic Western Digital partitioning software for help.
It's your turn, and take action to make use of your Western Digital hard drive now.
About the Author

Roxanne is one of the main contributors to EaseUS and has created multiple posts on digital devices like PCs, Mobile phones, tablets, Mac, etc. She loves to share ideas with people of the same interest.
Daisy is the Senior editor of the writing team for EaseUS. She has been working in EaseUS for over ten years, starting from a technical writer to a team leader of the content group. As a professional author for over 10 years, she writes a lot to help people overcome their tech troubles.
Product Reviews
I love that the changes you make with EaseUS Partition Master Free aren't immediately applied to the disks. It makes it way easier to play out what will happen after you've made all the changes. I also think the overall look and feel of EaseUS Partition Master Free makes whatever you're doing with your computer's partitions easy.

 Read More

Partition Master Free can Resize, Move, Merge, Migrate, and Copy disks or partitions; convert to local, change label, defragment, check and explore partition; and much more. A premium upgrade adds free tech support and the ability to resize dynamic volumes.

 Read More

It won't hot image your drives or align them, but since it's coupled with a partition manager, it allows you do perform many tasks at once, instead of just cloning drives. You can move partitions around, resize them, defragment, and more, along with the other tools you'd expect from a cloning tool.

 Read More