How to Manage Your WD Hard Drive with EaseUS Partition Master?
If you purchased a new WD hard drive, you may need a further customization. For example, create partitions (logical or primary) on it, migrate OS from the old drive; while if the WD drive you've been using stores some critical information, you may want to copy partitions to other drives for a backup; or resize partitions, merge two partitions into one, format partitions to fit operating system, delete less frequently used partitions, or even wipe WD disk for a risk-free abandonment. All in all, any control of the WD hard drive and external hard drive can be taken by EaseUS Partition Master, which is currently one of the highest ranked Western Digital hard drive partitioning utility in the market.
It's a really lightweight Windows application which gains extensive popularity among users and it's intuitive, user-friendly, non-destructive. Let's see how easily you can cope with the free partition manager, for instance, formatting WD partitions to NTFS, FAT32, EXT2, EXT3...
Step 1. Correctly connect WD drive to your Windows computer (Windows 10/8.1/8/7/XP/Vista is supported). Install and launch EaseUS Partition Master Free.
Step 2. Right-click one partition you want to format and select "Format partition".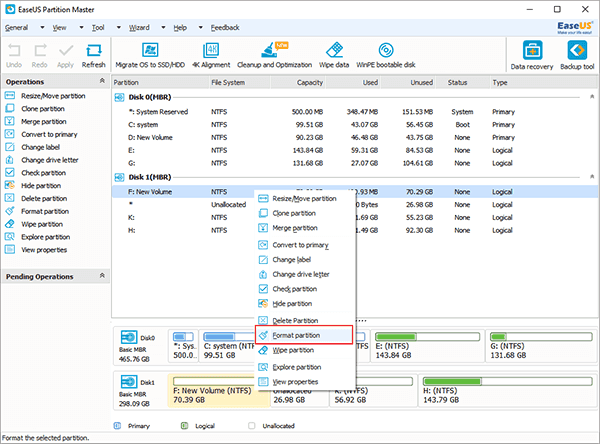 Step 3. Now comes the checkbox. You can edit the information for the newly formatted partition. Add a partition table, scroll down file system list and confirm a file system, also choose a cluster size.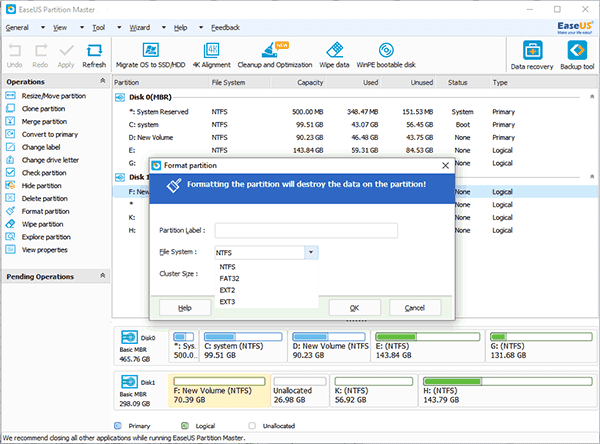 Tip: Smaller cluster size makes less wasting of disk space.
Step 4. Click "OK" to apply the format operation.
Step 5. Click "Apply" to execute the whole formatting process.
Among the features we displayed above, EaseUS Partition Master concludes an exclusive function. It enables WD partition recovery caused by any careless and improper operation like delete, format and hide the partition.
Why Don't We Recommend The Built-in Windows Disk Management?
In fact, the built-in Windows Disk Management meets the basic needs of controlling a hard drive, but with too many restrictions. It allows WD users to extend, shrink, delete and format volumes only, and even sometimes it's unavailable in those functionalities.
Since it's a built-in application, it's reliable. If your WD hard drive needs more management beyond the capability of Windows Disk Management, please feel no hesitate to download EaseUS Partition Master Free, the magic Western Digital hard drive formatting, and partitioning software.