Windows was unable to shrink C: drive in Windows 10
"Hi guys, do you know why Windows 10 doesn't allow me to shrink C: drive on my laptop? I want to shrink the C: drive but the Shrink button is disabled.
Disk Management won't allow me to shrink or decrease C drive with an error message, saying that 'You cannot shrink a volume beyond the point where any unmovable files are located. See the 'defrag' event in the Application log for detailed information about the operation where it has completed.'
Please help me if you how to resolve this issue. Thank you."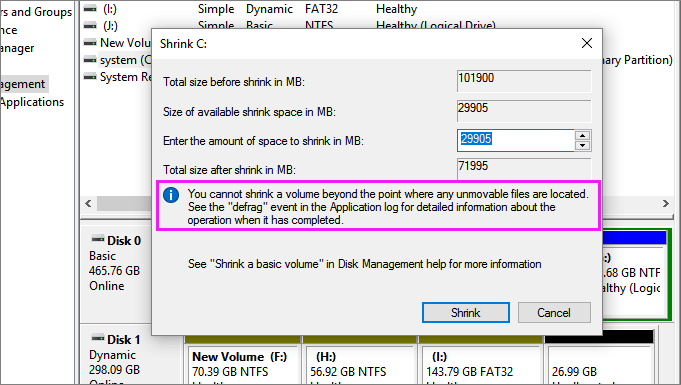 Why does Windows can't shrink volume/partition in Disk Management?
To fix this issue with the right solution, it's highly necessary to understand what causes this error. Here are two major causes that disable you from shrinking partitions on Windows PC:
Existing fragments separate files saved on the device
File system error cause volume, partition inaccessible, invisible
Both causes will make volume shrinking unavailable. So what will you do when you are told that you can't shrink the target volume in Windows 10, 8 or 7?
This page includes effective methods to help you get rid of can't shrink hard drive partition error in Windows 10/8/7. Just follow to see how to fix this issue and make full use of your disk space with ease.
Method 1. Shrink volume with Disk Management alternative (automated)
When you failed to shrink volume or decrease partition such as system C: drive, don't worry. Powerful Disk Management alternative software - EaseUS Partition Master Free can effectively help you shrink and decrease C drive in Windows 10/8/7 for free with a few simple clicks.
Feel free to download, install this free partition manager software on your PC. It's fully compatible with all Windows OS including Windows 10/8/7, etc.
EaseUS Partition Master will automatically check and fix errors on the target disk, and securely shrink the target partition under the boot mode. Here we'll take shrinking C drive as an example to guide you fix unable to shrink volume error on Windows:
Step 1: Install and launch EaseUS Partition Master
Step 2: Adjust partition size
To shrink a partition, use your mouse to drag one of its ends to shrink partition space.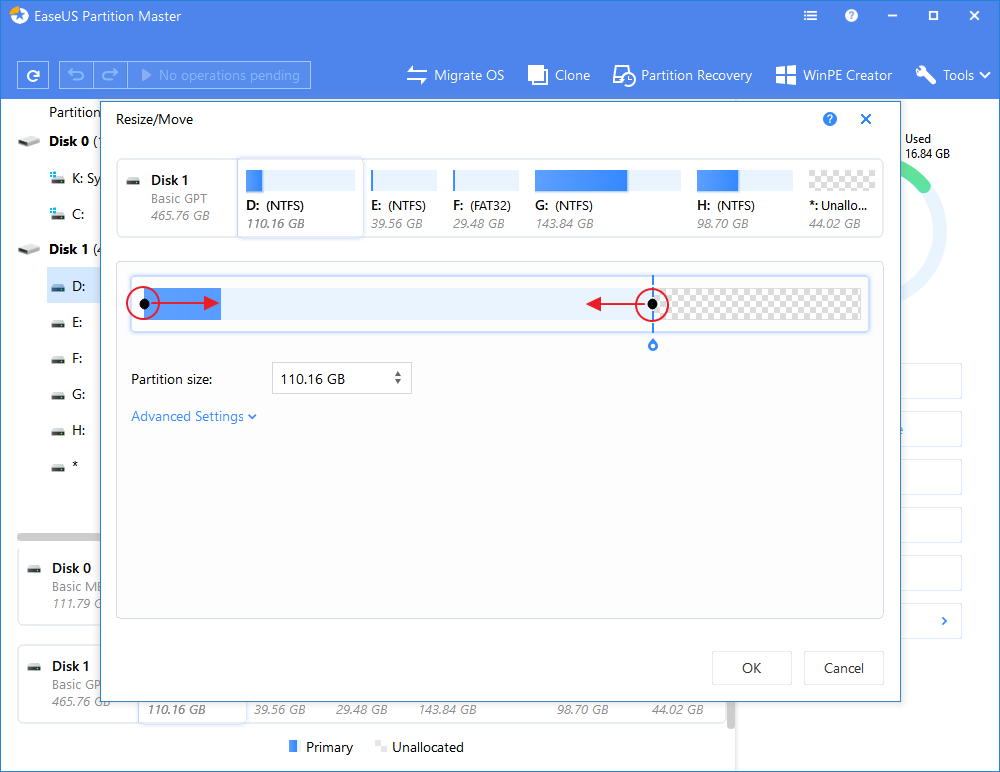 You can also adjust the partition size box to shrink the target partition.
Click "OK" to continue.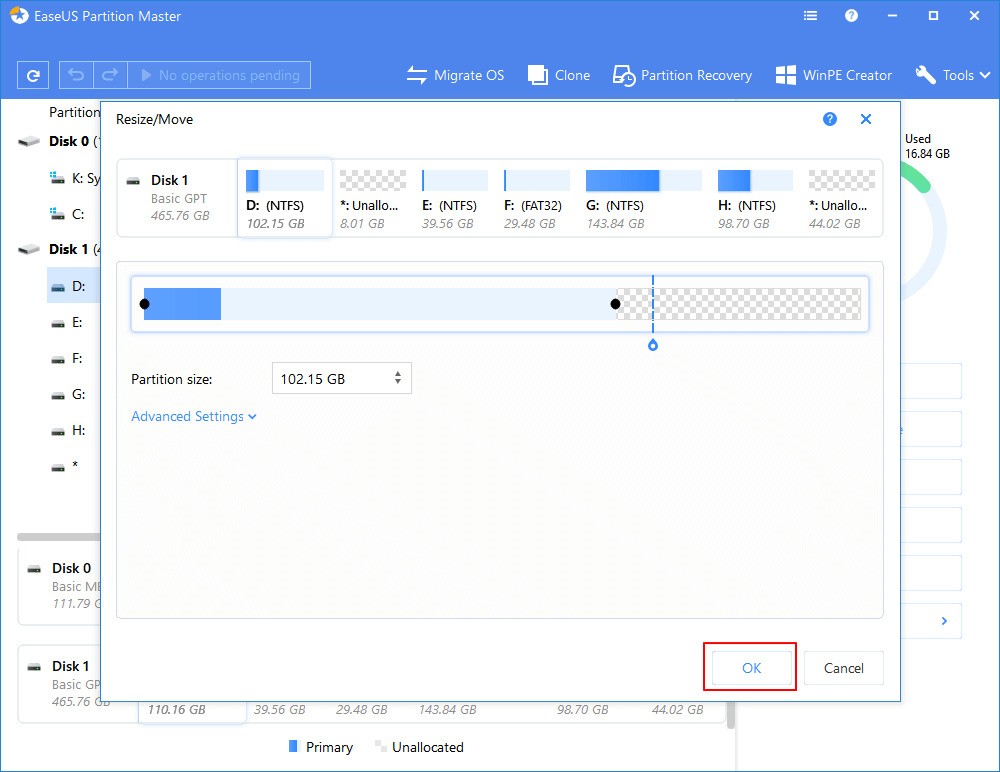 Step 3: Shrink partition
Wait for the process to complete and reboot PC to keep all changes. Now that, you've successfully shrunk C drive without using Disk Management. And you can use the shrunk free space for other usages now.
Method 2. Fix 'Windows unable to shrink volume' error (manual)
Another manual method to fix "Windows is unable to shrink volume or partition" error in Windows 10, 8 or 7 is to defragment and check disk error. Follow two steps below to solve this issue now:
Note: To resolve this issue, you need to sign in to Windows 10/8/7 with your administrator account.
Step 1. Defragment hard drive partition or volume
1. Click "Start" > Select "File Explorer".
2. Expand This PC tree on the left pane, right-click "Local Disk (C:)" or other partition which can't be shrunk in Windows PC.
3. Select "Properties" > Go to "Tools" tab and click "Optimize" under Optimize and defragment drive section.
4. Select the system drive (C) box on the Optimize Drives box, click "Analyze".
Wait until Windows completes the analysis and displays the percentage of the fragmented files in the selected drive.
Step 2. Check and fix disk file system errors
If the number of bad clusters detected by dynamic bad-cluster remapping is too high, you'll not be able to shrink the partition. So to perform a disk check and repair all file system errors is your next move:
1. Right-click on the drive or partition which can't be shrunk in Windows PC and select "Properties".
2. Go to the Tools tab, click the Check button under "Error checking".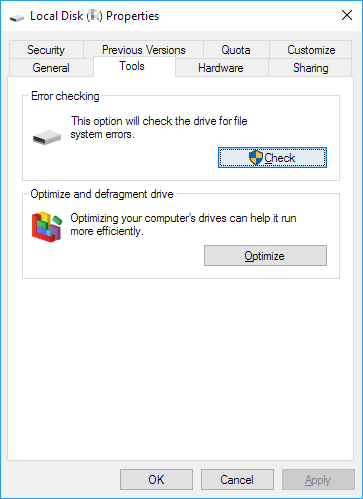 Wait to let the process complete and fix the drive for file system error.
Step 3. Shrink C: drive or other volumes
1. Right-click on "This PC", choose "Manage", and choose "Disk Management".
2. Right-click on the partition which you want to shrink, and choose "Shrink Volume..."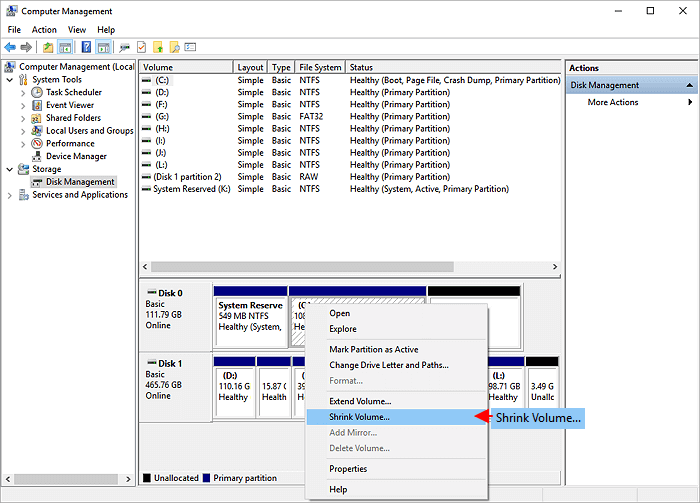 3. In the dialog box, set the amount of space to shink and click "Shrink".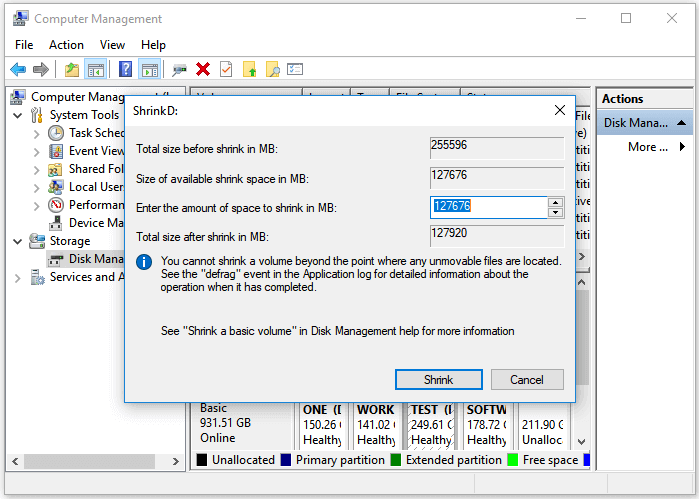 Sum Up
By following provided methods on this page, you can effectively resolve can't shrink partition issue by using automated partition manager software or manual methods.
After shrinking volumes, you may want to make use of the free spaces. You can also apply EaseUS Partition Master Free to effectively partition hard drive with ease.
100% of people found this article helpful.
Frequently Asked Questions
Why Choose EaseUS Partition Master?

"I've used Partition Master Professional many times to create, delete, format, move, rename, and resize partitions." —PCWorld

"Partitioning tools have come a very long since the days of complicated command line utilities and EASEUS Partition Master is one of the most advanced programs available." —TECH ADVISOR

"I love that the changes you make with EaseUS Partition Master Free aren't immediately applied to the disks. It makes it way easier to play out what will happen after you've made all the changes." —Lifewire
Will the "Migrate OS" feature transfer the Windows system files only or the whole C drive?

To ensure that the migrated system will boot normally, the Migrate OS feature will transfer all the files in the system and the boot partitions. Generally, the boot partition is the C drive so the transfer will include all the files in C.
Does EaseUS Partition Master license apply to multiple computers?

The license of Partition Master Professional and Server editions can be used on 1 computer only, while that for for the Technician and Unlimited editions can be used on multiple machines.
What is the difference between EaseUS Partition Master Trial version and the Free version?

Free is for home users only, with most basic functions available such as partition resize and clone. While trial can help you understand how this product works and test what a full license can do on a business or server OS machine.
Will it cause any data loss after resizing the partition in EaseUS Partition Master?

Generally, it will not cause any data loss or boot issue by resizing a partition. However, in order to protect your data, we suggest that you backup the partition before resizing, in case of any unexpected situations such as power outages, computer hardware failures, etc. You can use EaseUS Todo Backup to backup the partition and its trial version is fully functioned for 30 days.
What should I prepare before resizing the partition?

On the partition that is going to be operated, there might be some files being occupied by other programs. To ensure a successful operation, we suggest that you close all the unnecessary software before resizing that partition. Otherwise, EaseUS Partition Master will detect the partition being locked by the other software and require a reboot to resize the partition under boot mode.
About EaseUS Partition Master
All-round disk & partition management software for personal and commercial use. Let it manage your storage drive: resize, format, delete, clone, convert, etc.