How Do I Clone SD Card to Larger SD Card in Windows 10
Hi guys, I'm wondering to know is it possible to find an easy way to clone SD card in Windows 10 with simple methods? I recently bought a new Micro SD card which is 64GB, and I'm thinking about to change the older and smaller SD card in my Android phone so to extend the storage capacity and leave more space for the phone.
The problem is that I need to move all my data in the old Micro SD card into the new card. It will take me a long time, and I must copy and move data into the card one by one. But the applications in the old card cannot be thoroughly moved manually. What can I do? I tried to find answers and found that many professional blogs and forums suggested me to try SD card clone software. How to select a useful SD card clone software and help me to clone SD card successfully? If you have any suggestions, please let me know. Thanks.
EaseUS Partition Master SD Card Clone Software
How to find effective SD card clone software? This is a question, and now you do not need to worry anymore. EaseUS software provides its professional partition manager software - EaseUS Partition Master to help solve SD card clone or partition clone problem.
This software has a feature which is named Clone disk wizard, allowing to clone hard disk, partition, portable devices such as SD card or USB drive in Windows 10/8/7 or any other previous Windows version within only three steps. And it clones everything in the SD card including application data into new devices. With this feature, users no longer need to re-download and reinstall applications anymore. How to use it? Click the download button here in this passage and free download EaseUS Partition Master. Then follow next steps to start cloning SD card to larger SD card right now!
3 Steps to Clone SD Card in Windows 10/8/7 with EaseUS Partition Master
EaseUS Partition Master supports all Windows systems and therefore whatever Windows system you are using, you can all apply this tool to clone SD card directly. Beside this, EaseUS Partition Master is also a great GParted Windows tool which supports to migrate OS to HDD/SSD, hard disk copy and even can help convert system disk from MBR to GPT. Now let's see how to clone SD Card:
 Notice:

To clone SD/USB/external hard drive with data to a new device, connect the external storage device that you want to clone and a new removable device (SD/USB/external hard drive) with bigger capacity to your PC in advance.
Step 1: Run EaseUS Partition Master on PC
Step 2: Clone external storage device (SD/USB/external hard drive)
1. Select a new device (SD/USB/external hard drive/hard drive) as target disk, click "Next".
2. Click "OK" to continue.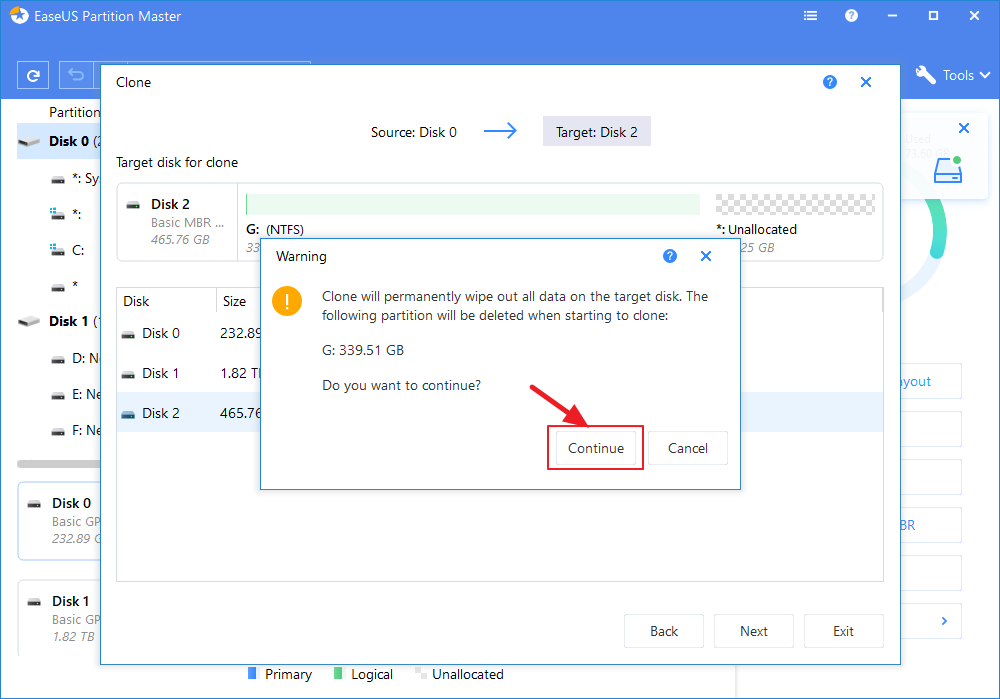 Step 3: Keep all changes