How do I check SD card for errors?
"I have a microSD in my Samsung phone and it somehow got corrupted. My phone says that I need to scan SD card to check and fix errors. But I am not sure how to do this. Can anyone help?"
Overview of scanning and checking SD card for errors
The longer you use an SD card, the higher possibility that errors, bad sectors or corruptions occur on the device. It will finally cause errors like memory card not formatted, SD card not recognized, SD card read and write error, SD card is damaged try reformatting it, blank SD card, unable to format SD card, SD card data not showing or become shortcuts, SD card shows 0 bytes, memory card locked, SD card is not accessible the volume does not contain a recognized file system, etc.
If you are caught in one of these issues, you need to scan and check SD card for errors to fix the card and make it work properly. Even you can do it both on your Android phone and PC, we prefer to the latter because your PC works better in repairing damaged SD card.
Check and repair SD card for errors in Windows
1. Open Windows Explorer, right click your SD card, go to Properties -->Tools --> Check now.
2. Check both "Automatically fix file system errors" and "Scan for and attempt recovery of bad sectors".
3. Press Start button to let the Check Disk to scan the SD card and correct any errors it finds.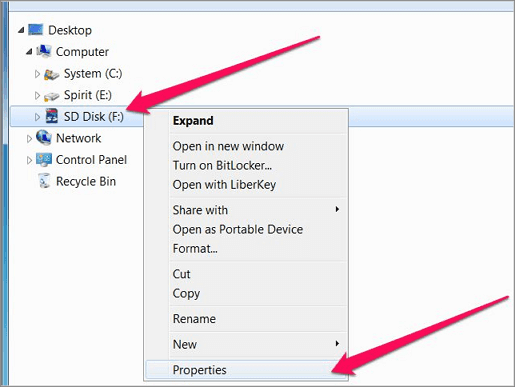 Windows built-in Check Disk utility can quickly check an SD card for errors and it works at most times. It is your first choice if you want to fix a damaged SD card without formatting it. And if the error can not be repaired in this way, you can try to format corrupted SD card with EaseUS free partition software and see if it helps.
Format SD card to repair errors
1. Launch EaseUS corrupted SD card format tool, right-click the card and choose "Format partition".
2. Configure the label you want in the Partition Label box and then select a file system in the "File System" drop-down list for the SD card.
3. Choose the Cluster Size (512 bytes, 1, 2, 4...64KB) in the "Cluster Size" drop-down list and click "OK" to continue.
4. Click "Apply" to format the SD card for repair.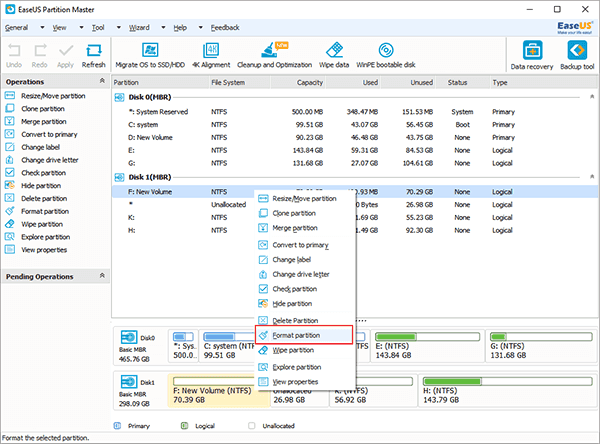 Useful Tips for checking SD card for errors
Format corrupted memory card will erase all your data, please make sure that you have made a backup. And if you can not access the card, you can try EaseUS disk data recovery to check if your files are recoverable.
If the errors cannot be are repaired even you have reformatted the SD card, we recommend you to buy a new card.
Regular backup your files in case that errors or corruptions occur on your SD card again and cause unexpected data loss disaster.