When a computer won't recognize a secondary hard drive or the second hard drive is not showing up properly, you must identify the root of the problem and find corresponding solutions. Now, here are the four types of second hard drive not showing up issues in Windows 10, 8.1, 8 and 7. Examine your own case and pick up one solution that works best for you:
PAGE CONTENT:
Second hard drive not showing up in This PC or My Computer
Second hard drive not showing up in Disk Management
Second hard drive not showing up in Device Manager
Second hard drive not showing up in BIOS
If you run into one of these troubles, you are in the right place! On this page. we present troubleshooting steps in details to help address each issue perfectly, by which you'll be able to make use of your second or even third HDD or SSD without the recognition problem.
How to fix second hard drive not showing up in This PC or My Computer
According to the received feedback, over a half of users didn't see their external hard drive appearing in the place where it should be, i.e This PC in Windows 10 and 8, My Computer in Windows 7. You can check it in the Disk Management, which is probably shown as a disk 1 or disk 2 with "Unallocated". Or do it in an easier way. Download a third-party free partition manager called EaseUS Partition Master. It can quickly troubleshoot the problem by assigning a drive letter.
Step 1: Launch EaseUS Partition Master
On the main window, right-click on the unallocated space on your hard drive or external storage device and select "Create".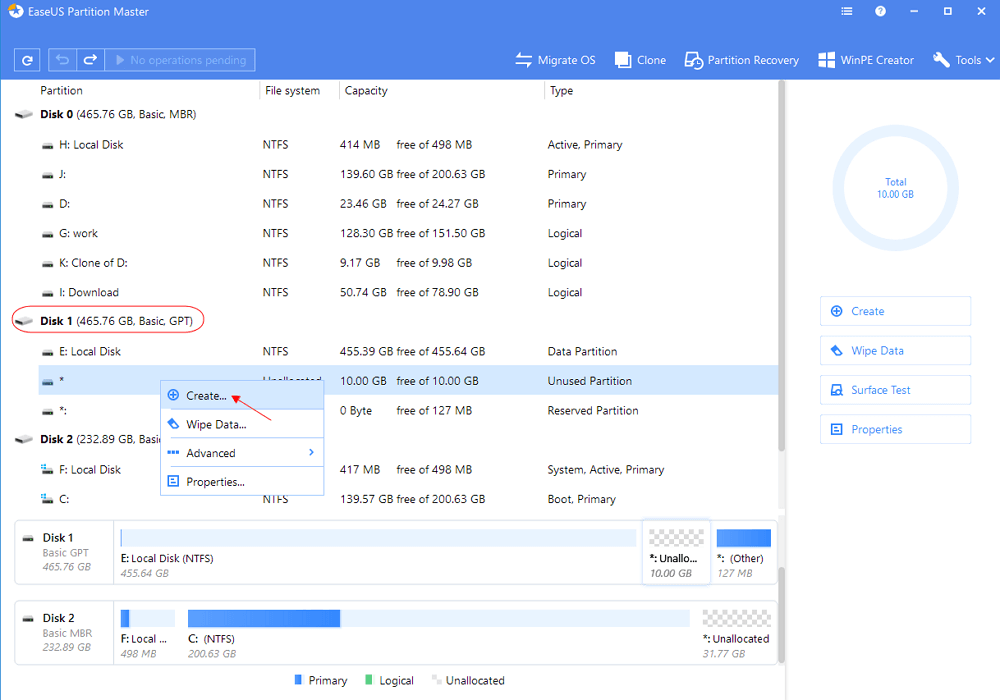 Step 2: Adjust the new partition size, file system, label, etc.
Set the size, partition label, drive letter, file system, etc. for the new partition and click "OK" to continue.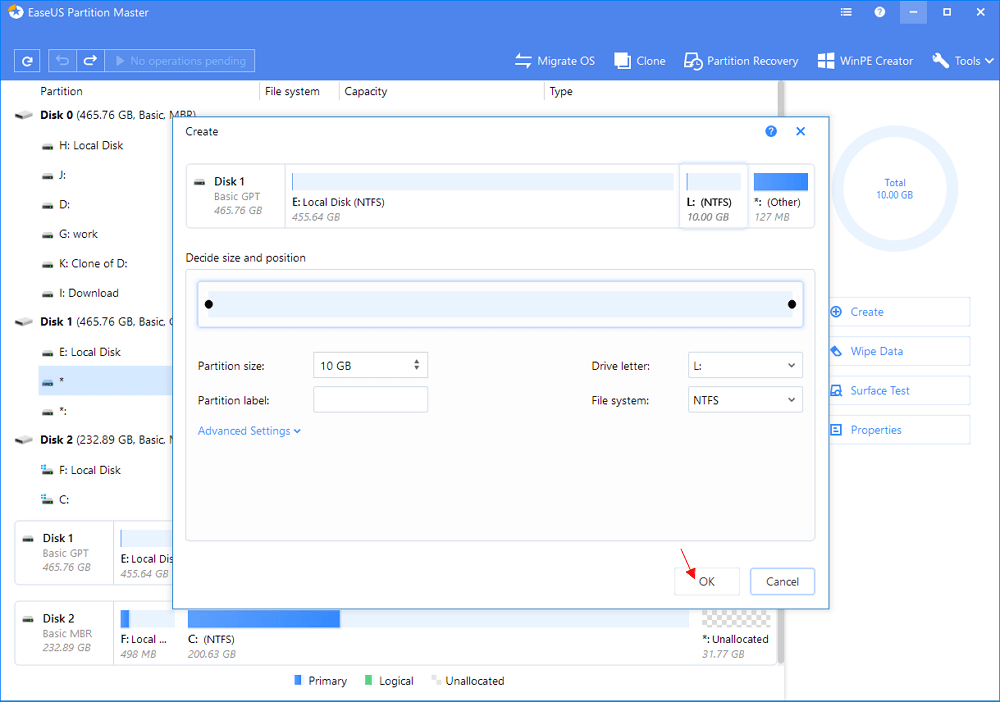 Step 3: Confirm to create a new partition
Close the program when the job is done. Now return to This PC or My Computer, your hard drive should be detected by Windows and correctly displayed with the drive letter you've just created!
How to fix second hard drive not showing up in Disk Management
You should move further to the Device Manager and it's time to update hard drive drivers.
Step 1: Select the "Start" button, type Device Manager, and select it from the list of results.
Step 2: Expand one of the categories to find the name of your device, then right-click (or tap and hold) it, and select "Update Driver".
Step 3: Select "Search automatically for updated driver software".
If Windows doesn't find a new driver, you can try to look for one on the device manufacturer's website and follow their instructions.
Otherwise, try reinstalling the driver by doing like this: Open "Device Manager", right-click the name of the device, and select "Uninstall". Restart your PC and Windows will attempt to reinstall the driver.
How to fix second hard drive not showing up in Device Manager
That's a little troublesome when your hard drive is not even detected in Windows Device Manager, and you should pray a little while because your drive is probably corrupted and develops bad sectors. In this case, you can either use the aforementioned EaseUS Partition Master to repair hard disk bad sectors or run Windows Hardware and Devices Troubleshooter.
Step 1: Navigate to "Control Panel" and click on "Troubleshooting".
Step 2: On the right pane, find "Hardware and Sound", under which select "Configure a device".
Step 3: Run as administrator is asked. Click "Next" to run Troubleshooter.
Step 4: If any issues are found you will be prompted to confirm "Apply this fix". This may occur numerous times depending on errors found.
How to fix second hard drive not showing up in BIOS
Have you prepared for the worst situation that this second hard drive shows up nowhere, including all the paths you can think of and even in BIOS? This problem should be tricky. You will need to ask a professional to help. As far as we concerned, your hard drive not showing up in BIOS is mainly caused because the drive is not enabled in the BIOS or it's just a faulty hard drive.
To enable hard drive in BIOS and make second hard drive show up in Windows 10 correctly, do as follows.
Step 1: Restart PC. Hold and press "F2" to enter BIOS environment.
Step 2: In the Setup section, check whether the second hard drive is turned off in system setup. If yes, turn it on.
Step 3: Reboot PC again. See if the second hard drive showing up normal this time.
100% of people found this article helpful.
Frequently Asked Questions
Why Choose EaseUS Partition Master?

"I've used Partition Master Professional many times to create, delete, format, move, rename, and resize partitions." —PCWorld

"Partitioning tools have come a very long since the days of complicated command line utilities and EASEUS Partition Master is one of the most advanced programs available." —TECH ADVISOR

"I love that the changes you make with EaseUS Partition Master Free aren't immediately applied to the disks. It makes it way easier to play out what will happen after you've made all the changes." —Lifewire
Will the "Migrate OS" feature transfer the Windows system files only or the whole C drive?

To ensure that the migrated system will boot normally, the Migrate OS feature will transfer all the files in the system and the boot partitions. Generally, the boot partition is the C drive so the transfer will include all the files in C.
Does EaseUS Partition Master license apply to multiple computers?

The license of Partition Master Professional and Server editions can be used on 1 computer only, while that for for the Technician and Unlimited editions can be used on multiple machines.
What is the difference between EaseUS Partition Master Trial version and the Free version?

Free is for home users only, with most basic functions available such as partition resize and clone. While trial can help you understand how this product works and test what a full license can do on a business or server OS machine.
Will it cause any data loss after resizing the partition in EaseUS Partition Master?

Generally, it will not cause any data loss or boot issue by resizing a partition. However, in order to protect your data, we suggest that you backup the partition before resizing, in case of any unexpected situations such as power outages, computer hardware failures, etc. You can use EaseUS Todo Backup to backup the partition and its trial version is fully functioned for 30 days.
What should I prepare before resizing the partition?

On the partition that is going to be operated, there might be some files being occupied by other programs. To ensure a successful operation, we suggest that you close all the unnecessary software before resizing that partition. Otherwise, EaseUS Partition Master will detect the partition being locked by the other software and require a reboot to resize the partition under boot mode.
About EaseUS Partition Master
All-round disk & partition management software for personal and commercial use. Let it manage your storage drive: resize, format, delete, clone, convert, etc.