When a computer won't recognize a secondary hard drive or second hard drive not showing up properly, you must follow some do's and don'ts. At the same time, identify the root of the problem and find corresponding solutions. Now, here are the 4 types of second hard drive not showing up issues in Windows 10, 8.1, 8 and 7.
Examine your own case and pick up one solution that works best for you:
So, anyone who unfortunately runs trouble in those situations, you arrive at the right place! In this page, we created troubleshooting steps in details to help address each issue perfectly, by which you'll be able to make use of your second or even third HDD or SSD without the recognition problem.
How to fix second hard drive not showing up in This PC or My Computer?
According to the received feedback, over a half of users didn't see their external hard drive appearing in the place where it should be, i.e This PC in Windows 10 and 8, My Computer in Windows 7. Feel relief then. You can check it in the Disk Management, which is probably shown as a disk 1 or disk 2 with "Unallocated". Or do it in an easier way. Download a third-party free partition manager called EaseUS Partition Master. It can quickly troubleshoot the problem by assigning a drive letter.
Step 1. Launch EaseUS Partition Master. Right-click on the Unallocated hard drive and select Create Partition.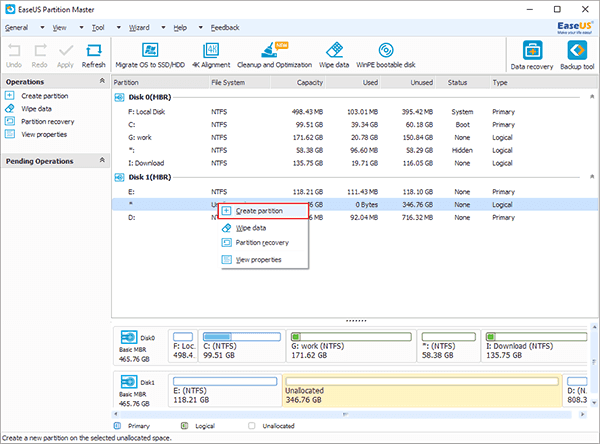 Step 2. On the Create partition window, you can enter a partition label, select a drive letter, cluster size, partition size, partition type (Primary/Logical) and file system from the pull-down menu. While creating partition, you could also resize the partition to a certain size. Click OK.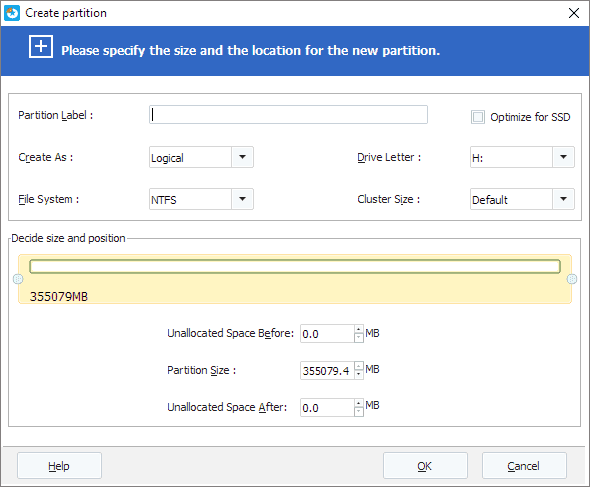 Step 3. Click Apply to create partition on the second hard drive that is not showing up regularly on your PC.
Close the program when the job is done. Now return to This PC or My Computer, your hard drive should be detected by Windows and correctly displayed with the drive letter you've just created!
How to fix second hard drive not showing up in Disk Management?
You should move further to the Device Manager and it's time to update hard drive drivers.
Step 1. Select the Start button, type Device Manager, and select it from the list of results.
Step 2. Expand one of the categories to find the name of your device, then right-click (or tap and hold) it, and select Update Driver.
Step 3. Select Search automatically for updated driver software.
If Windows doesn't find a new driver, you can try looking for one on the device manufacturer's website and follow their instructions.
Otherwise, try reinstalling the driver by doing like this: Open Device Manager, right-click the name of the device, and select Uninstall. Restart your PC and Windows will attempt to reinstall the driver.
How to fix second hard drive not showing up in Device Manager?
That's a little troublesome when your hard drive device not even detected in Windows Device Manager, and you should pray a little while because your drive is very likely corrupted and develops bad sectors. In this case, you can either use the aforementioned EaseUS Partition Master to repair hard disk bad sectors or run Windows Hardware and Devices Troubleshooter.
Step 1. Navigate to Control Panel and click on Troubleshooting.
Step 2. On the right pane, find Hardware and Sound, under which select Configure a device.
Step 3. Run as administrator is asked. Click Next to run Troubleshooter.
Step 4. If any issues are found you will be prompted to confirm "Apply this fix". This may occur numerous times depending on errors found.
How to fix second hard drive not showing up in BIOS?
Have you prepared for the worst situation that this second hard drive shows up nowhere, including all the paths you can think of and even in BIOS? This problem should be tricky, so please ask a professional to help. As far as we concerned, your hard drive not showing up in BIOS is mainly caused due to drive not enabled in the BIOS or it's just a faulty hard drive.
To enable hard drive in BIOS and make second hard drive show up in Windows 10 correctly, do as follows.
Step 1. Restart PC. Hold and press F2 to enter BIOS environment.
Step 2. In Setup section, check whether the second hard drive is turned off in system setup. If yes, turn it on.
Step 3. Reboot PC again. See if the second hard drive showing up normal this time.