About the unallocated space after cloning
"I see unallocated space after cloning a smaller HDD to a larger one. What's the matter? I feel so sure that there is no such unallocated space on the source disk. By the way, it's EaseUS disk clone software that I use."
Unallocated space after disk cloning issue is common, for whatever disk cloning software you were using. So, the questions about the unwelcome unallocated space are coming to various computer forums. People feel uncertain about where it was brought and how to get rid of the empty space that seems to be quite useless.
First of all, the unallocated space is never useless, it's part of your hard disk and shall put into significant use. Next, the answer to why you got such space is merely because you applied the sector by sector clone function while cloning a hard disk or partition. For example, EaseUS Todo Backup disk clone feature allows you to clone system files and partition tables sector by sector, byte by byte including the bad sectors if there were some. That's how you ended up with an exact copy of the original drive but meanwhile obtain some unallocated space.
How to make use of the unallocated space after cloning
By simply converting the unallocated space to a storage drive partition can save you out of trouble, and make full use of every byte on your cloned hard disk. In fact, if you're the ones who're looking for a piece of easy-to-use software to clone system to HDD/SSD, or upgrade hard drive from the small to large or from the old to new, EaseUS Partition Master is an ideal choice! It supports to edit the unallocated space after clone by merging it to the neighboring partition directly.
Nevertheless, no matter how you cloned the drive in the previous step, as long as you are currently confronted with the unallocated space issue, you can still ask help from EaseUS Partition Master. First, download the free partition manager on your PC, and go through the following two options to deal with the current issue.
Option 1: Create a partition on unallocated space
Step 1: Launch EaseUS Partition Master
On the main window, right-click on the unallocated space on your hard drive or external storage device and select "Create".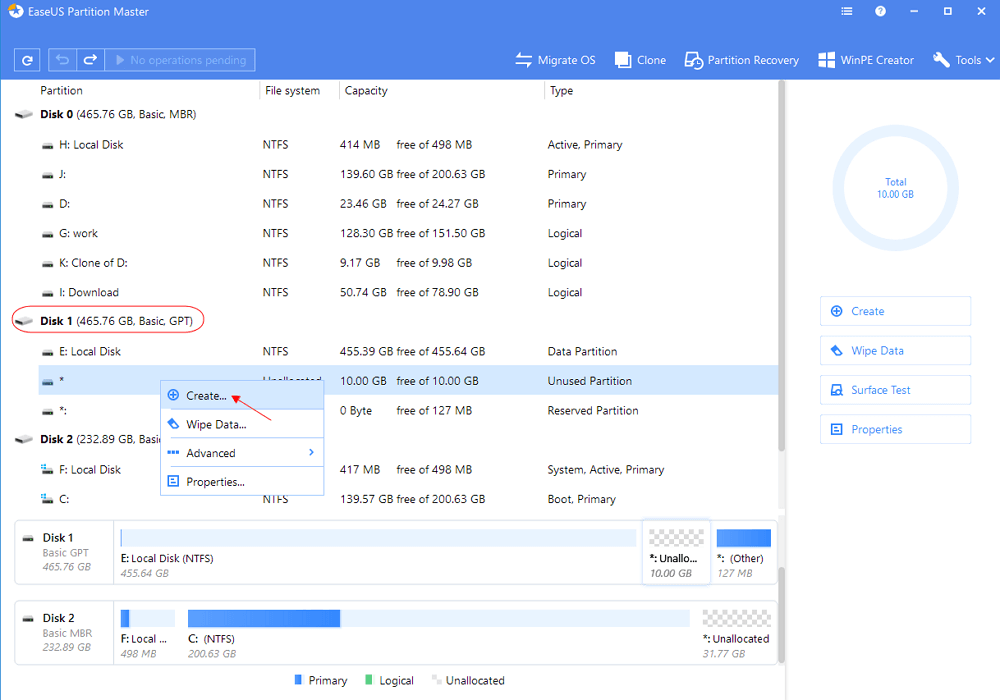 Step 2: Adjust the new partition size, file system, label, etc.
Set the size, partition label, drive letter, file system, etc. for the new partition and click "OK" to continue.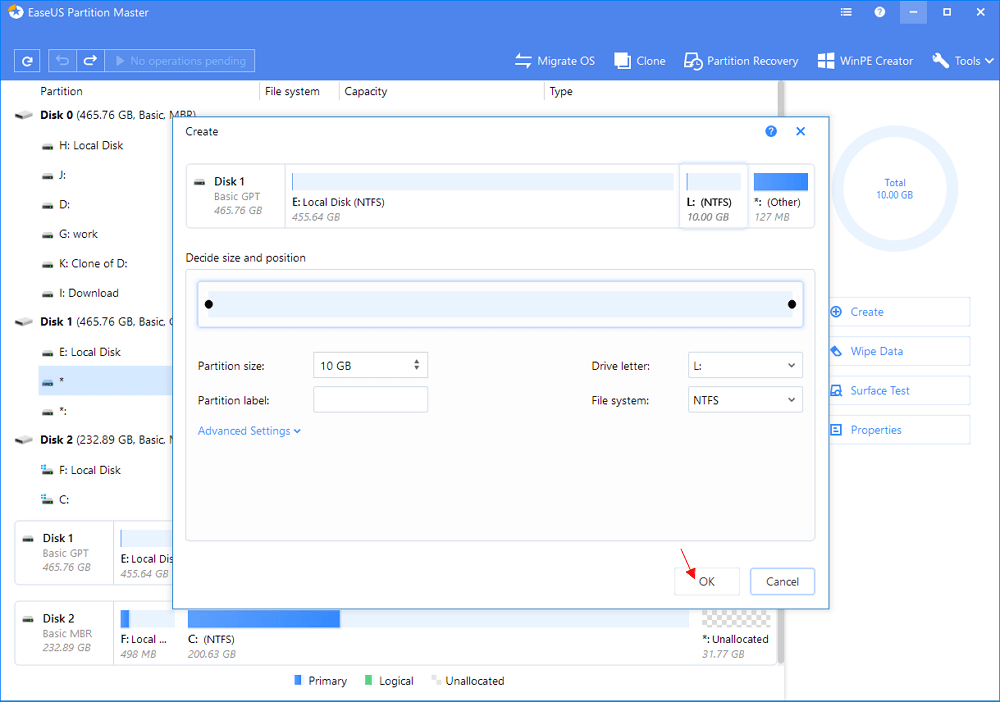 Step 3: Confirm to create a new partition
Option 2: Add unallocated space to an existing partition
By extending the existing partition that next to the unallocated space, you can add the unallocated space to your partition and then put it into use. Here are the steps to do it:
Step 1: Launch EaseUS Partition Master
Step 2: Free up space to extend partition
Step 3: Extend partition
Step 4: Keep all changes
100% of people found this article helpful.
Frequently Asked Questions
Why Choose EaseUS Partition Master?

"I've used Partition Master Professional many times to create, delete, format, move, rename, and resize partitions." —PCWorld

"Partitioning tools have come a very long since the days of complicated command line utilities and EASEUS Partition Master is one of the most advanced programs available." —TECH ADVISOR

"I love that the changes you make with EaseUS Partition Master Free aren't immediately applied to the disks. It makes it way easier to play out what will happen after you've made all the changes." —Lifewire
Will the "Migrate OS" feature transfer the Windows system files only or the whole C drive?

To ensure that the migrated system will boot normally, the Migrate OS feature will transfer all the files in the system and the boot partitions. Generally, the boot partition is the C drive so the transfer will include all the files in C.
Does EaseUS Partition Master license apply to multiple computers?

The license of Partition Master Professional and Server editions can be used on 1 computer only, while that for for the Technician and Unlimited editions can be used on multiple machines.
What is the difference between EaseUS Partition Master Trial version and the Free version?

Free is for home users only, with most basic functions available such as partition resize and clone. While trial can help you understand how this product works and test what a full license can do on a business or server OS machine.
Will it cause any data loss after resizing the partition in EaseUS Partition Master?

Generally, it will not cause any data loss or boot issue by resizing a partition. However, in order to protect your data, we suggest that you backup the partition before resizing, in case of any unexpected situations such as power outages, computer hardware failures, etc. You can use EaseUS Todo Backup to backup the partition and its trial version is fully functioned for 30 days.
What should I prepare before resizing the partition?

On the partition that is going to be operated, there might be some files being occupied by other programs. To ensure a successful operation, we suggest that you close all the unnecessary software before resizing that partition. Otherwise, EaseUS Partition Master will detect the partition being locked by the other software and require a reboot to resize the partition under boot mode.
About EaseUS Partition Master
All-round disk & partition management software for personal and commercial use. Let it manage your storage drive: resize, format, delete, clone, convert, etc.