The guide of external hard drive partition removal in Windows 10 is applicable to all the people who have the demands alike the following examples.
1. Try to partition a new external hard drive into several chunks.
2. Windows asks you to delete a partition on an external hard drive for a clean install.
3. Remove all the external hard drive partitions before sending it away.
4. Can't delete external hard drive partitions in your own way.
We cannot think of all the scenarios of deleting a partition or partitions on an external hard drive in Windows 10/8.1/8/7/XP/Vista or even in Windows Server, however, this post almost covers all the possible solutions you could find on the internet. So, just read on and pick up one to make it manageable for you.
Tip: Prepare an external hard drive enclosure so that you can put the drive in it and plug it into your Windows 10 computer. Make sure that your Windows 10 computer recognizes your external drive and assigns it a drive letter.
Solution 1. Windows 10 Disk Management
Step 1. Open Windows 10 Disk Management program. You got three easiest ways to go.
Navigate to This PC -> Manage -> Disk Management.
Enter diskmgmt.msc in the lower-left search box and click diskmgmt in the list.
Press Windows + R to open Run -> type diskmgmt.msc in the empty box and tap OK.
Step 2. Locate the external hard drive in the Disk Management interface, right-click on the partition you don't want any more and select Delete Volume...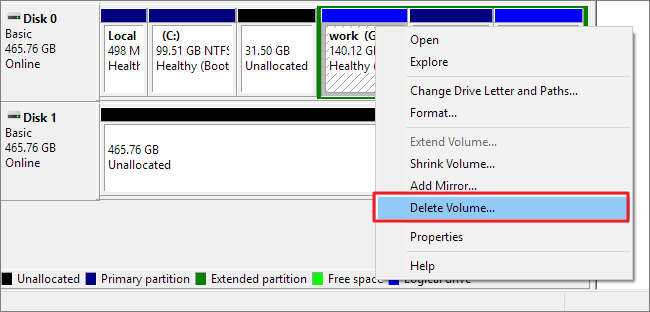 Step 3. Click Yes to permit Windows 10 to delete the selected partition the external hard drive.
After the operation, your deleted partition will turn to unallocated space without a drive letter o it.
Solution 2. Windows 10 Command Prompt
Step 1. Press Windows + X to invoke a list where you can find Command Prompt (Admin). Click it to open the Windows 10 Command Prompt window.
Step 2. Type the following command lines each after and press enter.
diskpart
list disk (all your hard disks will appear and they are listed as disk 0, disk 1, disk 2...)
select disk + number (for example, select disk 1 if your external hard drive is disk 1)
list partition (all your external hard drive partitions will appear)
select partition + number (for example, select partition 1 if you are trying to delete partition 1 on your external hard drive)
delete partition
After putting all those demands, you can delete the partition off from your external hard drive completely.
Solution 3. EaseUS Partition Master Free
Step 1. Click the download button to download EaseUS Partition Master Free. It's a free partition manager that comes with tons of hard drive partition management features.
Step 2. Right-click on the external hard drive partition and select Delete Partition.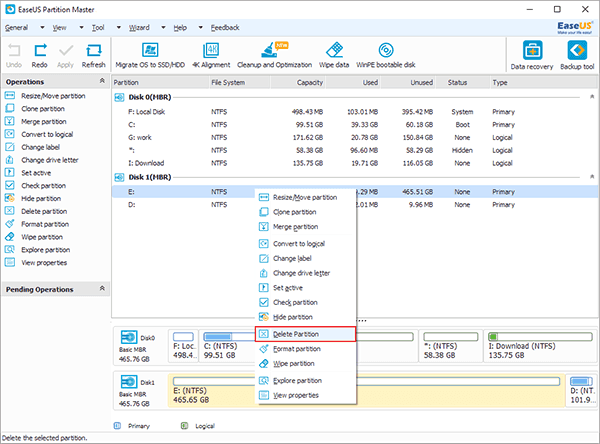 Step 3. Click OK on the popup window that asks you to make sure you want to delete the selected partition.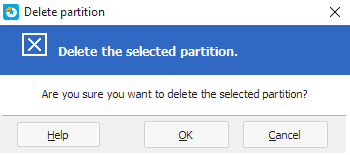 Step 4. After the partition is deleted, click Apply on the main window.
The Bottom Line
The recommended three ways are all feasible and helpful if you are trying to remove a partition on an external hard drive or delete a partition on a USB flash drive/memory card in Windows 10. But you may bare one thing in mind.
EaseUS Partition Master Free has many disk/partition management features, such as format a partition and create a partition, which you can put them to use in the future.