How to Remove Partition on External Hard Drive in Windows 11/10
How to remove partition on external hard drive: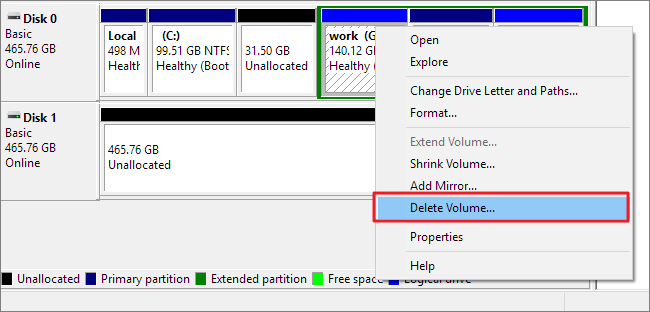 In Windows 10, you can easily open the Disk Management console by right-clicking Start button and choose "Disk Management option from the Start menu". 
In Disk Management, locate the external hard disk and the partition you want to remove. 
Right-click on the partition and select Delete Volume from the context menu.
How to Remove a Partition From External Hard Drive in Windows 11/10
"I just purchased a 500gb external USB HDD. It has a small partition of 400mb that I want to combine with the other partition to have one partition. The small partition is reported as a CD drive and UDF file system and has data. The large partition is an NTFS partition. What is the best way to delete the small partition? Can I or should I do it form Disk Management?"
3 Ways to Remove Partition on External Hard Drive Windows 11/10
The guide of external hard drive partition removal in Windows 10 applies to all the people who have the demands similar to the following examples.
1. Try to partition a new external hard drive into several chunks.
2. Windows asks you to delete a partition on an external hard drive for a clean install.
3. Remove all the external hard drive partitions before sending it away.
4. Can't delete external hard drive partitions in your way.
We cannot think of all the scenarios of deleting a partition or partitions on an external hard drive in Windows 10/8.1/8/7/XP/Vista or even in Windows Server. However, this post almost covers all the possible solutions you could find on the internet. So, just read on and pick up one to make it manageable for you.
Tip: Prepare an external hard drive enclosure so that you can put the drive in it and plug it into your Windows 10 computer. Make sure that your Windows 10 computer recognizes your external drive and assigns it a drive letter.
Solution 1. Remove Partition on External Hard Drive via EaseUS Partition Master Free
The most reliable way to delete a partition or partitions on a hard drive or external hard drive is using third-party software. Here are the reasons for using free partition software:
It is free and easy-to-use
The user interface is clear and easy
You can get additional tech support
The software has many other highlights like migrating OS, wiping HDD, resizing partitions and more
Click the download button to download EaseUS Partition Master Free. It's a free partition manager that comes with tons of hard drive partition management features. Follow the steps below to remove hard drive partitions.
Step 1. Deleting a partition will erase data on it, so make sure you've made a backup of important data. With that in mind, use the correct way to connect your external device to the computer.
Open EaseUS Partition Master. Right-click on the desired partition and choose "Delete...".
Step 2. Confirm the message "Are you sure you want to delete the selected partition?" and click "OK".
Step 3.  Excute the operation of deleting a partition and click "Apply".
Solution 2. Remove Windows 11/10 Partition on External Hard Drive with Disk Management
You can also remove external hard drive partitions with Disk Management. It is provided by Windows OS for the purpose of performing basic disk management operations, such as delete partition, format partition, create a partition, shrink volume, etc. Learn how to remove partitions on the external hard drive using Windows 10 Disk Management.
Step 1. Open Windows 10 Disk Management program. You got the three easiest ways to go.
Navigate to "This PC > Manage > Disk Management".
Enter diskmgmt.msc in the lower-left search box and click diskmgmt.msc on the list.
Press Windows + R to open "Run > type diskmgmt.msc" in the empty box and tap "OK".
Step 2. Locate the external hard drive in the Disk Management interface, right-click on the partition you don't want anymore, and select "Delete Volume..."
Step 3. Click "Yes" to permit Windows 10 to delete the selected partition of the external hard drive.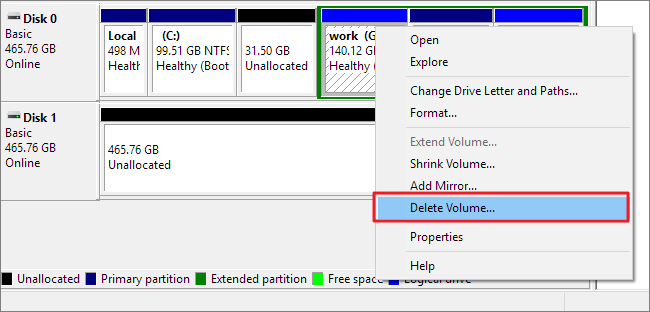 After the operation, your deleted partition will turn to an unallocated space without a drive letter.
Solution 3. Delete Partitions on External Drive via Windows 11/10 Command Prompt
If you are familiar with the command line, you can remove partitions in this way. Here are the details on how to remove a partition on external hard drive Windows 10.
Step 1. Press Windows + X to invoke a list where you can find Command Prompt (Admin). Click it to open the Windows 10 Command Prompt window.
Step 2. Input diskpart, and type the following command lines each after and press enter. 
list disk (All your hard disks will appear, and they are listed as disk 0, disk 1...)
select disk + number (Select disk 1 if your external hard drive is disk 1)
list partition (All your external hard drive partitions will appear)
select partition + number (Select partition 1 if you are trying to delete partition 1 on your external hard drive)
delete partition (This command deletes the selected partition)
After putting all those demands, you can delete the partition off from your external hard drive completely.
Additional Help - How to Partition a Hard Drive in Windows 11/10/8/7
After deleting the partitions, the partition space will be turned into unallocated space. You can resize the external hard drive by extending partition space, creating a new partition, and more. EaseUS Partition Master can partition a hard drive or external hard drive with simple steps:
Conclusion
That's all the way to remove/delete a partition on the external hard drive in Windows 10/8/7. You can also try these methods if you want to delete partitions on an SD card, USB drive, an SSD drive, and more. If you want to repartition your device after the removal, turn to EaseUS partition software.  It can do you a great favor in managing disk space and improving performance.

Roxanne is one of the main contributors to EaseUS and has created multiple posts on digital devices like PCs, Mobile phones, tablets, Mac, etc. She loves to share ideas with people of the same interest.

Author Jean has been writing tech articles since she was graduated from university. She has been part of the EaseUS team for over 5 years. Her special focuses are data recovery, disk partitioning, data space optimization, data backup and Mac OS. By the way, she's an aviation fan!
I love that the changes you make with EaseUS Partition Master Free aren't immediately applied to the disks. It makes it way easier to play out what will happen after you've made all the changes. I also think the overall look and feel of EaseUS Partition Master Free makes whatever you're doing with your computer's partitions easy.

 Read More

Partition Master Free can Resize, Move, Merge, Migrate, and Copy disks or partitions; convert to local, change label, defragment, check and explore partition; and much more. A premium upgrade adds free tech support and the ability to resize dynamic volumes.

 Read More

It won't hot image your drives or align them, but since it's coupled with a partition manager, it allows you do perform many tasks at once, instead of just cloning drives. You can move partitions around, resize them, defragment, and more, along with the other tools you'd expect from a cloning tool.

 Read More
About EaseUS Partition Master
All-round disk & partition management software for personal and commercial use. Let it manage your storage drive: resize, format, delete, clone, convert, etc.
Video Tutorial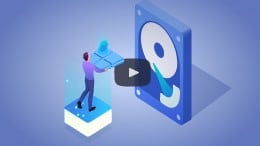 How to Partititon a Hard Drive on Windows 10/8/7
Was This Page Helpful
How Can We Help You
Find answers to common questions below.