
About the Author
Hot Topics in 2022
NTFS or exFAT, Which is Better for HDD, SSD, M.2, or NVMe? Find Your Answer Here
Whether you are formatting an external drove, internal drive, SD card, or USB flash drive, Windows will provide you the choice of selecting two different files system: NTFS and exFAT. The dialog box that shows these two options will not explain to you the difference between the two. But, you don't have to worry anymore. In this post, you will get well acquainted as to which file system you should choose for your hard disk drive (HDD) and solid state drive (SDD).
NTFS or exFAT, What's The Difference?
File systems are an essential part of computer data. The file system offers a way of organizing a storage drive. It shows how the data is stored on the drive and what kind of information or data can be attached to the files.
Basically, file systems are in charge of separating a piece of information from what's next to it, controlling which computer users have access to what files, storing attributes of files, etc. Windows supports two various file systems, which are NTFS or exFAT for HDD. Each of the file systems has different compatibility and ideal use, and if you know them in detail, you can easily select the correct file system for various purposes. Let's begin with the definition.
What Is NTFS?
NTFS is a short name for New Technology File System. It was introduced in the year 1993 and was created by Microsoft. Windows 2000 and Windows NT are the main operating system that uses the NTFS file system.
It is widely used in Windows for most of its internal hard drives and the system drive. Being an advanced and updated file system, NTFS comes with various features that are not available to exFAT and FAT32.
What Is exFAT?
Extended File Allocation Table is the full form of exFAT. Microsoft also introduced this file system in the year 2006. It was designed as a replacement for FAT32. It was added to the older versions of Windows, and with the updates to Windows Vista and Windows XP. exFAT is optimized for flash memory such as SD cards and USB flash drives. exFAT allows users to store files larger than 4GB.
Now that we have discussed the definition of NTFS and exFAT, it becomes imperative here to discuss the difference between the two file systems. Below is the comparison table between NTFS vs exFAT:
Comparison
exFAT
NTFS
Compatibility

Works with all the versions of Windows and modern versions of Mac OS X
Compatible with Linux, however, additional software will be required

Compatible with all the versions of Windows
Read-only with MAC OS X by default, and may be read-only by default with a few Linux distributions
Only some Linux variants are able to offer write support for NTFS

Limits
No realistic file-size or partition size limits
No realistic file-size or partition size limits
Ideal Use 

Ideal for bigger file size and partition limits than FAT32 provides
When needed more compatibility than NTFS offers
Ideal for sharing or swapping large files, specifically between OSes

Ideal for Windows system drive and different internal drives that will be used with Windows
NTFS or exFAT, Which is Better for HDD, SSD, M.2, or NVMe?
Before moving ahead, it is significant for you to know the pros and cons of NTFS and exFAT so that it becomes easy for you to make a fair choice.
Pros of NTFS:
It allows the users to set encryption and file permissions as a file system with higher security
It can support very large files
It has no realistic partition size limit by changing the cluster's size
It allows the users to fix disk quotas and limits the amount of space that a user can use
It allows the users to compress files or folder and the whole drive when it is running short of disk space
It automatically restores the consistency of the file system by using checkpoint log file information
Cons of NTFS:
It is not compatible with the older versions of operating systems
Pros of exFAT:
It is much widely compatible than NTFS; however, it does not match the compatibility of FAT32
It has no realistic file size or partition-size limits
It enables the users to store files larger than 4 GB
Cons of exFAT:
It is not as compatible as compared to FAT32
It does not have journaling functionality
It lacks advanced features that are built in the NTFS file system
Now, let's discuss which file system is better for different purposes:
For internal drives- NTFS
For flash drives- exFAT
For SSD on Windows and Mac as an external drive- exFAT
For use on Windows as an internal drive - NTFS
Using for big file transferring or gaming - exFAT
With this, you can easily select a suitable file system for your internal or external drive as per your requirements.
How to Format HDD/SSD to NTFS
By formatting a hard drive, partition, memory card or USB flash card, or any other storage device, you can prepare it for data storing by erasing all the existing data on the device and setting up a new file system. There are two ways to format HDD or SDD to NTFS, but before discussing that, you must know when you will require to format it:
Partition a Hard Drive
Erase Data on the Partition or Disk
Fix a RAW Partition
Remove malware or virus
Method 1. Using EaseUS Partition Master
If you are hunting for a hassle-free way to format HDD/SDD to NTFS, then look no further than EaseUs Partition Master. It is the modern and best software for formatting a hard drive or any partition. As the name suggests, you can easily make and modify partitions with this software. This tool is designed perfectly for all computer users and service providers. Below-listed are some amazing features of EaseUs Partition Master:
Step 1. Right-click the hard drive partition and choose the "Format" option.
Step 2. In the new window, set the Partition label, File system, and Cluster size for the partition, then click "OK".
Step 3. You can see a warning window, click "Yes" to continue.
Step 4. Click the "Execute 1 Task(s)" button, then click "Apply" to start formatting the hard drive partition.
Method 2. Using Disk Management
You may need to format hard drives to NTFS due to its various advantages. You can format a hard drive with the help of disk management as well. You just need to follow the below-mentioned steps:
Step 1: Right-click on the "This PC/My Computer" icon on the desktop. Now, select the "Manage" option and click on the "Storage" option. Next, select the "Disk Management" option to open the Disk Management.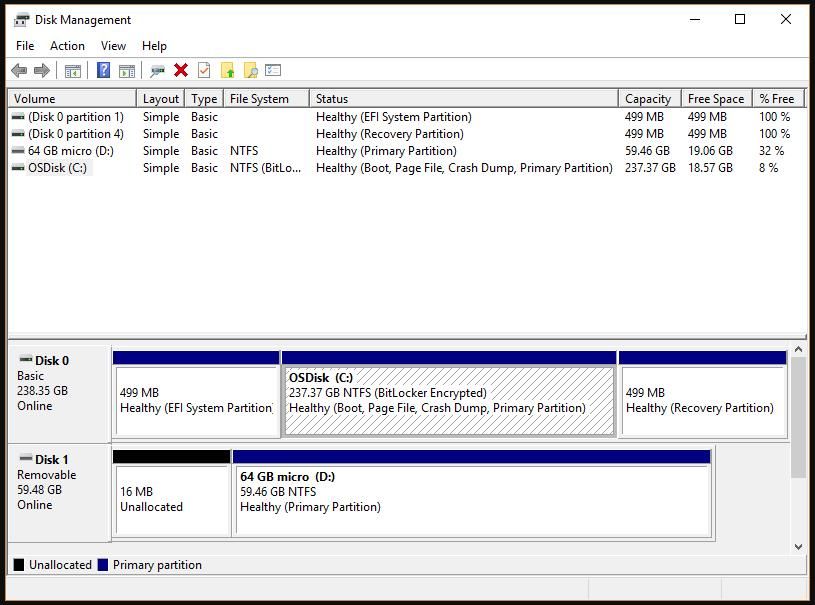 Step 2: Now, right-click on the external hard drive that you want to format. Click on the "Format" option from the drop-down menu.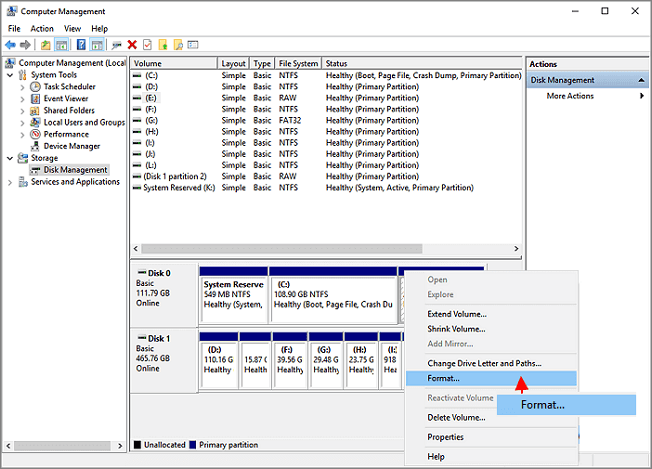 Step 3: Choose the "NTFS" option from the "File system" box. Tick on the "Perform a quick format" option.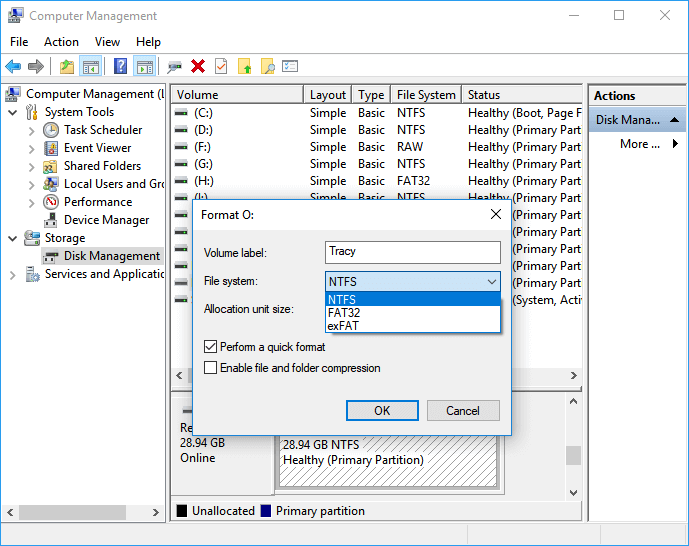 Step 4: Now, hit the "OK" option to format the drive. Wait until the process finishes.
How to Format HDD/SSD to exFAT
You may need to format HDD or SDD to exFAT, but if you find that the option of exFAT is not available in the "Format Partition" window during the procedure of creating a new file after erasing the partition that you require to format to exFAT. Then, you can use the in-built tool of Windows, which is Diskpart, to help you format the target drive to exFAT. Then, you have to follow the steps listed below to initiate the process:
Step 1: Press simultaneously "Windows + R" and write the command "diskpart"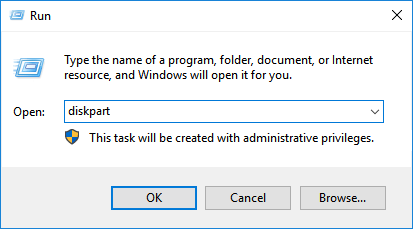 Step 2: Now, input the command list that is mentioned below in the same sequence. Press the "Enter" key after every command:
list disk
select disk 2 (Replace 2 with the disk number of your target HDD/SSD.)
list partition
select partition 2 (Replace 2 with the drive letter of your target partition.)
format fs=exfat quick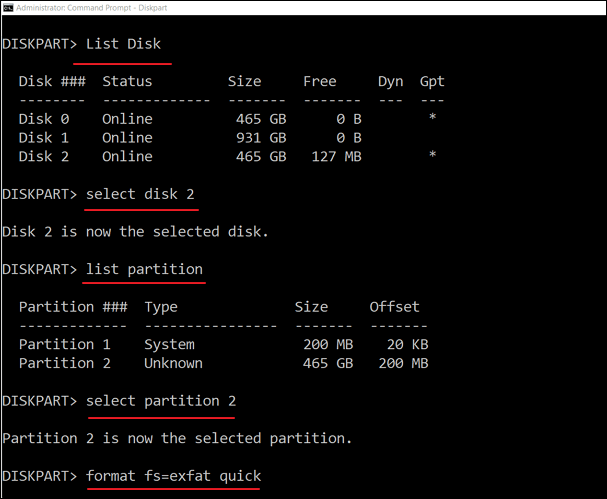 Step 3: Wait for a while; you will see a popup that shows Diskpart successfully formatted the drive. Now, type "exit" to close the tool.
Conclusion
That's all about NTFS and exFAT. Now that you have learned about the difference between NTFS vs exFAT and the ways to format HDD and SSD for NTFS and exFAT. You can easily select the file format for HDD, SSD, M.2, or NVMe.
However, you can select NTFS if you want to use it for Windows as an internal drive, and if you want to use the SSD on Mac and Windows as the external drive, then exFAT is much better. Make sure to try EaseUS Partition Master to create, delete any partition.
About the Author
Updated by Tracy King 
Tracy joined in EaseUS in 2013 and has been working with EaseUS content team for over 7 years. Being enthusiastic in computing and technology, she writes tech how-to articles and share technical solutions about Windows & Mac data recovery, file/system backup and recovery, partition management and iOS/Android data recovery.
Product Reviews
I love that the changes you make with EaseUS Partition Master Free aren't immediately applied to the disks. It makes it way easier to play out what will happen after you've made all the changes. I also think the overall look and feel of EaseUS Partition Master Free makes whatever you're doing with your computer's partitions easy.

 Read More

Partition Master Free can Resize, Move, Merge, Migrate, and Copy disks or partitions; convert to local, change label, defragment, check and explore partition; and much more. A premium upgrade adds free tech support and the ability to resize dynamic volumes.

 Read More

It won't hot image your drives or align them, but since it's coupled with a partition manager, it allows you do perform many tasks at once, instead of just cloning drives. You can move partitions around, resize them, defragment, and more, along with the other tools you'd expect from a cloning tool.

 Read More