USB Partition Tool/Manager: Partition USB or Create Portable USB Drive

Brithny updated on Dec 11, 2020 Partition Master | How-to Articles
What's a USB Partition Tool?
Download the magic USB partition tool so you can easily manage a USB HDD, pendrive, flash drive like this:
Resize (Extend or shrink) a USB drive
Split a USB drive into several partitions
Create one or multiple partitions on a USB drive
Format/convert a USB drive between NTFS or FAT32
Create a bootable USB drive for Windows 10/8/7/XP/Vista
As a matter of fact, the USB partition manager we're going to introduce to you in the next part is so feature-rich that it enables you to fully control your USB flash drive and USB external hard drive without doubt.
USB Hard Drive Partition Solution
As the price of USB hard drive is falling continuously and demand for more hard disk storage is growing, people now tend to buy a USB hard drive for convenience, but how to manage a new USB drive or solve the most common problems occurred to the USB drive?
To optimize the performance of your USB hard drive, a third-party USB partition manager is needed. EaseUS Partition Master Free Edition, a freeware to manage partition, works as a powerful and magic partition software. With this partition freeware, you could enjoy a wonderful experience of managing your partition like magic, such as Resizing, Copying, Merging, Creating, Deleting partitions and so on. Especially you can extend the NTFS system partition and Dynamic Disk Copy.
Why Choose EaseUS USB Partition Manager as USB Partition Tool
This USB partition freeware works perfectly with all Windows OS. Moreover, with a user-friendly interface, you can partition your USB hard drive with very simple operations. So no matter you are a computer expert or not, you can partition a USB hard drive easily. The most shining point of this freeware is that your data is completely protected during the process of partitioning your USB hard drive.
Besides partition, the hard drive is also good at managing disk pace, EaseUS Partition Master - the unique free partition manager has Partition Recovery Wizard to recover deleted or lost partitions. Copying disk and Copying partition in this toolkit is useful if you want to copy or replace disks.
How to Partition USB with EaseUS Free USB Partition Tool
To partition a USB stick or USB HDD with EaseUS Partition Master, you can start at once after connecting the drive to your Windows computer or laptop. It's so user-friendly that you don't have to learn the basics in advance.
Now follow the USB partitioning guide and do it yourself to partition a USB drive:
Step 1: Install and launch EaseUS Partition Master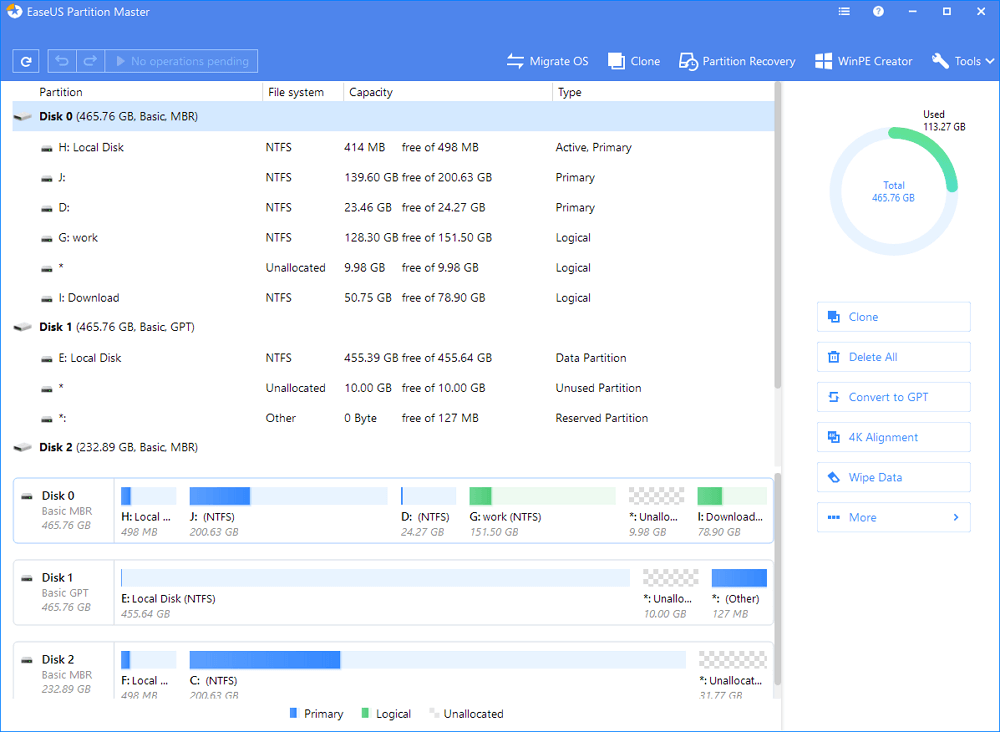 Step 2: Partition Hard Drive
Shrink partition:
1. Right-click on a partition that you want to shrink and select "Resize/Move".
2. Drag the end of the partition rightward or leftward or adjust the space by clicking the "Partition size" column. Click "OK" to continue.
Extend partition:
1. To extend partition, you need to leave unallocated space next to the target partition. If not, shrink a partition as mentioned above to leave enough unallocated space behind the target partition first.
2. Then right-click on the target partition and select "Resize/Move".
3. Drag the target partition handle into the unallocated space to extend partition. Click "OK" to continue.
Create partition:
1. On the main window, right-click on the unallocated space on your hard drive or external storage device and select "Create".
2. Set the partition size, partition label, drive letter, file system, etc. for the new partition and click "OK" to continue.
Delete partition:
1. On the main window, right-click on the hard drive partition which you want to delete and select "Delete".
2. Click "OK" to confirm.
Change partition drive letter:
1. Right-click the partition, and choose "Change Drive Letter".
2. Click the down arrow, choose a drive letter for the partition, then click "OK".
Step 3: Execute operations
Click the "Execute Operation" button at the top corner and keep all changes by clicking "Apply".
How to Create a Portable USB with EaseUS Bootable USB Partition Tool
Sometimes, there is something wrong with the Windows boot drive and you cannot start the Windows as normal. How to access the non-bootable Windows computer and fix the hard drive issues at this moment? You need to use EaseUS partition magic software, which is an upgraded version, to create a bootable USB drive that can help you enter the computer without booting into Windows.
How to make the EaseUS bootable USB drive? Follow the simple steps:
Step 1. Prepare a disc or drive
To create a bootable disk of EaseUS Partition Master, you should prepare a storage media, like a USB drive, flash drive or a CD/DVD disc. Correctly connect the drive to your computer.
Launch EaseUS Partition Master, go to the "WinPE Creator" feature on the top. Click on it.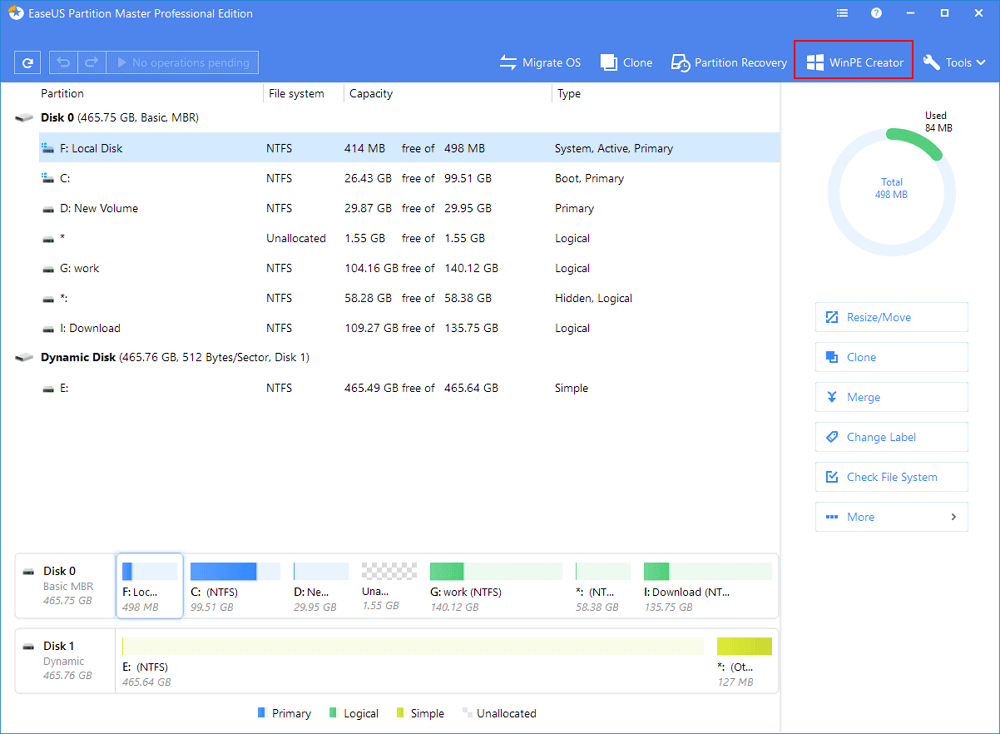 Step 2. Create EaseUS Partition Master bootable drive
You can choose the USB or CD/DVD when the drive is available. However, if you do not have a storage device at hand, you can also save the ISO file to a local drive, and later burn it to a storage media. Once made the option, click "Proceed".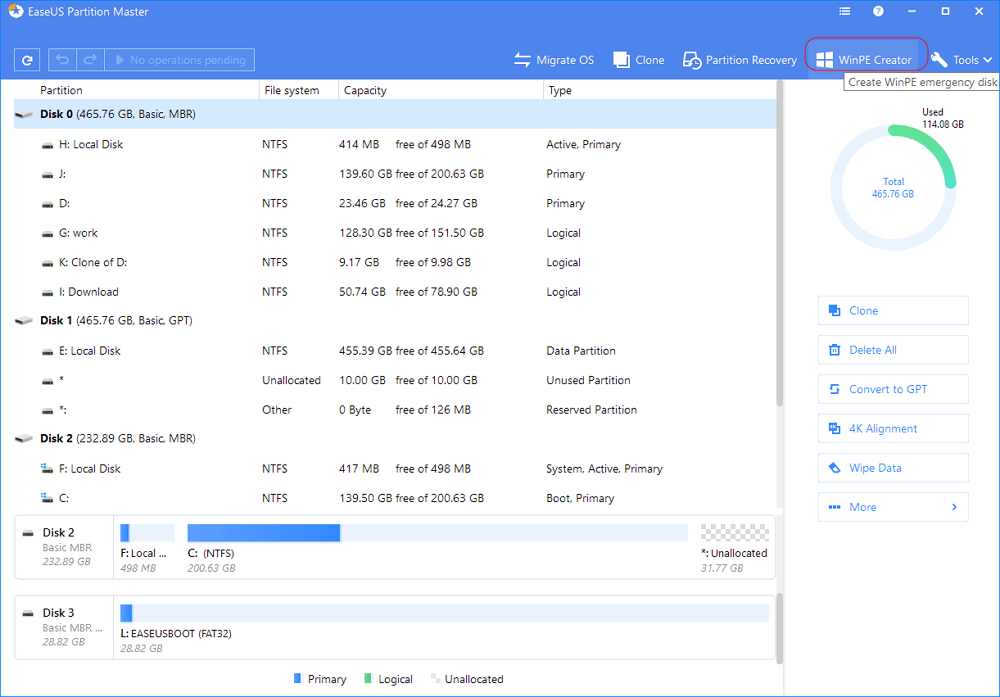 You have created an EaseUS Partition Master WinPE bootable disk now. You can manage your hard disks and partitions through the bootable drive whenever the computer fails to boot normally.
If you have RAID drives, load the RAID driver first by clicking Add Driver from the menu bar, which can help you add the driver of your device under WinPE environment, as some specific device cannot be recognized under WinPE environment without drivers installed, such as RAID or some specific hard disk.
About EaseUS Partition Master
All-round disk & partition management software for personal and commercial use. Let it manage your storage drive: resize, format, delete, clone, convert, etc.
Video Tutorial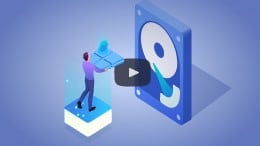 How to Partititon a Hard Drive on Windows 10/8/7
How Can We Help You
Find answers to common questions below.