
About the Author
Hot Topics in 2022
Change File Extension One-by-One and in Bulk
All the files on your computer need proper applications to open. Sometimes, the installed application on your computer can only open specific files. For example, the app can only open PNG images, but your images are JPGs. Or your computer only works for PPT files, but your file is a PPTX. That's when you need to change the file extension to the corresponding one. In this article, we will tell you what is file extension, and how to change the file extension in Windows 10.
Main Content:
What is File Extension
How to Change File Extension in Windows 10
How to Change File Extension in Bulk
Bonus Tip: How to Check File System in Windows 10
What Is File Extension
The file extension is also called a filename extension, it is a suffix at the end of your computer files. A complete file name includes the file name and file extension, and the file extension and file name are separated by a dot. The operating system uses file extensions to identify which applications are associated with which file types, in other words, which application will open when you double-click the file.
There are, like hundreds of existing file extensions. Below we have listed some common file extensions.
DOC/DOCX: Represents for Microsoft Word documents. DOC is the original extension used for Word files. After Word 2007 has released, Microsoft changed the file extension to DOCX. That's because Word documents are now based on the XML format, so Microsoft added an "X" at the end of DOC.
XLS/XLSX: Represents Microsoft Excel spreadsheet. The reason why XLSX has an additional "X" is the same as that of a Word document.
PNG: It stands for Portable Network Graphics, is a lossless image file format.
HTM/HTML: Represents HyperText Markup Language. It is the format for creating web pages online.
PDF: It stands for Portable Document Format. It is a file type originated by Adobe and used to maintain formatting in distributed documents.
EXE: An executable format used for programs you can run.
How to Change File Extension in Windows 10
Now, you can apply the following steps to change the file extension by yourself.
Step 1. Open Windows File Explorer.
Step 2. Click the "View" tab. Tick the "File name extensions" option.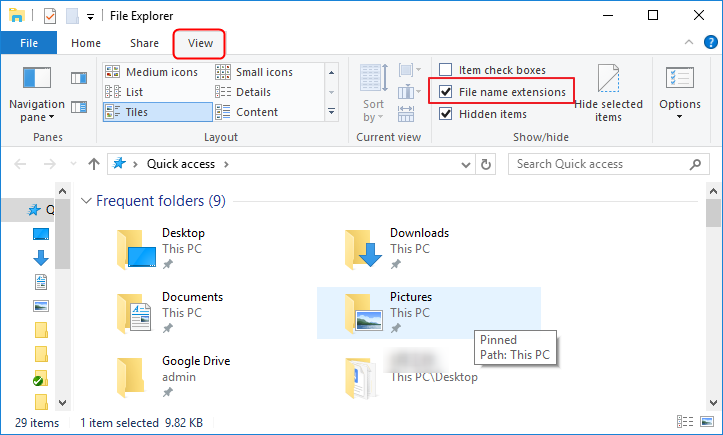 Step 3. Now you can see the file extension of all your files. Find the file that you would like to change the file extension, right-click the file, choose rename, and enter the new file extension.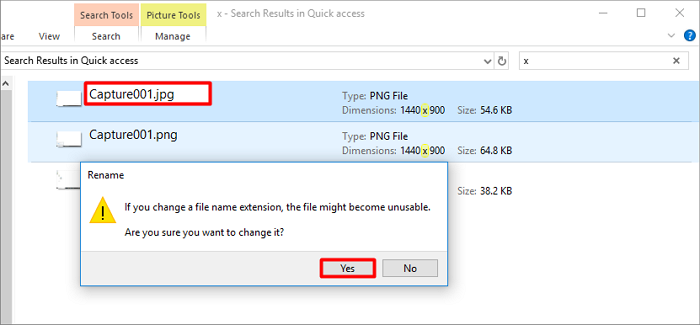 How to Change File Extension in Bulk
The first method enables users to change file extensions one by one, what if you want to change several file extensions at one time? We are also curious about this question. Is there any method that can finish this task all at once?
Unfortunately, NO. 
One method claims that you can select all the files first, and right-click then choose "Rename" to bulk change the file extension. We've tried this method. Sadly, you can't use this method to bulk change file extensions. Even though you have select all the files, Windows will send you a confirmation message every time you changed one file extension.
So even though pages are saying that you can change the file extension in bulk, the methods they offer are actually invalid.
Bonus Tip: How to Check File System in Windows 10
After knowing how to change the file extension, we want to introduce a handy tool that can help you check and fix system errors as well as manage partitions.
Checking for disk errors will help prevent unknown hard disk troubles and troubleshoot disk read errors, storage-related errors, and even system boot problems. And if you got a new hard drive, you also need to manage your hard disk.
One such tool is EaseUS Partition Master Free version. With this tool, users could check and fix the file system with simple clicks. And it also supports users to resize, move, merge, and Copy disks or partitions.
If you are interested in this tool, download it from the button below for free, and follow the guide to see how to check and fix the file system.
Step 1. Open EaseUS Partition Master on your computer. Then, locate the disk, right-click the partition you want to check, and choose "Advanced" > "Check File System".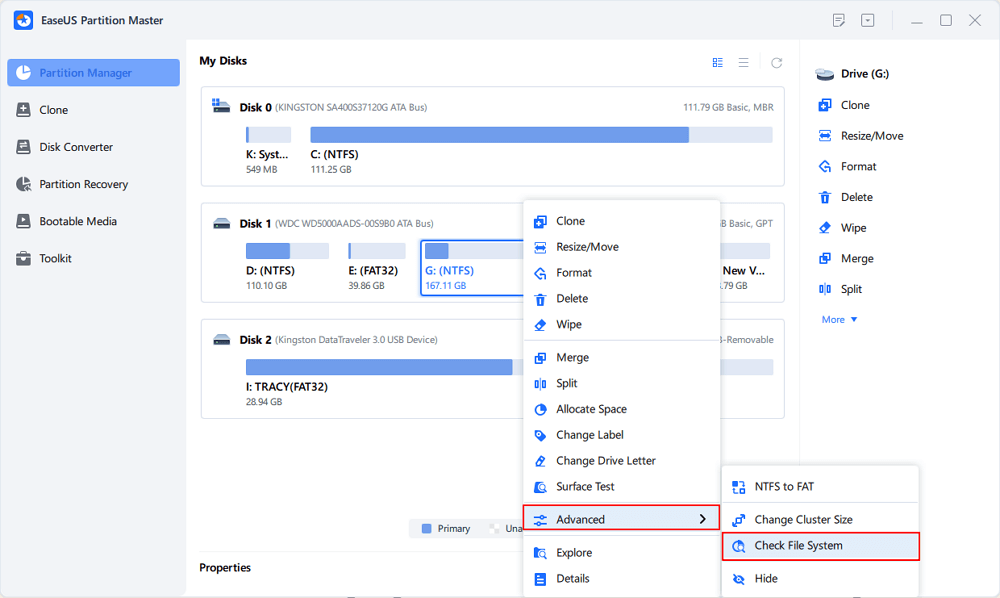 Step 2. In the Check File System window, keep the "Try to fix errors if found" option selected and click "Start".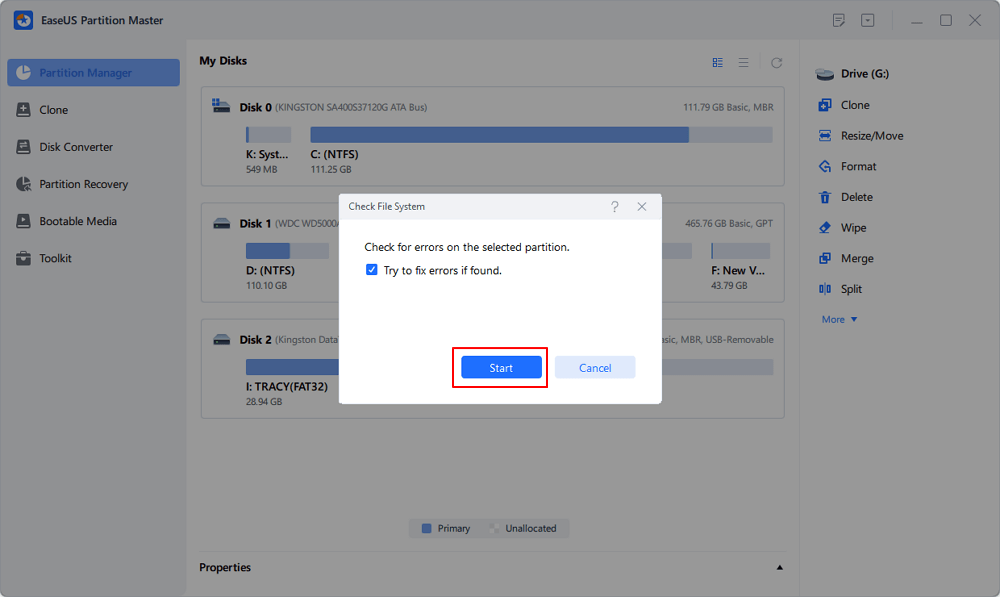 Step 3. The software will begin checking your partition file system on your disk. When it completes, click "Finish".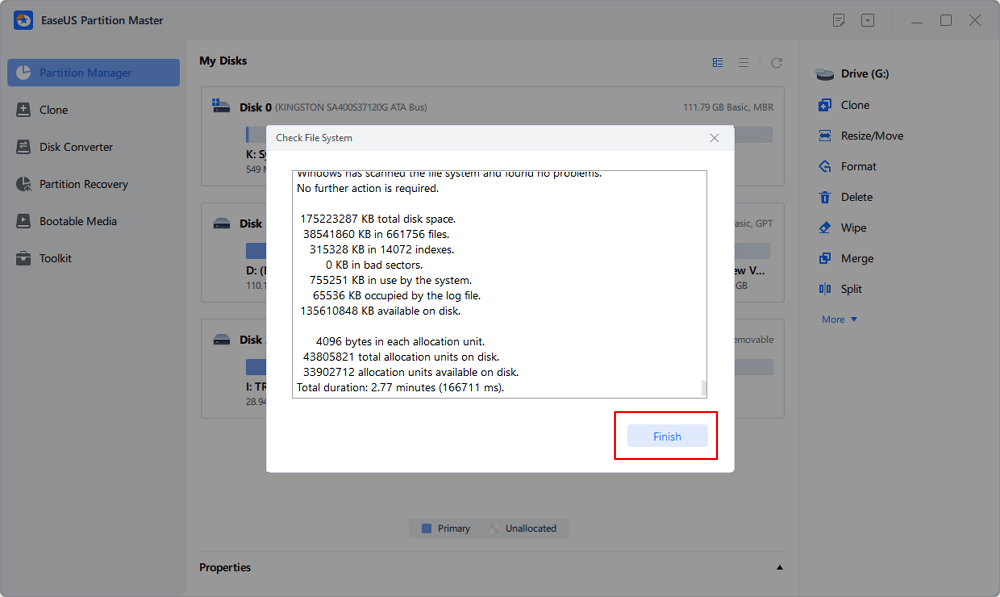 The Bottom Line
That's all about how to change the file extension in Windows 10. Hope you can fix your problem after reading this article. Don't hesitate to try the FREE EaseUS Partition Master.
About the Author

Roxanne is one of the main contributors to EaseUS and has created multiple posts on digital devices like PCs, Mobile phones, tablets, Mac, etc. She loves to share ideas with people of the same interest.
Written by Gemma
Gemma is member of EaseUS team and has been committed to creating valuable content in fields about file recovery, partition management, and data backup etc for many years. She loves to help users solve various types of computer related issues.
Product Reviews
I love that the changes you make with EaseUS Partition Master Free aren't immediately applied to the disks. It makes it way easier to play out what will happen after you've made all the changes. I also think the overall look and feel of EaseUS Partition Master Free makes whatever you're doing with your computer's partitions easy.

 Read More

Partition Master Free can Resize, Move, Merge, Migrate, and Copy disks or partitions; convert to local, change label, defragment, check and explore partition; and much more. A premium upgrade adds free tech support and the ability to resize dynamic volumes.

 Read More

It won't hot image your drives or align them, but since it's coupled with a partition manager, it allows you do perform many tasks at once, instead of just cloning drives. You can move partitions around, resize them, defragment, and more, along with the other tools you'd expect from a cloning tool.

 Read More