
About the Author
Hot Topics in 2022
How to Perform Diskpart Quick Format in Windows [Easy & Efficient Ways]
Key Takeaways:
1. You may want to perform a quick format using Diskpart to save time. However, it may be a little troublesome since it needs some specific commands.
2. This article provides you the detailed commands to use Dikspart to perform a quick format.
Are you looking for a guide on Diskpart quick format? On this page, you can learn detailed steps of using diskpart to perform quick format. Let's dive in to learn more about Diskpart.
Can I Quick Format the Disk Using Diskpart?
Sure, you can. Diskpart is a command line tool that performs disk management via a simple command prompt. This tool can list, partition, delete, or format hard drive and disks. There are several DiskPart commands for performing these functions. This tool originally appeared in Windows XP and is now available on almost all operating systems of Microsoft-Windows XP, Vista, 7, 8, 10, and 11.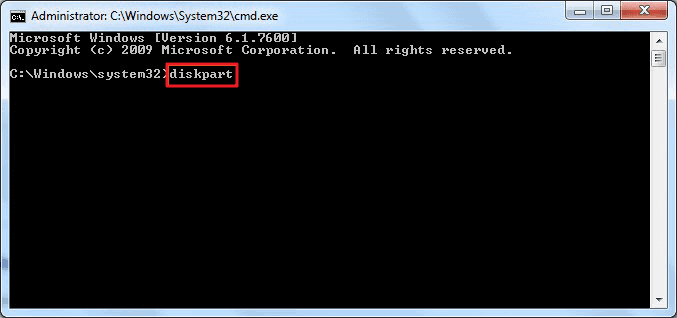 Diskpart replaces its predecessor, fdisk, and it is a command-line utility that allows users to manage their disks, such as performing full format and quick format. On this page, we focus on Diskpart quick format. However, how to use it to perform quick format? Let's continue.
Note: Since formatting will completely clean the hard drive data, to avoid data loss, please back up all important data before starting to format. There is a link to help you back up.
Diskpart Quick Format: How to Quick Format a Disk Using Diskpart?
What is the command for quick format in Diskpart? You can get detailed steps in this part. Follow the steps below, and you can perform a quick format using the Diskpart command.
Now, let's see how to perform Diskpart quick format using the command.
Step 1. Right-click the Windows icon and search "Command Prompt."
Step 2. Select "Command Prompt" and run it as Administrator.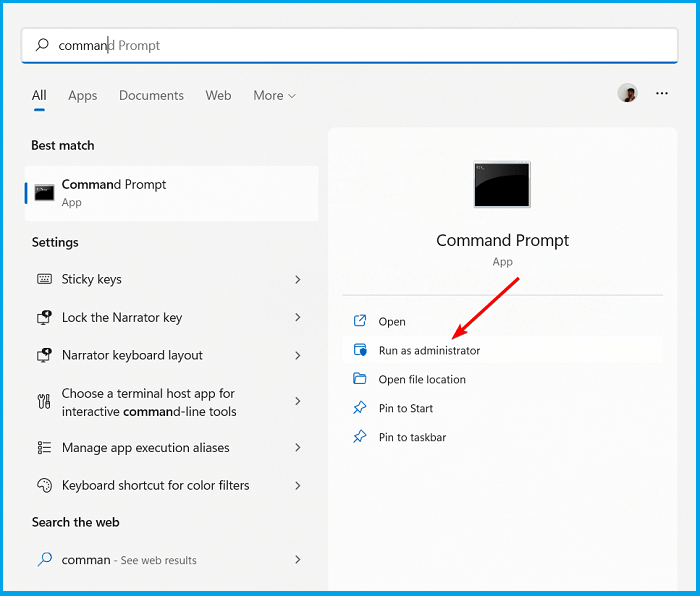 Step 3. Type diskpart at the command prompt and press Enter.
Step 4. Type the format command line in Diskpart and press "Enter" each time to perform quick format.
list disk
select disk 2
list volume
select volume 10
format fs=ntfs quick
Step 5. You need to use the command"exit" and press "Enter" to close the program when DiskPart finishes the quick format.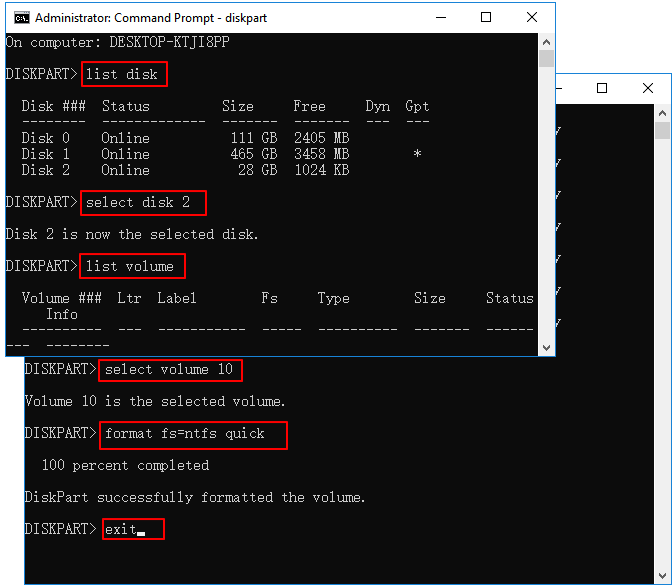 Well, in this way, we have finished Diskpart quick format. It is a little troublesome, isn't it? There are some links to help you if you meet problems like:
If you want to format hard drives or disks in an easier and simpler way, you may like to know a third-party free tool, EaseUS Partition Master. Let's read the next part to learn more about it.
Professional Alternative to Diskpart: Quick Format
Compared to Diskpart, EaseUS Partition Master Free allows users to perform a quick format more easily. It has a clear interface and detailed prompts, so you can feel at ease while using EaseUS Partition Master. 
Let's see more detailed comparisons between Diskpart and EaseUS Partition Master.
| Features | EaseUS Partition Master | Diskpart |
| --- | --- | --- |
| Reliability | More reliable | Less reliable |
| Operation Difficulty | Easy to use | Complex |
| Suitable User | All users | Advanced users |
As you can see, EaseUS Partition Master is easy to operate, no matter whether you are a professional in formatting or not. Since it doesn't need you to enter any commands during the format process, fewer mistakes may happen. 
Let's return to today's topic, "Diskpart quick format." How to use this third-party tool to perform a quick format?
Step 1. Run EaseUS Partition Master, right-click the hard drive partition you intend to format and choose "Format".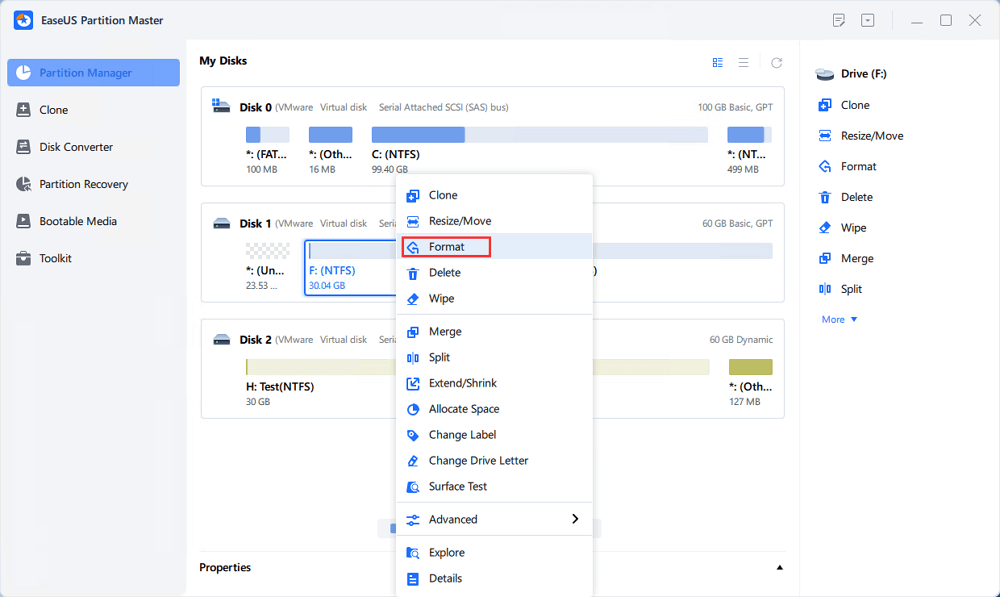 Step 2. In the new window, set the Partition label, File system (NTFS/FAT32/EXT2/EXT3/EXT4/exFAT), and Cluster size for the partition to be formatted, then click "OK".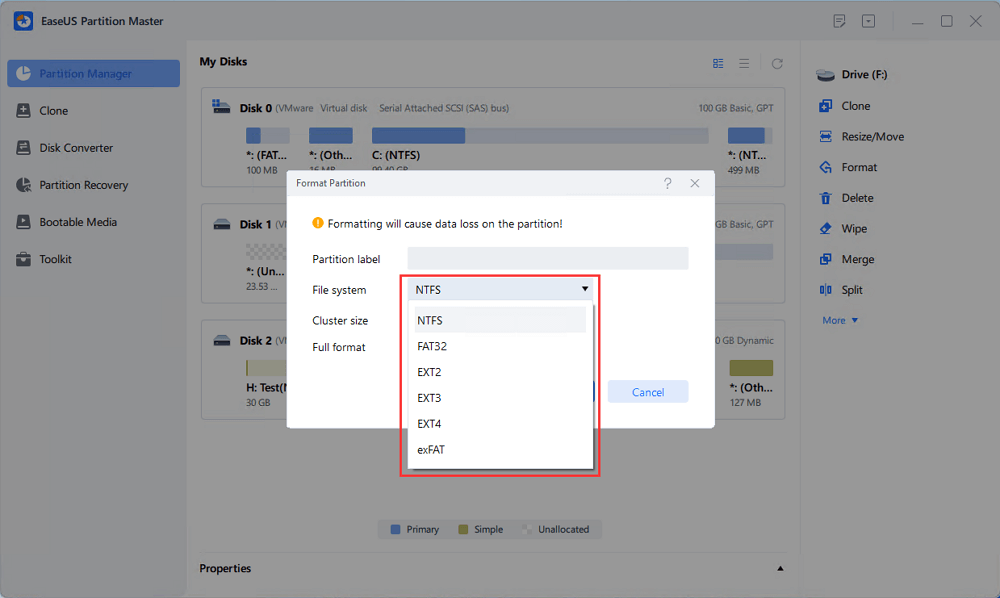 Step 3. Then you will see a warning window, click "Yes" in it to continue.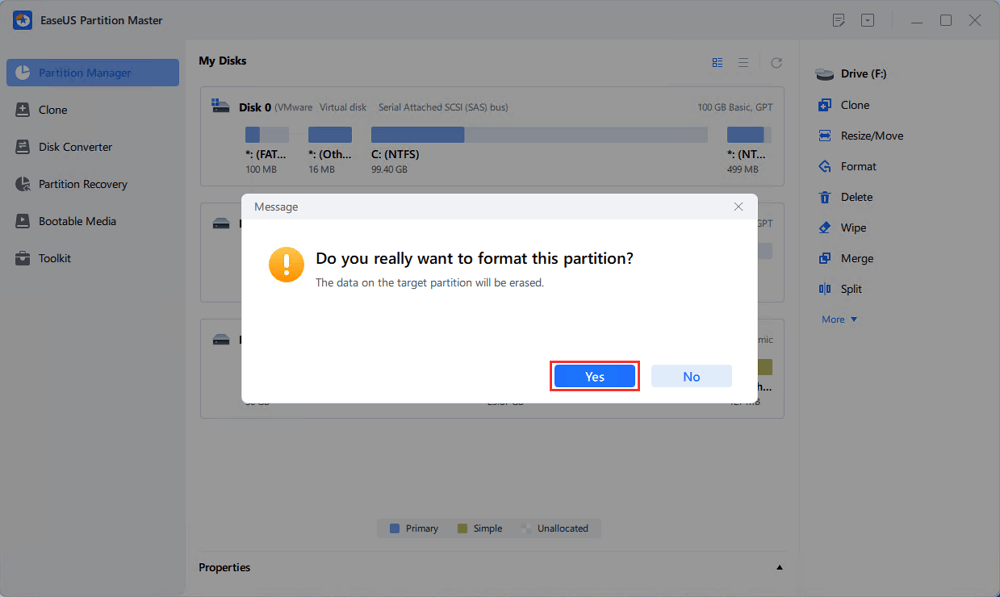 Step 4. Click the "Execute 1 Task(s)" button to review the changes, then click "Apply" to start formatting the partition on your hard drive.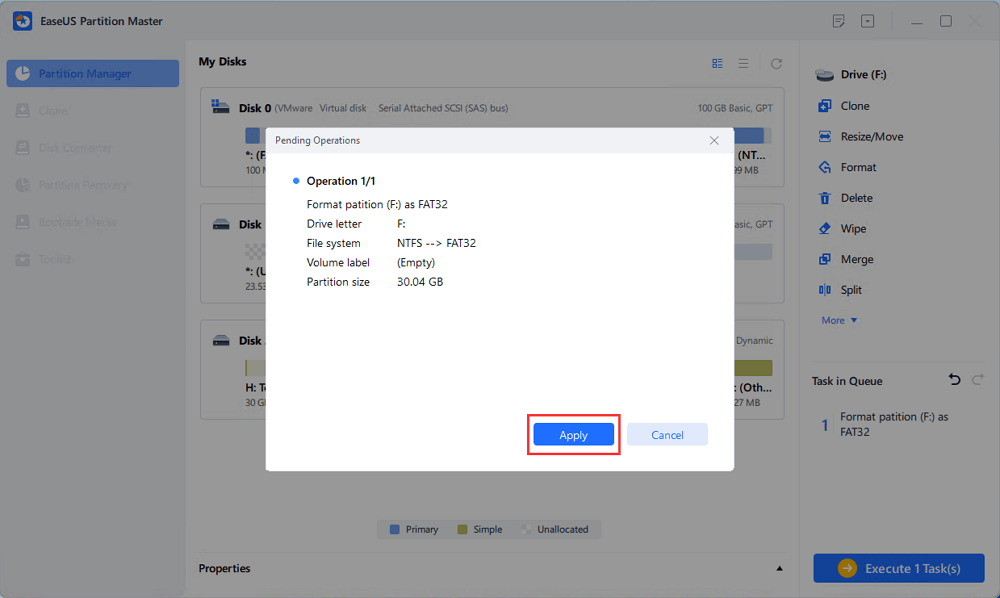 Besides the quick format, can this partition manager do anything else? Of course.
What Else Can EaseUS Partition Master Do?
It is far more than a disk management tool. Its other features are as follows:
Convert to NTFS/FAT32
Clone systems and partitions
Check disk, file system errors, and bad sectors
Format disks, partitions, and external hard drives
Therefore, if you want to perform an easy and efficient format, EaseUS Partition Master should be your preferred choice.
Conclusion
Diskpart can perform a quick format if you type the correct command. However, it might be difficult if you are not a computer professional, so EaseUS Partition Master can help you perform quick format without difficult steps. Don't hesitate to download it to help if you want to free your hands from the fussing formatting commands.
FAQs About Diskpart Quick Format
How much do you know about Diskpart quick format now? In this part, you can see three questions related to today's topic. Hope it can help.
1. What is the fastest way to format a partition in CMD?
In CMD, the command prompt is a fast way to format a partition. Type the following commands one by one to format your partition quickly. The command "format fs=ntfs quick" after locating the partition you want to format can help you perform a quick format.
2. What is the difference between full format and quick format?
Quick Format: This means performing a quick format and deleting the data on the disk, but not completely. The user will still have a window for recovery. And it takes less time.
Full format: It takes more time. A full format rewrites every sector of the drive. In addition, it can overwrite existing data, making it unrecoverable.
3. Is quick format good enough?
It depends on your needs. For example, if you plan to reuse the drive after formatting it, then a quick format will suffice since you still own it. On the other hand, the full format is a good option to ensure there is no problem if you feel there is something wrong with the drive.
About the Author
Updated by Gemma
Gemma is member of EaseUS team and has been committed to creating valuable content in fields about file recovery, partition management, and data backup etc for many years. She loves to help users solve various types of computer related issues.

Written by Sherly
Sherly joined EaseUS in 2022 and she has always loved writing articles and enjoys the fun they bring. She receives professional training here, focusing on product performance and other relative knowledge.
Product Reviews
I love that the changes you make with EaseUS Partition Master Free aren't immediately applied to the disks. It makes it way easier to play out what will happen after you've made all the changes. I also think the overall look and feel of EaseUS Partition Master Free makes whatever you're doing with your computer's partitions easy.

 Read More

Partition Master Free can Resize, Move, Merge, Migrate, and Copy disks or partitions; convert to local, change label, defragment, check and explore partition; and much more. A premium upgrade adds free tech support and the ability to resize dynamic volumes.

 Read More

It won't hot image your drives or align them, but since it's coupled with a partition manager, it allows you do perform many tasks at once, instead of just cloning drives. You can move partitions around, resize them, defragment, and more, along with the other tools you'd expect from a cloning tool.

 Read More