The Pros and Cons of Partitioning Hard Drive | Why Partition A Hard Drive
Should I partition my hard drive in Windows 10? As a beginner, you may have seen disk partition on the website so many times but have no idea what does it mean to partition a hard drive. Thus, in this article, we will show you the pros and cons of partitioning hard drives and a reliable hard drive partition software, EaseUS Partition Master, to solve how to partition a hard drive. This post also available on partitioning external hard drives.
P.S. After reading the article, if your questions are still resolved, please contact us, we are ready to help you.
Quick Navigation:
The Pros/Advantages of Partitioning Hard Drive
A Disadvantages of Partitioning is: See Cons Here
How to Partition A Hard Drive - EaseUS Partition Master
Conclusion (Video Tutorial)
What Does It Mean to Partition Hard Drive/External Hard Drive 
Disk partitioning is a common way to optimize your hard disk, which means creating partitions on one hard drive, like dividing a big cake into several pieces.
Disk partitioning uses the tool to cut down several logical parts on the disk. Once the process is completed, files can be stored in different volumes.
The Pros/Advantages of Partitioning Hard Drive
Here we list a few points about why partition a hard drive.
1. Well-organized:
A well-organized drive can save your time in management.
Typically, your drive only has C: to store the system files. If your drive carries big files such as music, video, and more different files, it's a heavy task for you to classify drive content according to file types and personal preferences. That is the reason to partition. You can put the files on several partitions.

2. Create Backup Easily:
Get an accurate backup plan. Now, the partition backup is the common mode that the user chooses. It is a wise move to back up what you need instead of making a whole drive backup plan.
3. Apply Multiple File System and Partition Style:
That's one of the major reasons for partitioning the hard drive. The common files system is NTFS, FAT32, exFAT, and EXT 2/3/4. Partitioned drives let you store data in different file systems, which is free to manage your data, including updating or storing. If you try to convert NTFS to FAT32 or MBR to GPT, with the help of hard drive software, file system conversion or format is quite easy.
4. Easy to Install Multiple Operating Systems:
Now, many users install dual systems to figure out the software compatibility problem. The dual system is easy to use. The dual system is installed in different partitions. After the installation, the system will not cover the previous system. And each system has its partition format.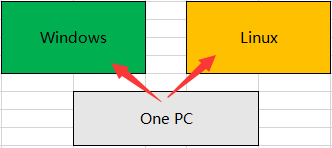 5. Protect Important Files:
Put important files in different partitions can reduce the risk of file loss and corruption.
The five points offer the benefits of partitioning a hard drive. Seems good to split partition? Not always be. Move to the next part. Check the cons by doing so.
A Disadvantages of Partitioning is: See Cons Here
1. Partition Operation Error:
We advise you not to split too many partitions. Because you might face two errors, insufficient partition space and incorrect resize or format partition. These partitions act as a drag on hard drive management.
2. Non-necessity for Beginners:
If your PC does not store any files that need to be managed or your PC does not have a dual system, it is obvious that partitioning a hard drive is a waste of time.
3. Data Loss:
All partitions remain on one hard drive. If your disk is damaged, all data on it will disappear.
How to Partition A Hard Drive - EaseUS Partition Master
EaseUS Partition Master is a robust partition manager trusted by Microsoft, HP, SONY, among others. The disk management is not difficult by using its "smart space management" technology. What you are going to do is to click the button and see what you want on your disk.
P.S. In case of data loss, you can make a backup first.
[1] "Resize/Move" enables you to adjust space of a selected disk partition as wish. By "Resize/Move", you can shrink a volume, extend the other one, or create unallocated space for special use.
[2] "Clone" is for the purpose of making two identical hard disks or partitions with the same layout and content. You can use the "Clone" feature to upgrade a hard disk, replace a failing one, backup the drive data and so on.
[3] "Delete" is a common method to remove an unwanted disk partition, turning it into unallocated space.
[4] "Format" is frequently used in many situations. By formatting a drive partition, you can alter the file system, fix some corruption issues, and sometimes remove viruses and malware.
[5] "Allocate space" is very useful when one drive partition space is too much while the other is inadequate. 
[6] "Migrate OS" makes it easy to transfer a Windows installation drive to the other without reinstalling.
[7] Conversion between GPT and MBR, NTFS and FAT32, and Basic to Dynamic is getting more and more popular among EaseUS Partition Master customers. Besides all the listed benefits, there are so many functional yet practical features are waiting you to explore. 
Should I Partition My Hard Drive in Windows 10? Have a Try!
Is this article helpful? Can you partition an SSD/HDD by EaseUS Partition Master? We offer you some tips on the pros and cons of partitioning hard drives.
If you encounter any technical issue with our product, please send an email to [email protected] or contact our technical support team via online chat:
https://secure.livechatinc.com/licence/1389892/open_chat.cgi?groups=3
Updated by Tracy King 
Tracy joined in EaseUS in 2013 and has been working with EaseUS content team for over 7 years. Being enthusiastic in computing and technology, she writes tech how-to articles and share technical solutions about Windows & Mac data recovery, file/system backup and recovery, partition management and iOS/Android data recovery.

Roxanne is one of the main contributors to EaseUS and has created multiple posts on digital devices like PCs, Mobile phones, tablets, Mac, etc. She loves to share ideas with people of the same interest.
I love that the changes you make with EaseUS Partition Master Free aren't immediately applied to the disks. It makes it way easier to play out what will happen after you've made all the changes. I also think the overall look and feel of EaseUS Partition Master Free makes whatever you're doing with your computer's partitions easy.

 Read More

Partition Master Free can Resize, Move, Merge, Migrate, and Copy disks or partitions; convert to local, change label, defragment, check and explore partition; and much more. A premium upgrade adds free tech support and the ability to resize dynamic volumes.

 Read More

It won't hot image your drives or align them, but since it's coupled with a partition manager, it allows you do perform many tasks at once, instead of just cloning drives. You can move partitions around, resize them, defragment, and more, along with the other tools you'd expect from a cloning tool.

 Read More
About EaseUS Partition Master
All-round disk & partition management software for personal and commercial use. Let it manage your storage drive: resize, format, delete, clone, convert, etc.
Video Tutorial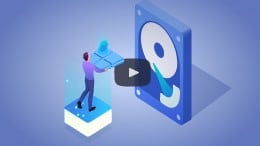 How to Partititon a Hard Drive on Windows 10/8/7
Was This Page Helpful
How Can We Help You
Find answers to common questions below.