Summary
This page outlines a comprehensive solution to SD card files not showing in a mobile phone, camera or computer. To fix the SD card not showing files problem, you must follow the data recovery advice first, in order to recover important photos, videos, audio, documents on the SD card and then fix the SD card errors. The memory card data recovery software you are going to use is EaseUS Data Recovery Wizard.
"My 16GB Samsung microSD card is not showing any files, including videos, audios, pictures, documents on it even it is nearly full. I tried to connect the SD card to computer, but Windows asks me to format it before I can use it. I don't want to follow the instruction because I don't want to lose a single file on the SD card. I need help."
"When I was transferring pictures from my Canon camera SD card to the computer, I was shocked because the SD card shows empty. I can view the SD card pictures on the camera but not on the computer. Strange? What I'm supposed to do?"
Many people are complaining that their SD card files not showing in mobile, camera or computer. Are you one of them who can't see files on the SD card, like photos, videos or apps? You are not alone. Here are a couple of ways to help you be able to view files, meanwhile, fix the SD card issues that hide the files. EaseUS Data Recovery Wizard is third-party memory card data recovery software that scans and finds not showing files on the SD card.
Reasons for SD Card Files Not Showing
Before heading to the troubleshooting, you may wonder what causes this kind of troublesome issue, and how you should react to the disappearing files on the SD card.
No matter you're checking the SD card files on a phone, a digital camera or on a Windows computer/Mac, in general, you see an empty or blank SD card due to reasons in the following:
Files were hidden
SD card is locked
SD card corruption
Unknown virus infection
As you see, reasons that prevent you from seeing and viewing present files on the SD card are various, so you must take it slow, to explore the real causes of your own. Let's have some quick examination:
First, check if there is a lock switch on the SD card
Some brands & types of memory card, including microSD card, SD card, SDHC, SDXC card, are designed with a lock switch, which disables a file read/write manner to the SD card, to protect files were not deleted or modified by anyone. If you can views files on the camera but not on the PC, try to unlock the SD card by toggling the switch from lock to unlock.
How to remove write protection from SD card without a lock switch? Seek solutions on the linked page.
Second, try to unhide files in Windows 10/8.1/8/7 computers
This is particularly for not being able to see SD card files on the computer. As investigated, most of the memory card not showing files is because they set to be hidden, and you need to manually unhide the memory card.
To show SD card files in PC:
Open File Explorer, navigate to the "View" tab and tick the box of "Hidden items".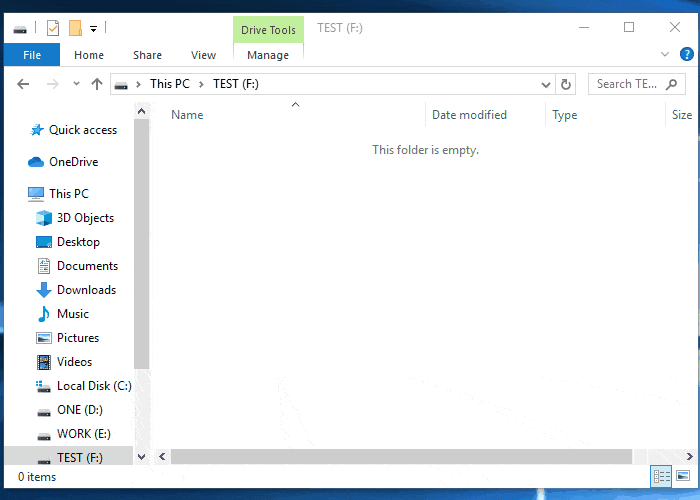 Third, scan and remove virus
Are you seeing other strange issues while SD card files not showing up? For example, opening an app very slow, Windows operating system freezes a lot, etc. For people who use the SD card frequently across multiple digital devices, take care, the SD card might have been infected by computer viruses.
It's easy and efficient to scan virus and remove the found one with anti-virus software installed on your computer. You can also remove the virus from PC/laptop without antivirus software.
Further Troubleshooting for SD Card Files Not Showing Up
By unlocking and unhiding files from the SD card did not help? This time you need some further troubleshooting methods, and if there is important data you don't want to lose, you must strictly follow the below guide step by step. First, download EaseUS Data Recovery Wizard Free, try to scan and recover all the existing files on the SD card. Afterward, try to fix the corrupted SD card.
Recover files not showing up in the SD card:
Stop using your SD card immediately once you lost files on it. Continuing using the card would hugely increase the chance of data overwriting, which makes data unrecoverable.
Step 1: Connect the SD card to PC
Insert the SD card to a card reader, and connect the card reader with your SD card to a healthy computer.
Step 2: Run SD card recovery software and scan the card.
Launch EaseUS Data Recovery Wizard on your PC and select your SD card under the External Devices column.
Then click Scan to start finding lost data on your SD card now.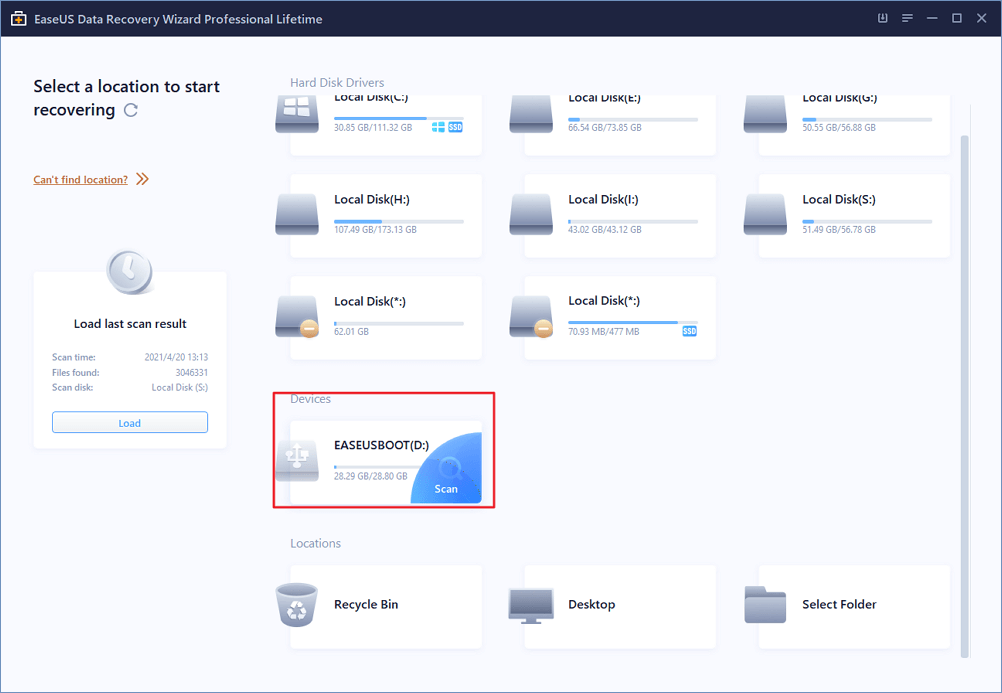 Step 3: Check found SD card data.
After the scanning process, you can preview and find your lost SD card files from below listed tabs:
Deleted Files: List your deleted files there.
Drive X: All lost files can be found here.
Lost Partition Files: Check first if it's for formatted recovery.
Extra Files: Finds files that lost names or paths.
And you can use Filter and Search to quickly find your files.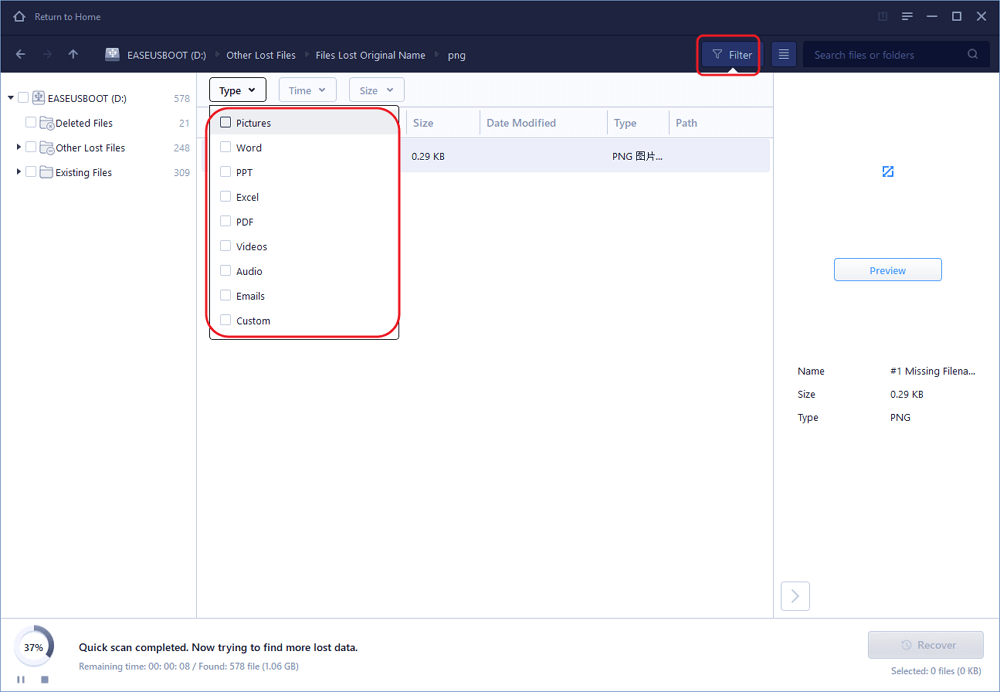 Step 4: Restore SD card data.
You can check and preview found files by double-clicking each one of them.
Then click Recover to save found SD card files to a secure location on your PC or an external storage.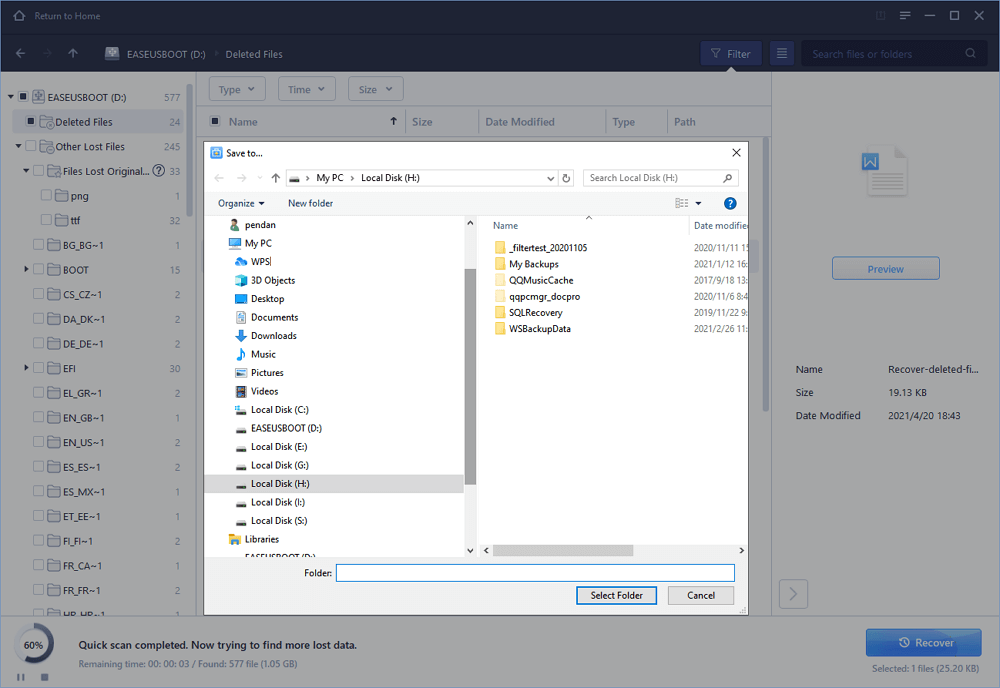 Note: EaseUS Data Recovery Wizard Free allows for 2GB file recovery for free, so you need to activate the free version to the pro version - EaseUS Data Recovery Wizard Pro to be able to recover an unlimited amount of data.
Fix a corrupted SD card not showing files:
The CHKDSK command and Windows Disk Management are recognized as the two of the most effective methods to fix a corrupted SD card. A corrupted SD card usually disables files showing up completely or correctly and comes with symptoms, such as RAW file system, unallocated, Windows asks to format it before you can use it, etc. Now you can make full use of both SD card repair tools here.
Solution 1. Check and repair SD card bad sectors with CHKDSK command
Step 1: Open Windows Comand Prompt (Windows + X keys) as admin.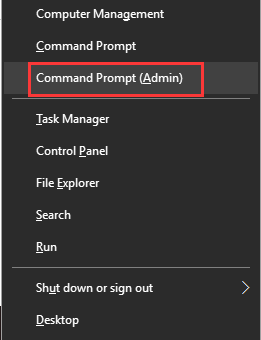 Step 2: Type chkdsk g: /f /r and hit Enter. (replace g with your own sd card drive letter)
Step 3: Wait for the command takes effect. Once completes, type exit to close the command prompt window.
Solution 2. Format a corrupted SD card with Disk Management
Step 1: Open Windows Disk Management (Windows + R to bring up the Run box, type diskmgmt.msc and hit Enter)
Step 2: Locate your SD card, which should be a removable disk, right-click on it and choose Format...
Step 3: Choose a file system from the list, usually NTFS/FAT/FAT32, and perform a quick format.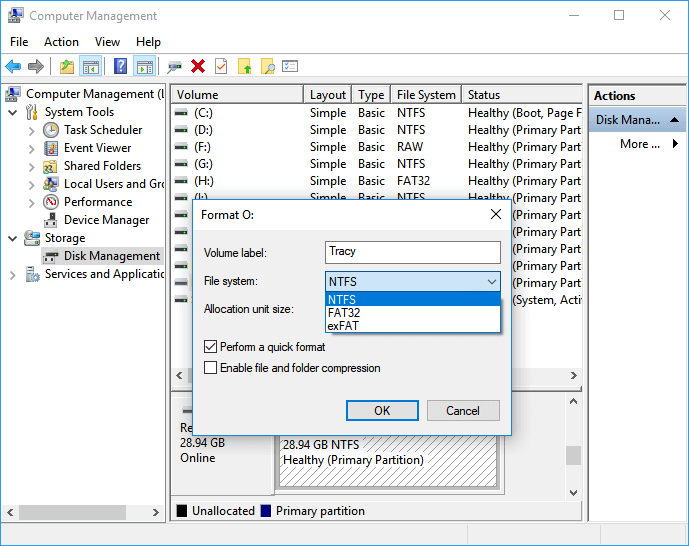 As you know, disk formatting will erase data completely from the SD card, so if you didn't perform data recovery in advance, try to download and install EaseUS Data Recovery Wizard this time to recover data from the formatted SD card.
100% of people found this article helpful.
Frequently Asked Questions
1. Why cannot I recover 2GB data for free?

It is recommended to check the version installed is Free or Trial because they are different versions.

Trial has data preview function but cannot save any files, while the Free version enables to recover 2 GB files. The default free space is 500 MB and you may share the product on social media to get another 1.5 GB.
2. Why cannot the recovered files be opened?

A file is saved as 2 parts on the storage device: directory info (which is comprised by file name, time stamp and size info, etc.) and data content.

If the files with original file names and folder structures cannot be opened, one possible reason is the corrupted directory info. There is still a chance to recover the data content with the RAW Recovery method in our software.
3. Why isn't it suggested to recover the files back to the original drive?

The storage structure of the lost files would be altered or damaged by any changes on the drive. If you save the recovered files back to the same drive, the original data structures and data content would be corrupted or overwritten, which causes permanent data loss. So you should prepare another disk to save the files.
4. How can I check whether my data is recoverable or not before purchase?

The Free version helps you save 2GB files to better verify the recovery quality of our product before purchase.
5. How long does it take to scan the drive?

It strongly depends on the capacity of your hard drive and the performance of your computer. As reference,most drive recoveries can be completed in around 10 to 12 hours for a 1-TB healthy hard drive in general conditions.
About Data Recovery Wizard
It's super easy to recover 250+ types of files after deletion, disk formatting and virus infection. Click the links and compare the difference of each version.