
About the Author
Hot Topics in 2022
How to Format SD Card Using CMD Windows 11/10/8/7
Workable Solutions
Step-by-step Troubleshooting
Use CMD on Windows 11/10/8/7
Step 1. Type cmd in the search box in Windows 11/10, right-click on Command Prompt, and choose "Run as administrator"...Full steps
Use CMD Alaternive - EaseUS SD Card Formatter
Step 1. Launch EaseUS Partition Master, right-click the partition on your external hard drive/USB/SD card which you want...Full steps
Use Two Windows Built-in Tools

Method 1. Perform SD Card Formatting...Full steps

Method 2. Use Disk Management to Format SD Card...Full steps
Why Do You Format SD Card
What does the formatting SD card do? Under many circumstances, people need to format SD Card to NTFS, FAT32, or exFAT file system in order to:
Reset SD card file system on a specific device, such as a digital camera, Android smartphone, game console, music player, etc.
Fix or repair a problematic SD memory card from corruption, damage, inaccessibility, etc.
Clean up the SD card, remove all files and restore its full capacity.
Review and prolong the SD card's lifespan.
When it comes to fixing these issues by formatting the SD card, you may hear the solution that some advanced Windows users suggest - to format SD card using CMD.
So can you apply CMD command to format SD card? Sure! Here in the next, we'll be showing you the complete procedure of formatting SD card using Diskpart CMD and other two alternative formatting tools in Windows 11, 10, 8.1, 8, 7, XP, and Vista.
 Important

Formatting is a process of deleting all information and setting it up as a brand new one. So, make a full backup first if you care about data.
How to Format SD Card Using CMD on Windows 11/10/8/7
Format Tool: DiskPart CMD
Diskpart is a built-in tool in Windows that manages your hard drives. You can use it to format the damaged or corrupted internal or external hard drive, USB drive, SD card, etc. This method is somewhat higher-leveled, and the Diskpart command is not recommended if you find it hard to go through the whole process. 
Hint: Turn to Method 2 or Method 3 if you are a Windows beginner. 
If you don't know anything about CMD, we recommend a risk-free way to format your SD card, which is using a professional formatting tool. But if you stick to this method, let's see the step-by-step guide on how to format SD card using CMD in Windows 11/10 below. 
Step 1. Type cmd in the search box in Windows 11/10, right-click on Command Prompt, and choose "Run as administrator".
Step 2. In the command prompt window, type diskpart and press "Enter".
Step 3. Type list disk to list all the available drives and press "Enter".
Step 4. Type select disk + disk number ( for example, select disk 2) to select the SD card you want to format and press "Enter".
Step 5. Type list volume and press "Enter".
Step 6. Type select volume + volume number (or example, select volume 10) and press "Enter".
Step 7. Type format fs=ntfs (or format fs=exfat) and press "Enter" to format the drive with NTFS or exFAT.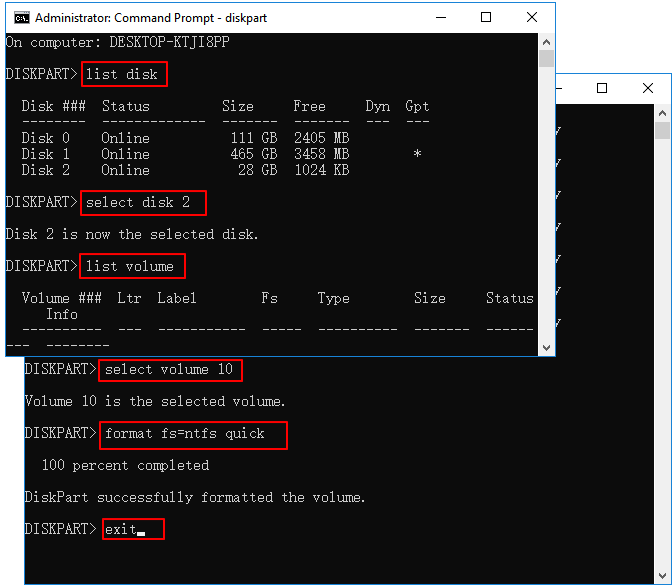 Then, you can continue typing exit to close the program when DiskPart says it has successfully formatted the volume.
If you have mistakenly formatted other hard drives, don't despair, you can use a powerful data recovery application to recover data from a formatted hard drive with ease. 
Also read:

Fix Corrupted/Damaged SD Card Without Losing Data
How do I fix a corrupted Micro SD card? What will you do when your SD card is corrupted or not reading? Follow the content navigation, you'll get a clear guide to fix corrupted SD card on your own.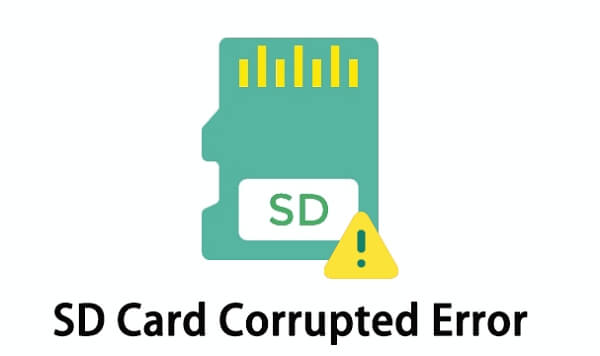 How to Format SD Card Using CMD Alaternive - EaseUS SD Card Formatter
Format Tool: EaseUS Partition Master 
For a simpler and more secure way to format an SD card, third-party SD card formatting tools like EaseUS Partition Master can help you format a damaged or corrupted memory card in Windows 11/10/8/7. This SD card formatter helps users organize and optimize hard drives via its free partition management features.  
To format SD card in Windows 11/10 and all other operating systems, download and install the free partition manager on PC. And then follow the easy step to finish the task.
Step 1. Launch EaseUS Partition Master, right-click the partition on your external hard drive/USB/SD card which you want to format and choose the "Format" option.
Step 2. Assign a new partition label, file system (NTFS/FAT32/EXT2/EXT3/EXT4/exFAT), and cluster size to the selected partition, then click "OK".
Step 3. In the Warning window, click "OK" to continue.
Step 4. Click the "Execute Operation" button in the top-left corner to review the changes, then click "Apply" to start formatting your external hard drive/USB/SD card.
Hint: If the SD card is larger than 4GB, you can only choose FAT32, NTFS, or EXT2/EXT3; and if the partition is smaller than 4GB, you can choose FAT, FAT32, NTFS, or EXT2/EXT3.
You can use this tool to format resize & move (e.g., move space from D drive to C drive), merge, migrate, and copy disks or partitions; convert to local, change the label, defragment, check and explore partition; and much more.
How to Format SD Card Using Two Windows Built-in Tools
Apart from the above two ways, you can also use Windows utilities to format the SD card. In this part, we'll show you how to format a memory card using the Windows quick format feature and Disk Management.
Method 1. Perform SD Card Formatting Use File Explorer
When format your SD card in Windows Explorer, connect your SD card to your computer at the very beginning. Then follow the tutorial here to format the SD card:
Step 1. Press "Windows key + E" to bring up the Windows Explorer.
Or Click and open up the "Computer" in Windows 7 or "This PC" in Windows 11/10.
Step 2. Right-click on the connected SD card and select "Format".
Step 3. On the format window, you'll be told to select the desired file system, which is set to NTFS, or FAT32 for 32GB SD cards and exFAT for 64GB SD cards.
Step 4. Click "Start".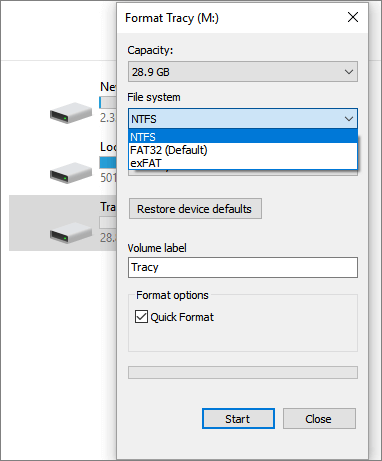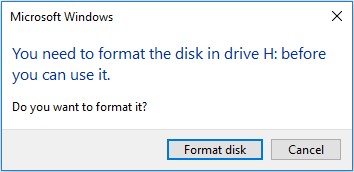 Method 2. Use Disk Management to Format SD Card
Step 1. Right-click on "Computer" or "This PC", select Management, and then Disk Management under the Storage section.
Step 2. Right-click on the SD card partition and select "Format".
Step 3: On the format window, check the box of Perform a quick format, and in the same way, you need to choose a file system and allocation unit size.
Step 4: Click "OK".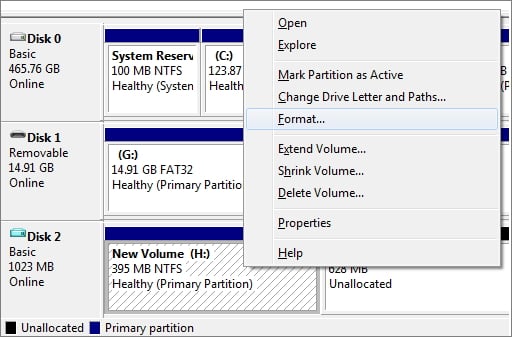 Bonus Tips - How to Protect SD Card Data
Formatting can be done on an SD card due to several reasons. You format an SD card or Memory card to remove data completely from the SD card and when its file system gets damaged, or the SD card seems to be corrupted. However, you may lose data after the formatting process. To protect SD card data, you should keep these things in mind.
Tip 1. Back Up Data Before Formatting
The best way to avoid further data loss is to back up files regularly on a storage device like the SD card. To do so, you can manually copy and paste these files from the SD card to another place or use free backup and recovery software. Free backup software like EaseUS Todo Backup makes it easy to schedule and run backup actively while data is increasing daily. In 5 minutes, all your system, file, disk, or partition are set up for automatic backups, no matter an individual photo, or a whole C drive.
Steps to back up the SD card with EaseUS Todo Backup:
Step 1. Click the "Select backup contents" button to start backup.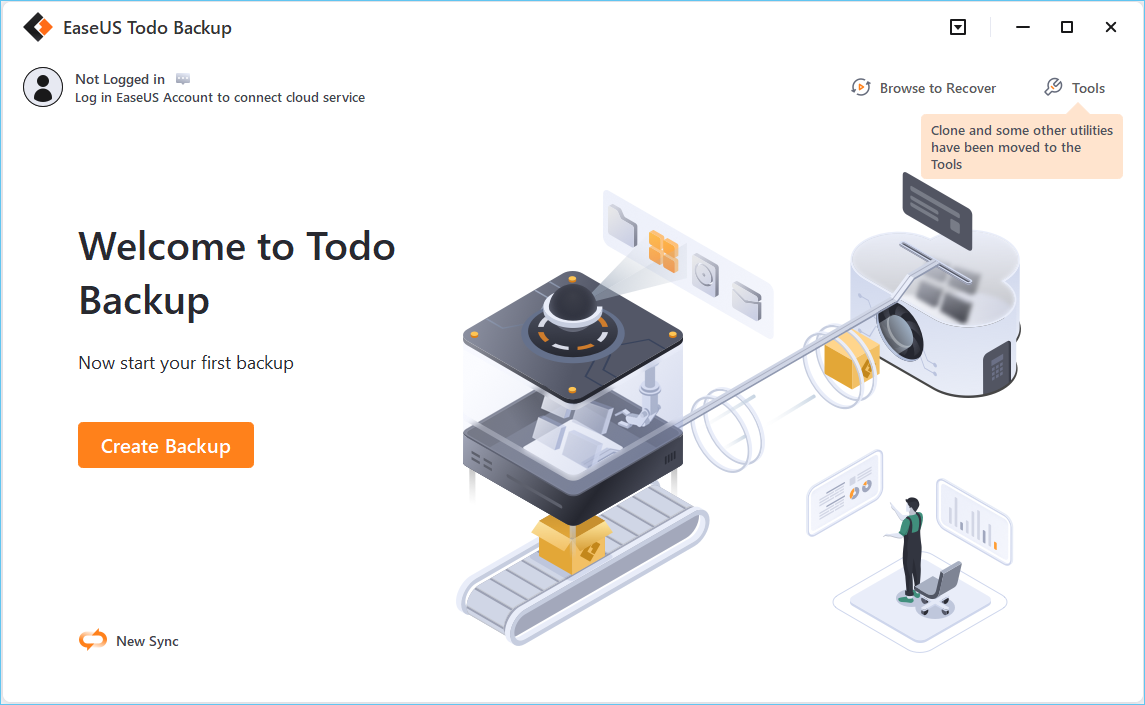 Step 2. There are four data backup categories, File, Disk, OS, and Mail, click File.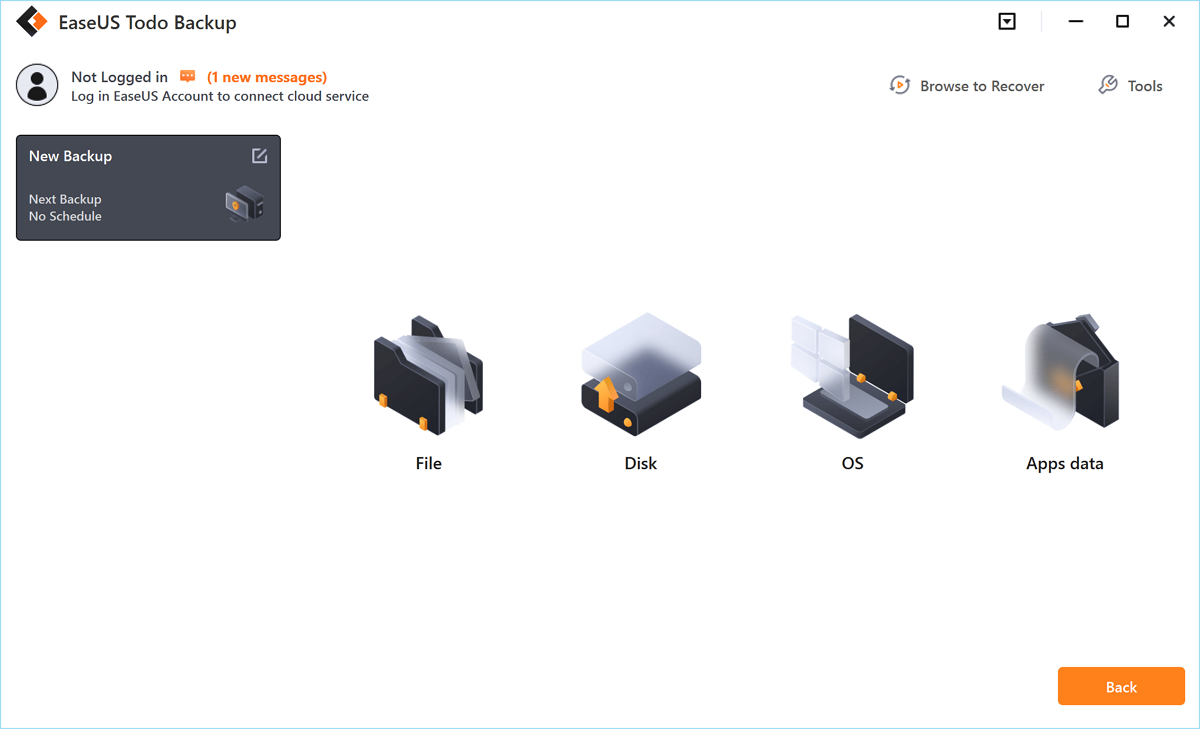 Step 3. Both local and network files will be listed on the left. You can expand the directory to select the files to be backed up.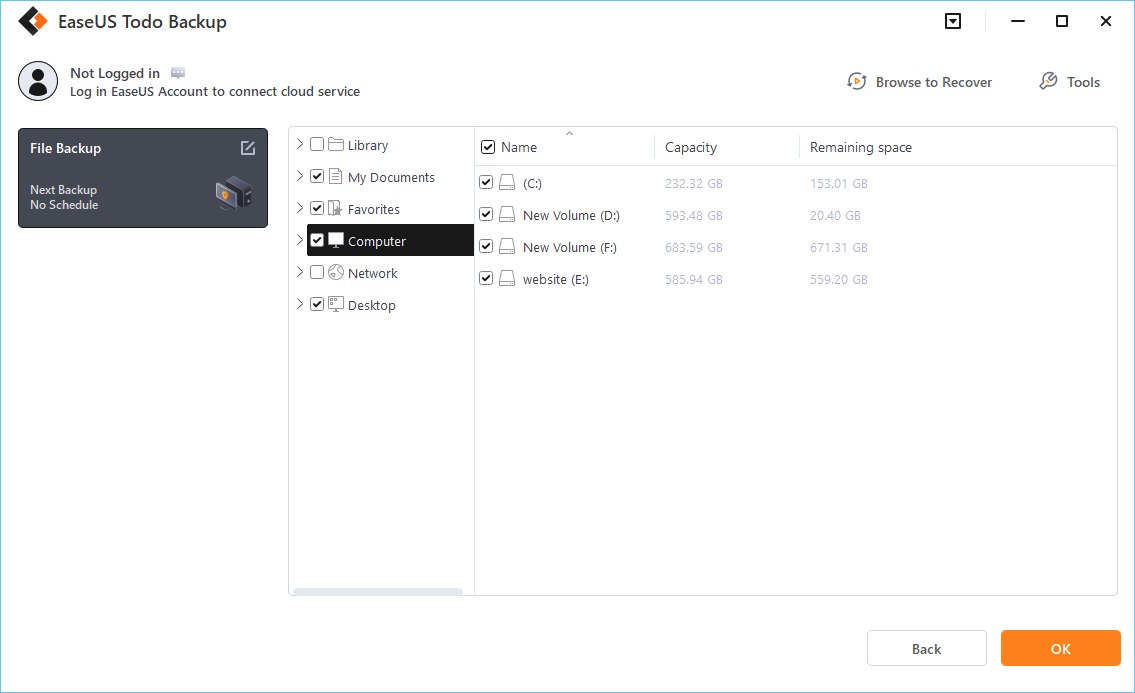 Step 4. Follow the on-screen guide, select the destination where you want to save the backup.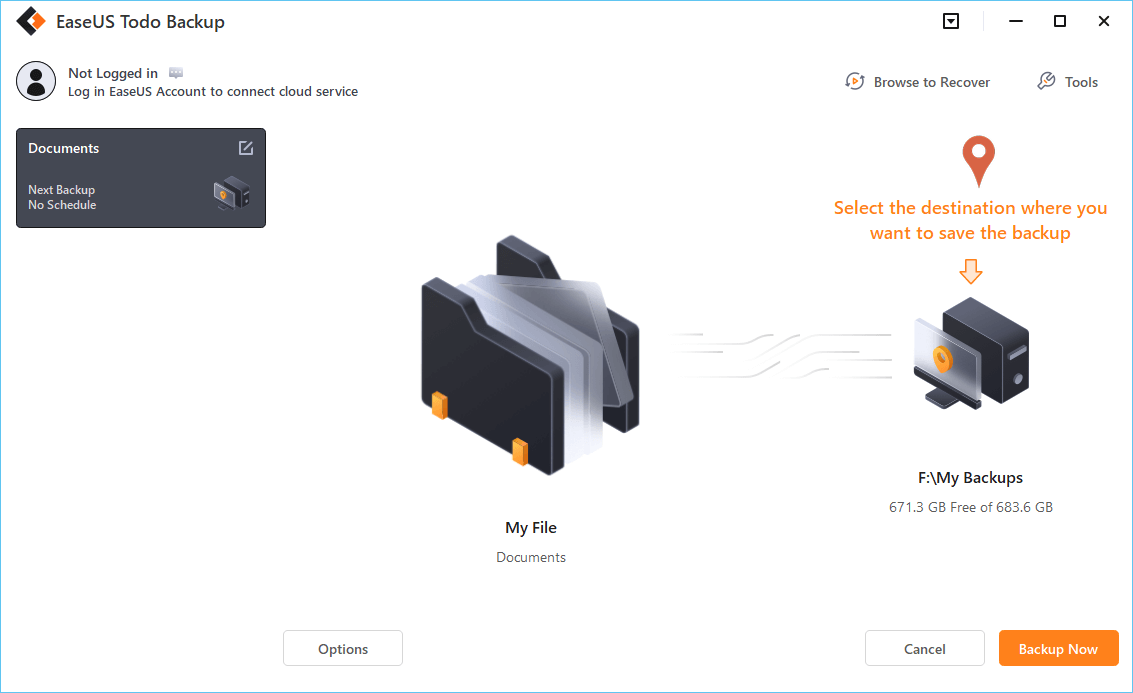 Click "Options" to encrypt the backup with password in "Backup Options", set the backup schedule and choose to start back up at certain event in "Backup Scheme". There are also many other options you can explore, customize the backup task according to your need.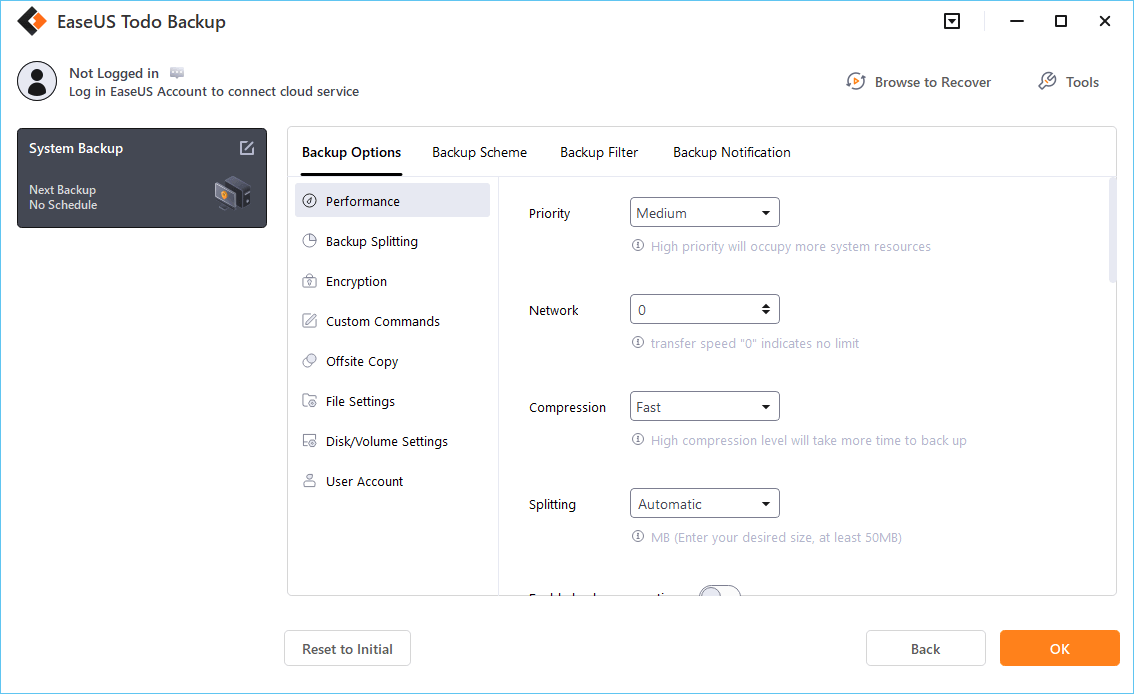 Step 5. You can store the backup to local drive, EaseUS's cloud service, and NAS.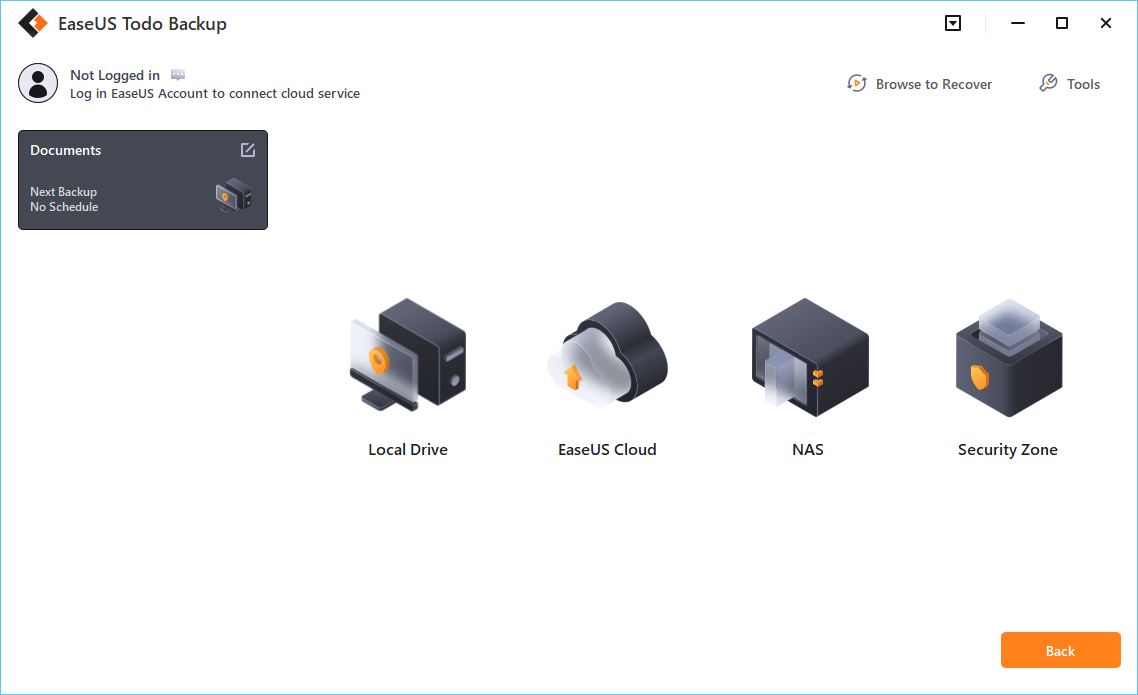 Step 6. EaseUS Todo Backup enables users to back up data to both third-party cloud drive and its own cloud drive.
If you want to back up data to third-party cloud drive, choose Local Drive, scroll down to add Cloud Device, add and login your account.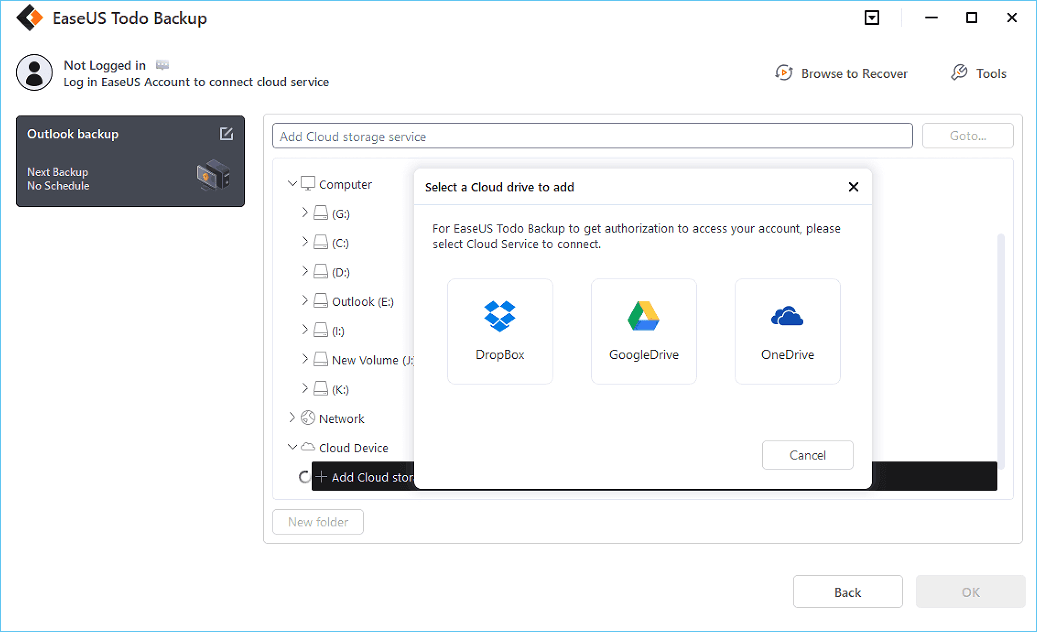 You can also choose EaseUS's own cloud drive. Click EaseUS Cloud, sign up with your EaseUS Account and log in.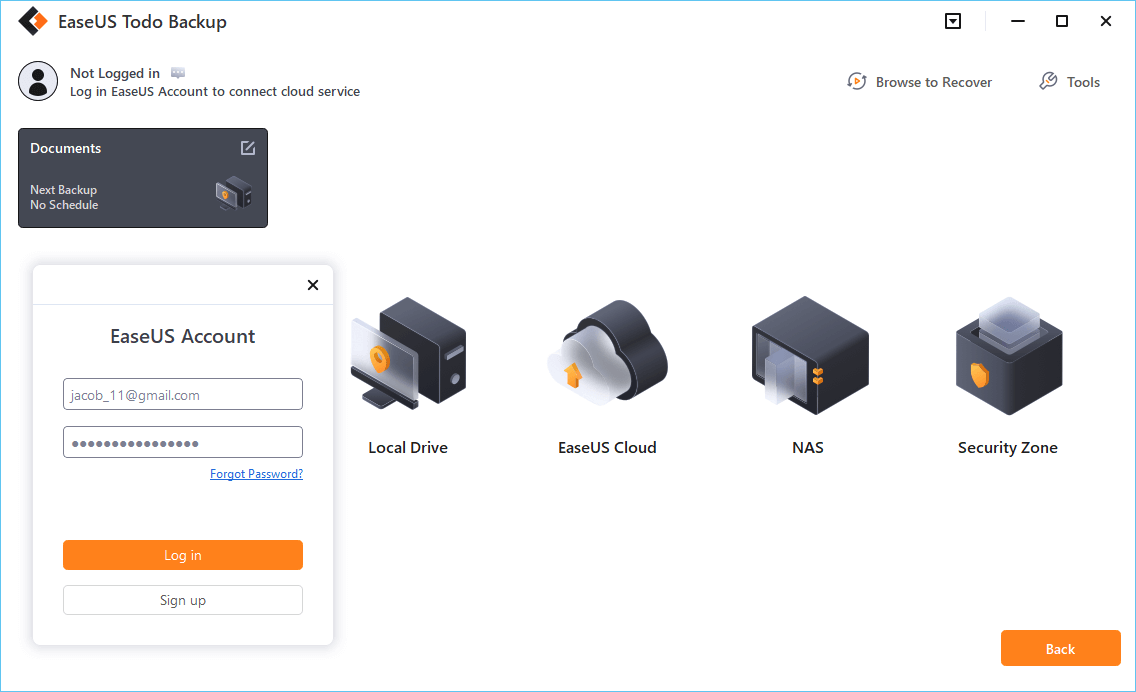 Step 7. Click "Backup Now" to start backup. After the backup task is completed, it will be displayed in the form of a card on the left side of the panel. Right-click the backup task to further manage it.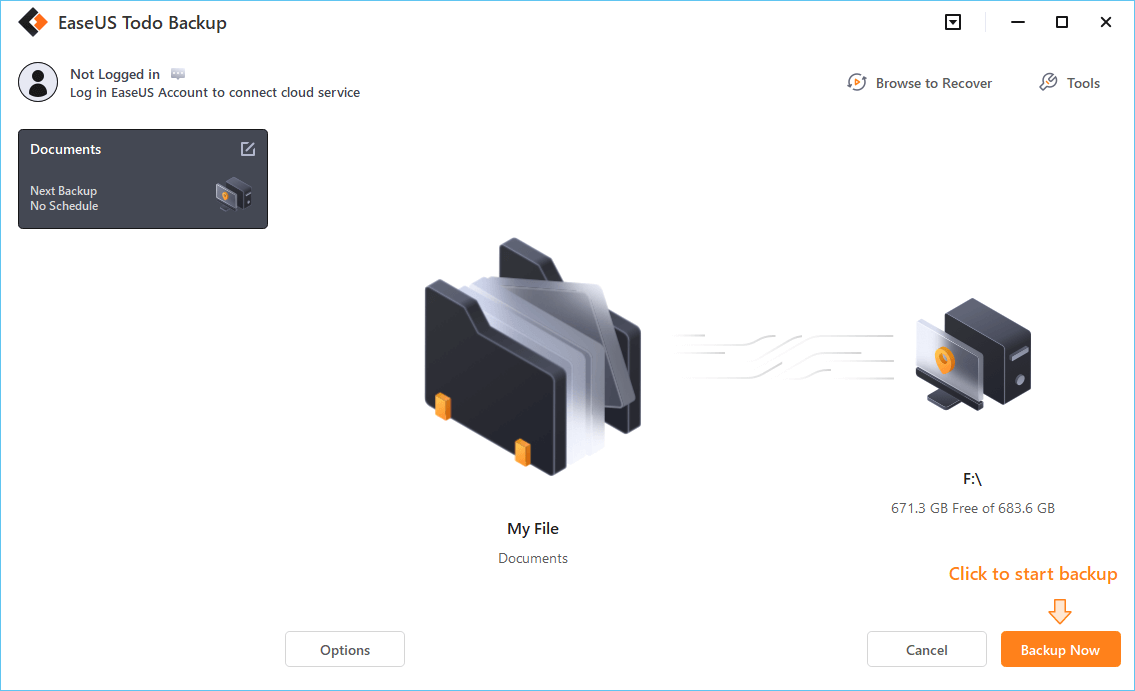 Tip 2. Safely Eject the Card from a PC
Just similar to other external hard drives, USB flash drives, and memory cards, you should always safely eject the SD card. That is to say, you should not remove the card from a device when it is still being accessed, such as transferring data or reading data, etc.
Tip 3. Don't Use One Card on Many Devices
Another important thing is not using a single memory card on many different devices. Different devices may work on different file systems, which may be incompatible with what the memory card is formatted with. In this case, the card tends to die. Therefore, do not use one SD card, USB drive, or memory card on many devices.
Tip 4. Stop Using the SD Card When Getting Any Errors
As soon as your SD card gets errors like "The SD card is not detected", or "the disk is write protected", stop using the SD card immediately. Otherwise, further damage would happen to the card without letting you know.
Conclusion
You have learned how to format SD card using CMD with Diskpart, EaseUS Partition Master, and Windows tools. If you are not familiar with CMD or the Windows doesn't go smoothly, you can format your memory card with EaseUS Partition Master. Like mentioned before, besides partition formatting, this competent disk management program supports many basic and advanced options, such as convert FAT to NTFS, convert MBR to GPT, migrate OS to SSD/HDD, and more. Try it, and you'll find it great helpful. 
Extended Reading: What Else Can CMD Do Besides Formatting SD Card
On this page, we guided you to format SD card with CMD or its alternative formatting solutions on Windows 11/10/8.1/8/7. Some of you may also want to know what else can CMD do for you. Here we collected 3 major solutions and guide you to use them on SD card successfully:
Feature 1. Check and Fix SD Card Corrupted Error with CHKDSK Command
Connect SD card to computer.
Run Diskpart, and type the command lines here: chkdsks E:/ f /r /x and hit Enter. 
Replace E: with the drive letter of your SD card. Here are the syntax meanings:
/F: Check for disk errors, not bad sectors. 
/R: Locate the bad sectors on the target hard disk and try to recover the readable information from the bad sectors (implies /F).
/X: Forces the volume to dismount first, if necessary. It also includes the functionality of /f.
Feature 2. Delete All Partitions and Clean Up SD Card One-Time with Clean Command
Connect SD card to computer.
Type the command below in DiskPart one by one and hit Enter each time:
list disk
select disk 2 (Replace 2 with SD card drive number)
clean
The clean command will delete all existing partitions and files on your SD card, restoring full capacity to your card.
Feature 3. Remove Write Protection from SD Card with Clear Readonly Command
Connect SD card to computer and open DiskPart
Type the command below one by one and hit Enter each time:
list disk
select disk 2 (Replace 2 with the SD card drive number.)
attributes disk clear readonly
If you tend to learn more tutorials about how to use CMD to fix SD or other storage device issues, feel free to follow our articles or use the Search button on our site for help. 
About the Author

Roxanne is one of the main contributors to EaseUS and has created multiple posts on digital devices like PCs, Mobile phones, tablets, Mac, etc. She loves to share ideas with people of the same interest.

Author Jean has been writing tech articles since she was graduated from university. She has been part of the EaseUS team for over 5 years. Her special focuses are data recovery, disk partitioning, data space optimization, data backup and Mac OS. By the way, she's an aviation fan!
Product Reviews
I love that the changes you make with EaseUS Partition Master Free aren't immediately applied to the disks. It makes it way easier to play out what will happen after you've made all the changes. I also think the overall look and feel of EaseUS Partition Master Free makes whatever you're doing with your computer's partitions easy.

 Read More

Partition Master Free can Resize, Move, Merge, Migrate, and Copy disks or partitions; convert to local, change label, defragment, check and explore partition; and much more. A premium upgrade adds free tech support and the ability to resize dynamic volumes.

 Read More

It won't hot image your drives or align them, but since it's coupled with a partition manager, it allows you do perform many tasks at once, instead of just cloning drives. You can move partitions around, resize them, defragment, and more, along with the other tools you'd expect from a cloning tool.

 Read More