In this article you'll learn:
Why Do You Format SD Card?
What does formatting SD card do? Under many circumstances, people need to format SD Card to NTFS, FAT32 or exFAT file system in order to put it in proper use on a certain device, such as a digital camera, Android smart phone, game console, music player, a PC or Mac; Furthermore, for a fault SD memory card that's generating error messages concerning corruption, damage, inaccessibility, usually the behavior of a quick formatting will revive and prolong the card's life span!
Altogether, 3 SD card formatting approaches are given to help format SD memory card effortlessly, including format SD card using Windows utility, CMD Command Prompt and third-party SD card formatter tool in Windows 10, 8.1, 8, 7, XP or Vista.
Notice - Formatting is a process of erasing all information and setting it up as a brand new one. So, take a full backup first if you care about data.
How to Format SD Card Using Windows?
You should first come up with the easiest way to format an external storage device, which is using Windows quick format feature and then Disk Management program.
Method 1. File Explorer
Step 1_ Press Windows key + E to bring up the Windows Explorer. Click and open up the "Computer" in Windows 7 or "This PC" in Windows 10.
Step 2_ Right-click on the connected SD card and select "Format".
Step 3_ On the format window, you'll be told to select the desired file system which is set to NTFS, or FAT32 for 32GB SD cards and exFAT for 64GB SD cards.
Step 4_ Click Start.
Method 2. Disk Management
Step 1_ Right-click on Computer or This PC, select Management and then Disk Management under Storage section.
Step 2_ Right-click on the SD card partition and select Format.
Step 3_ On the format window, check the box of Perform a quick format, and in the same way you need choose a file system and allocation unit size.
Step 4_ Click OK.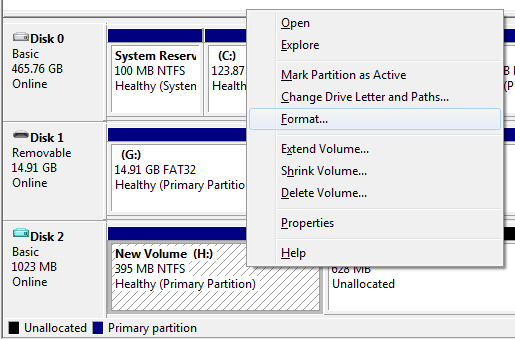 How to Format SD Card Using CMD?
This is somewhat higher-leveled, and Diskpart command is not recommended if you really find it hard to go through the whole process.
Step 1_ Type cmd in search box in Windows 10 and then you'll get the best match Command Prompt. Right-click on it and choose Run as administrator.
Step 2_ In the command prompt, type diskpart and press Enter.
Step 3_ Type list disk to list all the available drives and press Enter.
Step 4_ Type select disk + disk number ( for example, select disk 0) to select the SD card you want to format and press Enter.
Step 5_ Type clean to clean the SD card you have selected and press Enter.
Step 6_ Type create partition primary to create a partition on the cleaned SD card and press Enter:
Step 7_ Type format fs=ntfs (or format fs=exfat) and press Enter to format the drive with NTFS or exFAT.
Step 8_ Type assign letter=drive letter (for example, assign letter=E) to assign a drive letter and press Enter.
How to Format SD Card Using SD Card Formatter Tool?
At last, we recommend third-party SD card formatter for a straightforward way of formatting a memory card. Compared with the Windows utilities and diskpart command line, using software, here we say EaseUS Partition Master, is the same free, what's more, comes handy when Windows was unable to complete the format, diskpart has encountered an error access is denied and however you try you just can't format SD card completely.
To format SD card in Windows 10 and all other operating systems, simply download and install the free partition manager on PC. The following 3-step SD card format guide will finish the task!
Step 1_ Right-click on the SD card partition and choose Format partition.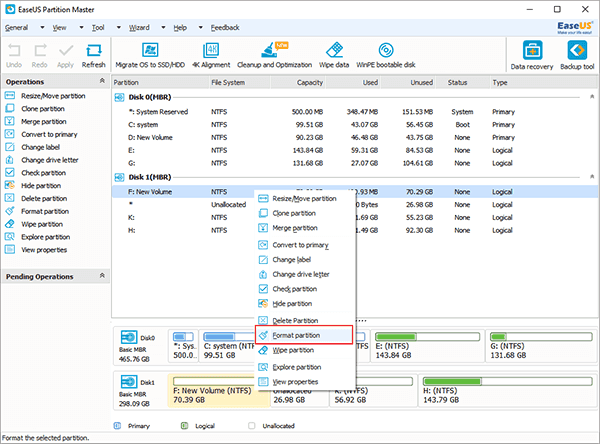 Step 2_ On the format partition window, start in sequence to edit a partition label, select a file system and cluster size. Click OK.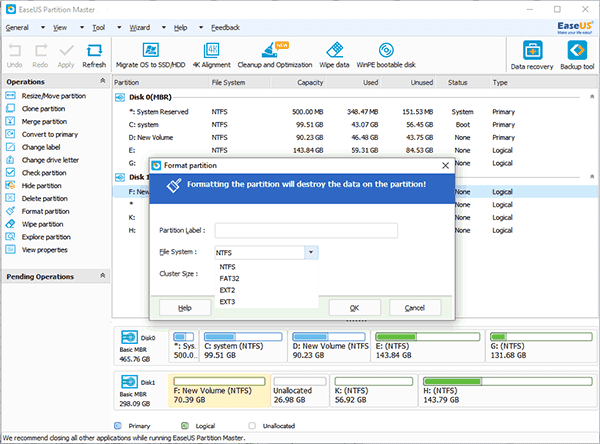 * If the SD card is larger than 4GB, you can only choose FAT32, NTFS or EXT2/EXT3; and if the partition is smaller than 4GB, you can choose FAT, FAT32, NTFS or EXT2/EXT3.
Step 3_ Click Apply to confirm the operation of formatting SD card.