When Wipe Hard Drive in Windows XP
Being different from deleting a partition or formatting a hard drive, to WIPE a hard drive means to completely erase data from a computer, leaving no chance of recovery. Thus, when it comes to wiping a hard drive, you need to make it clear why you have this need, and what data you don't want anymore. At last, choose an appropriate way to wipe a hard drive in Windows XP.
First and foremost, in what circumstances will Windows XP users want to remove everything from a hard drive? Here is a list for you to check.
Sell a computer
Donate a computer to a friend or relative
Replace an old hard drive with a new one
All those examples are about protecting personal information (accounts, codes, financial apps info) and files (documents, music, movies, pictures, installed applications), When you decide to sell or abandon the computer, you don't expect data reappearing after a special treatment. That's why you want to wipe a hard drive instead of simply formatting it, by which data becomes invisible but not really gone.
Second, it's time to know very clearly what data you don't want anymore. Do you need to wipe a single drive partition or the entire hard drive along with operating system on it?
If you're about to remain the Windows XP and make the computer bootable, it should work by going back to the factory defaults. Restoring a computer to its factory settings will delete all data, programs and drivers that were not included in the original configuration of that computer. Whereas if you mean to permanently remove everything including the operating system, you need to wipe a whole hard disk by other means.
How to Wipe A Computer Hard Drive in Windows XP Without CD
As aforementioned, restoring to factory settings should meet the following requirements so that this way of wiping a hard drive is applicable to you.
1. There is a recovery partition installed on your computer, which is used to restore a computer with a few clicks. Not all computer brands are shipped with this recovery partition, but some have. (E.g. Lenovo Onekey Recovery)
2. You have a set of recovery discs for your computer, which usually comes with your computer purchase.
3. You have the original Windows installation disc of Windows XP, which can be used to reinstall Windows.
In most cases, Windows XP and Windows 7,8,10 users don't have a recovery partition nor an installation disc, is there any way to wipe a computer in Windows XP without using those toolkits? One efficient way to permanently and completely wipe hard drive data on your Windows XP hard drive without using an installation disc is to apply a data erasing tool. Here we'd like to recommend you try EaseUS Partition Master with its Wipe Data feature. Since it's third-party partition manager software, you need to install it on your Windows XP computer you're going to wipe it clean.
You might use the EaseUS partition manager software in two ways. One, choose a single data partition to wipe, like drive D, E, F...; two, wipe a whole computer hard drive, including Windows XP operating system.
Option 1. Wipe a single partition in Windows XP
Step 1: Launch EaseUS Partition Master, right-click the partition you want to erase data from, and choose "Wipe Data".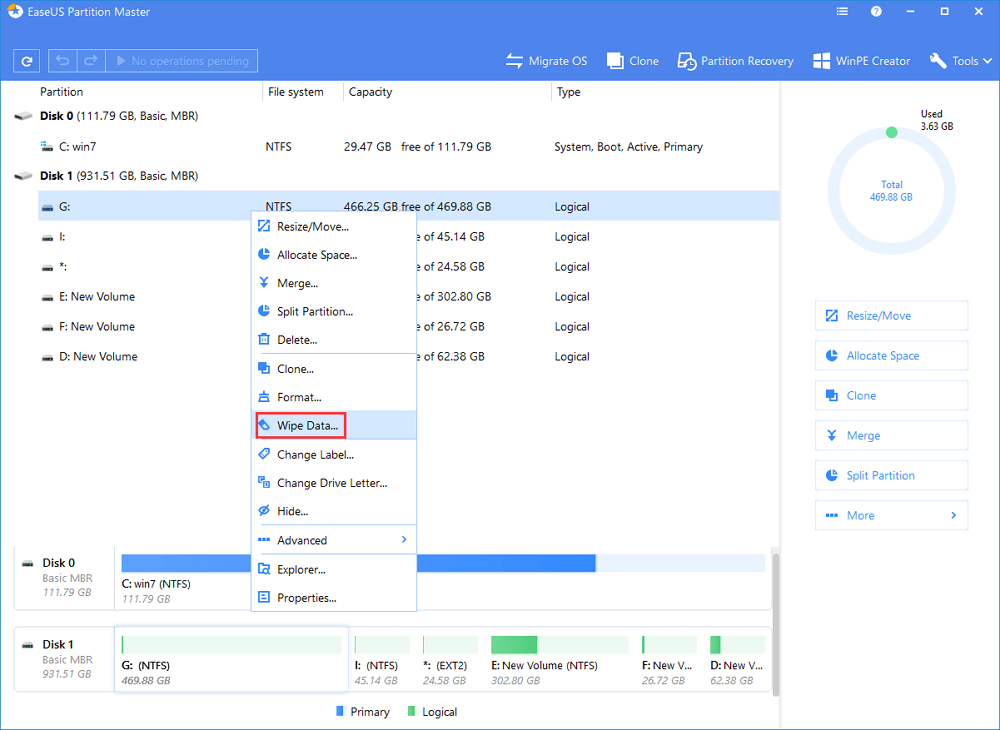 Step 2: In the new window, set the time for which you want to wipe your partition, then click "OK".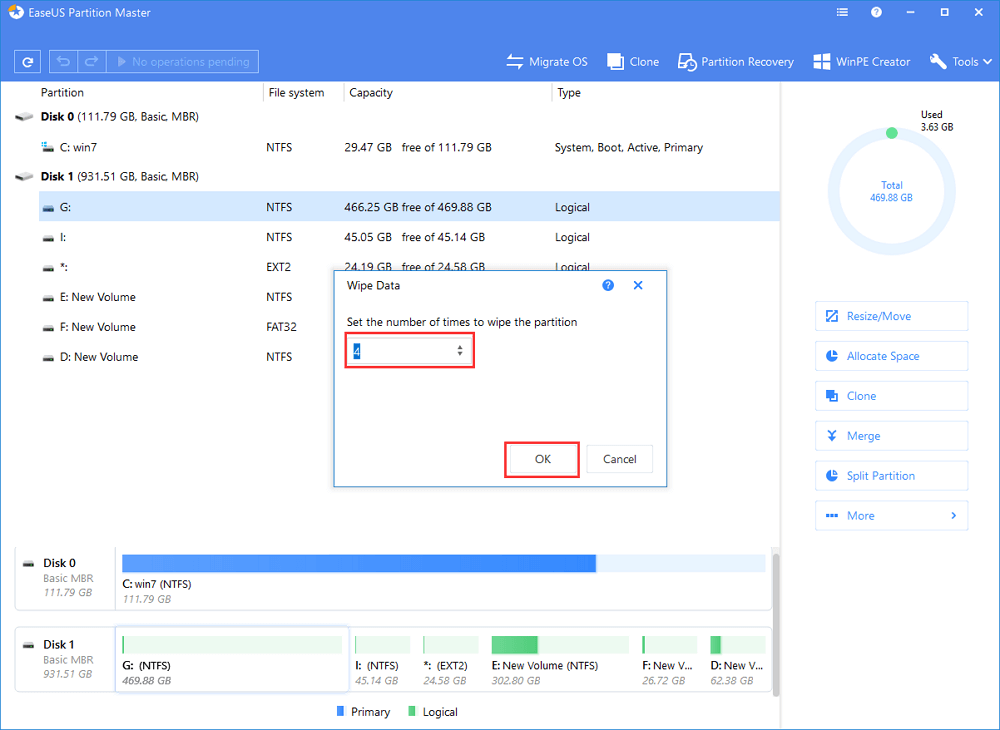 Step 3: Click the "Execute Operation" button in the top-right corner, check the changes, then click "Apply" to wipe the data on your partition.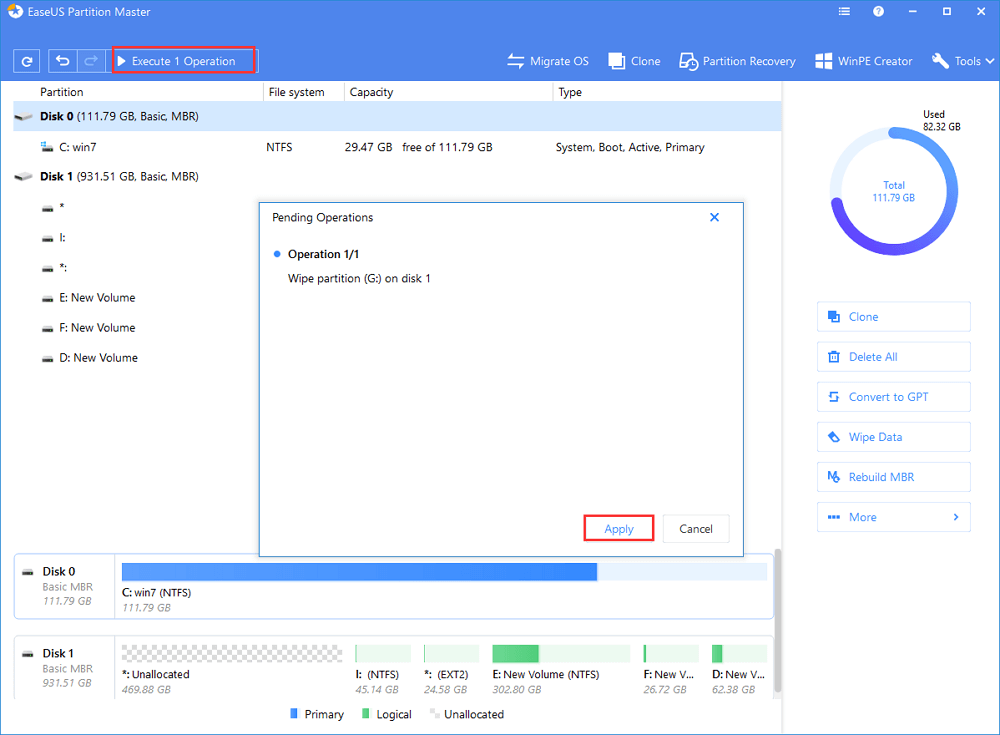 Option 2. Wipe a whole hard drive & OS in Windows XP
Speaking of erasing a hard drive with Windows OS completely, average computer users even don't have a clue. Due to the system partition protection feature in Windows OS, a standard way won't allow users to completely wipe a hard drive with Windows XP or other Windows OS. When you get stuck in this situation, continue with EaseUS Partition Master.
Step 1: Since you're deleting OS, you need to boot your computer from bootable EaseUS Partition Master by creating a WinPE environment.
Step 2: After you successfully boot your Windows XP computer from the WinPE environment, this time right-click on the disk 0,1 or 2 you're going to wipe instead of a single drive D or E, choose "Wipe Data" and follow the wizard to complete the operation.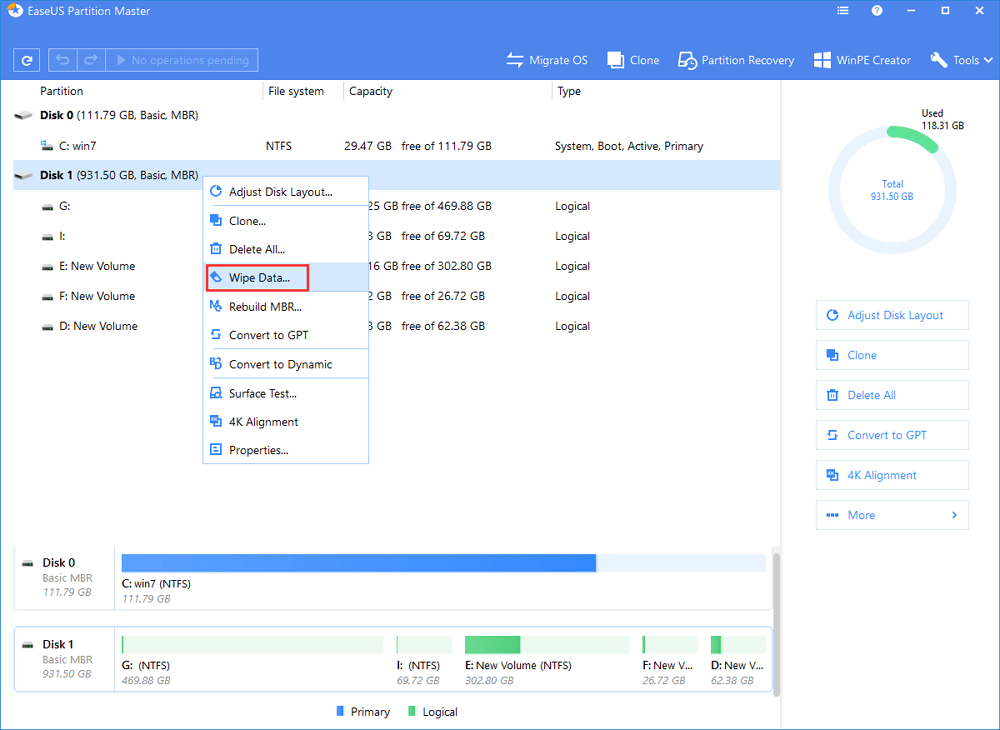 After the process ends, your Windows XP computer should not be able to boot anymore, and it's worry-free to send it to other places now.
100% of people found this article helpful.
Frequently Asked Questions
Why Choose EaseUS Partition Master?

"I've used Partition Master Professional many times to create, delete, format, move, rename, and resize partitions." —PCWorld

"Partitioning tools have come a very long since the days of complicated command line utilities and EASEUS Partition Master is one of the most advanced programs available." —TECH ADVISOR

"I love that the changes you make with EaseUS Partition Master Free aren't immediately applied to the disks. It makes it way easier to play out what will happen after you've made all the changes." —Lifewire
Will the "Migrate OS" feature transfer the Windows system files only or the whole C drive?

To ensure that the migrated system will boot normally, the Migrate OS feature will transfer all the files in the system and the boot partitions. Generally, the boot partition is the C drive so the transfer will include all the files in C.
Does EaseUS Partition Master license apply to multiple computers?

The license of Partition Master Professional and Server editions can be used on 1 computer only, while that for for the Technician and Unlimited editions can be used on multiple machines.
What is the difference between EaseUS Partition Master Trial version and the Free version?

Free is for home users only, with most basic functions available such as partition resize and clone. While trial can help you understand how this product works and test what a full license can do on a business or server OS machine.
Will it cause any data loss after resizing the partition in EaseUS Partition Master?

Generally, it will not cause any data loss or boot issue by resizing a partition. However, in order to protect your data, we suggest that you backup the partition before resizing, in case of any unexpected situations such as power outages, computer hardware failures, etc. You can use EaseUS Todo Backup to backup the partition and its trial version is fully functioned for 30 days.
What should I prepare before resizing the partition?

On the partition that is going to be operated, there might be some files being occupied by other programs. To ensure a successful operation, we suggest that you close all the unnecessary software before resizing that partition. Otherwise, EaseUS Partition Master will detect the partition being locked by the other software and require a reboot to resize the partition under boot mode.
About EaseUS Partition Master
All-round disk & partition management software for personal and commercial use. Let it manage your storage drive: resize, format, delete, clone, convert, etc.