Overview of unable to format Kingston pen drive issue
Sometimes, when you plug in your Kingston pen drive, you may get errors such as disk not formatted, pen drive not showing full capacity, pen drive not showing up on My Computer, etc. To fix these problems, you will be forced to format the disk. Here, Kingston pen drive with different storage capacities like 4, 16, 32, 64, 128 GB unable to format usually happens due to write protection or other unknown reasons with "Windows unable to complete the format" error message. Here are some common cases.
User stories
"I have 16 GB Kingston pen drive when I open it Windows give message pen drive is not formatted and when I formate it Windows gives the message "Windows unable to complete the format". How to fix?"
"Windows telling me my 32 GB Kingston pen drive needs to be formatted, I click ok, try to format and I get a message saying, the disk is write protected, can anyone help, please?"
How to fix unable to format Kingston 4/16/32/64/128 GB pen drive
It is annoying while you cannot format and repair Kingston pen drive when it goes wrong and stops working. Fortunately, there is third-party Kingston format utility can deal with this issue. Here EaseUS partition software is a nice choice. It can help you easily complete the Kingston pen drive format job while Disk Management tool or command prompt failed.
To format Kingston pen drive, follow these steps:
Step 1. Insert the Kingston pen drive into your Windows computer and launch EaseUS partition tool.
Step 2. Right-click the pen drive and choose "Format partition".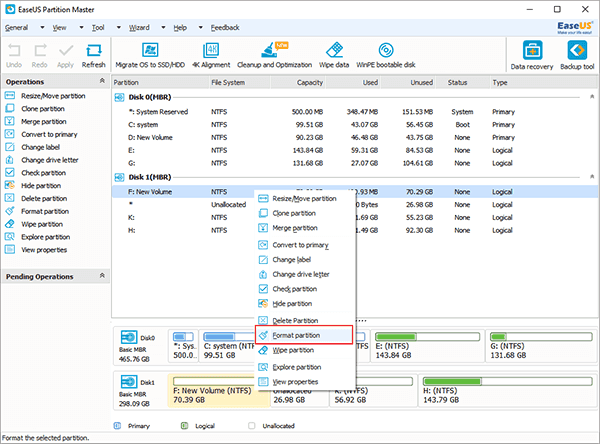 Step 3. A mini window pops out, on which you can edit the partition label and choose a file system. Here you can choose FAT32, NTFS, EXT2 or EXT3 and click "OK".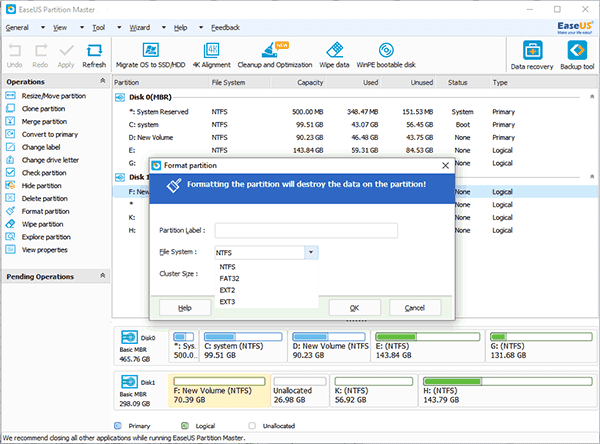 Step 4. Click "Apply" to format your Kingston pen drive with ease.
Note: If your Kingston pen drive is write protected, you should try to remove the write protection using Kingston write protected removal tool before fixing the unable to format error with EaseUS partition software.