
About the Author
Hot Topics in 2022
Everything to Learn About SD Card Copier Software
| Workable Solutions | Step-by-step Troubleshooting |
| --- | --- |
| #1. EaseUS Partition Master | Step 1. Clone external storage device (SD/USB/external hard drive); Step 2. Keep all changes...Full steps |
| #2. EaseUS Disk Copy | Step 1. Download, install and run EaseUS Disk Copy on your PC. Click Disk Mode and select...Full steps |
| #3. Clonezilla | Step 1: Clonezilla is available for download via the Clonezilla download page. Clonezilla is now...Full steps |
| #4. Macrium Reflect | Step 1: Open the " Create a Backup" tab. Select the disk you wish to clone in the main application...Full steps |
| #5. Active @Disk Image | Step 1: Select a destination disk after selecting a source disk to copy; Step 2: Select a target disk...Full steps |
Introduction
Clone-making software for hard drives creates an accurate replica of the source hard disk. System administrators use cloning software to transfer data from one personal computer to another. In addition, disk cloning applications make upgrading solid-state drives (SSDs) quicker and simpler.
A local backup of hard drives may also be created with the help of an application that clones SD Cards. Additionally, you may use the program to make a CD or DVD drive or a bootable USB drive. Anyway, without talking much, let's get straight into the business and find you one excellent SD Card Copier!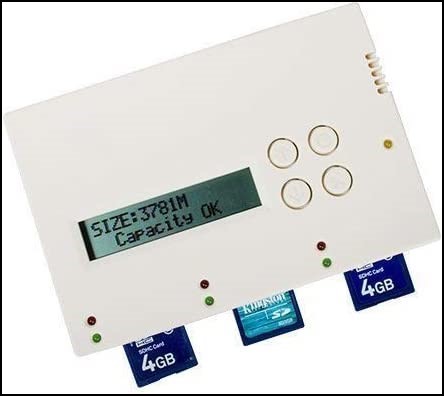 What Are the Benefits of Using an Sd Card Copier?
The following are some of the benefits of using an SD Card Copier
Extra data may be stored on an SD card in mobile devices such as cameras, smartphones, and music players.
Upgrade SD Card to a Larger One
Most consumer electronics now use SD cards as their primary storage medium. A bigger SD card may be an option if the original device's SD card capacity is inadequate for your needs.
Duplicate Between SD Cards on Any Other Different Computers
It's also possible to utilize a portable memory card copier to copy between SD cards on any other computer, which is quite useful. You don't have to reinstall the program if you have built a portable version.
How Can I Find the Best SD Card Copier for My Needs?
Because there are so many different cloning programs accessible online, picking the right one may be difficult. We have searched the internet thoroughly and selected the top disk cloning applications that provide an excellent return on investment to save you some time.
Tips Before Cloning:
If you want to ensure that your Windows computer can recognize the SD card, you should plug it into your computer.
Backup essential data on SD cards.
Get the program by downloading it.
#1. EaseUS Partition Master
It is essential that a disk cloning application be both simple to use and completely secure. If the original hard drive dies, the cloned device may be used to recover all of the data. There are several methods for cloning either a single partition or the full disk with EaseUS Partition Master, even if your destination drive is smaller than the source. For instance, a 1TB hard drive may be cloned to a 512GB SSD.
The basic goal of EaseUS Partition Master is to copy the contents of an existing drive onto a second disk. This may be accomplished in one of two ways: either via a disk imaging process that copies the whole disk or manually. With EaseUS Partition Master, you don't have to be a computer expert in using it. It simplifies the process of improving system performance by optimizing your hard drive.
 Notice:

To clone SD/USB/external hard drive with data to a new device, connect the external storage device that you want to clone and a new removable device (SD/USB/external hard drive) with bigger capacity to your PC in advance.
Step 1. Clone external storage device (SD/USB/external hard drive)
1. Click "Clone" tab. Choose "Clone Data Disk" option and click "Next" to continue.
2. Choose a source disk and select a new device (SD/USB/external hard drive/hard drive) as target disk, click "Next".
3. Click "Yes" to confirm the warning message.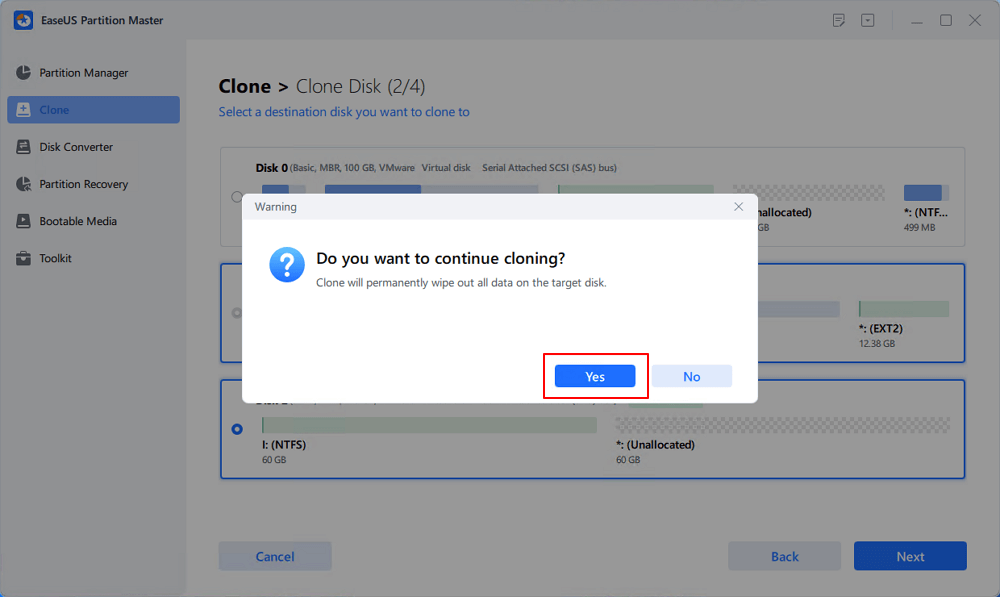 Step 2. Keep all changes
1. Check the source disk layout (you can edit the disk by clicking "Autofit the disk", "Clone as the source").
2. Click the "Start" to start cloning.
3. Wait for the cloning process complete.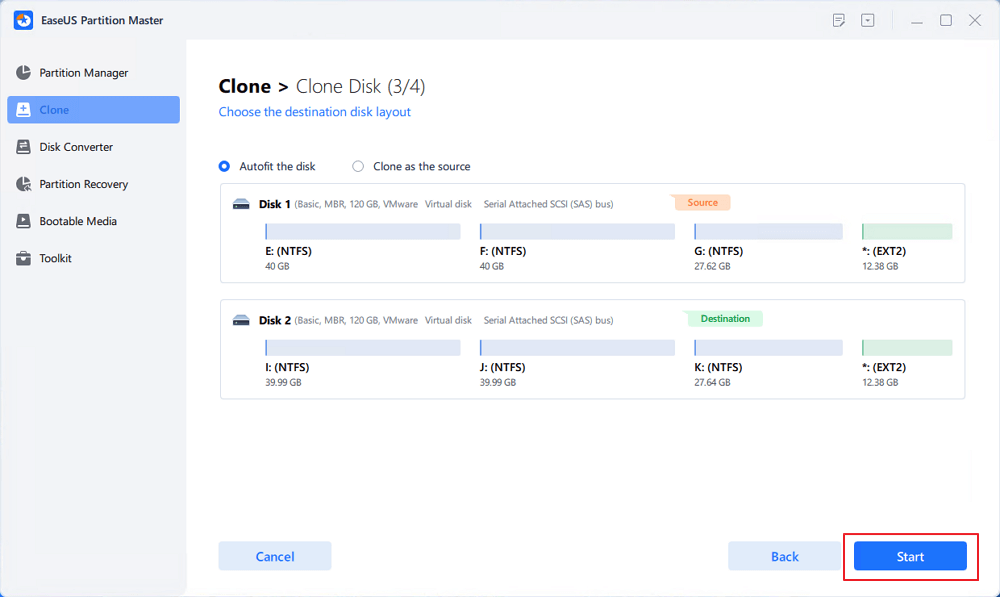 You can also find a solution when the item can't be copied because it is too large for the volume's format in this link.
#2. EaseUS Disk Copy
Disk Copy is a secure and easy-to-use tool for cloning hard drives. It has whole disk and partition level cloning, automatic recognition of freshly inserted disks, the ability to resize and re-arrange partitions during the cloning process, and support for SSD disks, among other features.
The primary purpose of EaseUS Disk Copy is to copy an existing drive to a secondary disk, which may be done either through a disk imaging process that replicates the whole disk on a 1:1 ratio or by copying just chosen partitions as needed.
Note: Please activate EaseUS Disk Copy for a smooth disk copying or cloning process.
Step 1. Download, install and run EaseUS Disk Copy on your PC.
Click Disk Mode and select the source disk that you want to copy or clone. Click Next to continue.
Note: The destination disk should be at least the same big or even larger than the source disk if you want to copy or clone the source disk sector by sector.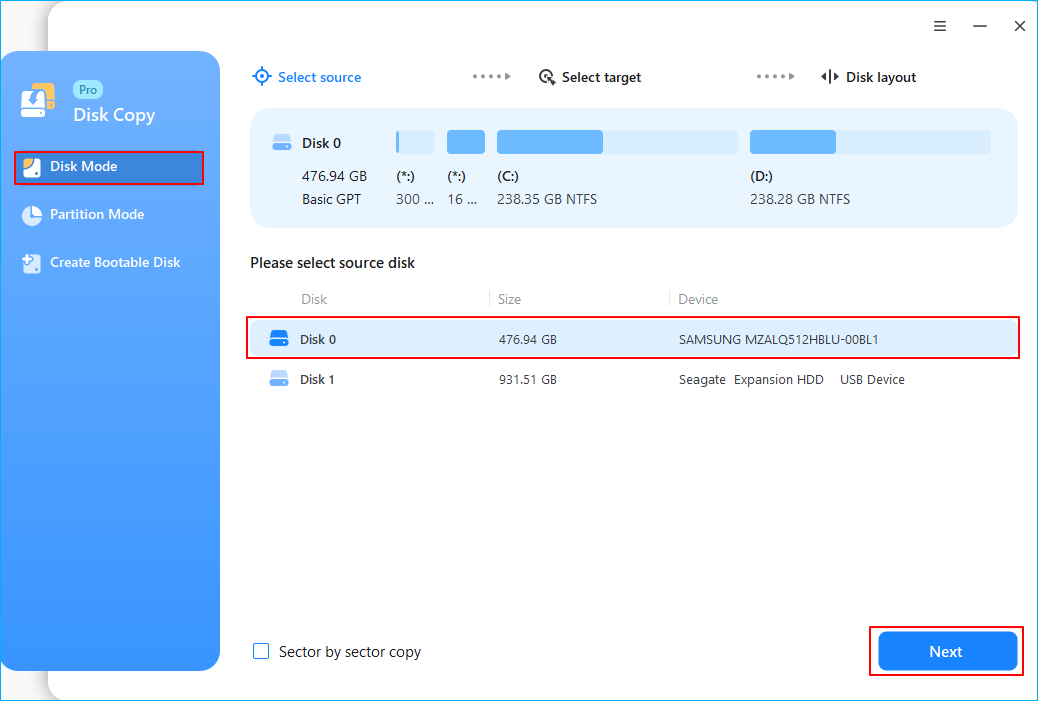 Step 2. Select the destination disk where you want to clone/copy the old disk and click Next to continue.
Click OK to confirm if the program asks to erase data on the destination disk.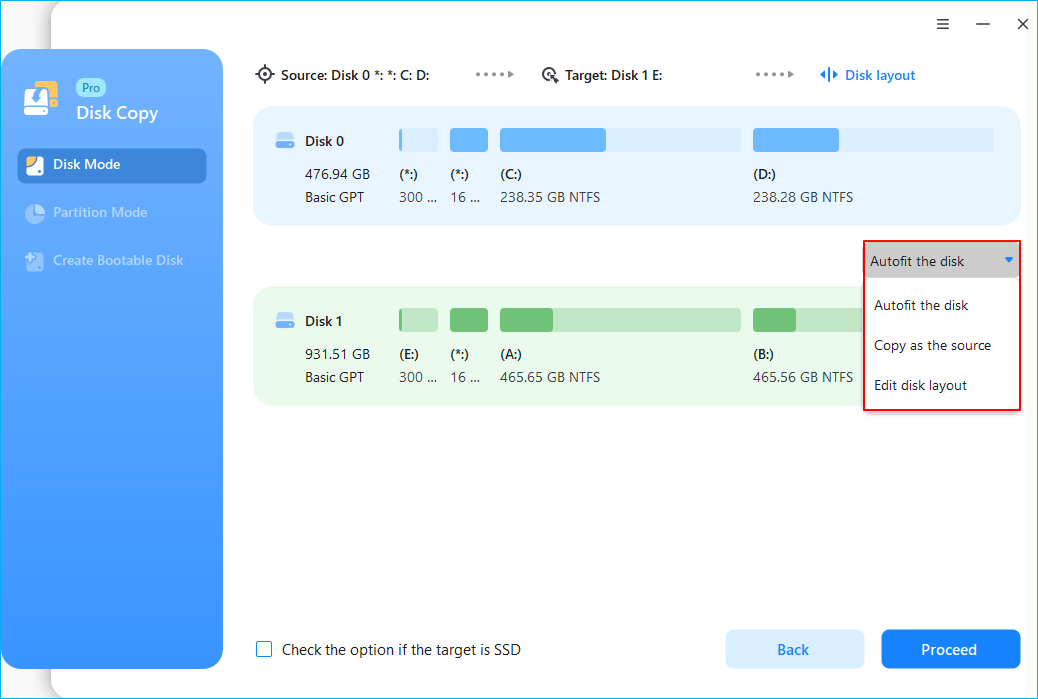 Step 3. Check and edit the disk layout as Autofit the disk, Copy as the source or Edit disk layout.
Autofit the disk is recommended.
Copy as the source option will copy/clone the same layout of partitions on your source disk to the destination disk.
Edit disk layout allows you to manually resize or move partition layout on the destination disk.
If your destination disk is an SSD drive, do remember to tick Check the option if the target is SSD.
Click Proceed to start the disk cloning or disk copying process now.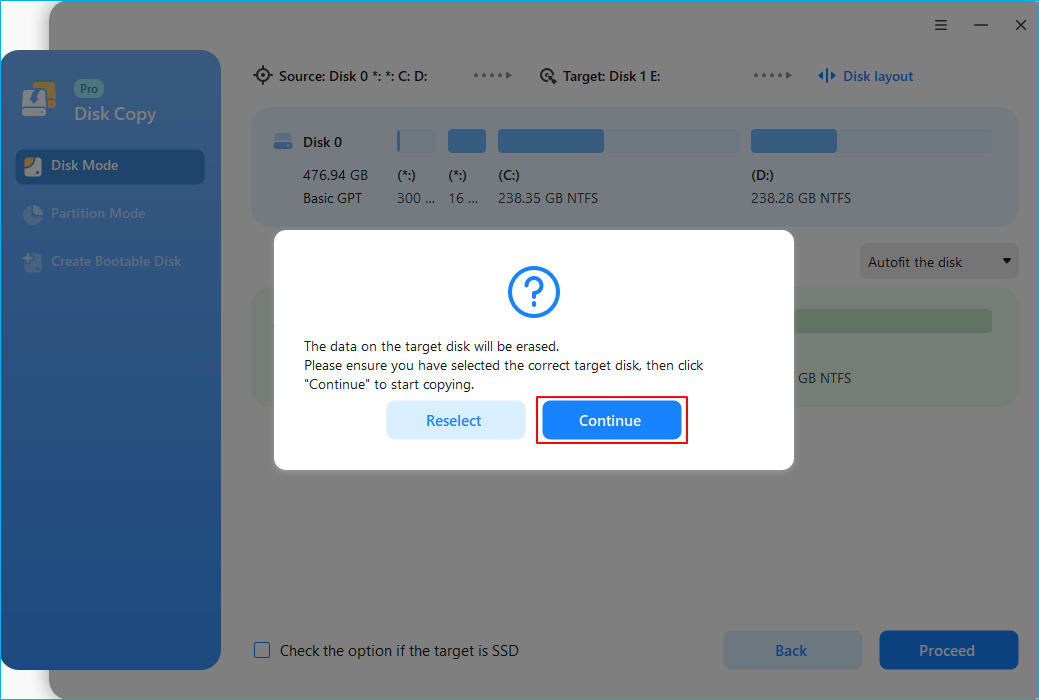 #3. Clonezilla
Free and open-source hard disk cloning and imaging software is Clonezilla. Few free copying software solutions operate on disks with faulty sectors, which is one of them.
System administrators may use this program to do bare-bones backups and full system deployments. It can clone more than 40 systems at once. Most reviews agree that the program enables quick disk and file copying and backup.
Clonezilla's disk-to-disk cloning capability is covered in detail in the next section. Please ensure that the destination partition is the same size or greater than the source partition before proceeding.
Step 1: Clonezilla is available for download via the Clonezilla download page. Clonezilla is now bootable from the new hard drive, thanks to the installation of the Clonezilla live image.
Note: Make sure you have a bootable partition on your hard drive before installing. A bootable CD or USB with Clonezilla live may also be used.
Step 2: Clonezilla may be booted from the new hard drive that you've just purchased.
Step 3: In the boot menu, choose "Other modes of Clonezilla live". Choose "Clonezilla live (TO RAM, Boot media may be deleted later)" as the boot option. All the Clonezilla live files on the SSD will be transferred to RAM, allowing the SSD partition to be freed.
Step 4: Select the language.
Step 5: Choose keyboard layout.
Step 6: Choosing "Start Clonezilla > Device-device work straight from a disk or partition to a disk or partition > Beginner mode: Accept the default choices" will get you started.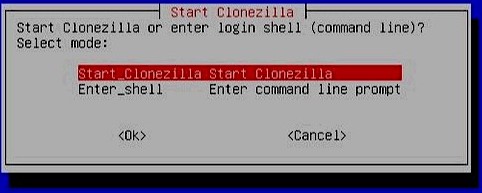 Step 7: "Disk-to-local-disk" is the option you should choose.
Step 8: Select a disk to copy to.
Step 9: Checking and fixing the source file system is an option, or you may choose not to do so.
Step 10: If you want to copy the boot loader to the target disk, Clonezilla will ask you for approval numerous times. It will also ask for consent if you want to copy data from the source drive.
Step 11: Your computer will shut down if you choose "Poweroff". It's now time to put your brand-new hard disk to good use.

#4. Macrium Reflect
Although there are other alternatives for cloning and backup software, Macrium Reflect includes a free version that is ideal for any inexperienced users who need to create a duplicate of their hard drives. The first step is to install Macrium Reflect on your computer.
Step 1: Open the " Create a Backup" tab. Select the disk you wish to clone in the main application window and Click "Clone this disk".
Step 2: Click "Select a disk to clone to…" to select a destination for the clone. 
Individual partitions can be selected and deleted from the destination disk, or you can select "Erase Disk" to delete all the partitions from the destination disk. 
Step 3: Individual partitions can be dragged from the source disk to the destination. The partitions can be dragged to the destination in any order. 
Step 4: Alternatively, you can select "Copy Partitions" and then select "Exact partition offset and length" or "Shrink or extend to fill the target disk". 
Selecting "Exact partition offset and length" will copy the selected partitions from the source disk to the destination with the exact same partition offset and length. This means that the partitions will be copied to the same location on the destination disk and they will be the same size.
Step 5: The last partition can be modified to fill the unpartitioned space if necessary. Once the partitions have been dragged to the destination, the partition properties can be modified to extend or shrink the partition. 
Step 6: Once you are satisfied with the partitions that you have copied to the destination, click "Next". The second page of the clone wizard can be used to create a schedule for the clone. If a schedule is created, the clone will be performed automatically without further user interaction when the scheduled time is reached. 
Step 7: The final page of the clone wizard is a summary of the clone that will be performed. This gives you a chance to check the options that you have specified before the clone starts. You can use the "Back" button to navigate back to the previous pages of the wizard to make changes. When you are happy with the options that you have specified, select "Finish". 
A window will be displayed, with options to "Run this backup now" or "Save as a Backup Definition File". Saving the clone as a backup definition file, enables the same clone to be easily run again in the future. If you choose not to run the clone now, you can run it at any time in the future using the definition file.
Note: Cloning is a destructive process. Any partitions that you have specified to delete in the "Clone" wizard, will be deleted from the destination disk when the clone is performed. Any data on these partitions will be lost. Care should be taken when performing the clone to ensure that the correct destination disk has been selected, and that any data you want to keep has been moved from the partitions.
#5. Active @Disk Image
To migrate operating systems to various storage media, Active @Disk Drive is an excellent free disk partition program for Windows operating systems. Hardware RAID, Dynamic disk, and HDD/SSD/USB flash drives are supported devices. User-created divisions may be moved around and resized.
Step 1: Select a destination disk after selecting a source disk to copy.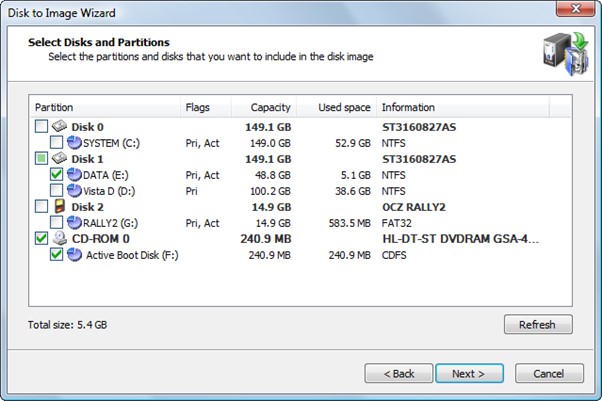 Step 2: Select a target disk on the "Selecting destination disk" page to receive data copied from the specified disk. Select a disk large enough to accommodate all of the data from your source disk. Selecting a disk that is too tiny prevents you from pressing the "Next" button.
Step 3: To lock the target drive for exclusive access is attempted after clicking Next. An error dialog box shows if another program or the operating system is already utilizing the target disk.
Step 4: To proceed, click "OK" after deciding on a solution.
Note: As a result of copying all partitions from one drive to another when operating in Disk Mode, all partitions and data on the target disk must be wiped. Your last warning is on this page.
Step 5: To continue, click "Next". After selecting "Yes", remove all partitions on the chosen drive.
Note: Pay close attention to the fine print on this page. Before continuing, click "Back" to make any necessary adjustments to the information on this page. You may now begin copying the disk by pressing the "Next" button if everything is right.
There is a lot of waiting involved in copying a complete disk. The progress meter may be seen on the Progress page.
Step 6: Click "Cancel" at any moment to end the current state of affairs.
Conclusion
EaseUS Partition Master is a great SD card cloning tool which aids you to clone the SD cards effortlessly. More complex functions, including assigning free space, dividing partitions, restoring missing partitions, and so forth, are available in EaseUS Partition Master. 
About the Author
Daisy is the Senior editor of the writing team for EaseUS. She has been working in EaseUS for over ten years, starting from a technical writer to a team leader of the content group. As a professional author for over 10 years, she writes a lot to help people overcome their tech troubles.

Roxanne is one of the main contributors to EaseUS and has created multiple posts on digital devices like PCs, Mobile phones, tablets, Mac, etc. She loves to share ideas with people of the same interest.
Product Reviews
I love that the changes you make with EaseUS Partition Master Free aren't immediately applied to the disks. It makes it way easier to play out what will happen after you've made all the changes. I also think the overall look and feel of EaseUS Partition Master Free makes whatever you're doing with your computer's partitions easy.

 Read More

Partition Master Free can Resize, Move, Merge, Migrate, and Copy disks or partitions; convert to local, change label, defragment, check and explore partition; and much more. A premium upgrade adds free tech support and the ability to resize dynamic volumes.

 Read More

It won't hot image your drives or align them, but since it's coupled with a partition manager, it allows you do perform many tasks at once, instead of just cloning drives. You can move partitions around, resize them, defragment, and more, along with the other tools you'd expect from a cloning tool.

 Read More