PAGE CONTENT:
Part 1. Solutions to Solve Computer Very Slow and Takes a Long Time to Load Games
Part 2. Speed up Your Computer in Every Way
Does your computer take almost half an hour or hours to open your games? Are you frustrated by the slow boot problem on Windows 10/8/7? According to a survey, lots of users are struggling with this problem, especially laptop users. Why is the computer running so slow when users are trying to open the games or other programs? How to make the computer faster for playing games and fix the "games take forever to load pc" issue.
Relax! You'll learn the easy and helpful methods to fix the problem here. In this post, we will see what you could do to try and troubleshoot the problem where your Windows 10/8/7 games take too long to load and start. This post will be divided into two parts. First, troubleshoot the "computer slow to open games" issue and then make your computer run faster in every way.
Part 1. Solutions to Solve Computer Very Slow and Takes a Long Time to Load Games
It is indeed very frustrating when you try to open your games or other programs and the computer takes a very long time to load them. The first thing you can do is to close all programs running in the background.
Method 1. Close Programs Running in the Background
reboot the PC
Once you are back to Windows, press ctrl-alt-del.
From the "Close Program" window that opens, the only two items that should appear in this list are Explorer and Systray.
To temporarily disable all other programs, highlight the first item in the list and click end task.
Continue this process until you have closed all programs except Explorer and Systray.
Start the game again.
Method 2. Run Defrag
At the start search for Disk Defragmenter
Select Disk Defragmenter
Select the hard drive you wish to defrag and click Optimize.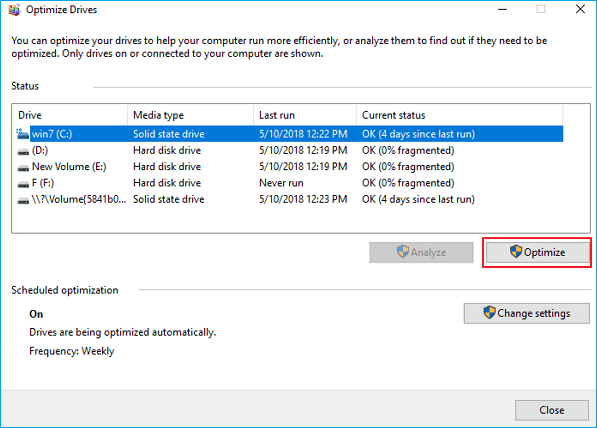 Method 3. Remove Files from the Temp Directory
Reboot the PC
Open This PC. Double-click C:\ and double-click the Windows Folder, then find and double-click the TEMP folder.
Remove all files from this folder.
Restart the Computer. Empty the Recycle bin and run the installation again.
Part 2. Speed up Your Computer in Every Way
If your computer is still running very slow to launch games or open games, it is a good idea to speed up your computer to solve this problem. We have two ways to speed up your slow computer. One is to clean Up junk files in Windows 10/8/7, and the other is to increase C drive space.
Solution 1. Clean Up junk files in Windows 10/8/7
Any cleanup program can help you delete junk and large files.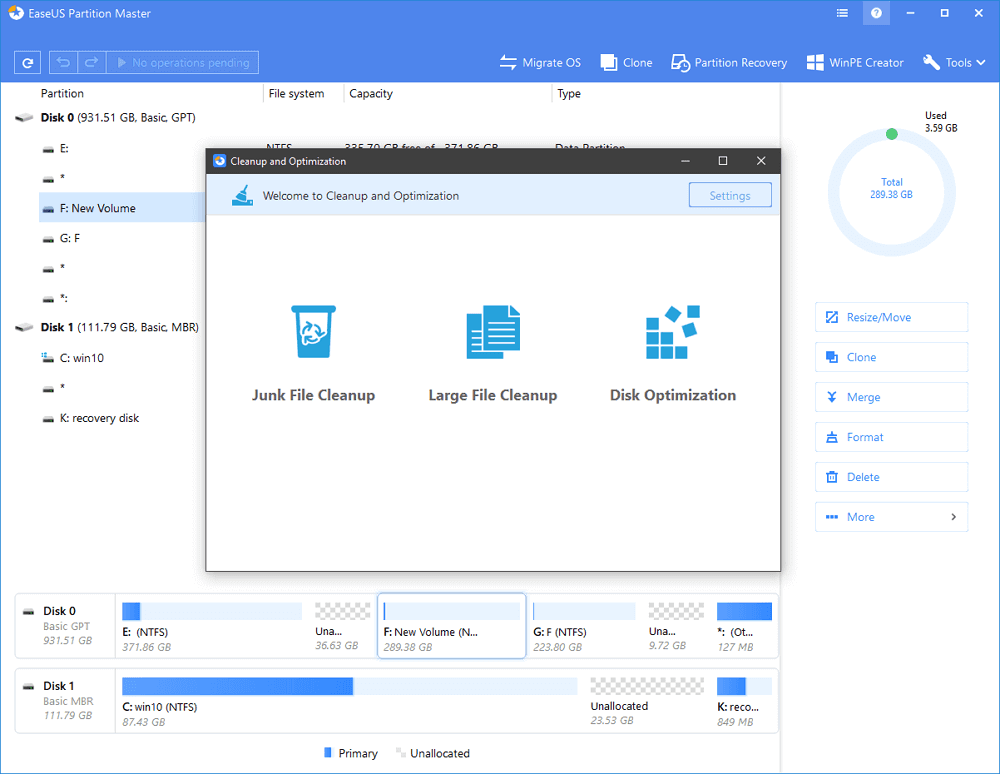 Solution 2. Increase C drive space
Most of us installed our programs on C drive, and C drive always seems out of space. Increasing C drive space and speed up your Windows seems urgent. Here we suggest partition freeware help you. Just follow the easy steps.
Step 1: Launch EaseUS Partition Master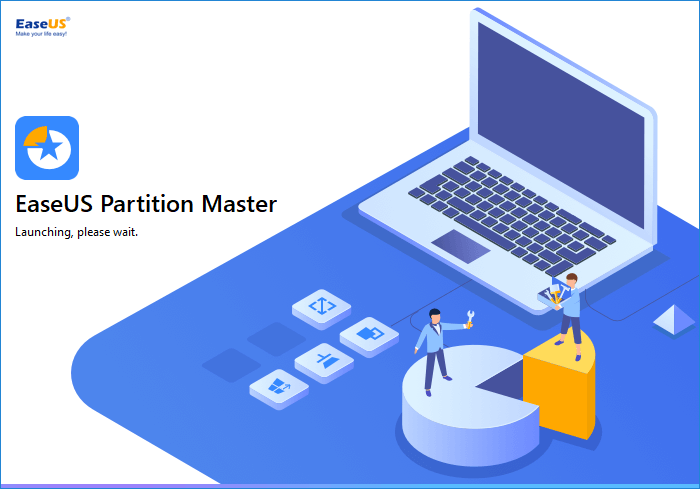 Step 2: Increase C drive space
1. Shrink partition to free up unallocated space:
Right-click on a partition next to the C: drive and select "Resize/Move".
Drag either end of the partition to shrink and leave unallocated space behind the system C: drive and click "OK".
2. Right-click on C: drive and select "Resize/Move".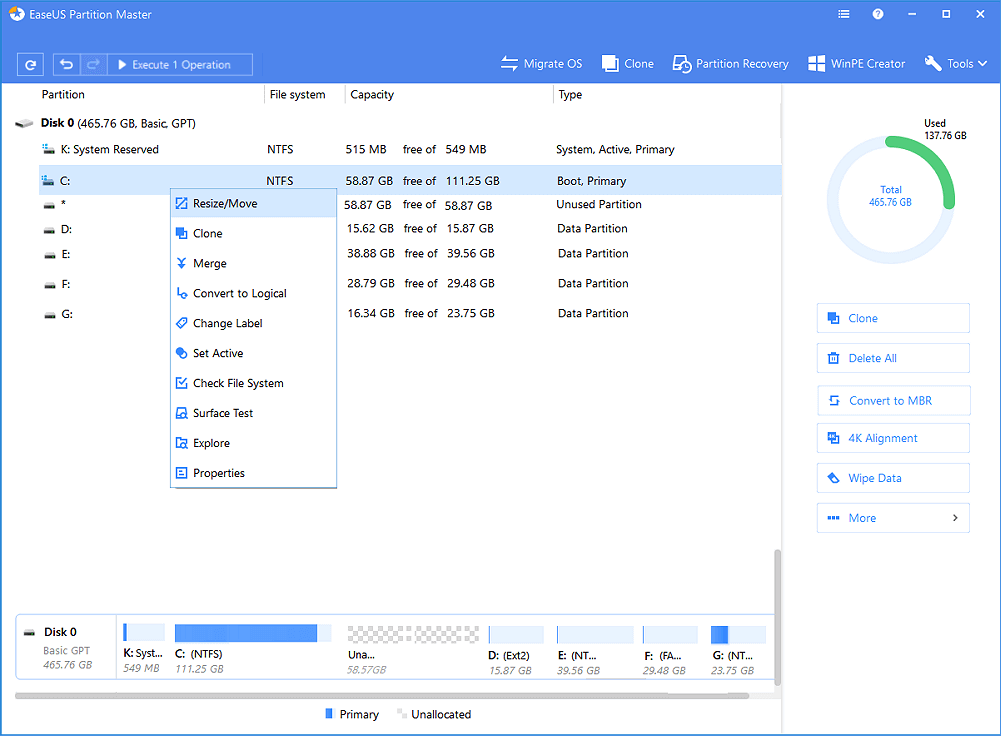 3. Drag the system partition end into unallocated space so to add space to C: drive.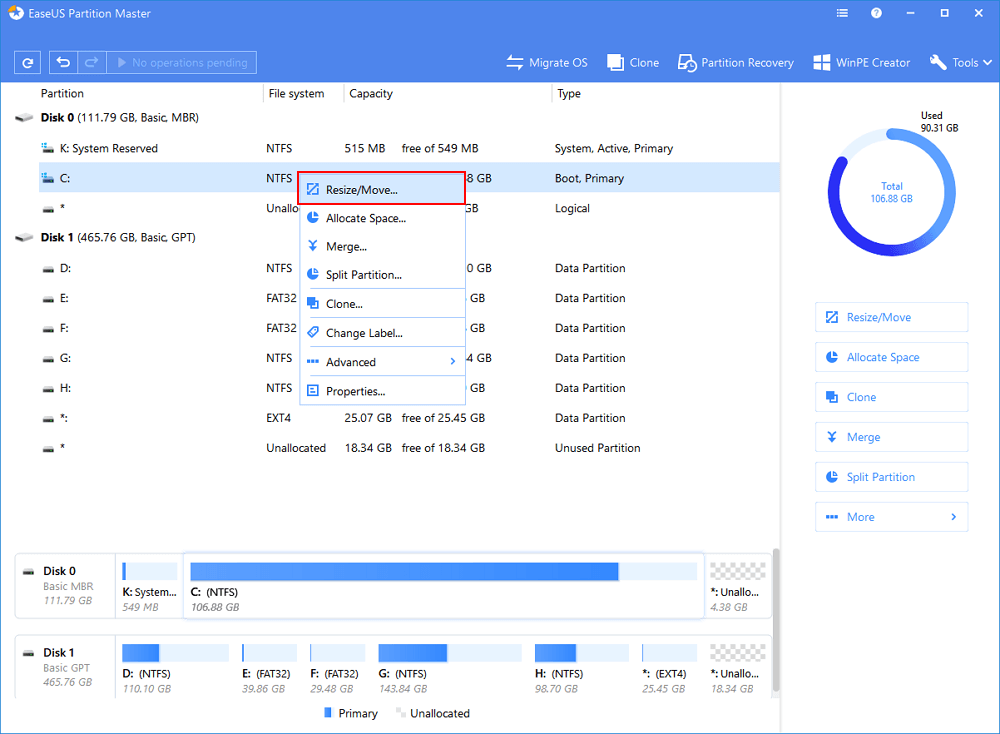 Step 3: Keep all changes to extend C: drive
100% of people found this article helpful.
Frequently Asked Questions
Why Choose EaseUS Partition Master?

"I've used Partition Master Professional many times to create, delete, format, move, rename, and resize partitions." —PCWorld

"Partitioning tools have come a very long since the days of complicated command line utilities and EASEUS Partition Master is one of the most advanced programs available." —TECH ADVISOR

"I love that the changes you make with EaseUS Partition Master Free aren't immediately applied to the disks. It makes it way easier to play out what will happen after you've made all the changes." —Lifewire
Will the "Migrate OS" feature transfer the Windows system files only or the whole C drive?

To ensure that the migrated system will boot normally, the Migrate OS feature will transfer all the files in the system and the boot partitions. Generally, the boot partition is the C drive so the transfer will include all the files in C.
Does EaseUS Partition Master license apply to multiple computers?

The license of Partition Master Professional and Server editions can be used on 1 computer only, while that for for the Technician and Unlimited editions can be used on multiple machines.
What is the difference between EaseUS Partition Master Trial version and the Free version?

Free is for home users only, with most basic functions available such as partition resize and clone. While trial can help you understand how this product works and test what a full license can do on a business or server OS machine.
Will it cause any data loss after resizing the partition in EaseUS Partition Master?

Generally, it will not cause any data loss or boot issue by resizing a partition. However, in order to protect your data, we suggest that you backup the partition before resizing, in case of any unexpected situations such as power outages, computer hardware failures, etc. You can use EaseUS Todo Backup to backup the partition and its trial version is fully functioned for 30 days.
What should I prepare before resizing the partition?

On the partition that is going to be operated, there might be some files being occupied by other programs. To ensure a successful operation, we suggest that you close all the unnecessary software before resizing that partition. Otherwise, EaseUS Partition Master will detect the partition being locked by the other software and require a reboot to resize the partition under boot mode.
About EaseUS Partition Master
All-round disk & partition management software for personal and commercial use. Let it manage your storage drive: resize, format, delete, clone, convert, etc.