Phone won't mount SD card
"My LG phone is not mounting my SD card. I've tried everything I can to fix it, but the attempt is in vain. If reboot the phone and keep ejecting and then inserting the SD card into the phone don't help, what should I do exactly to make the phone mount SD card properly?"
What does it mean when your SD card is mounted or unmounted?
In case you are getting confused when receive an error that says SD card won't mount on a phone, camera or other digital devices which use an external memory card, you can make it clear only to know the main difference of the two items.
Mounted: the card is integrated to your computer, phone or whatever and ready to use.
Unmounted: the card isn't integrated and can safely be removed, without causing damage.
How to Fix SD Card Won't Mount Error?
As you can tell, to make a phone or a certain device to read and write data on a memory card, it has to be mounted. Normally, when you insert a card, most devices will automatically mount it. However, sometimes it may fail, so you have to choose to manually mount the SD card or fix the SD card won't mount error with other solutions.
Here, we selected the 2 most applied and useful methods to fix SD card won't mount problem. Please go on to learn the details.
Solution 1. Fix SD card won't mount on an Android smartphone
Prepare your micro SD card that has the mounting problem as well as an Android phone. Let's start.
Step 1. Power off your Android smartphone. Now insert the SD card into the SD card slot on the device.
Step 2. Power on the device.
Step 3. Tapping on "Settings" from the main menu and then click "SD and Phone Storage".
Step 4. Click on "Reformat". After a few seconds, the format process should accomplish. If it takes a longer time than expected, it's better to restart the phone once.
Step 5. On the same screen where you format SD card, tap on "Mount SD Card". There is a chance that the "Mount SD Card" option is unavailable, just select "Unmount SD Card" first. Wait for the card to unmount, and then tap on "Mount SD Card" again.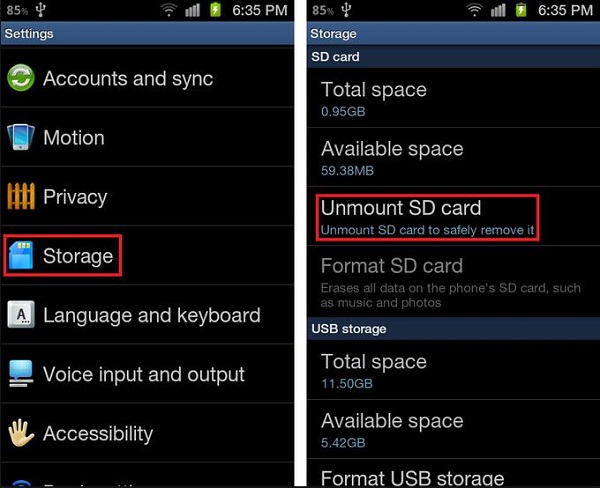 Solution 2. Fix SD card won't mount on a Windows PC
In most cases when an SD card is unable to be mounted on a phone, besides the poor connection and some Android software issues, it's probably that the SD card is corrupted. And, the other way to solve the mount failure problem of a micro SD card is using a third-party free partition software. It's more advanced and efficient, however, with a little risk.
Why is that? we're going to use the recommended micro SD card repair tool to format the corrupted SD card that won't mount. Formatting will erase everything on the card, so make sure you had saved a copy of the SD card contents.
Step 1. Insert SD card into a computer (Windows 10/8.1/8/7/XP/Vista are all supported) and launch EaseUS Partition Master Free.
Step 2. Right-click the SD card and choose "Format partition".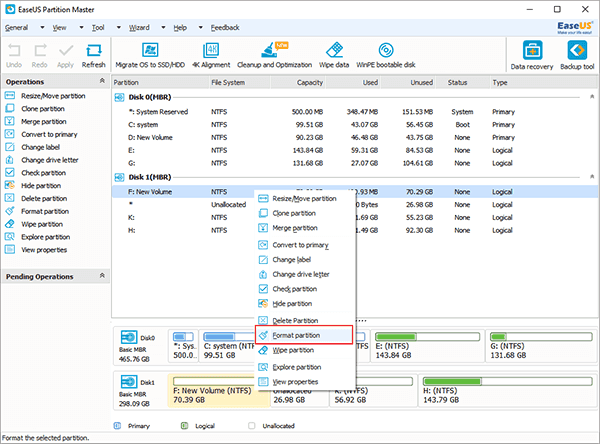 Step 3. A mini window pops out, on which you can edit the partition label and choose a file system.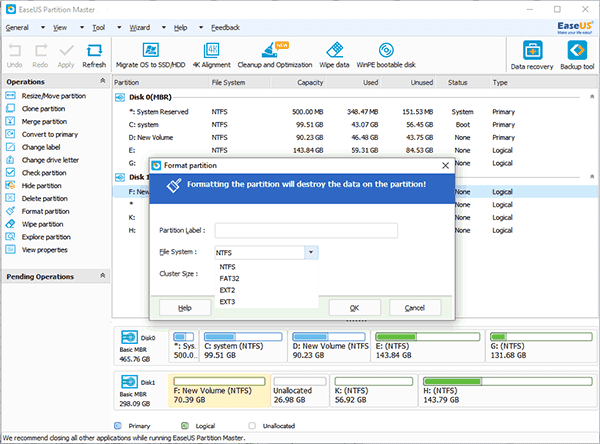 After formatting the memory card, now you can put it back to the Android phone. Now the SD card should be mounted by the phone automatically. If not, repeat the first method to manually mount it.