
About the Author
Hot Topics in 2022
Slow Boot Time! SSD Taking Long Time to Boot in Windows 11/10
Top 6 Ways to Fix Windows 11/10 SSD Slow Boot Issues 
Will SSD take 30 seconds to 2 minutes to boot in Windows 10? It seems that you got an SSD slow boot problem. You can try any one of these solutions from our comprehensive solutions to SSD taking long time to boot.
| Workable Solutions | Step-by-step Troubleshooting |
| --- | --- |
| 1. Disable Some Services | Type task manager in the Windows search bar and select "Task Manager"...Full steps |
| 2. Turn on Fast Startup | Press Windows + X or right-click your Start menu and select "Power Options"...Full steps |
| 3. Use SSD 4K Alignment | Install and launch EaseUS Partition Master on your Windows computer. Select the SSD...Full steps |
| 4. Try System Cleanup | Download and install EaseUS CleanGenius. Select "Cleanup" on the main screen...Full steps |
| 5. Stop Bloatware/Services | Press and hold "Ctrl + Shift + Del" keys simultaneously to invoke Task Manager...Full steps |
| 6. Increase Virtual Memory | Press Windows Key + R and type sysdm.cpl in the Run dialog box and click "OK"...Full steps |
Overview of Slow SSD Boot Up Time in Windows 11/10
Speaking of making your Windows 10 computer boot with lightning speed, you can consider installing Windows 10 on an SSD. For a long time, SSD drives solidly trounce HDDs in boot performance. Usually, the normal booting time of an SSD is 20 seconds around, while HDD 45 seconds. But it's not always an SSD that wins. Some people say that even they set up SSD as the boot drive, it's still taking ages to boot Windows 10, like 30 seconds to 2 minutes long!
You got an SSD slow boot problem, and it's time to improve. We keep trying to clarify each troubleshooting for its similar scenario by dividing it into two parts, so take your time to make full use of all the feasible suggestions.
Fix 1. Disable Unnecessary Services on Startup to Speed Up SSD
If your computer and laptop are running lots of services, your SSD could take a long time to boot. Besides, you may encounter the 100 disk usage error. To improve the performance of your SSD boot time, you can turn off unnecessary services first.
Step 1. Type task manager in the Windows search bar and select "Task Manager".
Step 2. In the "Startup" tab, choose the process to be disabled.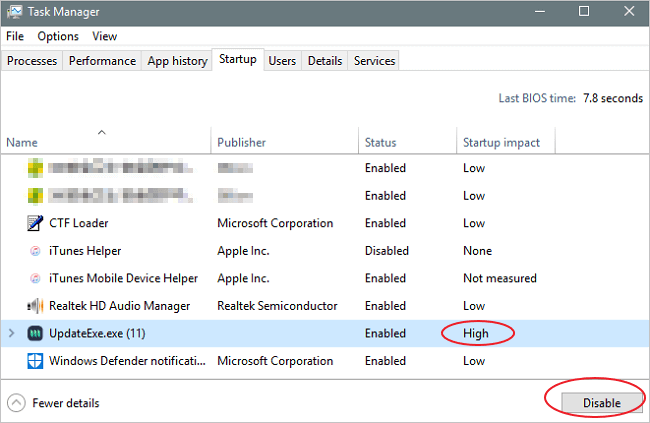 Fix 2. Solve SSD Slow Boot Time by Turning on Fast Startup
The Fast Startup in Windows 10 (called Fast Boot in Windows 8) works like the hybrid sleep mode of the previous Windows versions. It makes your computer boot up even faster, saving valuable seconds every time you turn your machine on.
Steps to Turn on Fast Startup:
Step 1. Press Windows + X or right-click your Start menu and select "Power Options". In this Window, select "Additional power settings".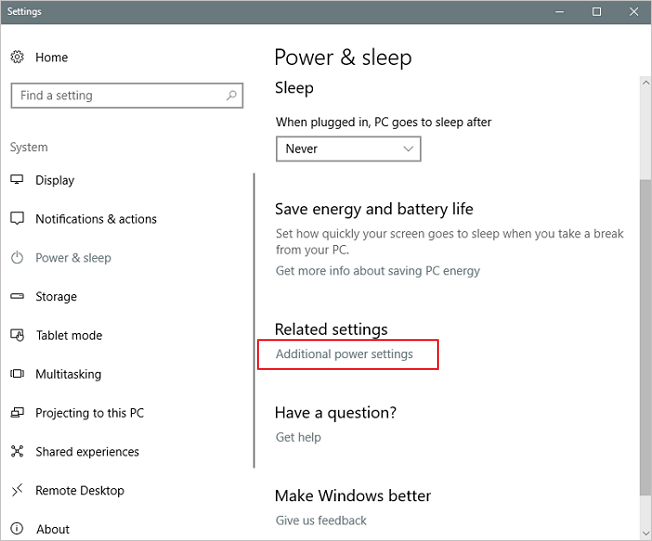 Step 2. Select "Choose what the power buttons do" from the menu on the left.
Step 3. Click "Change settings that are currently unavailable". Then, make sure that "turn on fast startup (recommended)" is checked. Click "Save changes".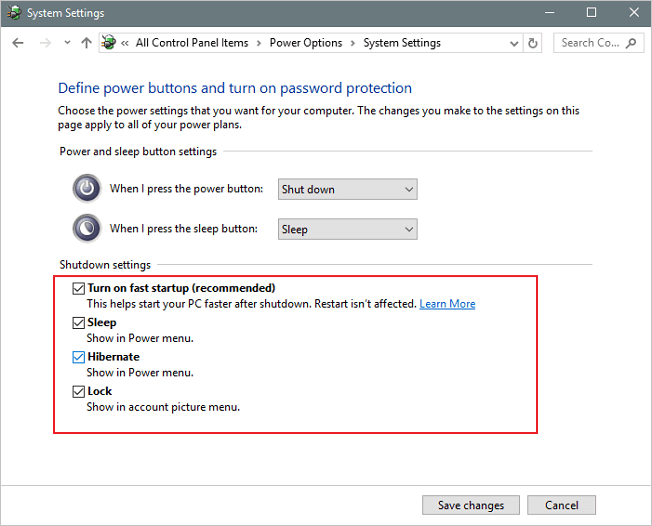 If this feature has been enabled, you can disable it to see if this works.
Fix 3. Manage Your SSD by 4K Alignment to Fix Slow Boot-Time 
It's for the scenario that you set up a new SSD boot drive on Windows 11/10, by a fresh install or HDD to SSD clone. Perhaps the SSD performance is not fully activated, and you need EaseUS free partition manager. It provides you with the 4K alignment function to align the 4K sectors on your SSD. By aligning the SSD partitions correctly, the SSD can get its optimal performance.
Besides 4K alignment, this software also offers these functions:
Clone a disk to a new one
Resize HDD or SSD partition to the wanted partition size
Merge partitions to gain larger space
Create, format, or delete a partition easily
Download EaseUS Partition Manager Free on your Windows 11/10 computer and performance 4K alignment.
Step 1. Go to "Toolkit" and choose "4K Alignment".
Step 2. Select the disk you want to align. Click the "Start" button.
Fix 4. Perform a System Cleanup on SSD 
Usually, an SSD is used as a system disk. The ideal way to make use of an SSD is not to put many large personal data files or install programs on it except for the critical system files because the massive data will affect its read/write speed. If you did the wrong way, try to clear some useless items and lose some weight on the drive.
Steps to clean up system junks:
Step 1. Download and install EaseUS Partition Master Suite.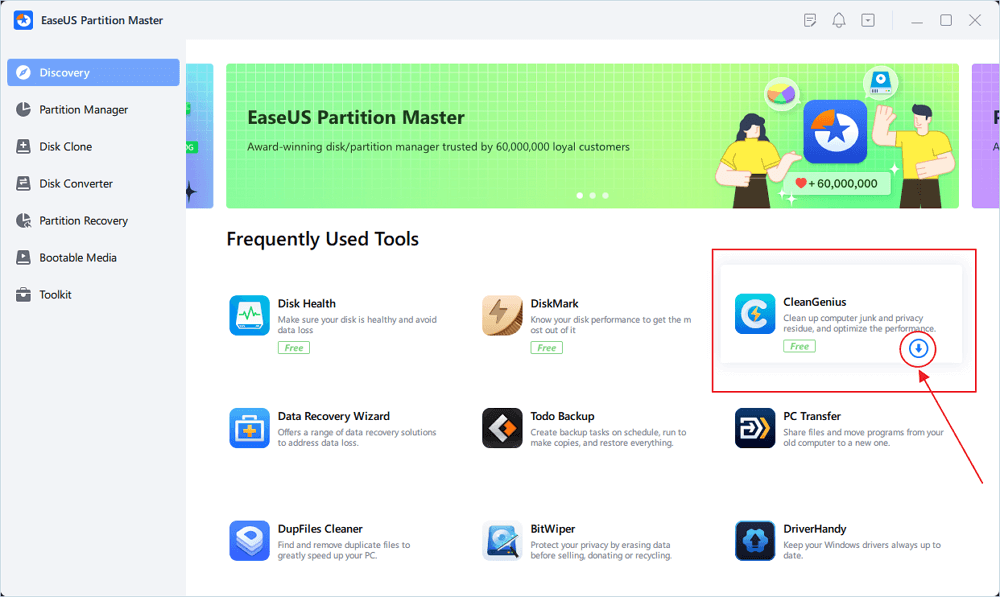 Step 2. Click PC Cleaner and install EaseUS CleanGinus. Then, click "Cleanup" and click "Scan" to start cleaning up the system and make your PC as good as new.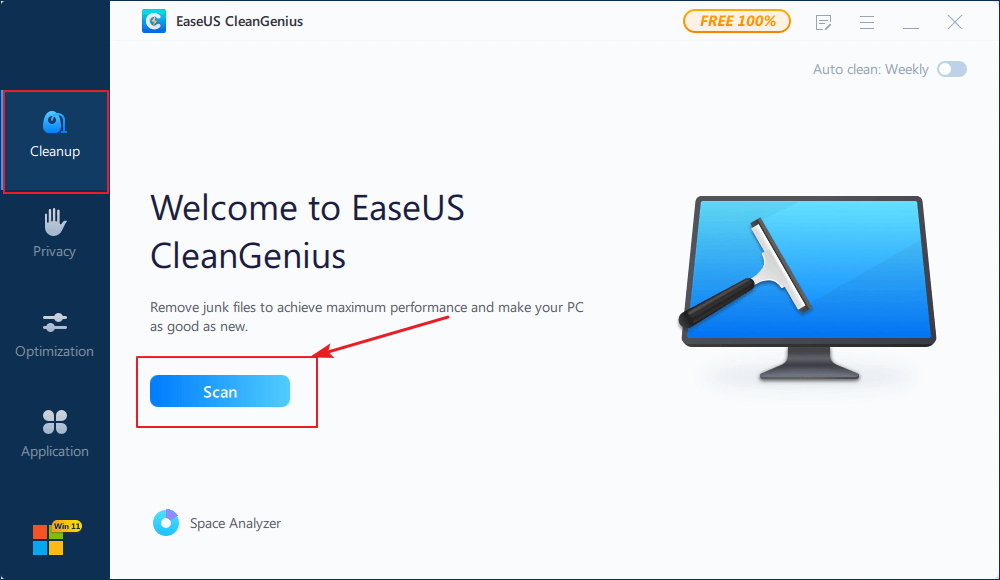 Step 3. The software will scanning all over your computer to find idle data files that take a huge amount of disk space, you can select useless large files, system junk files and Windows invalid entries and click "Clean" to start system cleanup process.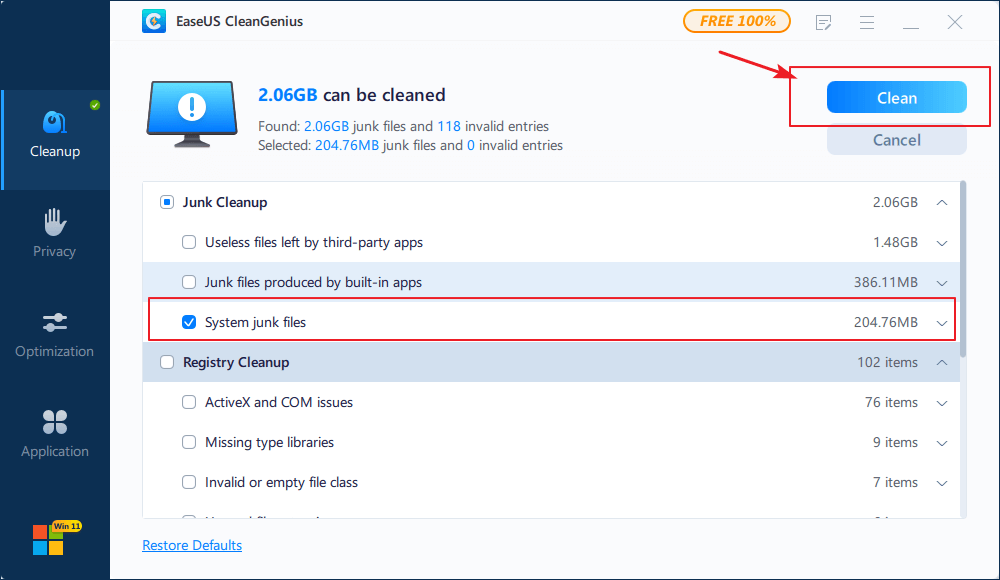 Step 4. When the scan is complete, click "Done" to finish cleaning system junk files.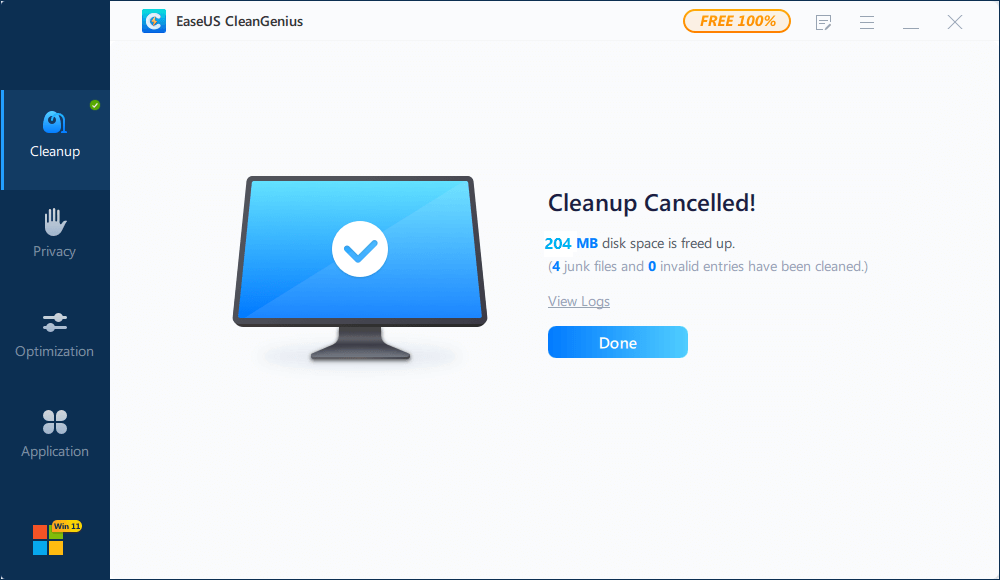 Fix 5. Stop Bloatware/Services from Loading at Startup
Besides the unnecessary service that's suspicious in slowing down your computer startup speed, keep alert to especially the newly installed programs. They're very likely draining your computer memory and resources behind the screen and causing 100% disk usage. That would prolong the boot time on SSD. Disable the auto running settings by doing this.
Step 1. Press and hold "Ctrl + Shift + Del" keys simultaneously to invoke Task Manager.
Step 2. Then select the "Startup" tab and find out the unnecessary process with high startup impact and then hit the "Disable" button.
Step 3. After that, switch to the "Services" tab and select the "Hide all Microsoft services", then untick all unnecessary services you want to disable and click on "Stop".
Fix 6. Adjust/Increase Virtual Memory to Solve SSD Long Boot-Time
Pay a lot of attention. Your computer is low on memory; it may cause Windows 11/10 to take a long time to boot it up on SSD. According to users, you can fix SSD with slow boot time by adjusting the amount of virtual memory. 
Steps to increase virtual memory:
Step 1. Press Windows Key + R and type sysdm.cpl in the Run dialog box and click "OK" to open System Properties.
Step 2. Click "Advanced system settings".

Step 3. Then click "Settings" under Advanced pane on System Properties.
Step 4. Go on to click "Change" under Advanced pane.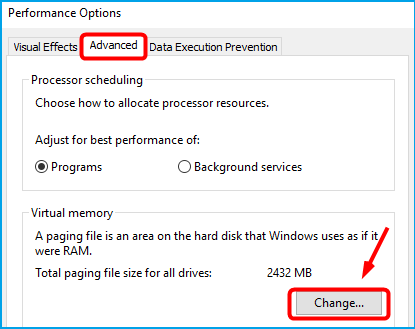 Step 5. Uncheck "Automatically manage paging file size for all drives". Tick on "Custom Size". Then, set Initial size and Maximum size by yourself. Click "Set" and "OK".
NOTE: The sizes you set should be more than the Recommended size.
You are highly suggested to click more solutions on this page: How to fix Windows 10 slow boot after update. Many more helpful suggestions are there, waiting for you to explore. I hope that you've rescued your SSD from booting slowly in Windows 11/10 with success.
Extra Tip - Turn to 1-on-1 Remote Assistance
If you still have a problem, you can turn to EaseUS 1 on 1 Remote Assistance Service. With this service, you can schedule a remote desktop session with a dedicated support engineer.
Do You Need Specialized Services for System Boot Issues?
EaseUS also provides 1-on-1 remote assistance to fix the boot issue. If the solution above does not work for you, please contact our professionals via
Email
or
LiveChat
in
this page
. To ensure our professional assistance work, you are suggested to connect the unbootable system drive to a healthy computer when getting connected with us.
Conclusion
That's all about how to fix slow SSD boot-up times on Windows 11/10. I hope these solutions have helped you with the problem. If you have other issues like Windows 10 extremely slow, hard drive getting slow, laptop very slow file transfer speed, you can also contact EaseUS to get additional help.
Windows 11/10 Boots Slow on SSD FAQs
Here are some SSD slow boot related questions and answers. Read on if you want to know more.
What is a good speed for an SSD?
An average read speed would be about 500MB, and an average writes about 300MB/s (at least) for almost any SATA III SSD today. The Samsung 860 EVO offers nearly the fastest transfer speeds (up to 550MB/s reads and 520MB/s writes) possible on a SATA III interface.
Does SSD improve boot time?
Yes, using an SSD as a system drive would boost your boot time and Windows performance. 
Why does my computer take forever to startup?
Here are the reasons for Windows 10 slow startup:
Malware or spyware
Windows startup programs
Fragmented files
Corrupted system files
Incompatibility between your current drivers and the Windows 10 update
Incorrect configuration in BIOS
About the Author
Updated by Tracy King 
Tracy joined in EaseUS in 2013 and has been working with EaseUS content team for over 7 years. Being enthusiastic in computing and technology, she writes tech how-to articles and share technical solutions about Windows & Mac data recovery, file/system backup and recovery, partition management and iOS/Android data recovery.

Author Jean has been writing tech articles since she was graduated from university. She has been part of the EaseUS team for over 5 years. Her special focuses are data recovery, disk partitioning, data space optimization, data backup and Mac OS. By the way, she's an aviation fan!
Product Reviews
I love that the changes you make with EaseUS Partition Master Free aren't immediately applied to the disks. It makes it way easier to play out what will happen after you've made all the changes. I also think the overall look and feel of EaseUS Partition Master Free makes whatever you're doing with your computer's partitions easy.

 Read More

Partition Master Free can Resize, Move, Merge, Migrate, and Copy disks or partitions; convert to local, change label, defragment, check and explore partition; and much more. A premium upgrade adds free tech support and the ability to resize dynamic volumes.

 Read More

It won't hot image your drives or align them, but since it's coupled with a partition manager, it allows you do perform many tasks at once, instead of just cloning drives. You can move partitions around, resize them, defragment, and more, along with the other tools you'd expect from a cloning tool.

 Read More