
About the Author
Hot Topics in 2022
Does SSD Get Slower When Full? Easy Tricks to Fix SSD Slowing Down
| Workable Solutions | Step-by-step Troubleshooting |
| --- | --- |
| Do SSDs Slow Down When Full | The drive is slowing down if you are running SSD and the existing data account for 70%...Full steps |
| How Much Slower When SSDs Get Full | The read speed is still fast as ever, but the write...Full steps |
| How to Fix SSD Slowing Down | |
Do SSDs Slow Down When Full?
As we heard, SSD will get slower if you fill it up. Yes. This problem does happen. When you continue to write files on it or boot applications, you will cost more time than ever. Unluckily, PC could get stuck while you are playing games, clip videos, writing essays, etc. 
SSD is faster than HDD. But the exquisite is the disk space not being filled up. The drive is slowing down if you are running SSD and the existing data account for 70%. This is because SSDs can only write to and store data to an empty block, and if the block is not open, solid-state drives need to delete the data marked as deleted and then fill it with new data. This process is one of the reasons the drive slows down. 
How Much Slower When SSDs Get Full?
As we test, the read speed is still fast as ever, but the write will turn 40%-50% slower.
Check more articles:
How to Fix SSD Slowing Down?
1. SSD Optimization - Use EaseUS Partition Master to Speed Up SSD
One useful to fix SSD slowing down is to optimize your SSD space. Since we know, storage affects SSD speed, adjusting your drive space is essential. Traditionally, our long-time friend can help you extend space size but requires allocated space adjacent to the targeted drive. If you opt for it, you need to delete volume first. Most of us won't choose to remove important unless we decide to give up all of them. 
What do we do? Go to download EaseUS Partition Master free edition. This free disk manager serves to resize, shrink, delete, format, merge and create partitions without data loss. 
Tool 1. Use EaseUS Partition Master to Extend Space
Download free partition manager:
How to Extend SSD Space:
Step 1. Shrink partition to free up space to extend partition.
If the hard drive has enough unallocated space to extend the target partition, jump to Step 2, and continue. If not, free up space first:
At the Partition Manager section, right-click on a partition next to the target partition and select "Resize/Move".
Drag the partition ends to free up space, leaving enough unallocated space behind the target partition, click "OK".
Step 2. Extend the target partition.
Right-click on the target partition you want to extend and select "Resize/Move".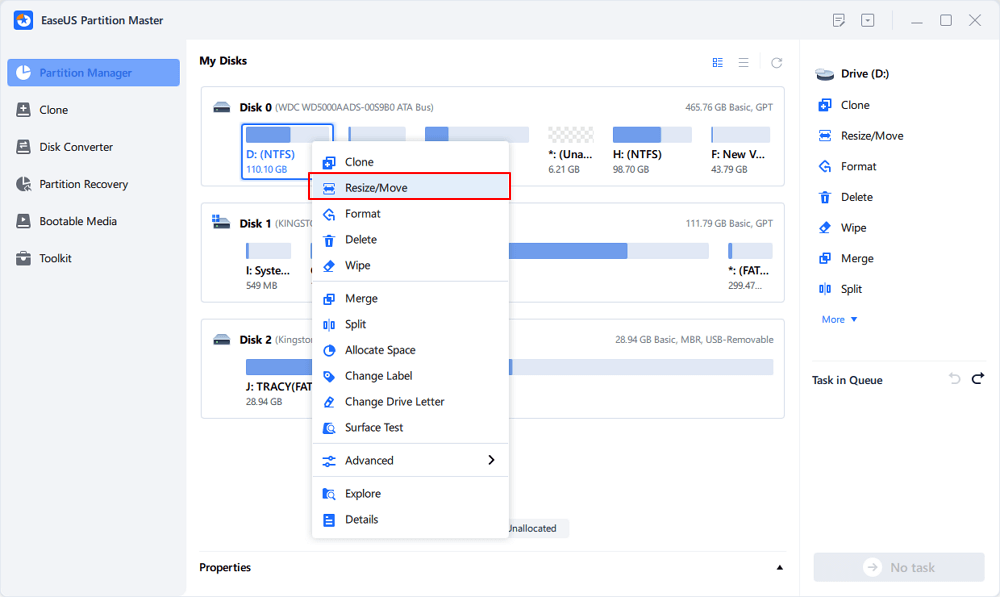 Drag the target partition handle into the unallocated space to extend partition.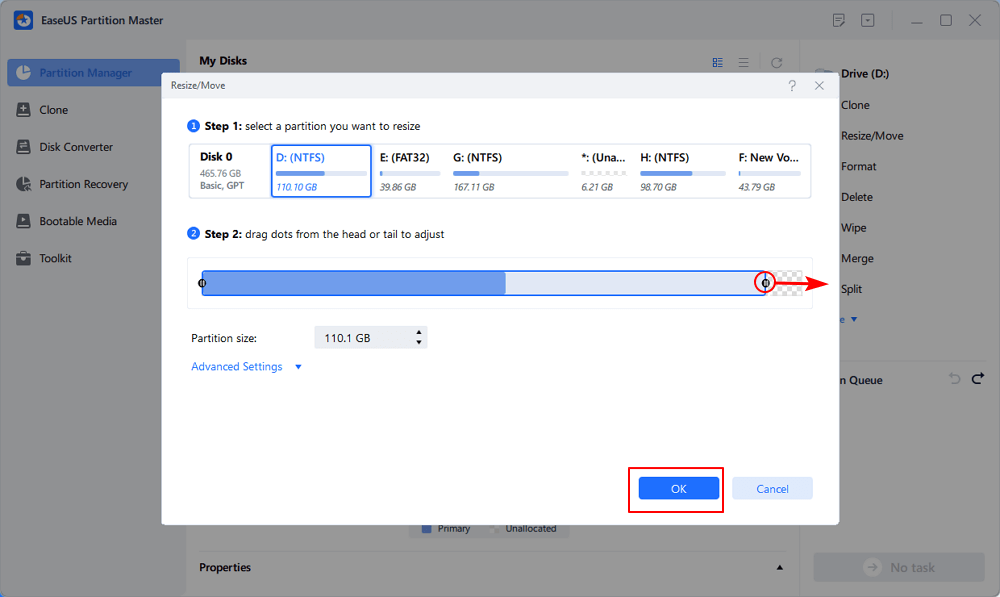 Step 3. Keep all changes.
Click the "Execute Task" button and click "Apply" to keep all changes.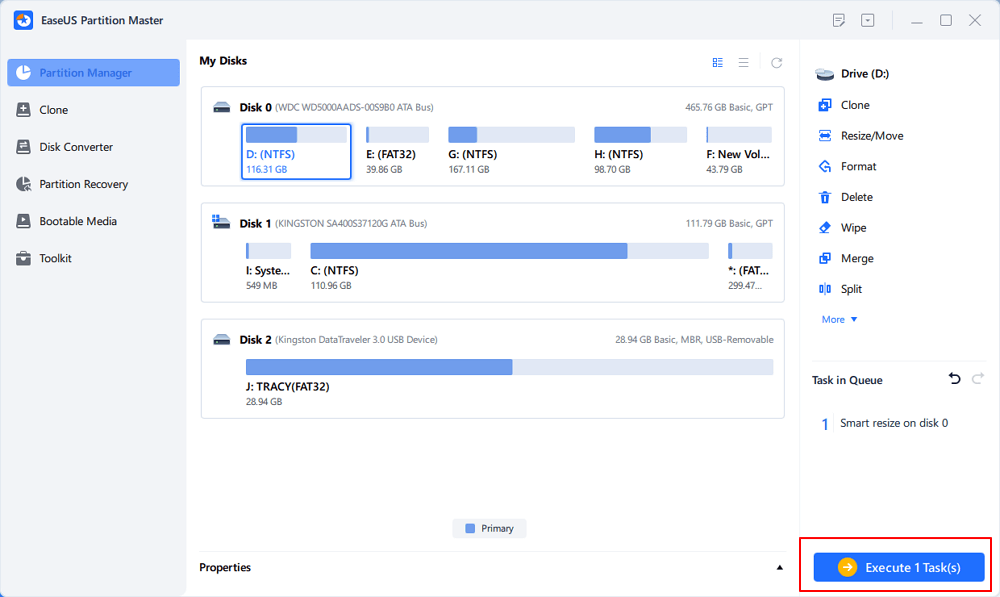 Other Tools to clean Unnecessary Files:
1. Run Disk Cleanup to Clean Junk Files
Step 1. Search "Disk Cleanup" on the Start menu. Click to open it.
Step 2. Select the drive you want to clean up and then click OK.
Step 3. Delete the scanned junk files.
2. Defragment and Optimize Drives
Step 1. Search for Defrag on the Start menu. Then, click to open the program.
Step 2. You can select the targeted drives to optimize SSD's performance. Choose the drive and click on the "Optimize" button.
2. Make Sure AHCI Mode Is Enabled
AHCI mode is vital for SSD performance. If it is disabled, your device may face an unexpected boot error. Therefore, please check that AHCI is enabled.
Step 1. Right-click the Start icon and choose Device Manager from the menu.
Step 2. Expand IDE ATA/ATAPI controllers. 
If it shows "Enable," click to change it. Disable - Leave it.
If you can not locate that controller, read fix answered by Dell - Dev. manager missing "IDE ATA/ATAPI controller."
3. Check the TRIM Is Enabled
Solid-state drives record data in a different way than HDDs. To write new data into the device, your drive must clean the existing data first. The cleaning process will take a lot of time, which could slow down your SSD speed. Don't worry. The TRIM is come here to zero the deleted data cell before rewriting data automatically.
Follow the in-depth tutorial to make sure the TRIM is enabled:
Step 1. Open Windows search and search for cmd on the box. Choose "Run as administrator." 
Step 2. Type command line and press Enter: fsutil behavior query disabledeletenotify.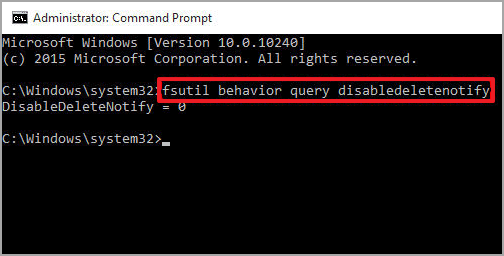 Step 3. Then check the command line and estimate if the TRIM is enabled on SSD.
NTFS DisableDeleteNotify = 0 - it means "TRIM is enabled."
NTFS DisableDeleteNotify = 1 - it means "TRIM is disabled."
If your TRIM technology is not enabling, you can continue to type command line.
Input the command:fsutil behavior set disabledeletenotify 0
Then press Enter to enable it.
4. Check That Write Caching is Enabled
The Write Caching is necessary to increase your SSD performance. But it makes your PC vulnerable to data loss when it comes to equipment power failure. So if you choose to take the advance, follow the steps to enable TRIM:
Step 1. Right-click the Start icon and select "Device Manager."
Step 2. Expand "Disk drives" and click on the "Properties" button.
Step 3. Choose the Policies tab, and then tick "Enable write caching on the device."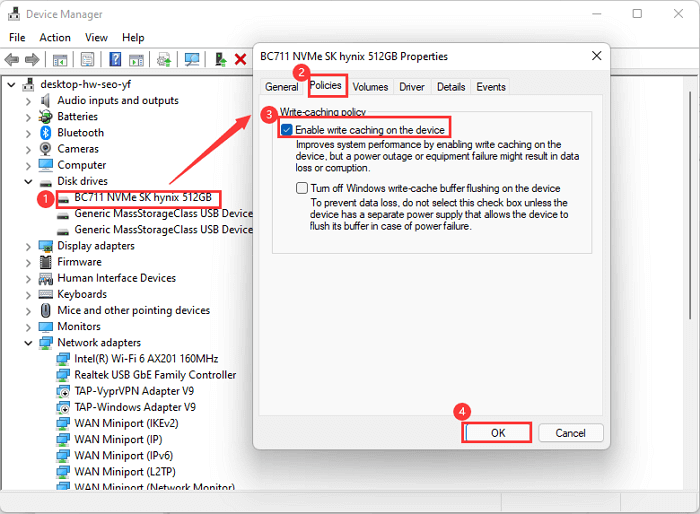 Step 4. Click on "OK."
5. Enter BIOS and Enable AHCI Mode
Step 1. Press "Windows + R" to evoke the Run box and type "msconfig." Click on Enter.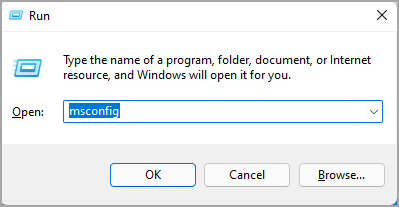 Step 2. Go to the Boot tab and tick "Safe boot" under the Boot options.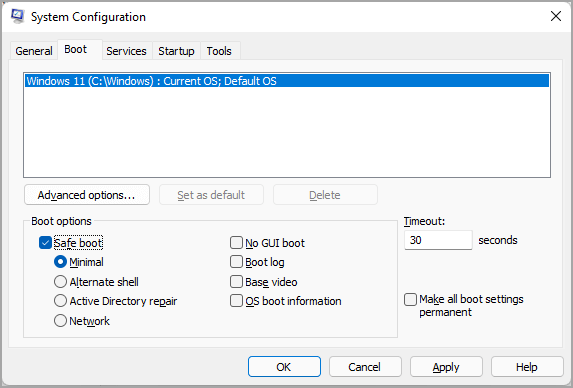 Step 3. Save changes and reboot the PC.
Step 4. Enter BIOS:
Turn on computer > Press F12 or F2 or DEL to boot into BIOS setting > Change SATA mode from IDE to AHCI > Save changes and exit.
Step 5. Reboot PC > Repeat Step 1 > Untick "Safe Boot" under Boot tab.
About the Author

Roxanne is one of the main contributors to EaseUS and has created multiple posts on digital devices like PCs, Mobile phones, tablets, Mac, etc. She loves to share ideas with people of the same interest.
Product Reviews
I love that the changes you make with EaseUS Partition Master Free aren't immediately applied to the disks. It makes it way easier to play out what will happen after you've made all the changes. I also think the overall look and feel of EaseUS Partition Master Free makes whatever you're doing with your computer's partitions easy.

 Read More

Partition Master Free can Resize, Move, Merge, Migrate, and Copy disks or partitions; convert to local, change label, defragment, check and explore partition; and much more. A premium upgrade adds free tech support and the ability to resize dynamic volumes.

 Read More

It won't hot image your drives or align them, but since it's coupled with a partition manager, it allows you do perform many tasks at once, instead of just cloning drives. You can move partitions around, resize them, defragment, and more, along with the other tools you'd expect from a cloning tool.

 Read More