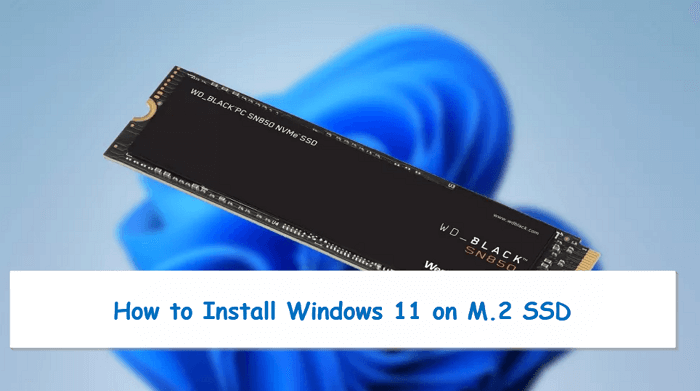 Benefits of Installing Windows 11 on M.2 SSD
Microsoft's latest operating system, Windows 11, is able to show off its boot speed and smoothness perfectly on a high-performance SSD. Whether you are playing games, working on computer programming, audio and video editing, or engineering drawings, the collaboration of Windows 11 and M.2 SSD can make your work and entertainment life more comfortable and happy! For increased happiness and productivity, we recommend that you install Windows 11 on M.2 SSD.
In this post, we'll cover:
How to Initialize a New M.2 SSD for Use
This procedure of initializing SSD is optional in this case, only when the M.2 SSD you got is newly bought and is labeled as unknown and not initialized when connected to a computer. For example:

To initialize M.2 SSD to get ready for Windows 11 installation, here's how:
Step 1. Depending on your M.2 SSD type, you need to insert the M.2 SSD correctly in either a "PCIe" or "SATA" slot.
Step 2. Open Windows Disk Management and locate the new M.2 SSD that is shown as not initialized. Here, to access Windows Disk Management, for Windows 8.1 and later operating systems. Click This PC > Manage > Disk Management; and for Windows 7, go to My Computer instead of This PC.
Step 3. Right-click on the not initialized SSD, and choose "Initialize Disk".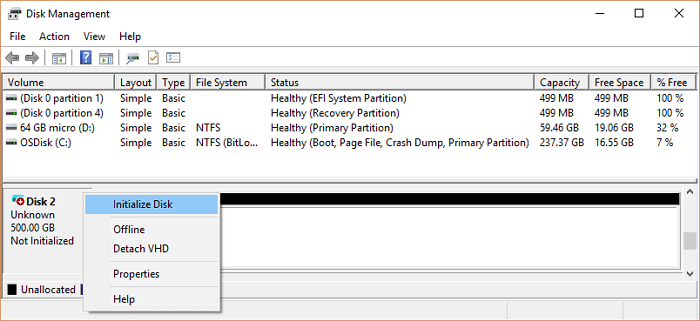 Step 4. In the Initialize Disk dialog box, select the correct disk to initialize. And then click "OK" to accept the default partition style, or you can change the partition style (GPT or MBR) as you want.
How to Clone Windows 11 to M.2 SSD Without Installing
Applies to: Replace an old Windows 11 boot drive (let it be an HDD or SSD) with a new M.2 SSD
It requires: Install M.2 SSD on your desktop PC motherboard or use a connection cable/case on a laptop
When it comes to replacing a hard drive with a faster, smaller yet more durable M.2 SSD, have you ever considered the difficulty of moving the current Windows 11 installation to it? In fact, you cannot use the copy and paste method on a file to Windows system files. Windows won't allow you to do the copy manually due to the system protection restriction.
In this case, when you need to change HDD to a Solid-State drive but don't have an idea how to install OS on the new hard drive, take it easy. EaseUS Todo Backup is an exclusive choice for you. It's a professional Windows backup software, what's more, the clone & system clone features make it more distinguished from competitors.
EaseUS Clone - Your Reliable HDD to SSD Cloning Software
Disk Clone Mode & Partition Clone Mode are available for flexible cloning scenarios
System Clone is especially for Windows 11/10/8.1/8/7 migration from an old PC/hard drive to a new one
Supports all types of physical hard drives on both source and destination directions: HDD, SSD, M.2 NVME SSD, M.2 PCIe SSD, SATA M.2 SSD
Helpful in upgrading a hard drive or transferring Windows operating system without reinstalling OS or programs
Next, follow the guide to clone Windows 11 to M.2 SSD with EaseUS M.2 SSD cloning software:
Step 1. Open EaseUS Todo Backup and click "Tools", and then you can choose any function presented to you.
Step 2. EaseUS Todo Backup will automatically select the boot and system partition, what you need to do is choose the target disk and click "Next." 
(Make sure that the partition style of the source disk and the target disk are the same.)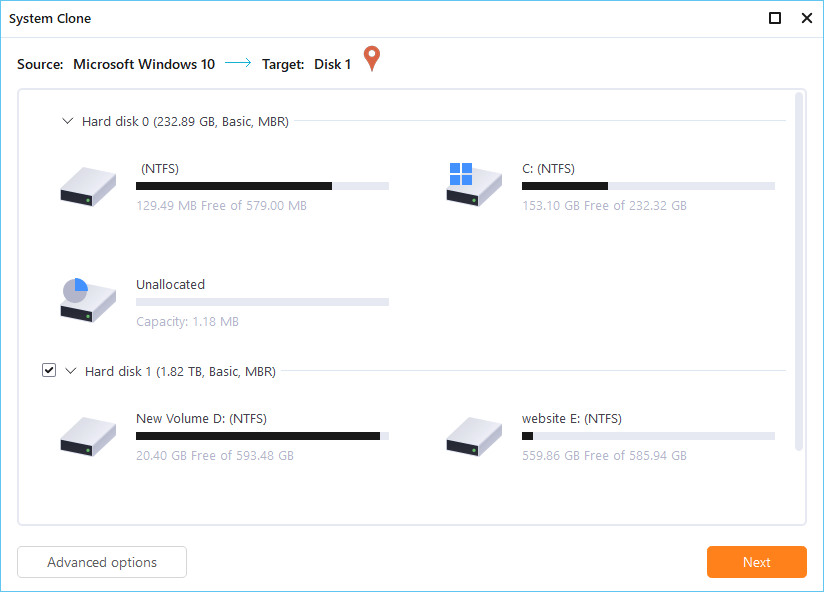 *System clone will wipe out all data, please make sure you backup your data in advance.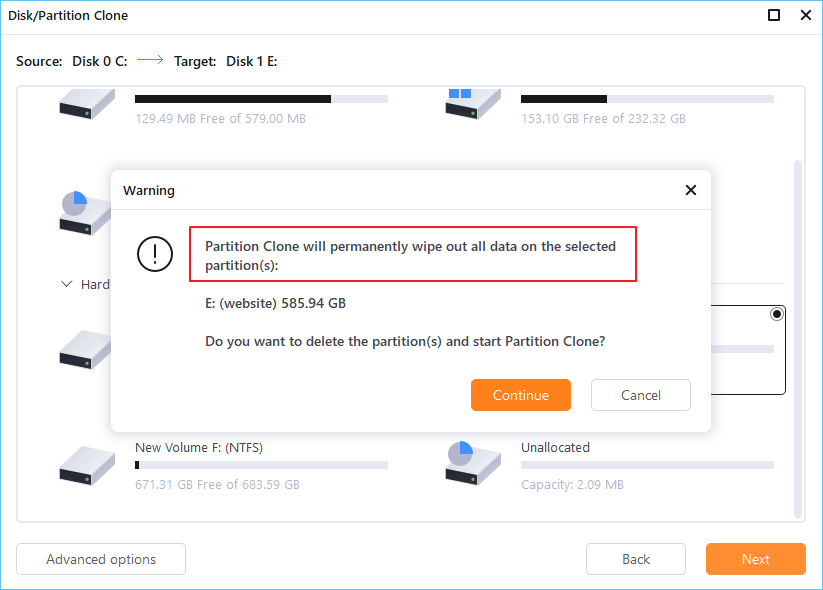 Step 3. If you want to clone your system to an SSD, you can choose "optimize for SSD" in the advanced options.
Step 4. Click "Proceed" to start cloning.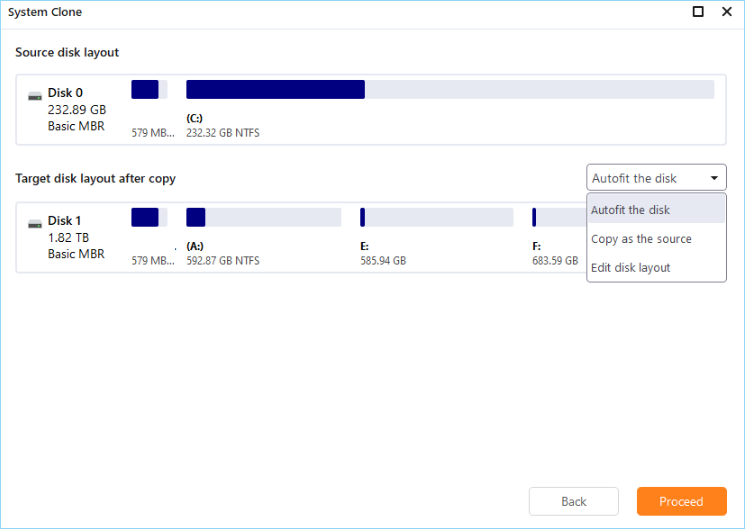 How to Install Windows 11 on M.2 SSD from USB
Applies to: Clean install Windows 11, reinstall Windows 11
It requires: An external flash drive or pen drive
The standard procedure for manually installing Windows 11 on M.2 SSD and booting Windows 11 from M.2 SSD is as follows:
1. Before you begin, make sure that your computer meets the minimum system requirements for Windows 11. You'll also need an unused USB drive with at least 4 GB of space.
2. Download the Windows 11 installation files from Microsoft's website. Be sure to select the edition of Windows 11 that you want to install, as well as the architecture (32-bit or 64-bit).
3. Connect the USB drive to your computer and copy the contents of the Windows 11 ISO file to the drive.
4. Disconnect the USB drive and reboot your computer. During boot, enter your BIOS or UEFI settings and ensure that your M.2 SSD is set as the primary boot device. Save your changes and exit BIOS.
The manual method of going to the Microsoft download page to create a Windows 11 installation Assistant or Windows 11 Installation Media is popular on the web. Windows 11 Installation Assistant is an option for installing Windows 11 on the device you're currently using while Windows 11 Installation Media is used to perform a reinstall or clean install of Windows 11 on a new or used PC. As far as we are concerned, about 47% of users are willing to take the challenge to do a manual install using either way.
Alternatively, here we want to share an easier and quicker way to help you greatly simplify the long process of downloading the latest build of the Windows 11 update version with an automatic Windows 11 downloader software - EaseUS OS2Go.
It's featured with three useful Windows 11/10/8.1/8/7 options to put a Windows OS to external storage, including:
Create a portable version of Windows on a USB flash drive or external drive
Create a Windows Installation Assistant drive by selecting a wanted Windows version
Create a Windows Media Creation drive by selecting a wanted Windows ISO
Following is the procedure for how to create a Windows 11 Media Creation drive to install Windows 11 on M.2 SSD.
Step 1. Install EaseUS OS2Go on your Windows computer. Plug in a USB drive or external hard drive that is large enough.
Step 2. Choose the third tab "Windows Install Drive Creator". First choose the Windows versions you want to install, EaseUS OS2Go supports creating Windows 11/10/8.1 installation media. You could also select a local ISO file. When all set, click "Create".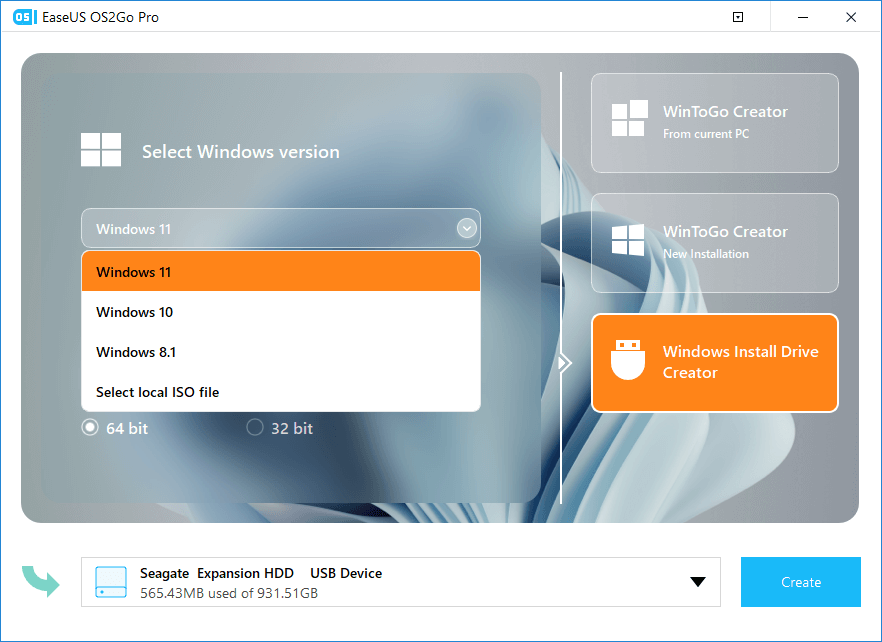 Step 3. Then you will see a safety warning message, telling you that all data on the selected disk will be deleted. Click "Continue" to proceed.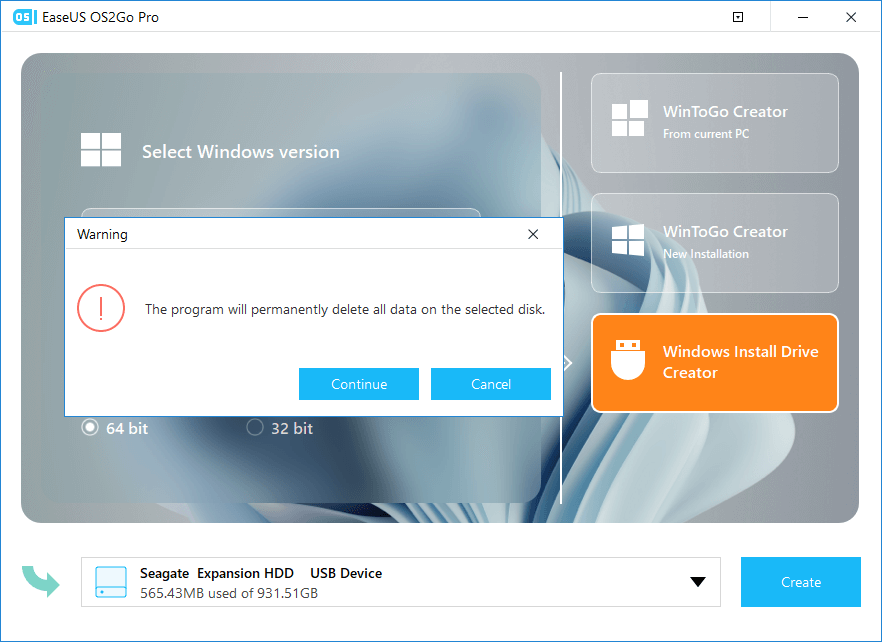 Step 4. Then EaseUS OS2Go will start to create the Windows Installation media. It usually takes a while to download a ISO file, the time it takes depend on your OS and Network condition. When the progress reaches 100%, the USB drive should be bootable now.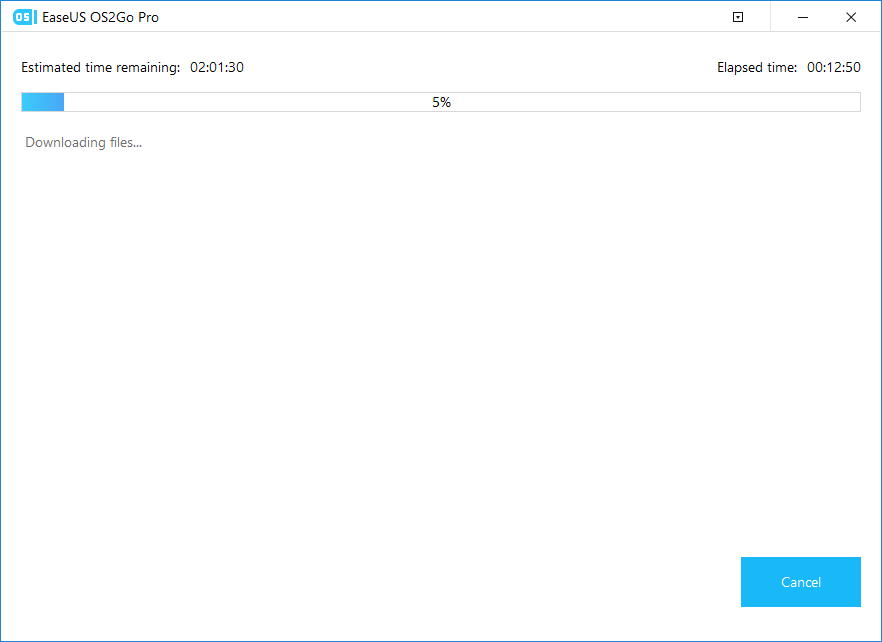 Step 5. Insert the Windows Installation media to your computer and start the installation process.
Clone Windows 11 vs. Clean Install Windows 11: Which Suites You Better
To sum up, both system clone/system migration and Windows reinstallation methods are helpful in the case you want to put Windows 11 on an M.2 SSD for faster boot performance. Only the most suitable is the best.
Use a disk/partition clone method when:
You want to replicate the exact configurations of a PC on another computer.
Carrying out multiple installations of the same system OS and configurations on many computers.
Restoring an existing hard drive to its original settings and set-up.
Migrating important data and hard drive contents to a new disk.
Use a Windows Clean Install when:
Troubleshooting problems with the current computer's operating system.
Eliminating malware and other security threats.
Upgrading to a new Windows OS version without any side problems.
You experience low-performance challenges even after uninstalling some programs.
No matter which way you prefer, EaseUS software products of EaseUS Todo Backup and EaseUS OS2Go can help you out.
FAQ on Install Windows 11 on M.2 SSD
Can I install Windows 11 on an M 2 SSD?
Yes, you can install Windows 11 on an M.2 SSD. You can use EaseUS Todo Backup to clone Windows 11 system to an M.2 SSD without reinstalling. 
Should I install Windows 11 on NVMe?
The collaboration of Windows 11 and M.2 SSD can make your work and entertainment life more comfortable and happy! We recommend installing Windows 11 on M.2 SSD for increased happiness and productivity.

Updated by Larissa
Larissa has rich experience in writing technical articles. After joining EaseUS, she frantically learned about data recovery, disk partitioning, data backup, and other related knowledge. Now she is able to master the relevant content proficiently and write effective step-by-step guides on computer issues.

Jean has been writing tech articles since she was graduated from university. She has been part of the EaseUS team for over 5 years. Her special focuses are data recovery, disk partitioning, data space optimization, data backup and Mac OS. By the way, she's an aviation fan!