
About the Author
Hot Topics in 2022
M.2 vs. SSD, Which Is Better? Check Your Answer Here
Workable Solutions
Step-by-step Troubleshooting
M.2 vs. SSD 
Gaming, Video editing, graphics-intensive work need to have high read and write speed...Full steps
Install M.2 or SSD to Computer

#1. Installing M.2...Full steps

#2. Installing 2.5-inch SSD...Full steps

Setup M.2 or SSD
Run EaseUS Partition Master, select Migrate OS from the top menu; Select the SSD or HDD...Full steps
When it comes to types of SSD drives, there are two major options—M.2 and SSD. The latter includes external and internal, while the M.2 drives are typically plugged into the motherboard. They are also known as the NVME M.2 drivers. This article will help you learn about the differences between M.2 and standard SSD drives.
Definition of M.2 vs SSD
M.2 or the NVMe M.2 drives are also SSD drives, but with a different interface, faster speed, and are built to be used as internal storage. NVMe stands for Non-volatile Memory Express. They offer a faster bus type for data transfer lanes, offer a large storage size, and can only fit into M.2 Drive slot. If you are planning to buy an M.2 drive, make sure to check the motherboard has it.

SSD or Solid State Drive comes both as an internal and external drive. Since we are comparing things with the M.2, the internal SSD drives grab the attention. Similar to HDD, they offer SATA support and much faster speed compared to standard HDD.
However, compared to M.2 drives, internal SSD is a lot slower. The reason for this is simple. Unlike M2 drives, SSD drives are plugged like a traditional hard drive (2.5-inch SATA SSD), while M.2 drives are directly connected to the motherboard and offer faster bus speed, resulting in a very high-speed transfer.
Which is Better? M.2 vs. SSD 
| Category | M.2 | SSD |
| --- | --- | --- |
| Bus Standard | NVMe Protocol | AHCI Protocol |
| Bandwidth | PCIe x2 or x4 lane | SATA 6 Gb/s |
| Transfer Rate | Up to 5000 MB/S | Up to 560 MB/S |
| Connector | M.2 / PCIE | SATA |
| Size/Price Ratio | High | Low |
| Usability | Gaming, Video Editing and anything that needs more speed | Regular desktop work including browser and emails. |
| Recommended for | New generation desktop and laptops. | Old Computers |
Which is better is a difficult question to answer. Both of these devices have their place, and it depends on that. If you need to build a PC for the type of work you do, then you will have to consider that when making your decision. Each of these is built for different purposes.
Gaming, Video editing, graphics-intensive work need to have high read and write speed; then you need to pick up an M.2 drive with a large capacity. Those who need a faster PC but only need to use it for email can pick up the 2.5 inch SSD with a small capacity enough for the OS.
In the end, it also depends on your budget, but it's important to make a smart choice else it will be overkill. 
How to Add and Use M.2 or SSD
Not just installing, but also setting up SSD and M.2 drive is important. They aren't like the HDD, which can be plugged in, and everything else can be left to the OS.
Since these are flash drives, it is important to set up trimming space for each so the life of the flash drive can be extended. Any unnecessary writing on SSDs and M.2 will result in poor life, so setup is important.
How to install M.2 or SSD to the computer
Step 1: Remove the mounting screw around the M.2 slot on the motherboard. Some OEMs offer a heat sink that needs to be placed on top of the drive. Please remove it.
Step 2: Carefully take out the M.2 Drive, and insert the end with the golden contact point into the slot.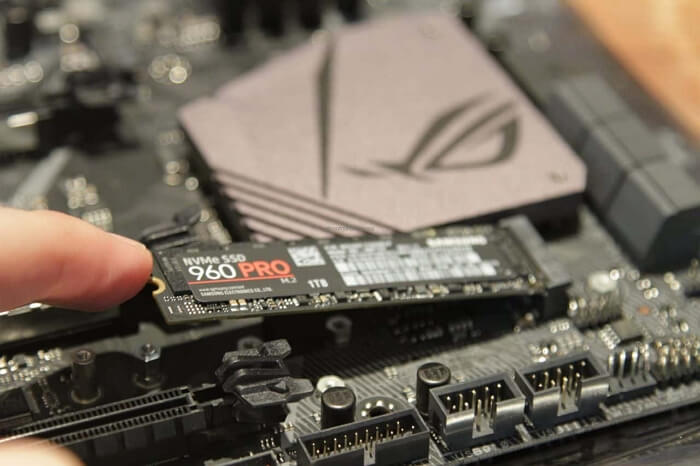 Step 3: Once placed, gently push the other end and match it with the screw hole. While holding it, screw the screw back into place. Make sure not to over-tighten it.
Step 1: Similar to HDD, you need to connect the wires to the SATA port of the motherboard. Once you are sure of the length, please take out the SSD, and place it in the SSD bay. 
Step 2: Use the connector to connect to the SSD, and make sure that you have added both the power and the data wire.
Step 3: Once you are sure, Place the screen around SSD if required. Some of the modern cabinets offer easy placement of such SSDS and don't need any screws. 
How to Setup M.2 or SSD
These drive types have a common way to set up as the underlying storage structure is the same. You can use the EaseUS Partition Master to initialize M.2 or SSD. The software offers all the features one needs to manage the storage drive including the option to partition, merge, clone, migrate OS, and so on.
The software offers a built-in wizard that allows you to partition it with its new disk guide. You can use it on another computer to create partitions per your requirement and later connect to another PC.
Once you launch the software, it will reveal all the partitions on the drive. Right-click on any of them, and you can perform all kinds of operations, including cloning, formatting, data wiping, split or merge partitions, and so on.
Migrating OS
One of the biggest use cases for many users is migrating the OS. If you need to change the already installed HDD or SSD, you don't have to reinstall everything. The software offers a Transfer OS feature that allows transferring from HDD to SSD or M.2 drive and seamlessly switch without losing any data.
Steps to migrate OS to HDD/SSD:
Run EaseUS Partition Master, and select "Clone" from the left menu.
Check "Migrate OS" and click "Next".
Select the SSD or HDD as the destination disk and click "Next".
Check Warning: the data and partitions on the target disk will be deleted. Make sure that you've backed up important data in advance. If not, do it now.
Then click "Yes".
Preview the layout of your target disk. Then click "Start" to start migrating your OS to a new disk.
Note: The operation of migrating OS to SSD or HDD will delete and remove existing partitions and data on your target disk when there is not enough unallocated space on the target disk. If you saved important data there, back up them to an external hard drive in advance.
EaseUS Partition Manager will initialize the SSD/M.2 drive and then copy the old drive sector by sector to the new drive. It means the OS, applications, and anything in that drive will be available when you make the switch.
As it creates a clone, the number of partitions will be the same as the old one. However, if you wish, you can also create additional partitions. The software will show a preview before starting the process.
If you are using an OLD SSD/m.2 drive, be aware that it will be wiped out during the process. So if you have any data which is important, make sure to back it up. 
Conclusion
When buying a computer it has not become extremely important to consider an SSD. Not only they speed up data transfer, but the overall experience of using the internet also becomes faster thanks to the high writing speed.
If you are on a budget, you can choose at least 250 GB SSD to install OS and the programs, while the rest of the storage can be the regular HDD used for backup.
When choosing between M.2 and the standard SSD, the former is the best choice. They are faster, reliable, and delivers extreme performance when it comes to gaming and processing.
About the Author

Roxanne is one of the main contributors to EaseUS and has created multiple posts on digital devices like PCs, Mobile phones, tablets, Mac, etc. She loves to share ideas with people of the same interest.
Written by Tracy King 
Tracy joined in EaseUS in 2013 and has been working with EaseUS content team for over 7 years. Being enthusiastic in computing and technology, she writes tech how-to articles and share technical solutions about Windows & Mac data recovery, file/system backup and recovery, partition management and iOS/Android data recovery.
Product Reviews
I love that the changes you make with EaseUS Partition Master Free aren't immediately applied to the disks. It makes it way easier to play out what will happen after you've made all the changes. I also think the overall look and feel of EaseUS Partition Master Free makes whatever you're doing with your computer's partitions easy.

 Read More

Partition Master Free can Resize, Move, Merge, Migrate, and Copy disks or partitions; convert to local, change label, defragment, check and explore partition; and much more. A premium upgrade adds free tech support and the ability to resize dynamic volumes.

 Read More

It won't hot image your drives or align them, but since it's coupled with a partition manager, it allows you do perform many tasks at once, instead of just cloning drives. You can move partitions around, resize them, defragment, and more, along with the other tools you'd expect from a cloning tool.

 Read More