| Workable Solutions | Step-by-step Troubleshooting |
| --- | --- |
| Case - I need to move my apps | "Hello. My hard drive is getting full and I would like to move some of my programs to an external hard drive...Full steps |
| Problem - Is it possible to move programs to an external hard drive | When you install a program it generally puts a lot of files throughout the hard drive directories and registry...Full steps |
| Solution - Move/transfer apps and programs to an external hard drive | Step 1. Connect your external hard drive to your computer. Open EaseUS Todo PCTrans and select...Full steps |
Case - I need to move my apps
"Hello. My hard drive is getting full and I would like to move some of my programs to an external hard drive. Please let me know how I can do this and be able to access the programs via the external hard drive without any problem."
As time goes on, you may install a large amount of game software or other software on your computer. To avoid low disk space warning, you may want to move programs to a larger drive and save the newly installed software to it instead of C drive. Indeed the best way to increase C drive space is to transfer programs to an external hard drive.
Problem - Is it possible to move programs to an external hard drive
When you install a program it generally puts a lot of files throughout the hard drive directories and registry, not just in the directory you select. If you just simply copy the programs to an external device, you may be able to install programs to an external hard drive. However, the program will probably only work from that computer you installed from. Thus, you cannot directly drag program files to another drive whether on the same disk or different physical disk. 
Here comes the problem. How can you move programs to an external device and make sure that you can run the program on any other computer? You need to use an application transfer software EaseUS Todo PCTrans to help you effortlessly move or transfer applications to an external hard drive.
EaseUS Todo PCTrans is an easy PC migration solution that can help you to move data, apps, and transfer account from one computer to another or to an external device. In only one click, this transfer tool sets up the new PC and makes you a seamless swap, instead of manual copy and paste. No need to reinstall your apps now.
You can download this software here now and directly launch this software to help you move apps from PC to an external hard drive.
Solution - Move/transfer apps and programs to an external hard drive
Step 1. Connect your external hard drive to your computer. Open EaseUS Todo PCTrans and select "App Migration > Start".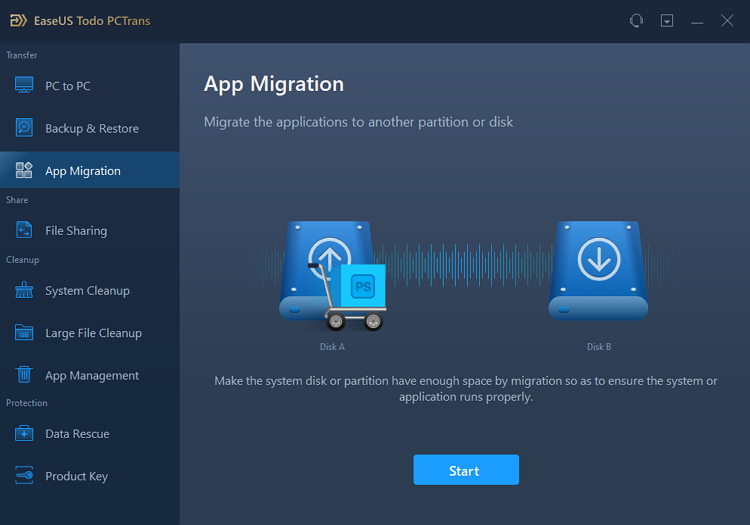 Step 2. Find and choose the applications (marked as "Yes") that you want to transfer. You can select multiple apps. 
Click the triangle icon and select your external hard drive as the destination to store the apps. 
Step 3. Then, click "Transfer" to move your programs to an external hard drive.
About the Author

Roxanne is one of the main contributors to EaseUS and has created multiple posts on digital devices like PCs, Mobile phones, tablets, Mac, etc. She loves to share ideas with people of the same interest.

Brithny is a technology enthusiast, aiming to make readers' tech life easy and enjoyable. She loves exploring new technologies and writing technical how-to tips. On her spare time, she loves sharing things about her favorite singer - Taylor Swift on her Facebook or Twitter.
Reviews and Awards
EaseUS Todo PCTrans Free is a useful and and reliable software solution created to serve in computer migration operations, be it from one machine to another or from an earlier version of your OS to a newer one.

 Read More

EaseUS Todo PCTrans is by the folks at EaseUS who make incredible tools that let you manage your backups and recover your dead hard disks. While it is not an official tool, EaseUS has a reputation for being very good with their software and code.

Read More

It offers the ability to move your entire user account from your old computer, meaning everything is quickly migrated. You still get to keep your Windows installation (and the relevant drivers for your new PC), but you also get all your apps, settings, preferences, images, documents and other important data.

 Read More