How do you transfer a user account to another computer?
Case 1. Can I transfer my user account from my desktop to a new laptop?
"Does anyone know how to transfer the Windows user account and its password, personal settings, etc. to a new laptop in the same network?
I bought a new laptop home yesterday and I want to use my old user account with settings on the new laptop instead of creating a new account. 
So is there a way that can help me do this?"
Case 2. How do you transfer a user account to a new PC under different network?
"Here is my case that I forgot to bring my laptop and I'm on a trip to a new city with a borrowed laptop. I created a new user account on it and created some useful document on the laptop.
There will be two days left before I went home. I want to carry the user account with all new files that I created on the borrowed computer. So I want to know is it possible to transfer a user account with all settings and files from the current computer to my laptop at home? I mean that these two computers are under different networks, so do I still have the chance? How?"
Due to varied needs and diverse reasons, many Windows users are now having the problem about how to transfer and move a user account with password, personalization and even the power settings to a new PC or laptop. If you one of these people who are urgent of transferring user account between PCs, relax and find the best solution here now.
Best Solution: Transfer User Account with Settings to New PC with EaseUS Todo PCTrans Free
Some of you may think that the Windows built-in transfer tool - Windows Easy Transfer might help to transfer a user account between two computers. Indeed, Windows Easy Transfer does work to transfer files in Windows 7 and Windows 8. 
But the problem is that Windows Easy Transfer doesn't support Windows 10. It means that if you are a Windows 10 user, you can't transfer files to a new PC. The User Account which is unsupported of course.
So what it the best way to do the job? There are many Windows transfer tools on the market now. However, for the consideration of protecting your privacy and network security, we would recommend you to be very careful than to download a 'just-ok' tool for help.
EaseUS Todo PCTrans Free is a 100% safe and free Windows transfer software which has 3 advantages listed as below that you can fully trust it and apply it to transfer and move a user account with all settings to a new PC on your own now:
1. All Windows OS supported: EaseUS Todo PCTrans supports all Windows Operating Systems including Windows 11/10/8.1/8/7/XP and even Vista, etc.

2. "PC to PC" and "Backup & Restore" modes satisfy different needs: EaseUS Todo PCTrans supports you to transfer files to another PC via network or backup. If your PCs are using the same network, you can transfer files via network. "Backup & Restore" mode allows you to transfer files to another PC in or not in the same network by some simple clicks.
3. 100% safe for transferring files, no privacy leaking: EaseUS Todo PCTrans is 100% secure for you to apply for file transferring and even user account transferring without leaking or losing your private information.
How to get this tool? It's available for you to download and install on your PC for Free here now:
Tutorial: Steps to Transfer User Account to New PC for Free
 Notice:

There are two ways to transfer user account between PCS by using EaseUS Todo PCTrans.
If you want to transfer many files between PCs, activate this tool to its pro version before you follow the guidelines below.
You can follow either way to transfer the user account with all settings to a new PC now:
Transfer User Account to a new PC via the network
Step 1. Install and launch EaseUS Todo PCTrans on both two devices. On the source PC, select "PC to PC" to continue.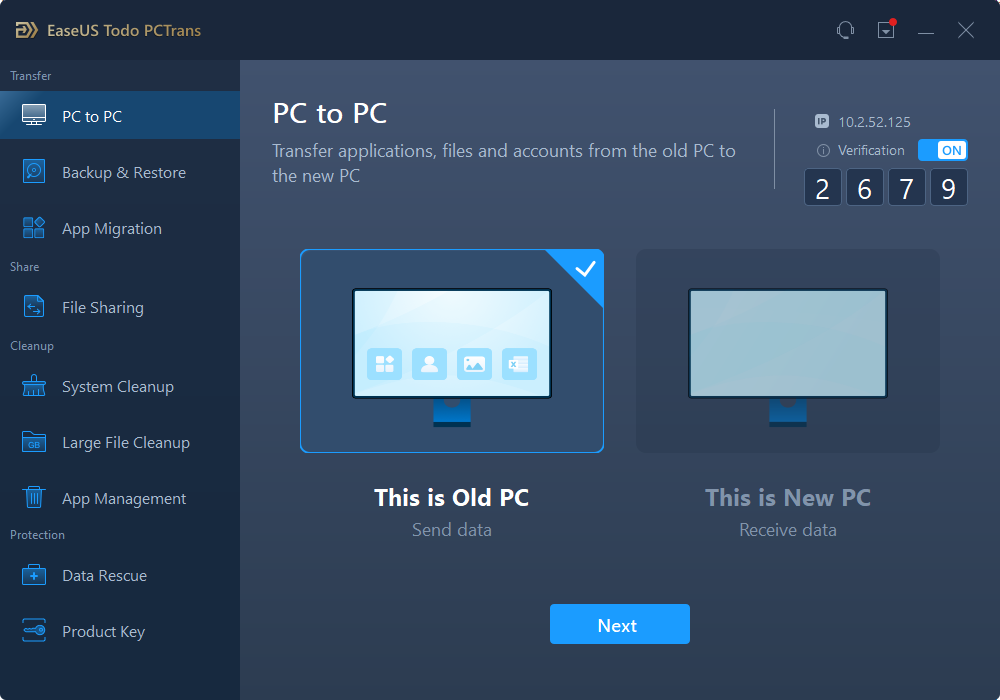 Step 2. Select the transfer direction - as an Old PC or a New PC.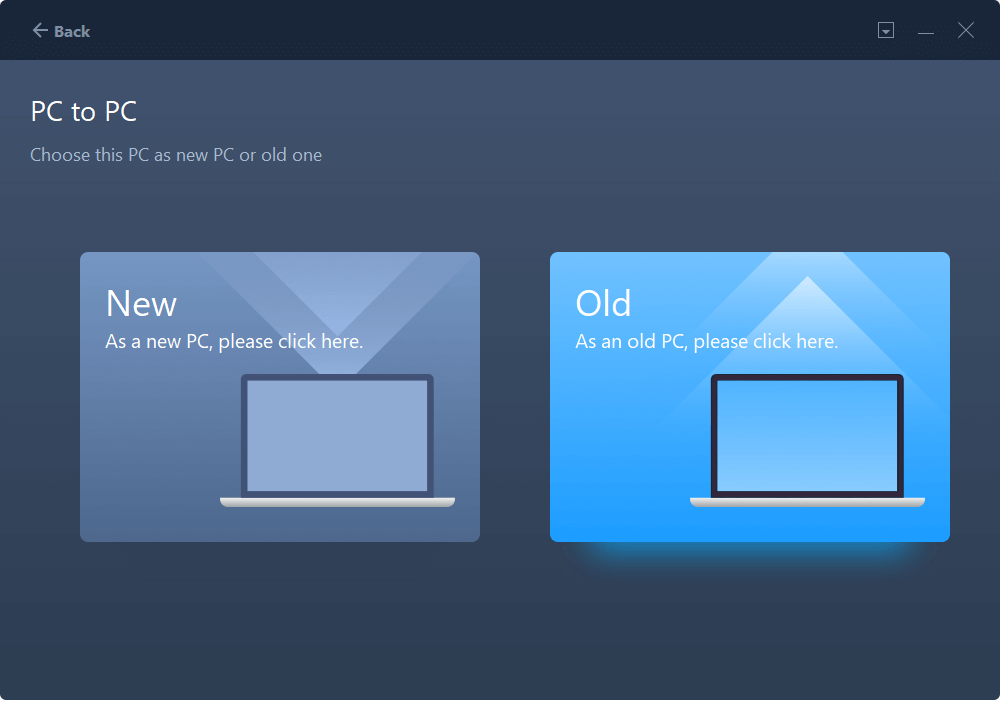 Make sure the two PCs are on the same LAN. Connect to the target PC via its IP address or adding it manually. Enter the login account and password of the target PC and link two PCs by clicking "Connect".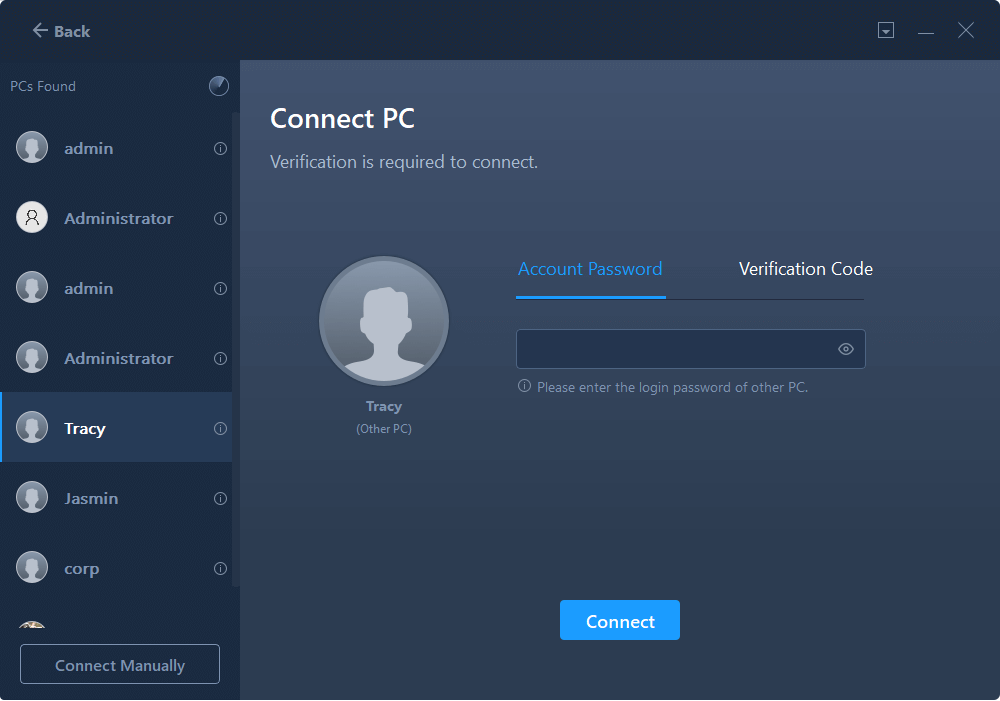 Step 3. Click at the "Accounts" section to specify User Accounts and Settings for transferring.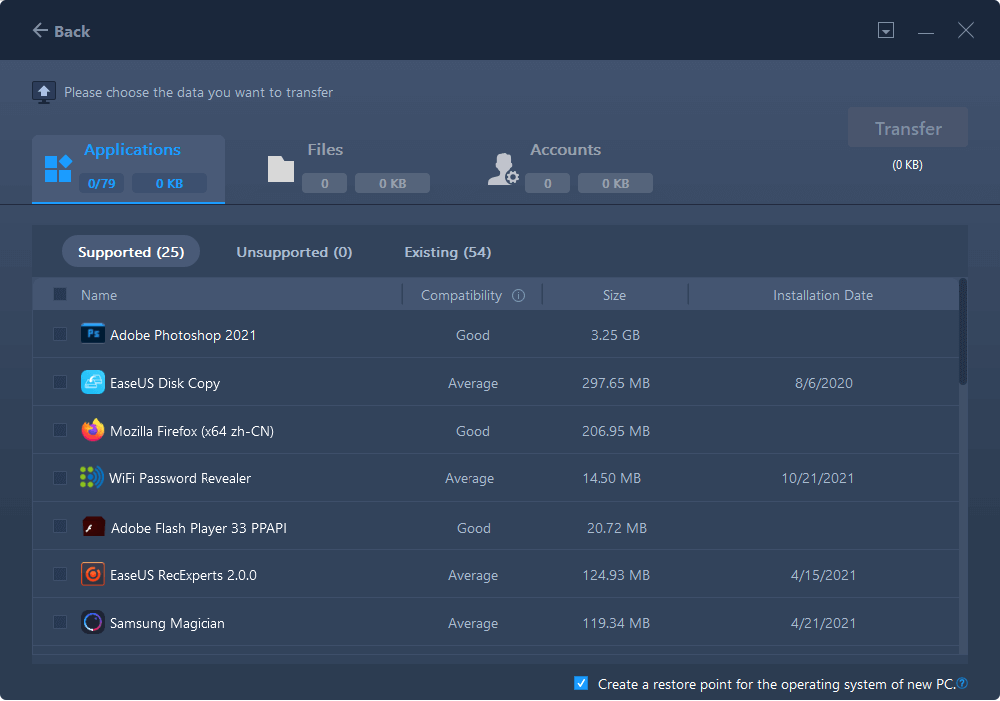 Step 4. Enter the user account and password of the source computer, select the User Account Settings, User Data and other settings that you want to transfer.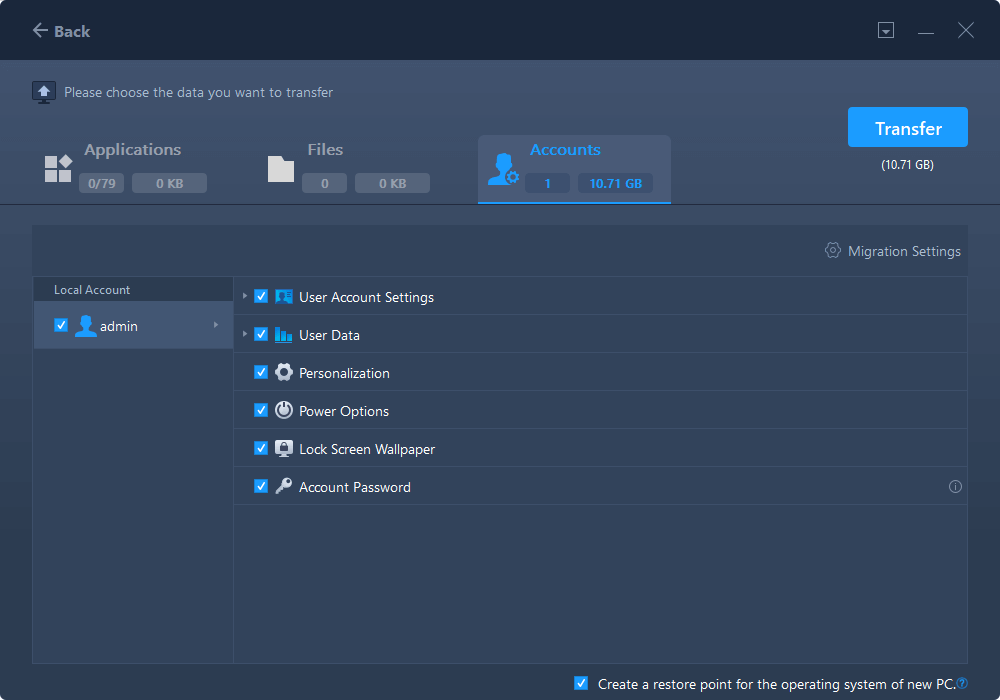 Step 5. After selection, click "Transfer" to start to transfer user accounts and settings.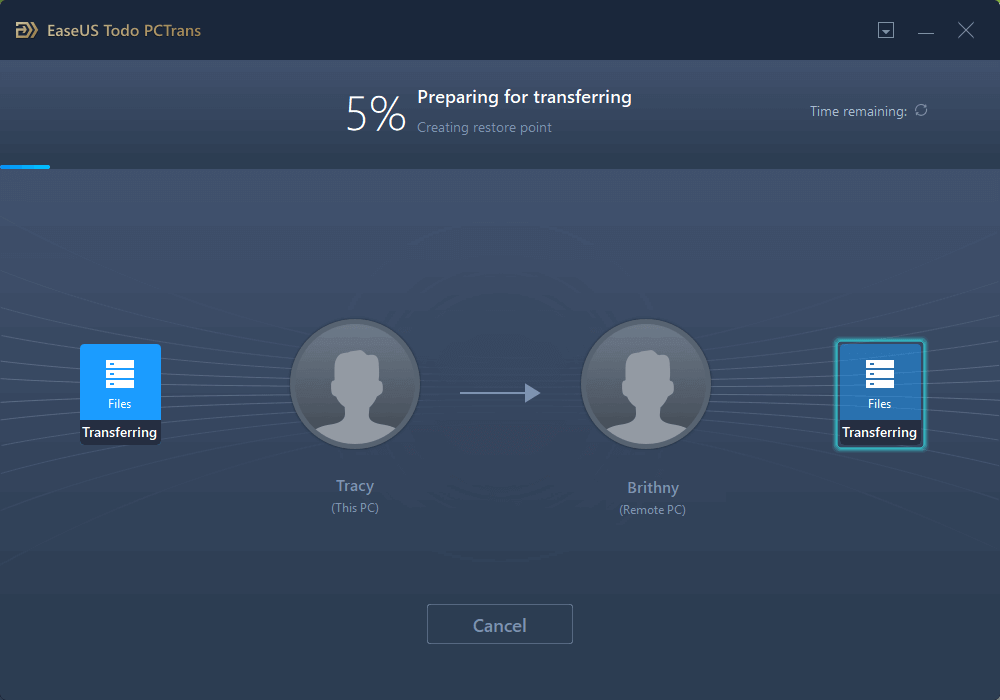 Transfer User Account to a new PC via the backup file
Step 1. Create a backup file. 
1. Connect your USB (flash) drive/external hard drive to your source computer. Launch Todo PCTrans, click "Backup & Restore > Start" on the main screen.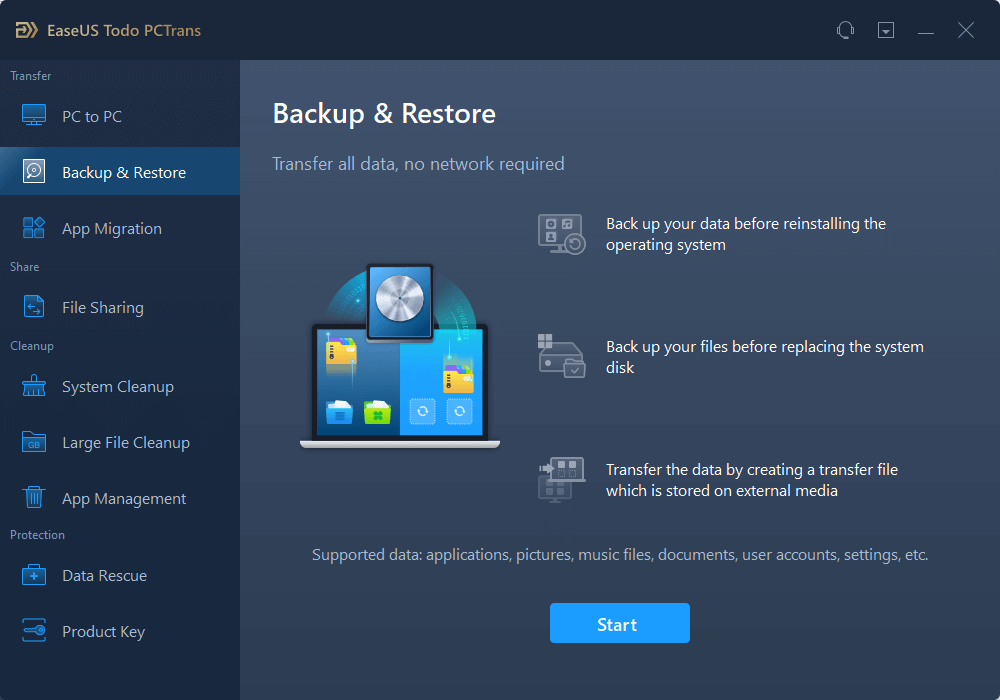 2. Select "Data Backup" to move on.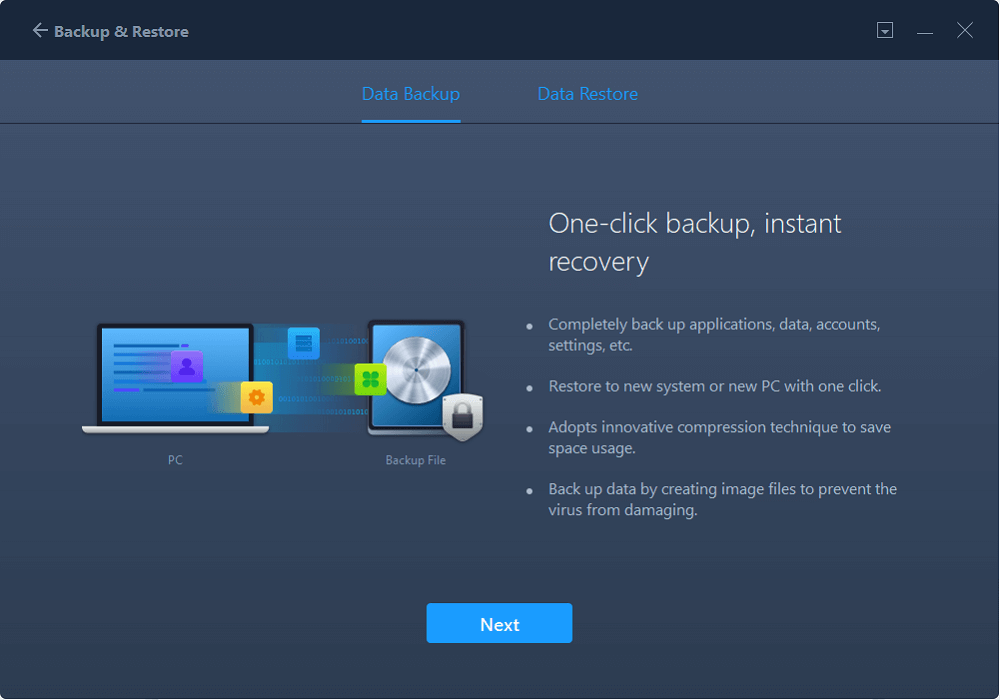 3. Hover over "Applications", "Files" and "Accounts" columns to choose the specific data, applications, etc., and click "Back up" to create a backup file.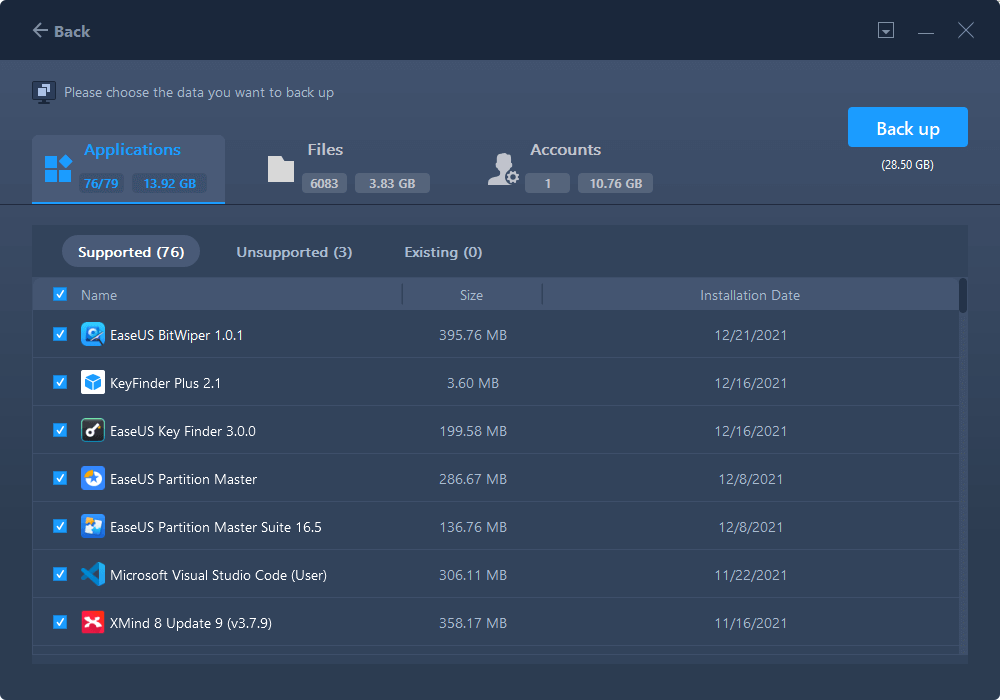 Step 2. Recover via the created backup file.
1. Plugin your USB drive which stores the created backup file to the target PC and open EaseUS Todo PCTrans. Click "Backup & Restore > Start > Data Restore".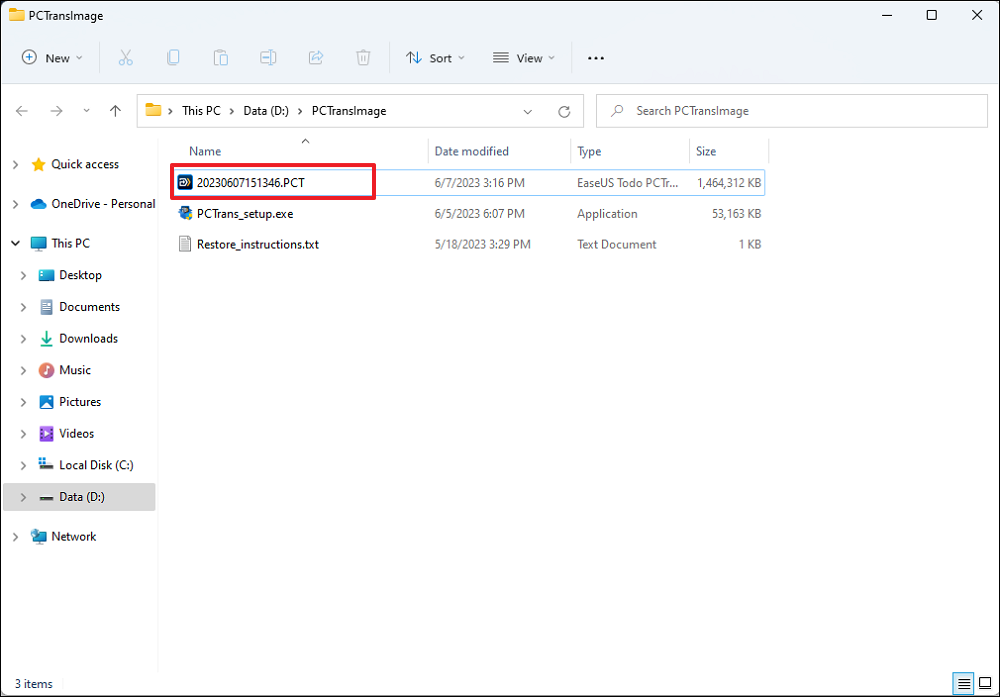 2. Click "Browse" to locate the Image file. Then, choose "Restore" and go to the next step.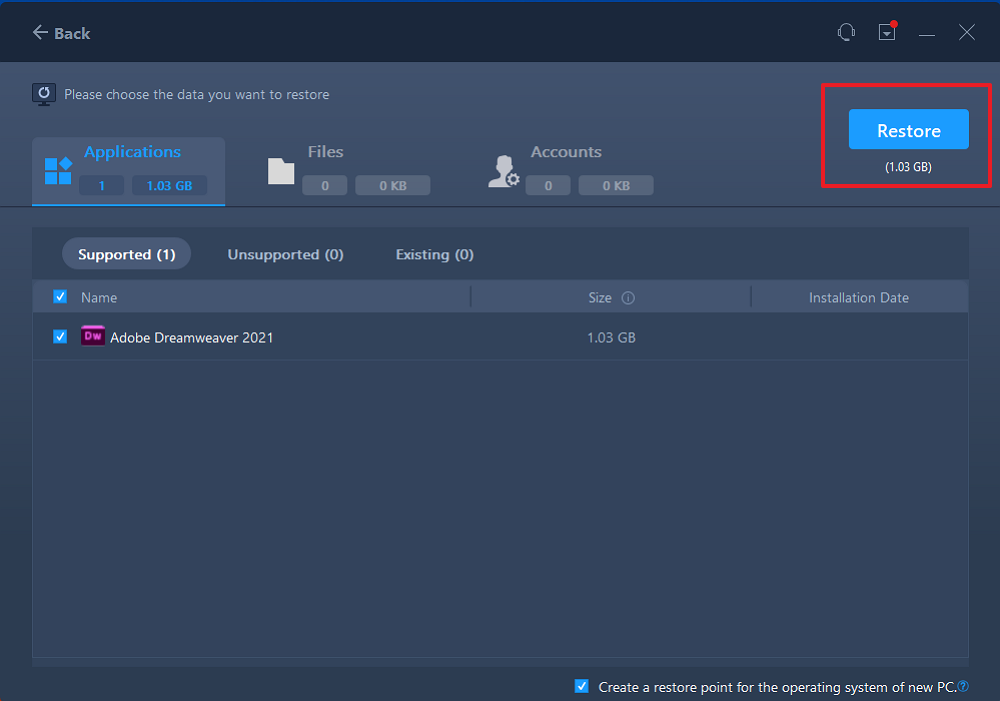 3. Now, you can select Applications/Files/Accounts you want to restore.
Over on Applications, Files, or Accounts to choose the specific data you want transfer flexibly. Click "Restore" to confirm. Besides, you can also click the "Migration Settings" icon to change the target path to recover and save the files.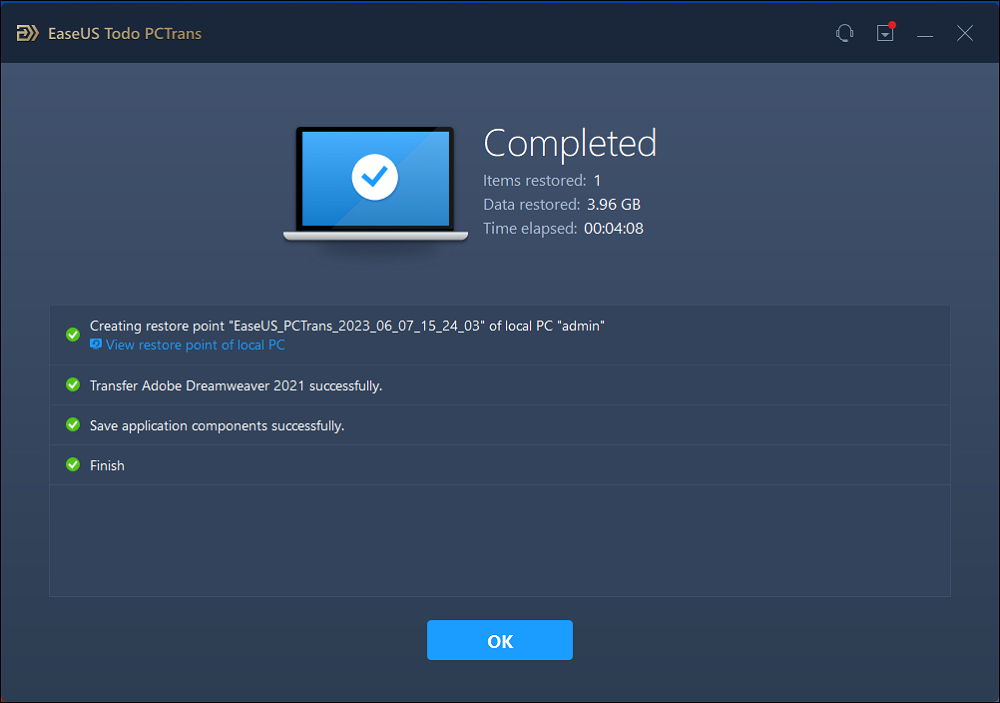 About the Author
Updated by Tracy King 
Tracy joined in EaseUS in 2013 and has been working with EaseUS content team for over 7 years. Being enthusiastic in computing and technology, she writes tech how-to articles and share technical solutions about Windows & Mac data recovery, file/system backup and recovery, partition management and iOS/Android data recovery.
Reviews and Awards
EaseUS Todo PCTrans Free is a useful and and reliable software solution created to serve in computer migration operations, be it from one machine to another or from an earlier version of your OS to a newer one.

 Read More

EaseUS Todo PCTrans is by the folks at EaseUS who make incredible tools that let you manage your backups and recover your dead hard disks. While it is not an official tool, EaseUS has a reputation for being very good with their software and code.

Read More

It offers the ability to move your entire user account from your old computer, meaning everything is quickly migrated. You still get to keep your Windows installation (and the relevant drivers for your new PC), but you also get all your apps, settings, preferences, images, documents and other important data.

 Read More