External hard drive shows up 'Read Only' on Mac, help!
"Hi there, do you know how to make external hard drive accessible again when it shows as 'Read Only' on Mac computer? I'm having this problem that my Seagate external hard drive suddenly turned to read-only this morning when I connected it to Mac.
I could only read and view saved data on the drive. But get no access to use the data on my external hard drive.
If you have any clues to get permissions to access the read-only external hard drive on Mac, please tell me. Thanks very much."
If your external hard drive, USB or SD card shows up read-only on your Mac computer, don't worry. Here in this article, you'll find a reliable method to fix external hard drive with read only error and get all data back on Mac. Follow to see how to remove 'Read Only' error from your storage devices without losing any data now.
Repair 'Read-Only' external hard drive and restore data on Mac within 2 steps
So how to fix and restore data from the read-only external hard drive? Follow below 2 steps to get problems fixed on Mac now:
Step 1. Copy and restore data from external hard drive to Mac
One an external hard drive becomes read-only on Mac, you can still be able to read and copy files from the drive to a new location on Mac computer.
Therefore, you can directly open external hard drive and copy all save files and data to a new folder on Mac computer.
If you cannot view or see all saved data on the drive, don't worry. Professional Mac hard drive recovery software - EaseUS Data Recovery Wizard for Mac will help you effectively find all present and lost data and files on the drive with simple clicks:
1. Launch EaseUS Data Recovery Wizard for Mac and select file types. Click Next.
2. Choose volume of read-only external hard drive, click Scan to let the program scan all saved files and data for you.
Choose Deep Scan and let the program find more lost data for you.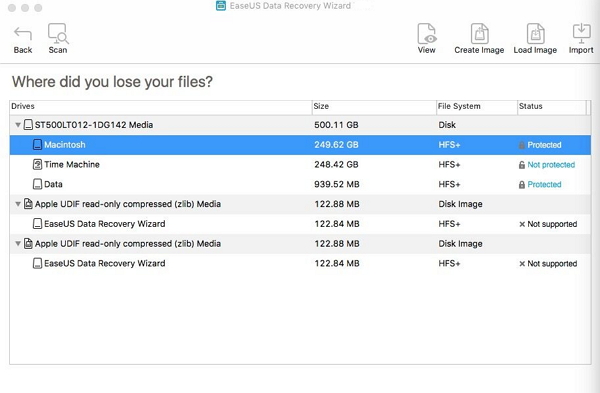 3. Preview and choose found hard drive data, click Recover to save in a safe spot on Mac.
Step 2. Repair and fix Read-Only external hard drive on Mac by reformatting
1. Open Disk Utility on Mac > Find and select the read-only external hard drive on the left pane of Disk Utility;
2. Click Erase on the top of the main menu > Set the file system in Format column (Mac OS Extended/MS-DOS or ExFAT etc) and rename the external hard drive;
3. Click Erase > Erase;
Wait for the reformatting process to complete and then you get the permission to read and write the drive on your Mac computer now. Then save data to the external hard drive and use it on your Mac again.