Summary
An incompatible file system, faulty permission settings, and unexpected formatting error are all likely to cause your external hard drive to show up as 'Read Only' on your Mac. Luckily, there are solutions to these problems, either by formatting the device, changing settings, or repairing your device. Besides, if you get your data lost during the problem-solving process, you can retrieve your data with EaseUS Data Recovery Wizard. Try these tips without worries!
SymptomsThe External Hard Drive Shows Up as 'Read Only' on Mac, Help!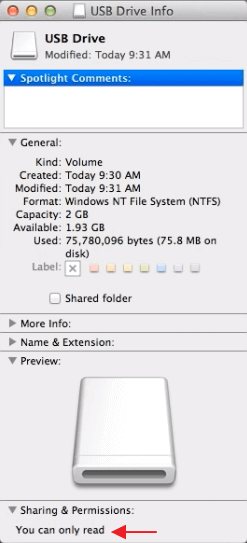 "Hi there, do you know how to make the external hard drive accessible again when it shows as 'Read Only' on Mac computer? I'm having this problem that my Seagate external hard drive suddenly turned to read-only this morning when I connected it to Mac. I could only read and view saved data on the drive. But get no access to use the data on my external hard drive. If you have any clues to get permissions to access the read-only external hard drive on Mac, please tell me. Thanks very much."
If you right-click your external storage device, select 'Get Info', and see 'You can only read' at the bottom of the info window, you are encountering one of the commonest problems with an external hard drive. When your external hard drive or other external storage devices show up as 'Read Only' on your Mac, you can:
Open the drive and view the files
copy files from the external storage drive
You can't:
Copy files to the device
Delete files from the external drive
When you can't use your external storage devices normally, it could be quite annoying and frustrating for the problem not only represents a threat to your work efficiency but also shows the possibility of data loss.
ReasonsWhy Is Your External Hard Drive Read-Only on Mac
Why can you only read the external hard drive that is connected to your Mac? There are three possible reasons.
The File System Is NTFS
Right-click your hard disk and select 'Get Info'. If you find your external hard drive is NTFS format, that's what the cause is. The incompatibility of the file system is the main cause of the error-external hard drive 'Read Only' on Mac. NTFS is a file system that is optimal for Windows-based computer. Although the Mac operating system allows you to read the files on external hard drive, you can't write files to it because the way that NTFS writes data to the device is incompatible with the way of macOS doing it. (Go to the Fix.)
The Permission Settings Is Not Ignored
An external hard drive is subject to the access permission set up by OS X for all files and folders on the system. When you use the device on another computer with a different OS, the permission settings with it may not be recognized or prevent access to the files on the hard disk. (Go to the Fix.)
The Hard Drive has Formatting Errors
Another common cause for the external hard drive 'Read Only' problem on Mac is the formatting errors of the storage device itself. If you see a warning says the device is only being mounted in read-only mode while connecting, your hard disk is diagnosed to have formatting errors that prevent you from writing files to it. (Go to the Fix.)
Identify the cause that leads to the 'Read Only' error on your Mac from the information above, then follow the corresponding solution to solve the problem with ease.
FixesHow Can You Solve the External Hard Drive 'Read-only' Problem on Your Mac
Based on the different reasons, there are three solutions to the problem.
Fix 1: Reformat the External Hard Drive
If your external hard drive is read-only on your Mac due to its NTFS file system, you can easily fix it by reformatting the device to a Mac-compatible format with the built-in Disk Utility on Mac. Before that, remember to back up your external hard drive quickly with a highly-efficient data backup software since the formatting will erase all the files on the device.
Step 1: Launch 'Disk Utility'.
Head to 'Applications' > 'Utilities'.
Or tap 'Command + Space' and type Disk Utility.
Step 2: In the list of available drives on the left, choose the problematic external hard drive. Then click the 'Erase' option in the main window.
Step 3: Choose a proper file system and rename your hard disk. (Both APFS and Mac OS Extended file system are Mac-exclusive. Thus, if you want your external hard drive to be both Mac and PC compatible, choose MS-DOS, also known as FAT, or ExFAT instead.)
Step 4: Click Erase to reformatting your external hard drive.
Wait for the reformatting process to complete and then go to the information window, this time you will see the 'You can only read' has changed to 'You can read and write', which means you can read and write the drive on your Mac normally.
Generally speaking, when a storage device shows up as read-only, you can still copy files off of it. If you cannot view or see all saved data on the drive, don't worry. After you format it, you can use the Professional Mac hard drive recovery software - EaseUS Data Recovery Wizard for Mac to get back your lost data on the drive with simple clicks:
Step 1. Select the disk location (it can be an internal HDD/SSD or a removable storage device) where you lost data and files. Click the Scan button.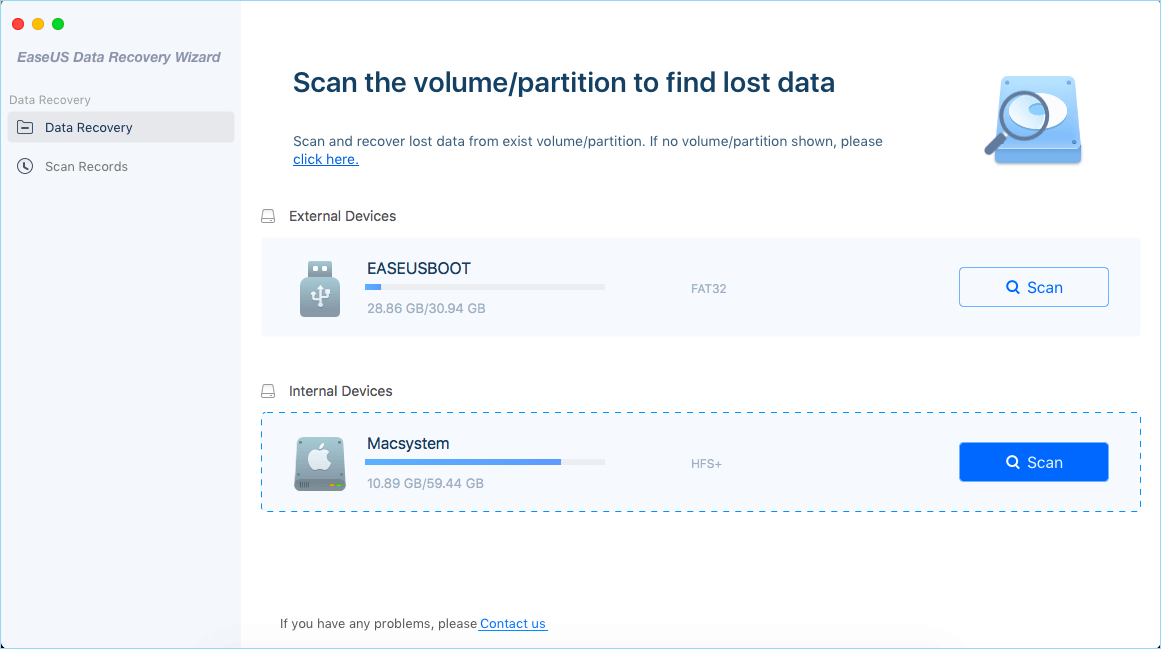 Step 2. EaseUS Data Recovery Wizard for Mac will immediately scan your selected disk volume and display the scanning results on the left pane.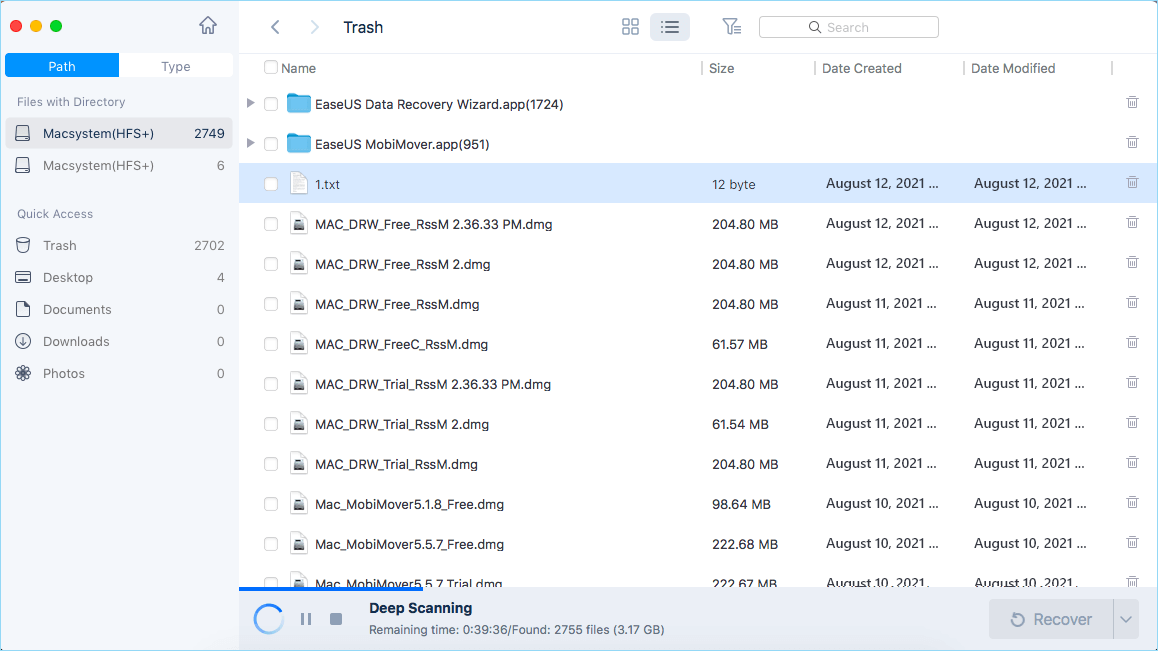 Step 3. In the scan results, select the file(s) and click Recover Now button to have them back.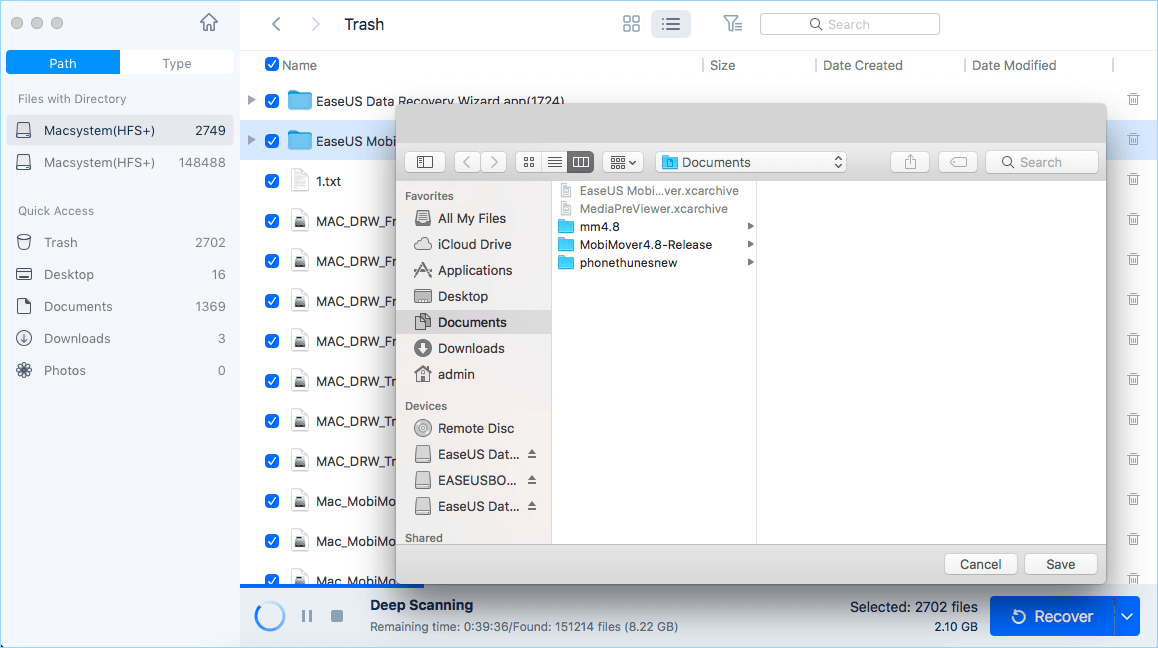 Fix 2: Ignore Permissions
If you are sure the problem is caused by the permission settings, you just need to ignore the permissions to solve the 'Read Only' external hard drive problem on your Mac.
Step 1: Right-click your external hard drive shown on your Mac and select 'Get Info'.
Step 2: Expand the 'Sharing & Permissions' section, then click the lock to authenticate.
Step 3: Check 'Ignore ownership on this volume'.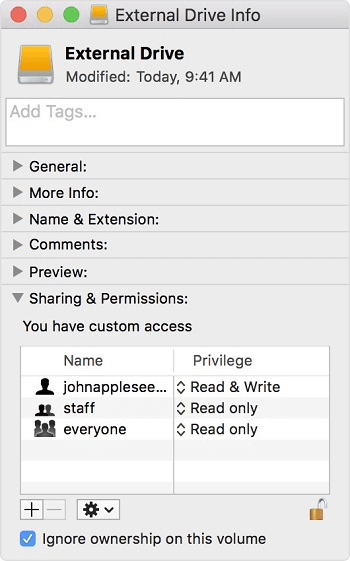 Fix 3: Check and Repair Hard Drive errors
If there is formatting error on your external hard drive that makes the device read-only, you can use Disk Utility to check the errors and repair the external storage device.
Step 1: Go to 'Disk Utility'.
Head to 'Applications' > 'Utilities'.
Or tap 'Command + Space' and type Disk Utility.
Step 2: Highlight the read-only external hard drive, click 'First Aid' in the top center, then tap 'Run'.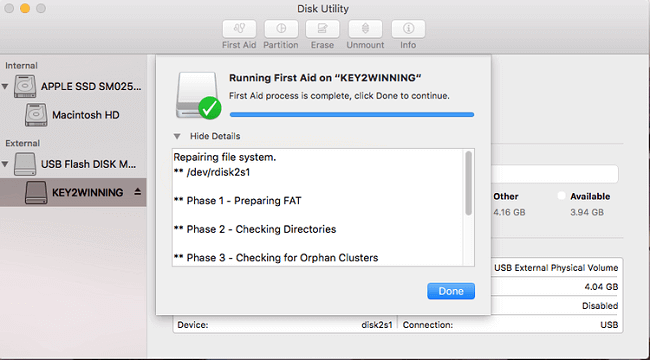 100% of people found this article helpful.
Frequently Asked Questions
1. Why choose EaseUS Data Recovery Wizard?

"EaseUS Data Recovery Wizard is the best we've seen. It's far from perfect, partly because today's advanced disk technology makes data-recovery more difficult than it was with the simpler technology of the past, but it's fast and efficient..." —PCMag

"The first thing you'll notice about EaseUS Data Recovery Wizard Pro is that its interface is very clear and uncluttered, with only a small collection of self-explanatory controls. You won't find lots of extra options hidden in a system of hidden menus, either; what you see really is what you get." —techradar

"Recover lost files, even after deleting a partition or formatting your drive." —Macworld
2. Why cannot I recover 2GB data for free?

It is recommended to check the version installed is Free or Trial because they are different versions.

Trial has data preview function but cannot save any files, while the Free version enables to recover 2 GB files. The default free space is 500 MB and you may share the product on social media to get another 1.5 GB.
3. Why cannot the recovered files be opened?

A file is saved as 2 parts on the storage device: directory info (which is comprised by file name, time stamp and size info, etc.) and data content.

If the files with original file names and folder structures cannot be opened, one possible reason is the corrupted directory info. There is still a chance to recover the data content with the RAW Recovery method in our software.
4. Why isn't it suggested to recover the files back to the original drive?

The storage structure of the lost files would be altered or damaged by any changes on the drive. If you save the recovered files back to the same drive, the original data structures and data content would be corrupted or overwritten, which causes permanent data loss. So you should prepare another disk to save the files.
5. How can I check whether my data is recoverable or not before purchase?

The Free version helps you save 2GB files, so verify the recovery quality of our product before purchase.
6. How long does it take to scan the drive?

It strongly depends on the capacity of your hard drive and the performance of your computer. As reference,most drive recoveries can be completed in around 10 to 12 hours for a 1-TB healthy hard drive in general conditions.
About Data Recovery Wizard
It's super easy to recover 250+ types of files after deletion, disk formatting and virus infection. Click the links and compare the difference of each version.