Summary
If you happen to delete emails or clean up email boxes, you can use the simple and effective methods here to retrieve deleted emails from Hotmail/Outlook/Gmail or Yahoo Mail Message. Even after 30 days, you can still use reliable EaseUS email recovery software to help you recover permanently deleted emails in Outlook.
PAGE CONTENT:
Recover deleted emails in 30 days

Recover deleted emails from Outlook
Restore lost emails from Gmail
Undelete emails from Yahoo
Retrieve missing emails from Hotmail

Recover deleted emails after 30 days with email recovery software
How to Recover Deleted or Lost Emails
"Hey there, do you know how to recover lost emails in Outlook? I happened to clean up the Inbox folder, and all of the received emails were all gone. How can I restore them? Please help me!"
Have you ever accidentally deleted important email messages or cleaned up the whole Inbox folder by mistake? If so, don't worry that you have no way to perform email recovery. Practical methods are provided in this article to help you recover (permanently) deleted emails from Outlook, Gmail, Hotmail, Yahoo, etc. Follow to recover deleted emails now.
 Notice:

Mostly, Email trash folder only keeps deleted emails for 30 days. You can find the deleted emails from the trash within this period. After 30 days, all deleted emails will permanently disappear. But if you have downloaded the .pst or saved the files to a local drive on your PC, you may have a chance to retrieve deleted emails with powerful and data recovery software.
Recover Deleted Emails From Outlook/Gmail/Hotmail/Yahoo Trash Folder (In 30 Days)
Almost all email apps or programs have set a trash folder which works like the recycle bin on the PC to save or temporarily save deleted or unwanted email files. Therefore, if you happened to delete emails on Outlook, Gmail, Hotmail or Yahoo, you can follow the below guidelines to recover deleted email files from the trash folder:
Option 1. Recover Deleted Emails from Outlook
Retrieve emails that are still in Deleted Items or Junk Email folder
When you delete an email message, contact, or calendar item, it's moved to the Deleted Items folder. If you don't see the email in the Deleted Items folder, check the Junk Email folder.
Step 1. Select the "Deleted Items" folder in the left pane of Outlook.com window.
Step 2. At the top of the window, select "Recover deleted items".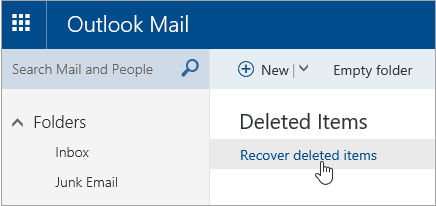 Step 3. Then, a dialog box will open with a list of deleted items. Choose the items or emails that you want to recover and click "Recover" > "OK".

Junk Email folder: Select the message you want to recover and select "Not junk".
Retrieve deleted emails that have been removed from your Deleted Items folder
If you can't find an item in the Deleted Items folder, the next place to look is the Recoverable Items folder.
Step 1. In the left pane, select the "Deleted Items folder".
Step 2. At the top of the message list, select "Recover items deleted from this folder".
Step 3. Select the items you want to recover and select "Restore".

Option 2. Restore Deleted Emails from Gmail
Step 1. Open Gmail account and sign in > click on "Settings" > click on "Labels".
Step 2. Click on "Show trash". This will show your trash folder on the left pane of the Gmail window.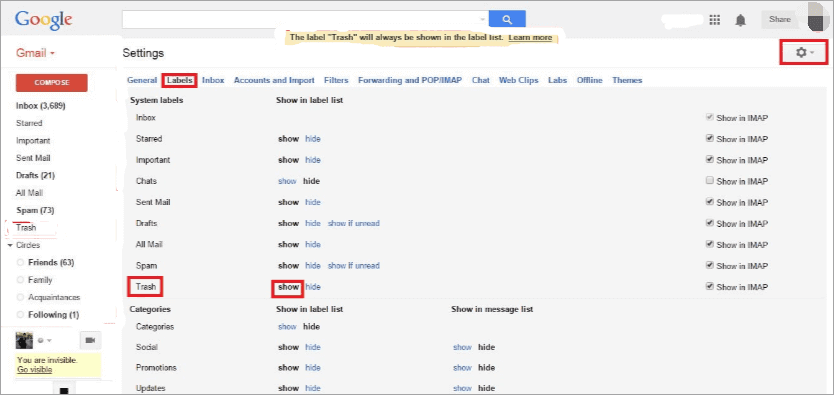 Step 3. Now, you can see all deleted email files in the Trash folder. Select or check the wanted email and files, click on the mail icon at the top of the window with "Move To" words so to move your deleted emails to the Inbox.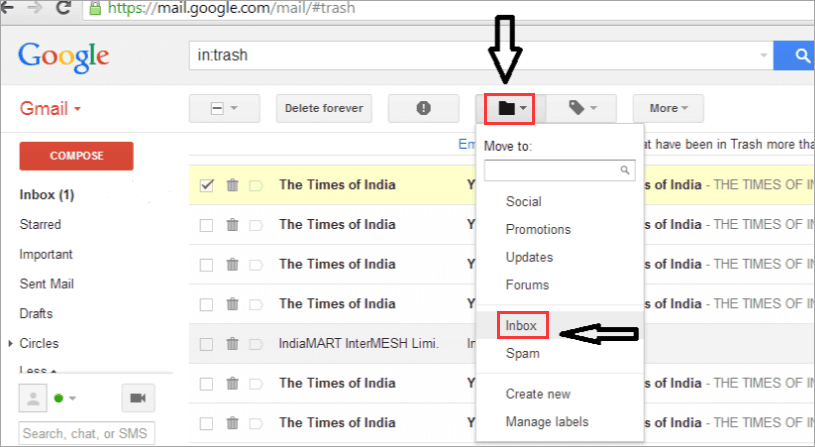 If you can't find the email in the Trash folder, this may be because you have emptied the Trash folder or the hit the "Delete Forever" button on a message that was already in the Trash folder. If this has happened, you can send a request to the Gmail Support Team to ask it to recover these deleted messages and emails in your Gmail account. But don't expect too much; this approach will fail to a large extent.
Option 3. Undelete Emails from Yahoo
Step 1. Log in Yahoo! Mail and go to the "Trash" folder.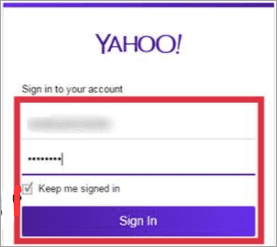 Step 2. Open the desired message, check any messages you want to undelete in the message list.
Step 3. Click "Move" in Yahoo! Mail toolbar and select Inbox or another folder to recover the message.
Step 4. You can also drag and drop the email to any folder by pressing "DO".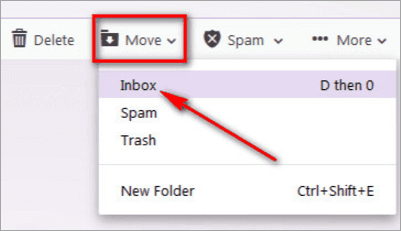 It becomes tough if you don't know how to recover deleted emails from Yahoo after 30 days. And it is impossible to recover permanently deleted Yahoo mail from the account without any backup. Thus, you should take a backup of Yahoo mail to retrieve lost emails one day.
Option 4. Retrieve Deleted Emails from Hotmail
Step 1. Go to Hotmail website and sign in with your Hotmail account.
Step 2. Click "Deleted" on the left pane of the Hotmail window. If you don't see it, scroll down to find it. The deleted folder is usually listed at the end of the left pane.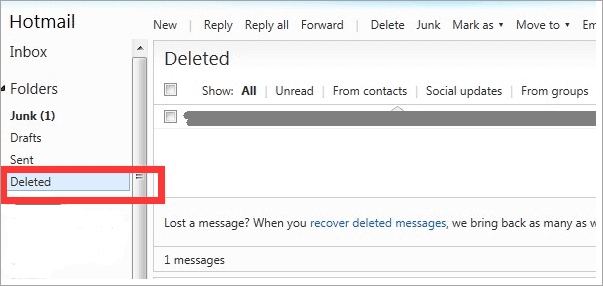 Step 3. Click "Recover deleted messages" to bring back deleted mail messages.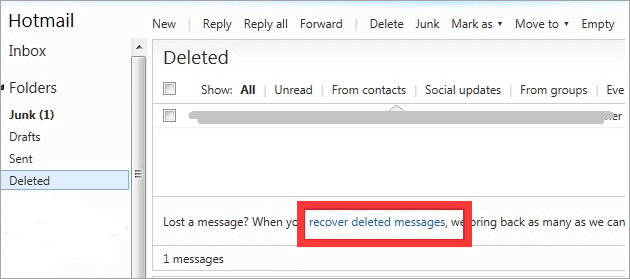 Restore Deleted (Outlook) Emails After 30 Days
Most email software or programs will only save deleted or temp email files in the trash for only 30 days. After 30 days, emails will be permanently removed.
However, if you have downloaded the email database .pst/.ost files or saved received emails on a local drive of your PC, and then deleted them by mistake, don't worry. You may still have a chance to recover the permanently deleted emails with an email recovery tool. EaseUS Data Recovery Wizard enables you to recover deleted emails in Outlook after 30 days from your local PC.
PLUS: EaseUS Data Recovery Wizard only supports Outlook email recovery on a local PC. If you are a Gmail, Hotmail or Yahoo Mail Message user, please contact their customer service team for help.
See the detail steps on how to find your lost email files from the local drive of your computer now.
Step 1. Choose the drive X: where your lost email files were saved, and click "Scan".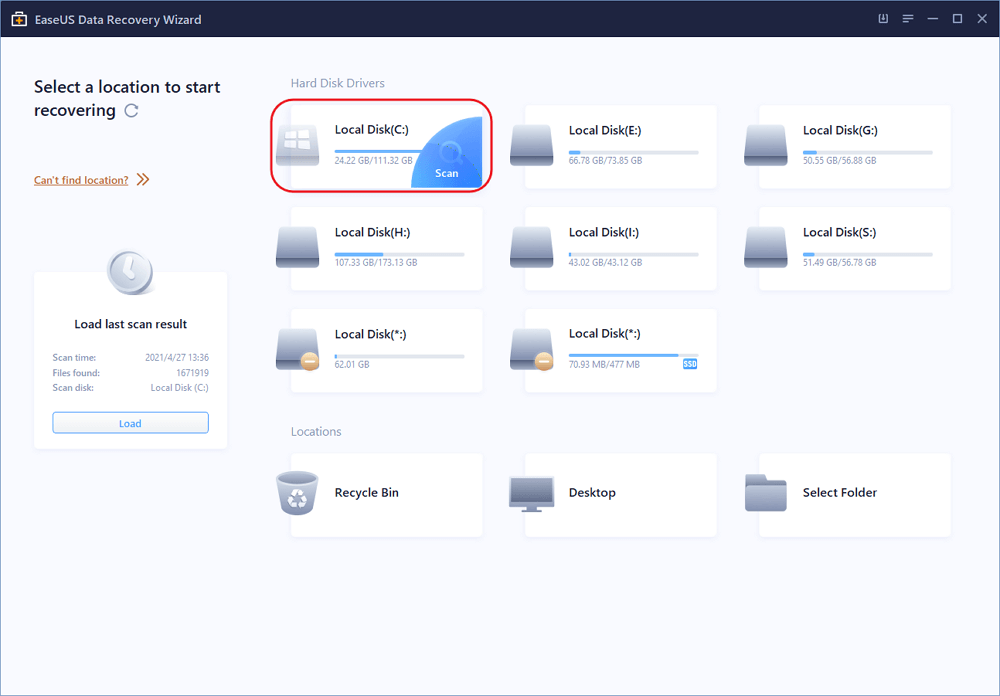 Step 2. The software will initiate a scanning process immediately. The larger the drive is, the longer time it takes. Wait patiently until the scan is complete. To quickly locate the email files, you can click "Filter" -> "Emails", or directly search a specified file extension, such as .pst, .ost, etc.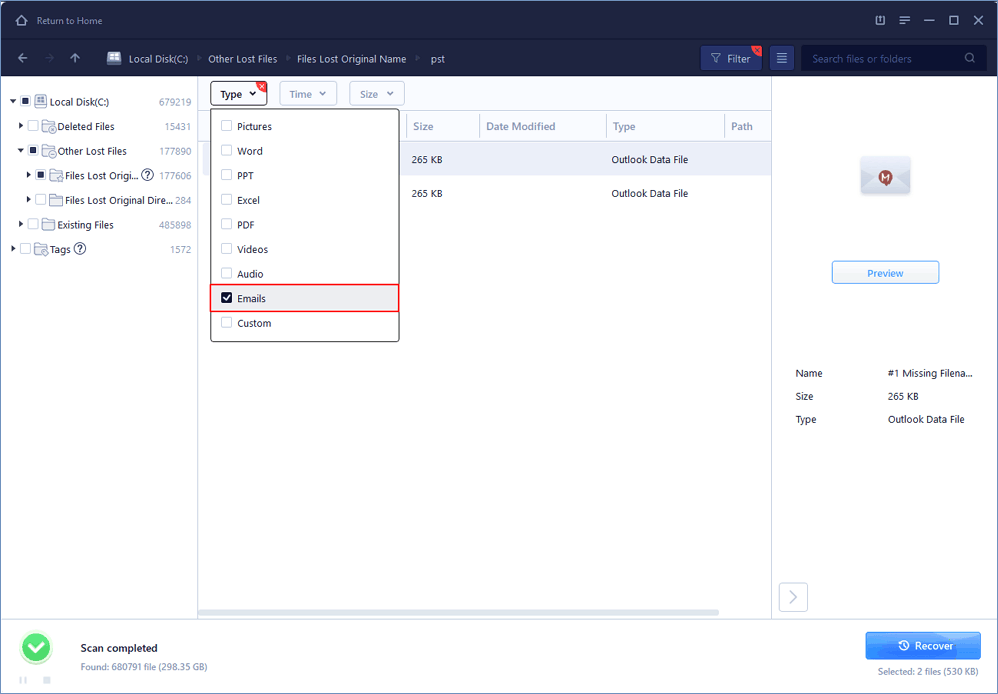 Step 3. In the filtered results, choose the desired email files and click "Recover".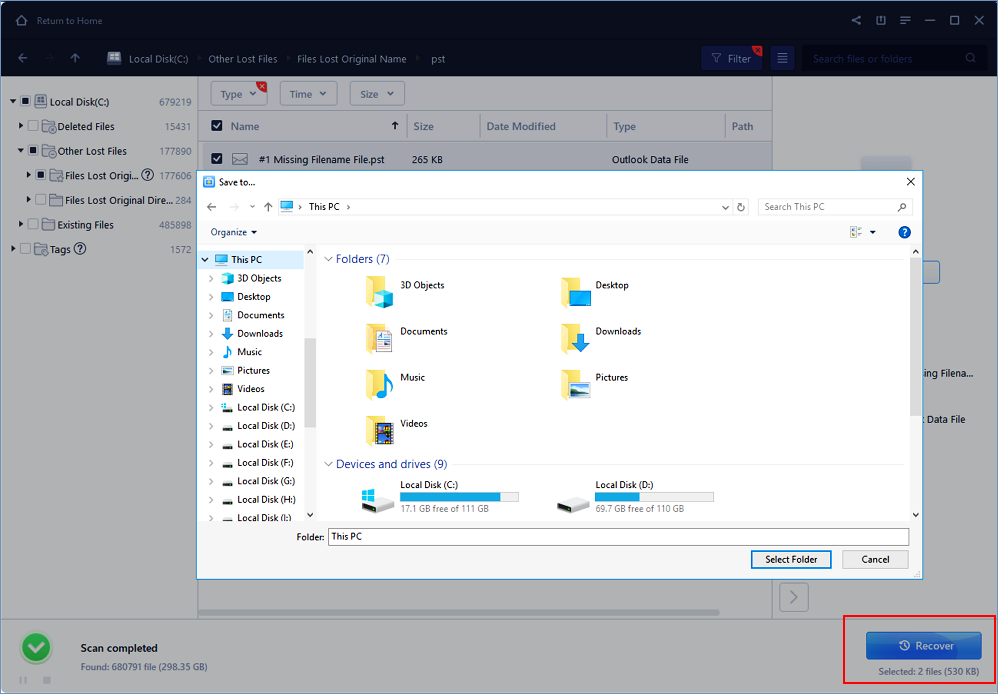 In addition to email recovery, EaseUS data recovery program also supports formatted recovery, deleted files recovery, recycle bin emptied data recovery, lost partition recovery, OS crash recovery, RAW partition recovery, etc.
100% of people found this article helpful.
Frequently Asked Questions
1. Why choose EaseUS Data Recovery Wizard?

"EaseUS Data Recovery Wizard is the best we've seen. It's far from perfect, partly because today's advanced disk technology makes data-recovery more difficult than it was with the simpler technology of the past, but it's fast and efficient..." —PCMag

"The first thing you'll notice about EaseUS Data Recovery Wizard Pro is that its interface is very clear and uncluttered, with only a small collection of self-explanatory controls. You won't find lots of extra options hidden in a system of hidden menus, either; what you see really is what you get." —techradar

"Recover lost files, even after deleting a partition or formatting your drive." —Macworld
2. Why cannot I recover 2GB data for free?

It is recommended to check the version installed is Free or Trial because they are different versions.

Trial has data preview function but cannot save any files, while the Free version enables to recover 2 GB files. The default free space is 500 MB and you may share the product on social media to get another 1.5 GB.
3. Why cannot the recovered files be opened?

A file is saved as 2 parts on the storage device: directory info (which is comprised by file name, time stamp and size info, etc.) and data content.

If the files with original file names and folder structures cannot be opened, one possible reason is the corrupted directory info. There is still a chance to recover the data content with the RAW Recovery method in our software.
4. Why isn't it suggested to recover the files back to the original drive?

The storage structure of the lost files would be altered or damaged by any changes on the drive. If you save the recovered files back to the same drive, the original data structures and data content would be corrupted or overwritten, which causes permanent data loss. So you should prepare another disk to save the files.
5. How can I check whether my data is recoverable or not before purchase?

The Free version helps you save 2GB files to better verify the recovery quality of our product before purchase.
6. How long does it take to scan the drive?

It strongly depends on the capacity of your hard drive and the performance of your computer. As reference,most drive recoveries can be completed in around 10 to 12 hours for a 1-TB healthy hard drive in general conditions.
About Data Recovery Wizard
It's super easy to recover 250+ types of files after deletion, disk formatting and virus infection. Click the links and compare the difference of each version.