There are plenty of mail services that have made human work easier and accessible. One of the most efficient and famous mail services is provided by the Google platform, which is Gmail. Due to its easy interface and availability on every internet browser, many people are now dependent on its platform.
However, remembering the account passwords of various social media and online platforms is difficult. If you have not saved your Gmail password, there is a high possibility that you will forget it in your time of need. Well, no need to worry, as this article will offer a comprehensive guide on Gmail account recovery with easy steps.
How to Recover Gmail Password with a Recovery Email
Whenever you create a new Gmail account, the platform will ask you for a recovery email ID in case you forget the password. By providing the recovery email ID, users can easily access their Gmail account even if they have forgotten the password. In this section, we will highlight the instructions for Gmail account recovery with a recovery email ID.
Step 1. Click on "Forgot Password"
Start by navigating to the Gmail log-in page on your internet browser. If you have forgotten your email password, only enter your email address and click on the "Next" button. Once done, click on the "Forgot Password" option.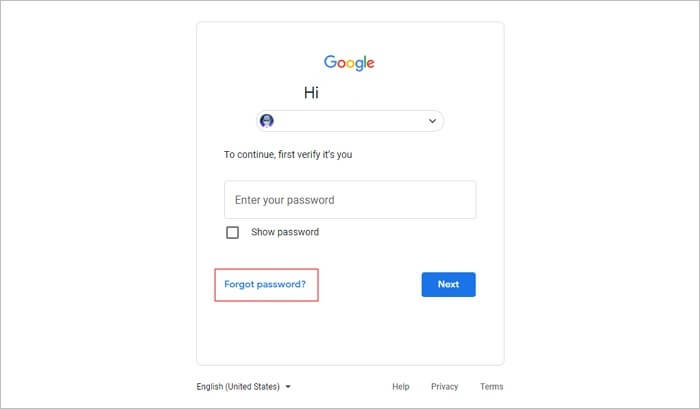 Step 2. Select Recovery Email ID
Now Google will display a page where you see multiple options for recovering your Gmail. You have to select the option displaying your recovery email ID to get the verification code for email password recovery.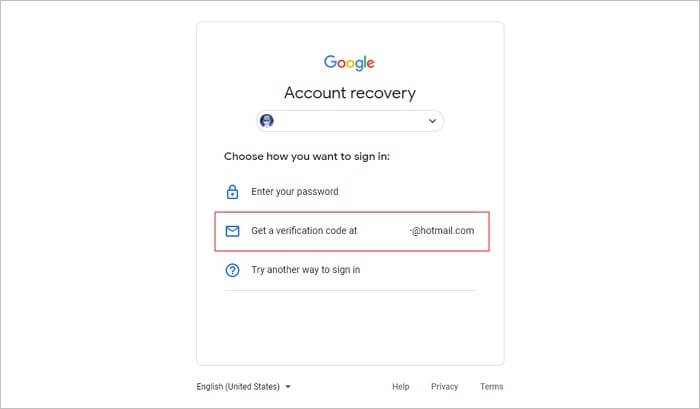 Step 3. Recover Your Gmail Password
Gmail will send an email consisting of the verification code to your recovery email account. You have to access your recovery email for the code and type that code in the password recovery wizard of Gmail. After entering the code, tap on "Next".  Now you can reset your Gmail account password instantly.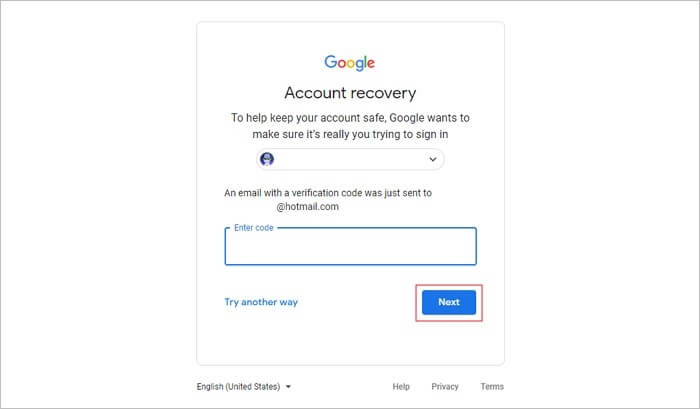 How to Recover Gmail Password Without a Recovery Email
A recovery email ID lets the user recover the Gmail password conveniently. However, if you can't remember the recovery email address or can't reach it for any reason, you can still recover it. In this section, we will offer instructions for Gmail password recovery with the help of a linked phone number.
Step 1. Begin with Gmail Log-in
First, open the Gmail log-in page and enter your email address correctly. After that, click on the "Next" button and if you don't remember the password, click on "Forgot Password" displayed below.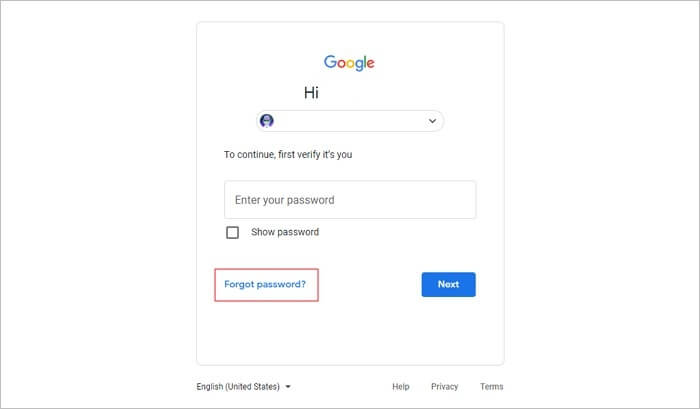 Step 2. Enter the Linked Phone Number
Initially, Google will ask you to enter the recovery email ID. Besides this option, tap on the "try another way" option given at the bottom. Now Google will ask you if you want to get a verification code to perform Gmail password recovery. You have to click on the "Send" button to proceed.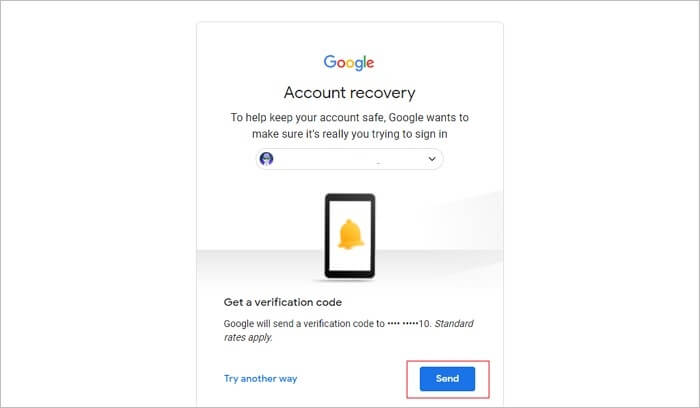 Step 3. Enter Verification Code
Google will send you a text message that will include a one-time generated code. You can enter this code on the recovery wizard and tap on the "Next" button. Once done, you can reset the Gmail password without the need for a recovery email.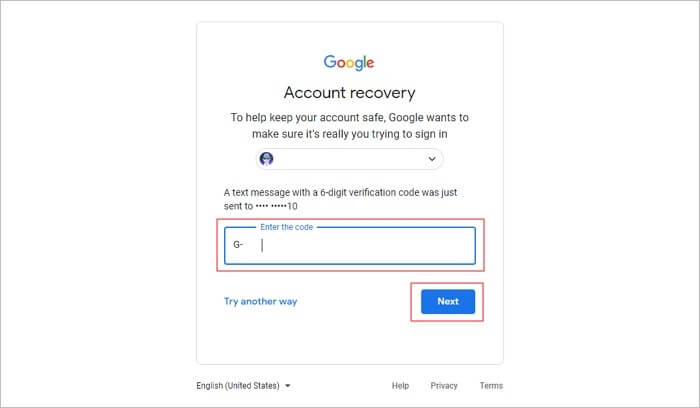 Don't Miss: How to Recover Deleted Emails in Yahoo Mail
How to Reset Your Gmail Password
To prevent yourself from unnecessary email password recovery, you should try to reset and save your Gmail password carefully. By doing so, you can remember your Gmail password, and it can enhance the security of your account. Thus, it is recommended by the experts that every regular user of Gmail should reset their password twice a month to reduce the chances of hacking.
In this section, we will provide steps on how to reset your Gmail password without applying complicated steps.
Step 1. Sign in to Your Gmail Account
Start by signing in to your Gmail account by entering your email ID and password. Once done, click on the "Profile" icon displayed in the top right corner. From there, click on "Manage your Google account".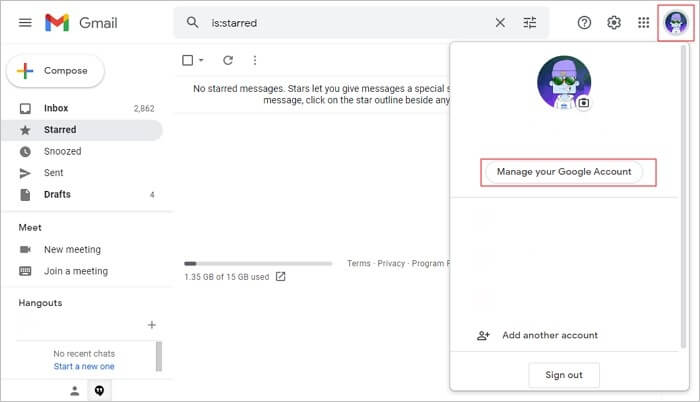 Step 2. Select the Security Tab
Now go to the tab of "Security" and locate the heading "Signing in to Google". Under the heading of "Signing in to Google", click on the "Password" button. Now enter your existing password and tap on "Next".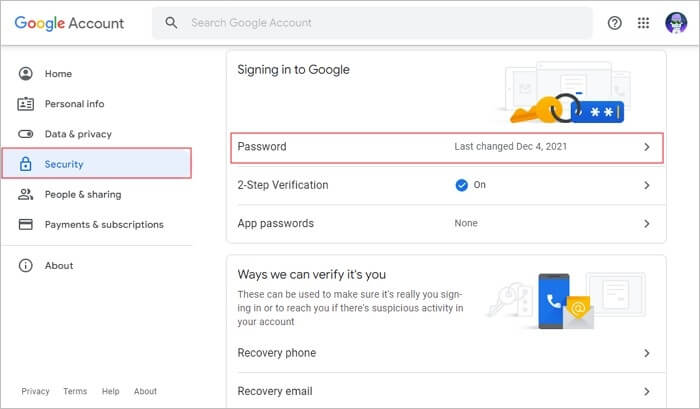 Step 3. Reset Your Password
Google will now let you change the password. So, create a new password and enter it again for confirmation. Tap on "Change Password", and your password will be reset. Now you have to enter this newly rest password on the devices where you have used Google to log in.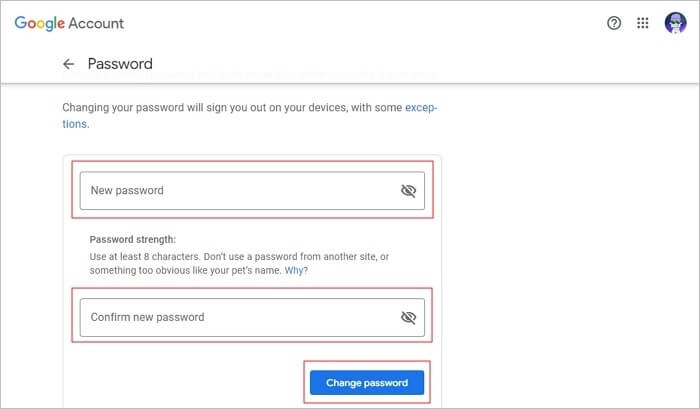 Pro Tip: How to Recover Permanently Deleted Emails 
As we have described how to perform Gmail account recovery, now we are going to shed light on recovering data from Outlook. There can be several scenarios where you can lose your email data on Outlook, such as a corrupted file or accidental deletion. To recover this lost email data from Outlook, we will strongly recommend the EaseUS Data Recovery Wizard Software.
EaseUS data recovery software is an efficient and advanced tool that can instantly recover deleted email data from the Outlook file. For instance, you can recover email messages, calendars, contacts, notes, and attachment files in their original state.
Whether your email data got severely corrupted or damaged through a virus attack, this software precisely targets the main problem. Thus, you can use software conveniently to recover your mail data from the Outlook file without encountering any complications.
Key features of EaseUS Data Recovery Wizard:
Recover deleted Word, Excel, PPT, PDF, photos, videos, audio, emails, and other hundreds of files
Recover data from emptied Recycle Bin, HDD, SSD, USB flash drive, SD card, and external hard drives
Restore lost data on Windows 10/8.1/8/7/Vista/XP and Windows Server 2019 - 2003
Retrieve deleted files from Mac computer running macOS 11.2 ~ 10.9
Steps to Recover Lost Email Data from Outlook Using EaseUS Email Recovery Software
Are you eager to know how to recover the lost email data of Outlook files? Read the comprehensive instructions below to get a clear notion of this process.
Step 1. Choose the drive or partition where you lost email files, and click "Scan".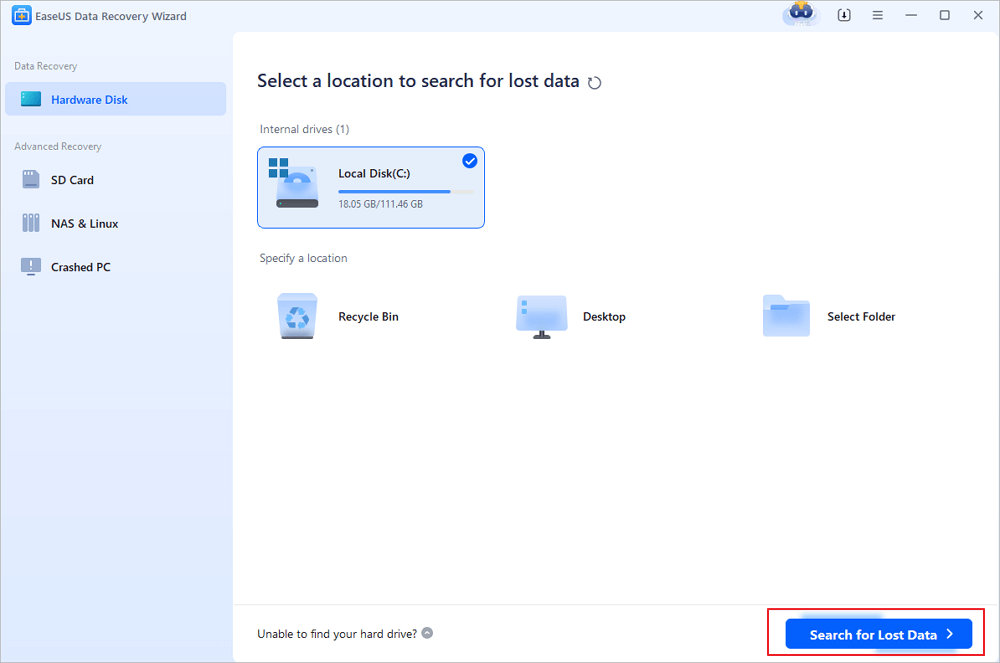 Step 2. The software will initiate a scanning process immediately. Wait patiently until the scanning process completes. To quickly locate the email files, click "Others" in the left panel. Then, look for PST files or Outlook files in the file type list.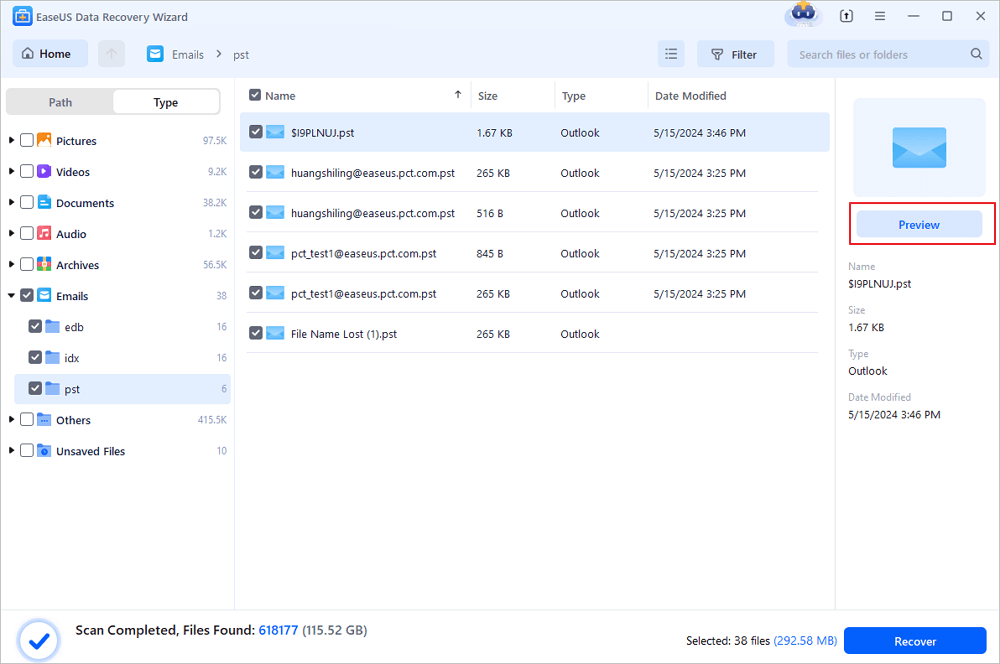 Step 3. Then, choose the desired email files and click "Recover". Save the files to another location instead of the original one.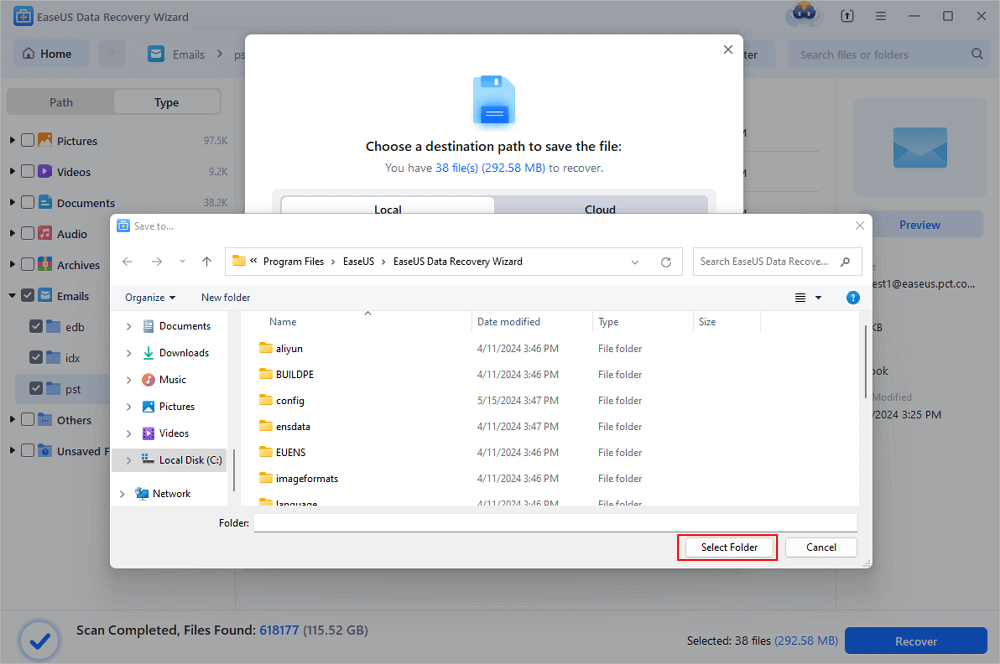 Conclusion
Have you forgotten your Gmail password? No need to worry, as this article has jotted down the authentic instructions to perform email password recovery. We have provided easy methods through which you can execute Gmail account recovery flawlessly. Moreover, you can also recover the lost or damaged email data of Outlook through the excellent tool called EaseUS Data Recovery Wizard.

Cedric Grantham is one of the senior editors of EaseUS who lives and works in Chengdu, China. He mainly writes articles about data recovery tutorials on PC and Mac and how-to tips for partition management. He always keeps an eye on new releases and likes various electronic products.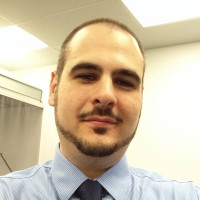 Approved by Evan Galasso 
Evan Galasso is a digital forensics and data recovery engineer with over 10 years of experience in the field. He presents opinions on the current state of storage media, reverse engineering of storage systems and firmware, and electro-mechanical systems of SSDs and HDDs.