What is whea uncorrectable error?
Whea uncorrectable error is one types of a blue screen of death problems that usually happens when your PC has shut down suddenly to protect itself from data loss. It attacks not only Windows 10 but also Windows 8 machines. The following picture shows you the typical symptom of this error.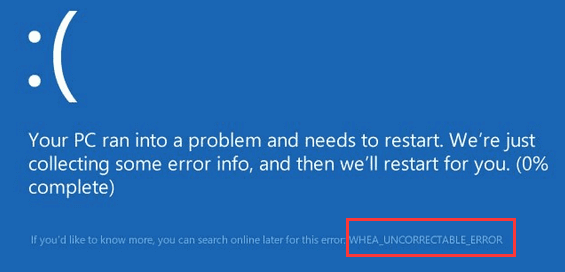 When WHEA_UNCORRECTABLE_ERROR occurs and said 'Your PC ran into a problem and needs to restart', it suggests a overclocked CPU, driver conflicts, hardware issues or corrupted system files. And sometimes the problem is so terrible that you will not be able to access to your PC. While encountering such a situation, what will you want to do first, to recover data from the PC that cannot boot or to get the issue fixed? No matter which option you choose, you can get help in this article.
Part 1. How to fix whea uncorrectable error in Windows 10
Fix 1 - Get all the latest updates with Windows Update.
Open Start Menu and go to Settings > Update & security > Windows Update, and then select Check for updates.
Fix 2 - Perform a System Restore
1) Open Start Menu and go to Control Panel, select Recovery > Open System Restore > Next.
2) Select a previous working state, and then select Next > Finish.
The above is the advice on how to fix whea uncorrectable error from Microsoft. And they can help only when the PC can start up properly. But, what if you failed to enter the Windows 10 desktop normally? Here, the following troubleshooting steps created by professionals and technicians may help.
Fix 3 - Disable Overclocking in BIOS
1) Reboot your PC and enter the UEFI BIOS.( you can refer to your PC manual to check how to do it)
2) Here, select Performance and look for an overclock option. Disable overclocking and restart your PC.
Fix 4 - Troubleshoot driver issues in Safe Mode
1) Reboot your PC, press F8 or shift + F8 to Enter Safe Mode. Ask your manufacturer for the exact key if neither works.
2) Click Troubleshoot > Advanced Options > Startup Settings > Restart.
3) In Safe Mode, press Windows key + R, type devmgmt.msc and press enter button to open Device Manager.
4) If there's any yellow or red sign in any device, update it. After that, restart and see if whea uncorrectable error still exists.
Fix 5 - Check for Hardware Issues
In the Safe Mode, open Start Menu, type chkdsk and press enter to run the application. This will then check and repair your disk for errors.
Part 2. How to recover data when whea uncorrectable error occurs
Now we have introduced all the possible ways to fix whea uncorrectable error in Windows 10. If none of them helps and your PC still cannot start, we recommend you to try EaseUS bootable data recovery software to rescue your important files.
1. Download EaseUS Data Recovery Wizard WinPE Edition and create a bootable disk on a working computer.
2. Go to BIOS, change the boot sequence of the computer that reports whea uncorrectable error.
3. Restart the computer and run EaseUS Data Recovery Wizard from the WinPE bootable disk.
4. Select the disk you want to scan to find all your lost or existing files.
5. After scanning, filter and preview all the listed data by file types, and then selectively recover those files you want. Here you should save all the recovered files on a different drive or memory card in case of data recovery failure.